---
The Big Show at Bon Ton Meat Market's Pig Roast!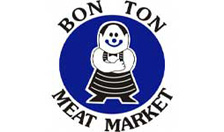 Attention Meat Eaters of Calgary!  Boomer and Warrener's Pig Roast is coming Wednesday, October 26th at Bon Ton Meat Market – 28 Crowfoot Circle NW.
The Boys will be manning the BBQ.  Roasting the pig. Bon Ton Meat Market does it right!  They're committed to uncompromising quality and service where you get exactly what you want , the way you want it. Celebrating 95 years in Calgary.
The Big Show goes live 1 to 6pm ahead of the Pig Roast. You could say we're going "hog wild".
---
SN 960 Morning Show at The Ensuite, Thursday!
Boomer, Rhett Warrener and Ryan Pinder are live on-location on Thursday at The Ensuite, a division of EMCO a leading wholesale distributor of plumbing, HVAC, industrial and waterworks products in Canada at 224 61 Avenue SE.
Don't miss the EMCO Tent Sale – 3 big days October 27, 28 & 29.  6am to 8pm Thursday – 6am to 6pm, Friday – 8am to 4pm, Saturday.   $300,000 worth of product to be sold.  50% – 90% off Tubs, Sinks, Hot Water Tanks, Faucets, Fittings and more!  BBQ lunch between 11:00am – 2:00pm Oct 27th, 28th, 29th.  Be entered for a $500 Visa card, with every purchase.
EMCO is Canada's oldest plumbing warehouse. They partner with leading edge manufacturers, big names like Delta, Kohler, Moen, Rheem and more. All Items sold below cost to make room for new inventory!  Visit EnsuiteCalgary.com.  Discover. Explore. Experience.
---
The Big Show at RoadSport Autocredit
Pat and Rob will be hitting the road live on-location at RoadSport AutoCredit. Our afternoon guys are at their  Superstore at 1323 McKnight Boulevard, NE – Thursday, October 27th!
On the agenda:  Flames.  NFL. Stampeders.  The World Series.  All the good stuff!
See RoadSport Auto Credit today.  Auto loans for good people with bad credit.  Guaranteed credit approval in 2 minutes with 2 pay stubs and $29 down.  No matter what your credit score or history is… your job is your credit!    Check 'em out at www.roadsportautocredit.com and get approved online now!
---
Boomer, Warrener and Pinder in Mexico!
Amigos and Amigas…it's road trip time! November 20th – 27th.  Leave the cold behind!
Join the Sportsnet boys in Mexico! Click here right now to get a great deal from NEWWESTTRAVEL. Sign up now!
Your package will include; round trip economy airfare with Transat Holidays, 7 nights at The Melia Puerto Vallarta overlooking the beautiful Banderas Bay in Puerto Vallarta, daily social activities, welcome reception & dinner with the group, and more! Book now call 1-800-661-7281 or visit NEWWESTTRAVEL.com.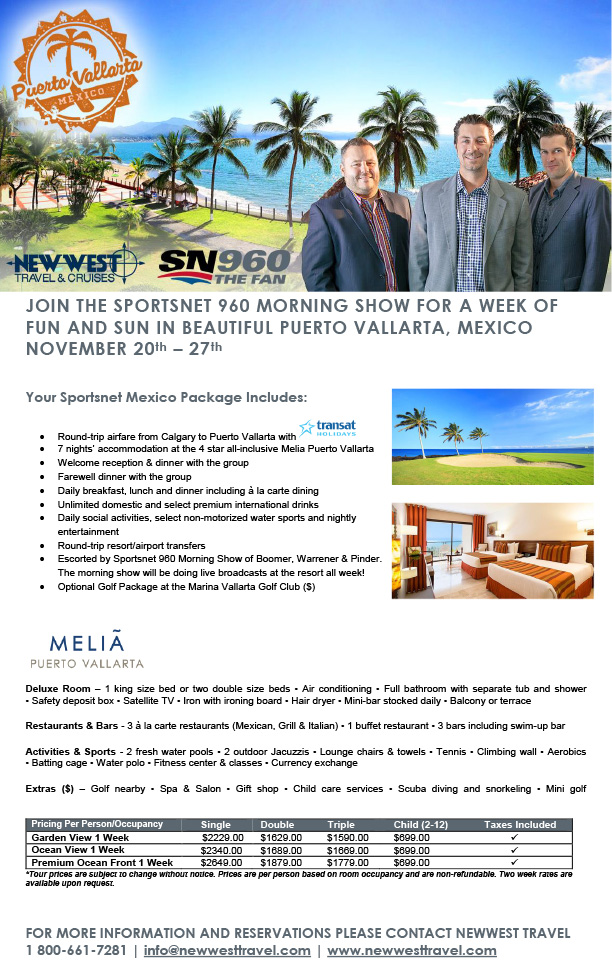 ---
Schanks – your home for the NFL!
Schanks Sports Grill is your home to watch the National Football League in Calgary!
Every Sunday, Monday and Thursday enter for your chance to win a trip for 2 to see a Sunday night NFL game – Dallas Cowboys at New York Giants.
Prize includes airfare, hotel, tickets, spending money and more!
Week #8!  Monday Night Football, October 31st.  It's the Minnesota Vikings in Chicago versus the Bears!
Head to either Schanks North or Schanks South to catch the action.
Map/Directions to Schanks North – 103 Crowfoot Terrace NW
Map/Directions to Schanks South – 9627 Macleod Trail S.
---
The Big Show – brought to you by The Comedy Cave!

Steinberg & Kerr – better known as the The Big Show!  It's Calgary's afternoon ritual for breaking sports news first plus awesome interviews and loads of insiders.
Tune in 1 – 6pm weekdays.  The Big Show is brought to you by The Comedy Cave.   If it's comedy you crave… come to the Cave!
It's an affordable night out.  Wicked live entertainment and tickets are ALWAYS $10!  Visit ComedyCave.com for daily specials.
Oct 25 – Oct 30 Richie Holliday!
CLICK HERE to make your reservation and buy tickets or call 403-287-1120.  The Comedy Cave is located at 9206 – Macleod Trail S in the Travel Lodge Hotel.
---
SN 960 on-location for NFL Sunday!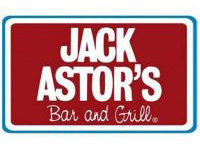 Join SN 960's Will Nault & Peter Klein on-location @ Jack Astor's for NFL Sunday.
It's Smack Talk Central!  Eat wings. Drink beer (responsibly) and talk ________ (insert your noun)!
Catch the games at 9823 MacLeod Trail SW.  Visit JackAstors.com for more info.
---
First Responders Half Marathon!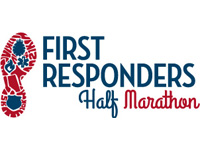 Join SN 960 and race with us in support of all First Responders on Sunday, November 6, 2016!
The First Responders Half Marathon – Southern Alberta, is an expansion of the highly regarded event that takes place annually in Edmonton each spring.
We are excited to expand awareness of all First Responders to Southern Alberta!   Sign up for the Half Marathon, 10km, 5km or 1km Fun Run!
For more information on the First Responders Half Marathon, click here.
---
100 Men Who Give a Damn!
100 Men Who Give a Damn brings together 100 or more guys just like you – working hard in Calgary – love the city and wanna give back to the community causes that they believe in.
Get involved and be part of something special and help make decisions as to where the money goes.
Their next meeting is Tuesday, December 6th at Toolshed Brewery, 801 30th St NE.  For more info head to 100MenCalgary.com.

Local men. Making a local impact! Proudly supported by Sportsnet 960 The FAN.
---
SN 960 proud to support the Owen Hart Foundation!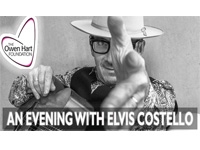 Don't miss "An Evening with Elvis Costello" on Saturday, December 10th at the Southern Alberta Jubilee Auditorium.
This live music event will mark the 17th Anniversary of The Owen Hart Foundation and the work they do within the Calgary community. This extraordinary evening will punctuate The Owen Hart Foundation's 17 years of humanitarian service and commitment to helping those with limited resources, but with unlimited potential.
This year the Foundation is introducing a Celebrity Online Auction. This unique auction has been designed to raise additional funds for The Owen Hart Foundation and allow Calgarians to rally around this local charity. Five unique packages have been designed with all individuals' tastes in mind including a Sports Package, an Art Package, a VIP Package, a TECH Package, and a Travel Package. There are some amazing prizes to bid on, including a trip anywhere WestJet travels, Denver Broncos Football Tickets, VIP tickets and meet and greet opportunity for the Elvis Costello show, exclusive art and memorabilia, and much more.
The goal is to raise an additional $30,000 through this charity auction! The auction web site is www.hartauction.com. Bidding is open now and closes on December 1. Tickets are on sale now through Ticketmaster.
---
Comedian JIM JEFFRIES!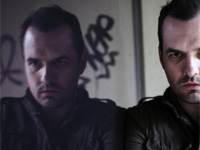 Don't miss standup comedian Jim Jefferies and his Unusual Punishment Tour coming March 4th to the Southern Alberta Jubilee Auditorium for 2 shows.
Jefferies has firmly established himself as one of the most popular and respected comedians of his generation, with a controversial and belief-challenging standup style that continues to surprise and entertain audiences across the globe. This tour comes hot of the heels of his fifth major standup comedy special "Freedumb" which premiered July 1st on Netflix. Jefferies burst on to the scene in the United States after his popular debut HBO special "I Swear to God." His additional successful comedy specials include "Contraband," "Alcoholocaust," and "Fully Functional."   Tickets for his show are available for purchase now at jimjefferies.com.
Tickets for his 2nd late night show are now on sale.
---
SN 960 proud to help the Children's Wish Foundation

Raise, raise, raise – for Wishes!   Go all in Tuesday, March 28th, 2017 at Cowboys Casino.
The Children's Wish Foundation Poker Tournament is a fun night of cards with a prize pot of $15,500! Come out and bid on great auction items, enjoy food and drink, and meet local VIP's – like Calgary Stampeders quarterback Bo Levi Mitchell, their event Ambassador!
Lay your cards on the table to raise funds to grant the most heartfelt Wish to a child with a life-threatening illness!    Seats at the tables will be on sale soon!
---