---
Bowl for Kids!
Bowl For Kids is an annual bowl-a-thon in support of Big Brothers Big Sisters of Calgary & Area. With 11 different days and 12 different themes, there's plenty of fun at this FUNdraising event during the month of June.
REGISTER your bowling team today! There is no cost to register. Just commit to raise pledges to support Big Brothers Big Sisters and get ready to have fun.
Organized by the Stampede City – Canadian Progress Club, proceeds from this fundraising event are in support of Big Brothers Big Sisters of Calgary & Area. Every bowling night is a fun filled, high energy, fast-paced bowling experience that brings all levels of bowlers together for a great cause! To enhance each bowling night, we have included a Celebrity MC, DJ to play your favorite songs, complimentary food and beverage, special bowling games, contests and of course prizes to make each bowling night extra special.
Come out and join in on the fun at one of our special theme nights. Dress-up in your wackiest outfits for the theme night of your choice and have a blast at Alberta's largest bowling party! Each bowling night features winebasket giveaways, prize bag giveaways, gift card giveaways for the best dressed teams. The nights also feature "Wacky Bowling" & "Glow Bowling" to add to the excitement.  Sign your team up now!
---
SN 960 Live at Stampede Toyota!
This Saturday, May 28th right after Blue Jays Baseball, Sportsnet 960 goes live 2-6pm from Stampede Toyota!
It's a special edition of the Big Show with Rob Kerr and Pat Steinberg from Stampede Toyota, Barlow Trail,  2 blocks North of 16th Ave in the Northeast.
The boys will preview Stampeders Training Camp, update the NHL Playoffs, Blue Jays and MLB, all from the showroom at Stampede Toyota.  Check out the huge clearout of all used vehicles at up to 50% off!  Choose from over 400 new and used vehicles, over 10 million dollars in inventory.  Visit StampedeToyota.com for more details!
---
Bullshooters Breakfast!
Sportsnet 960 is behind all the great things that the Stampede City Progress Club does… this is just 1 of them!
Don't miss the Bullshooters Breakfast, Tuesday, July 12th sponsored by Blue Ocean.   Since 1973, Stampede City Progress Club has hosted Calgary's premier and legendary Stampede event. Held at the Telus Convention Centre the first Tuesday of Stampede, this event has grown to host thousands of guests dressed in their Stampede denim. It's one the Stampede's biggest and best parties. Doors open at 8:00 am and the event runs to 12:30 pm. There will be top notch country bands providing music non-stop for the whole event. Full breakfast buffet..if you find time to eat, drinks, and a huge dance floor with lots of room for all!  Visit BullshootersBreakfast.com and get your tickets today – or click here!
Stampede City Progess Club is a small men's service club situated in Calgary and part of a National organization called the Canadian Progress Club www.progressclub.ca.  Their goal is to help children through community service and various fundraising initiatives through the  Just 4 Kidz Foundation.
---
Batting Against Breast Cancer! Register your team!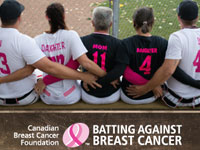 Take part in the 8th annual Batting Against Breast Cancer slo-pitch tournament in support of the Canadian Breast Cancer Foundation.
This family-friendly, community-led tournament takes place on Saturday, August 6th at the Chinook Winds Ball Diamond in Airdrie.
Step up, take a swing at breast cancer and sign up a team today! For more information, CLICK HERE.
For more information about the Canadian Breast Cancer Foundation visit cbcf.org.
---
HNIC's Play On!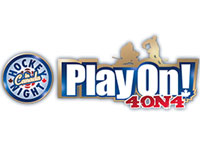 Is your team in?? At Sportsnet 960 the FAN, we sure are! Hockey Night in Canada's Play On! Calgary is back for its 11th year!
It's an epic 4 on 4 street hockey tournament and festival. Anyone of any age or ability can participate.
Play On! visits it's new home by the Calgary Airport June 11th and 12th.
(North side of Airport Trail NE across from Park & Jet)
Make a great save! Register your team at Playon.ca – click here.
Check out the UPS Corporate division where proceeds help our local community. It's going to be the best year yet!
---
City and Colour
Sportsnet 960 the FAN welcomes City and Colour with guest Shakey Graves!
Saturday, June 11th at the Scotiabank Saddledome, Calgary.
Tickets on sale now and are available at www.livenation.com, Charge by Phone 1-855-985-5000, and also available at Ticketmaster outlets.
---
100 Men Who Give a Damn!
100 Men Who Give a Damn brings together 100 or more guys just like you – working hard in Calgary – love the city and wanna give back to the community causes that they believe in.
Get involved and be part of something special and help make decisions as to where the money goes.
The next meeting is 6:00pm Tuesday, June 14th at Toolshed Brewery, 801 30th St NE.
For more info head to 100MenCalgary.com.

Local men. Making a local impact! Proudly supported by Sportsnet 960 The FAN.
---
LADY ANTEBELLUM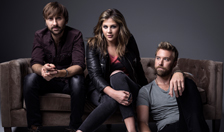 SN 960 the FAN welcomes LADY ANTEBELLUM – coming to the Scotiabank Saddledome on Friday, July 15th.
Tickets are on sale now and available at Ticketmaster.ca.  It'll be one amazing hot summer night!
Grammy Award-winning Lady Antebellum will perform at the 2016 Virgin Mobile Stampede Concert Series.  Lady Antebellum, the first artist in CMA Award history to receive the Single of the Year honor for two consecutive years.
---
JEFF DUNHAM!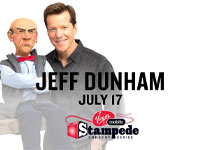 The laughs are coming! Sportsnet 960 the FAN welcomes JEFF DUNHAM – the most successful touring comedian in history!
Don't miss the hilarity Sunday, July 17th at the Scotiabank Saddledome. It's part of the Stampede Concert Series.
Tickets are now on sale at Ticketmaster.ca.  Tickets include admission to the Calgary Stampede on the day of the concert.