DUNEDIN, Fla. — Ryan Goins has always been more heralded for what he does with his glove than his bat. And when you look at his Baseball Reference page, and see a .250/.318/.354 line in 128 games last season, you get an idea why.
But Goins' aggregate numbers don't tell the whole story. One of a player who made dramatic improvements at the plate over the second half of last season, and has been taking progressive steps this winter in an effort to carry it over into 2016.
"I don't feel like .250's a maxing-out point for me," Goins says. "I feel like I can be a better hitter. And that I can help this team even more than I did last year."
Goins has been in Florida since shortly after the new year, working frequently with private hitting instructor Bobby Tewksbary, the same man Josh Donaldson and Chris Colabello credit with helping dramatically improve their swings. Goins hasn't made any substantial mechanical changes to how he handles the bat, but he does feel like he has a better understanding of what his body's doing in the batter's box, and how to take a better path to the ball.
"It opened my eyes to a lot of things. Even just how to properly swing. Honestly, there's a lot of things that are taught that are wrong," Goins says. "There's a better way to do things. And there's evidence. You can watch some of the greatest hitters in this game, and they're doing it."
Goins doesn't want to discuss the specifics of how he's cleaned up his swing. ("Honestly, it's a lot to talk about," he says. "I could go on and on about seven different things.") But he does feel like he's being more consistent at the plate, and not letting bad patterns creep into his swing when he's not seeing the results he'd like to.
"Everybody's going to feel good at some point and get their hits. But it's about how good you can be when you're at your worst," Goins says. "In the past I would fall in and out of it sometimes. So it's about working on having that consistency of falling into that good pattern every time I go to swing."
The 2015 season was, in a word, erratic for the 28-year-old Goins. He lost a spring training competition for the second base job to his close friend Devon Travis and began the year at triple-A Buffalo. But he was quickly recalled and inserted into the starting lineup at shortstop when Jose Reyes was lost to a cracked rib.
He then shifted over to second when Travis subsequently got hurt, but struggled to pair his excellent work in the field with production at the plate. By the end of June he was batting .220/.265/.319 with 11 walks in 202 plate appearances, and with both Reyes and Travis returning, his role going forward was uncertain.
He spent most of July sitting on the bench, but when Travis was lost for the season with a shoulder injury on July 28, he stepped back into the starting lineup and suddenly something clicked. From the beginning of August through to the end of the season, Goins hit .284/.376/.402 with 26 walks in just four less plate appearances than his early season sample.
To hear Goins tell it, his offensive turnaround was simply a benefit of seeing more major-league pitching. "It's an adjustment period. You have to see guys and know what they throw. You have to adjust to major-league-style sliders," Goins says. "Like, a back foot slider. They don't have that in the minor leagues. At least not as good as they do in the big leagues."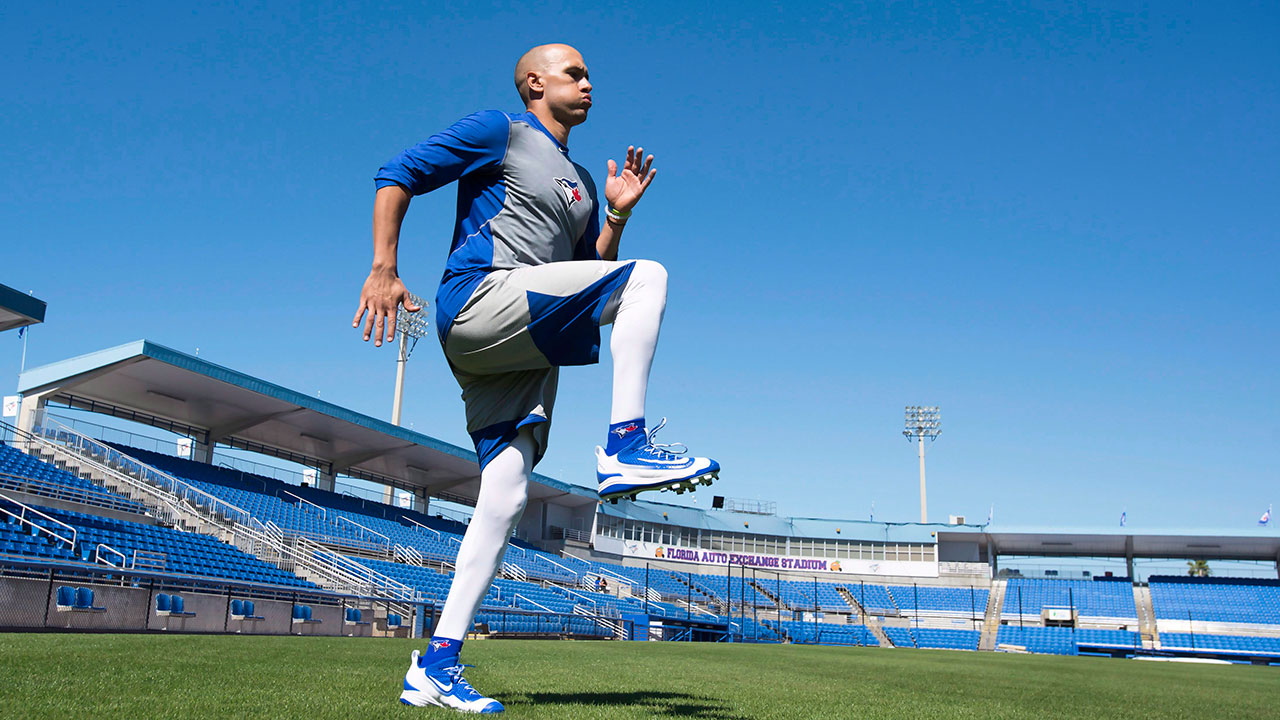 Ryan Goins enters spring training with a guaranteed spot in the lineup. (Frank Gunn/CP)
He was also showing a better approach, particularly on the first pitch of his at-bats. In the first half of the season he was falling behind immediately 66.8 percent of the time. But in the second half he brought that rate down to 59.5 percent, a point and a half below league average. Another difference was his sheer discipline, as Goins worked to lower his rate of swinging at pitches outside the zone from 34.2 percent in the first half, to 31.4 in the second.
Ask his manager, John Gibbons, what changed, and he'll tell you something similar to Goins — that it's a matter of playing time.
"He battled some things offensively when he wasn't playing much and it frustrated him. He was tough on himself, and he did a lot of tinkering to his swing. But I really think it just came down to playing every day," Gibbons says. "You come to the park, you know that you're going to be in there, you don't have to show up and wonder. Especially for a young guy who hasn't been around."
Goins certainly has that benefit this spring. With Travis on the shelf until at least May, he enters camp as the Blue Jays' starting second baseman. He'll likely hit out of the ninth spot in the batting order, which is an uncommonly crucial table-setting position for a team like the Blue Jays, who might lead off with Michael Saunders, who has a 19-homer season to his name.
Goins simply has to get on base, something he was doing with much more regularity over the back half of 2015. He'd also like to steal bases when he does get there, and worked on improving his speed this offseason with Olympic sprint coaches and even Carlin Isles, the American rugby sevens player widely considered the fastest man in his sport. The Blue Jays may not give him the opportunity to do so, but he'd at least like to pose the threat.
"In this lineup, it's not really called for to steal a lot of bases. But I'd like to have that ability where guys are worried about me," Goins says. "So that when Donaldson and Bautista and whoever leads off are hitting, the pitcher's worried about me and not really focusing. Hopefully they make a mistake and our guy hits it out of the park."