Off to the nation's capital for this week's edition of Friday Night Hockey when the Ottawa 67's play host to the Niagara IceDogs in an Eastern Conference battle.
Both teams have been altered as a result of last week's trade deadline. The 67's no longer have Travis Konecny, but they do a bevy of picks with which to build from for the future. Without Konecny, the 67's have picked up five out of a possible six points. The IceDogs are obviously taking a serious run at things, having jumped the deadline gun to acquire goalie Alex Nedeljkovic who may have an impact more than any other player dealt this season.
Niagara IceDogs
Despite having plenty of pieces in place, Niagara got off to a sluggish start once again this year. Having shared duties with Brandon Hope a year ago, general manager and head coach Marty Williamson was hoping to get a lot more out of Dallas Stars prospect Brent Moran, but the numbers didn't bear that out.
As a result, Williamson dealt for Nedeljkovic. Same thing happened on the back end, where the IceDogs seemed to be set with the likes of Dallas prospect Aaron Haydon, Columbus Blue Jackets property Blake Seibenaler, St. Louis Blues' Vince Dunn, New York Rangers prospect Ryan Mantha and Russian world junior Aleksandar Mikulovich. That mix was good, but is improved with the addition of Josh Wesley to the top six.
Up front, there's no reason why Niagara shouldn't be considered a legit OHL contender. Arizona Coyotes pick Brendan Perlini has all-world skill, but can be inconsistent. Ditto for Josh Ho-Sang, whose NHL skillset doesn't include great attention to detail in the defensive zone, but he's a genius with the puck and distributing it. Stephen Harper, Anthony DeFruscia and Jordan Maletta all have jam in their game. Graham Knott is a two-way contributor, while Pavel Jenys brings size to the table.
There's no issue in goal, with Nedeljkovic, who's playing his last year in the OHL. He's sniffed some success in the past with the Plymouth Whalers, he was brilliant in helping the U.S. win bronze at the world juniors and the Eastern Conference isn't all that familiar with his game. He should be poised to help Niagara make a long run into the OHL post-season.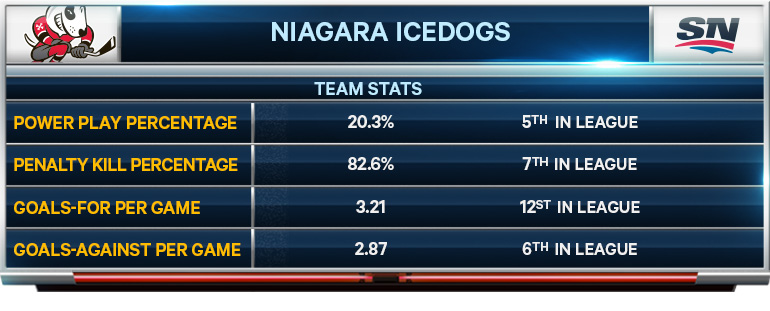 NHL Drafted/Signed Players
Brendan Perlini, ARI, 12th in 2014
Josh Ho-Sang, NYI, 28th, 2014
Alex Nedeljkovic, CAR, 37th, 2014
Graham Knott, CHI, 54th, 2015
Vince Dunn, STL, 56th, 2015
Blake Siebenhaler, CLB, 77th, 2014
Josh Wesley, CAR, 96th, 2014
Ryan Mantha, NYR, 104th, 2014
Aaron Haydon, DAL, 154th, 2014
Pavel Jenys, MIN, 199th, 2014
NHL Central Scouting
PTW C
Stephen Dhillon
Christopher Paquette
Under The Radar
What looked to be an off-year with Belleville in '14-15 may have actually been Harper's finest considering a mediocre team that dealt with relocation rumours all season. He has bounced back and should be a valuable piece for Niagara down the stretch.
Ottawa 67's
Ottawa had a terrible December that saw the 67's lose eight out of 10 games and may have set the tone for the Konecny trade.
Aside from the ten picks Ottawa received in the deal, the prized piece may very well be Sasha Chmelevski, who will benefit greatly with additional playing time. The former first-round pick of Sarnia is a star in the making.
Ottawa's one constant up front has been Dante Salituro, who continues to build a solid case for NHL consideration. He's small, but tenacious, works hard and has produced at almost a point-per-game pace over his career. The Konecny deal has brought out the best in draft eligible Travis Barron, who has five points since the trade. Jeremiah Addison is still raw, but strong as an ox. Add Drake Rymsha, Austen Keating and Artur Tyanulin and the 67's have the makings for a decent top six now, but an even more enviable one in the future.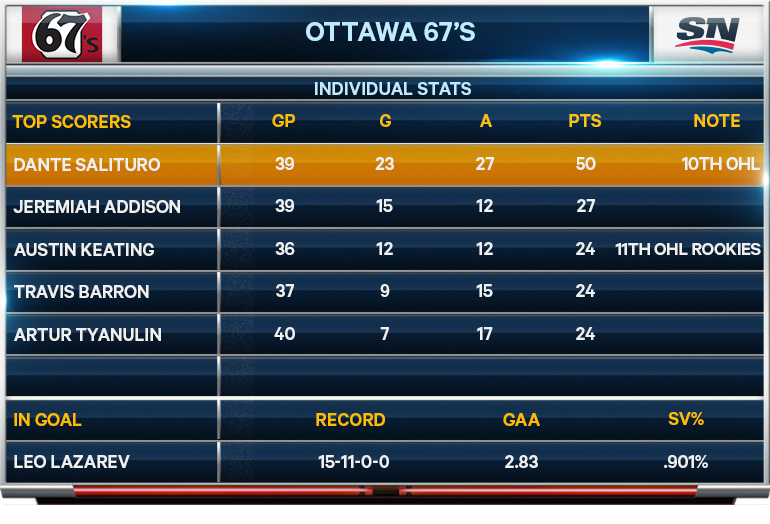 Not since Petr Mrazek, has Ottawa had a true No. 1 in goal. Reclamation project Liam Herbst hasn't won a game since November, while Leo Lazarev is as streaky as can be. He's in the midst of a nice run where he's allowed just five goals over his last three starts.
Niagara will be playing its fourth straight road game, and will conclude the stretch Saturday night in Kingston. Ottawa is in a stretch where it will play six out of seven games on home ice.
NHL Drafted/Signed Players
Jeremiah Addison, MTL, 207th in 2015
Jacob Middleton, LA, 210th, 2014
NHL Central Scouting
PTW B
Travis Barron
PTW C
Stepan Falkovsky
Drake Rymsha
Dante Salituro
Under The Radar
Salituro has been inspired after not being taken in 2015. Has produced consistently regardless of whom he's played with on a line or who's been in or out of the 67's lineup.