Boston Bruins forward Milan Lucic has been fined $5,000 by the NHL for his spear on Detroit Red Wings defenceman Danny DeKeyser.
Milan Lucic gets a $5,000 fine for spearing Danny Dekeyser in the privates.

— Chris Johnston (@reporterchris) April 19, 2014
In a hard-fought first game between the Bruins and Red Wings Friday night, Lucic took out his frustration on DeKeyser in the dying seconds of the second period by slashing the defenceman between the legs. Lucic did not receive a penalty on the play.
Milan Lucic: "I don't know what I was thinking. I pride myself on playing within the rules, and that's obviously something I can't be doing"

— Joe Haggerty (@HackswithHaggs) April 19, 2014
This isn't the first time Lucic was got away with a play like this; the Vancouver native did the same thing to Montreal Canadiens defenceman Alexei Emelin during a March 24 meeting.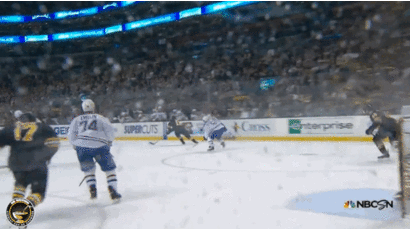 (GIF courtesy of @MyRegularFace)
The Red Wings went on to win the game 1-0 thanks to a beauty of a goal from Pavel Datsyuk.