Keep it here all day for live, running updates from Sportsnet's Damien Cox from the set of Hockey Central Deadline 2016, airing on Sportsnet from 8 a.m. ET to 7 p.m. ET.
4:15 p.m.: Trade deadline started small… and ended small
A few more leaked through. Not big ones, however, as a day that started small with the Sergei Plotnikov deal ended small.
Well, I'm sure it'll be big for Devante Smith-Pelly, the former OHL star who couldn't make it work in Montreal and is now off to the New Jersey Devils in exchange for former first-round pick Stefan Matteau, son of Stephane Matteau, who scored that big playoff goal to kill the Devils way back when.
So that was nine NHL deals and a couple of minor-league swaps, the slowest trade deadline deal in more than a decade. It became more of a day, at the end, for the players who weren't dealt. At a time when the cap is flat, and theoretically could even fall, teams played it very conservatively — perhaps with an eye to looking for cheap one-year deals and PTOs next summer.
Dan Hamhuis, on the other hand, may have used his no-movement clause to shut down attempts to ship him to the Eastern Conference. He could re-sign with the Canucks as a UFA this summer, but the club was frustrated in its attempts to realize significant returns for him like Calgary did for Kris Russell.
Boston, interestingly, was the most aggressive team, moving second-, third-, fourth- and fifth-round picks and prospect Anthony Camara to bring in rentals Lee Stempniak and John-Michael Liles.
AWOL Lightning forward Jonathan Drouin didn't get moved, and when the dust settled, Lightning GM Steve Yzerman offered an olive branch, saying the door was open for Drouin to come back and play for the organization. Not a bad insurance policy if Steven Stamkos walks out the door, after all.
So, all in all, it was an uneventful day. A drag? Sure. We've had wilder days, that's for sure. Last year there were 24 swaps.
But that's the market — a market driven by the cap and by the absence of enough teams on the fringe of the playoffs willing to make a bold move or two to try and get into the Stanley Cup playoffs.
Given the choice, teams decided to hoard their picks and prospects and look to be bold another day.
Didn't help us on the TV side. Left us sitting and waiting most of the days for action that really never came.
Can't be crazy every year, I guess.
3:15 p.m.: No Dan Hamhuis deal
So, it was the deadline where there were apparently more reasons not to deal, than to deal.
Even a team like the Detroit Red Wings, so busy seemingly every year at the trade deadline, were absolutely silent this year.
The 3 p.m. deadline has passed, although some deals could still come through.
The biggest surprise may have been that Vancouver wasn't able to move veteran defenceman Dan Hamhuis, who had interest from Dallas, Chicago and Boston, but no deal got done.
Depending on whether you count a minor-league deal done today, we're at eight deals, with the latest sending Shane Prince and a seventh-round pick from Ottawa to the Islanders for a third-round pick. Carolina defenceman John-Michael Liles was dealt to Boston, and the Bruins also picked up winger Lee Stempniak from the Devils.
Jonathan Drouin wasn't moved by Tampa Bay, and remains locked in limbo.
2:55 p.m.: Down to the deadline wire
Down to the final minutes. Six trades so far, with the last one Brandon Pirri from Florida to Anaheim for, well, almost nothing.
Oh my.
Often deals leak out in the hour after the deadline. But every year since I've been involved doing TV coverage at the trade deadline, there's been more action to this point than this year.
Hard to say why. The cap. The action over the past few days. The absence of quality, available players.
There's still Dan Hamhuis out there to move. Maybe P.A. Parenteau and Lee Stempniak.
But this is almost going to go down as the quietest NHL trade deadline in a long, long time.
1:50 p.m.: Good deal for the Flames
As predicted by Brian Burke early this afternoon, Kris Russell is an ex-Calgary Flame.
Immediately after Mikkel Boedker went to Colorado from Arizona, Russell was dealt to the Dallas Star by the Flames for defenceman Jyrki Jokipakka, prospect Brett Pollock and a conditional second round pick.
Pretty good return for the Flames on a rental.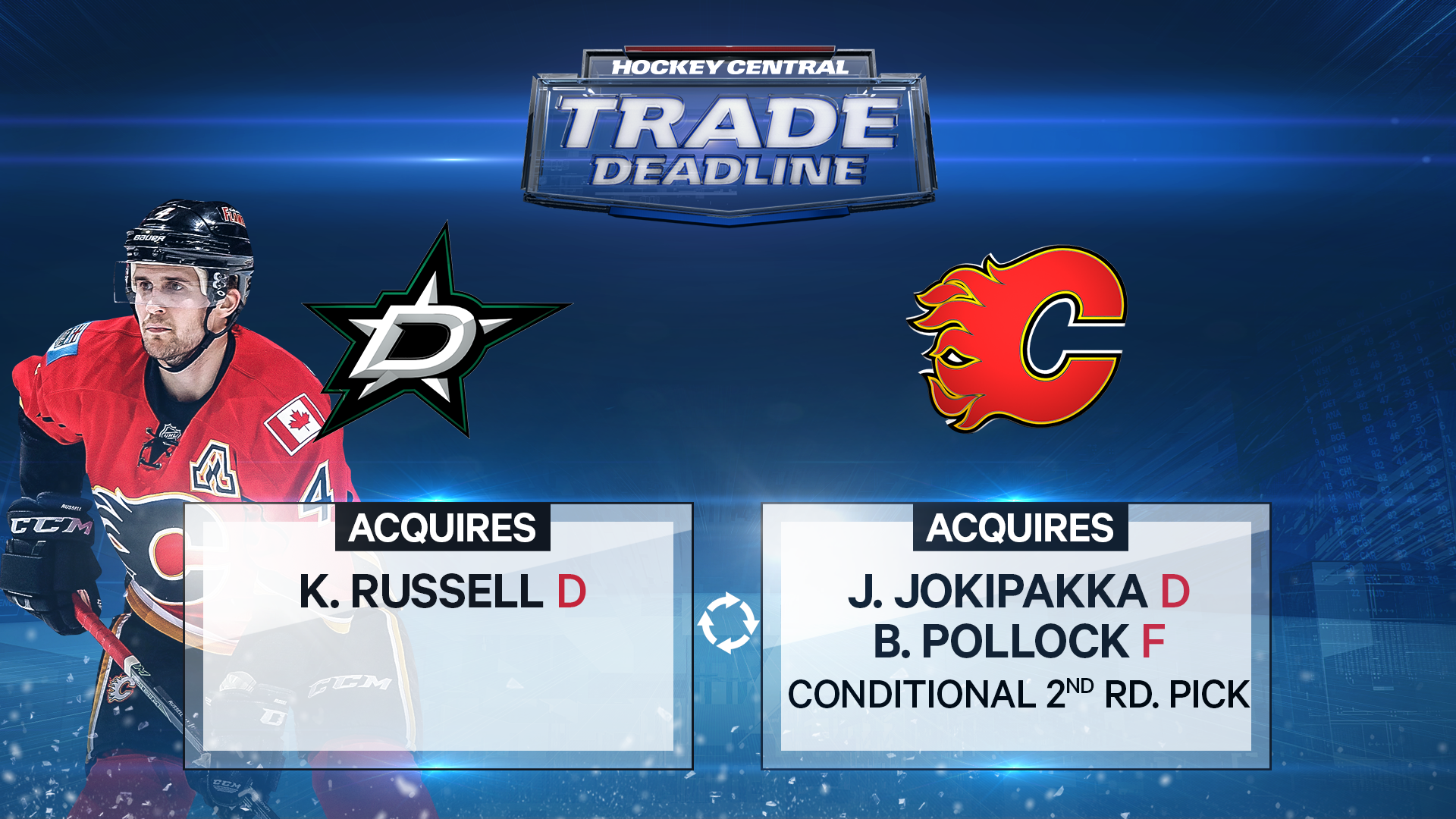 The Flames dealt UFA forward Jiri Hudler to Florida on Saturday for a second rounder and a fourth rounder as GM Brad Treliving looks to get some benefits out of Calgary's disappointing season. Indeed, if Dallas makes it to the Western Conference final with Russell, the second-round pick turns into a first-rounder.
Soon after that, defenceman Eric Gelinas was dealt by the New Jersey Devils for a third rounder.
From the Boedker deal, the key element for Arizona may have been the acquisition of North Bay blue-liner Kyle Wood, a big, skilled back-liner who missed the first part of this season with a hand injury. Wood is teamed most nights with smooth-skating defenceman Cam Dineen, who could be a second-round pick in the NHL draft in June.
1:25 p.m.: Boedker to Colorado
So, another deal.
For almost four hours, we sat and wondered whether Sergei Plotnikov and his move to Arizona would be the big news of the day.
But just after 1:10 p.m. ET, the trigger was pulled on a significant trade, with the Coyotes moving UFA-in-waiting winger Mikkel Boedker to the Colorado Avalanche for veteran winger Alex Tanguay, prospect Conner Bleackley and 6-foot-5 blue-line prospect Kyle Wood. Bleackley, a member of the Memorial Cup host Red Deer Rebels was a 2014 first rounder with the Avs.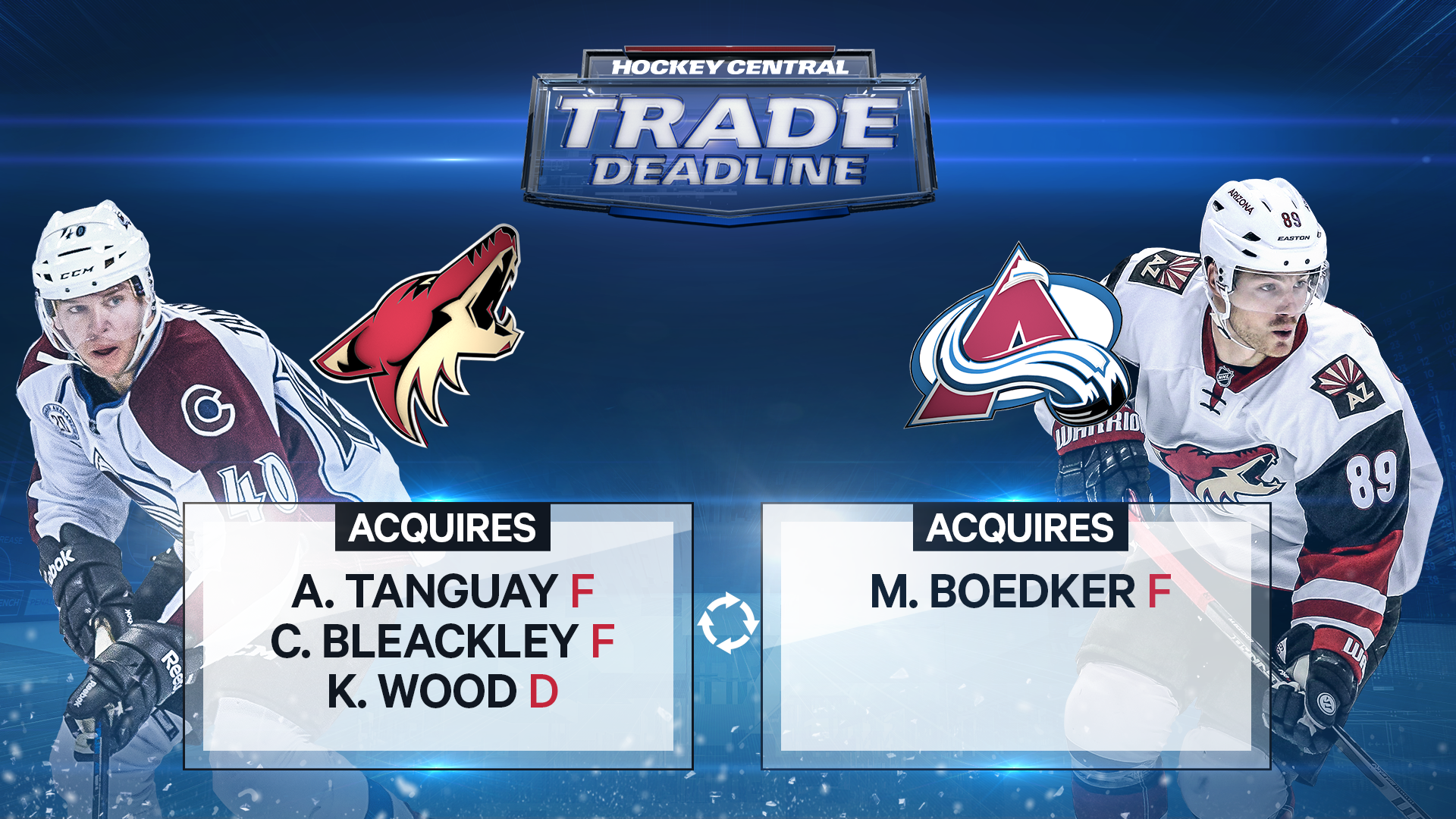 Boedker was one of the prime forwards still available prior to today's deadline. His contract and Tanguay's are essentially a wash, so for Boedker's wheels, the Coyotes get two mid-level prospects.
We'll see if this deal gets things moving.
12:50 p.m.: And, we wait
We wait, and we wait, and we wonder if ANYTHING is going to happen.
Every year, it feels that way. Then things start to move.
One player who almost certainly will be dealt today is Calgary defenceman Kris Russell, an unrestricted free agent in July.
Calgary's president of hockey operations Brian Burke said today he fully expects Russell will be moved, and that the Flames would have kept him if they could find the money.
"A number of teams are trying hard to acquire Kris Russell," said Burke.
With Vancouver's Dan Hamhuis also on the market, it could be that the same teams that are bidding for Russell are in on Hamhuis.
But nothing yet.
Six trades on Saturday, and three more on Sunday, may have undercut the final day of dealing, with teams like Toronto, Florida and Edmonton choosing to get their business done well in advance of the deadline.
12:15 p.m.: Waiver pickups shake things up
A couple of waiver pickups may indicate things could start heating up.
The Edmonton Oilers have picked up both Adam Cracknell (Vancouver) and Adam Pardy (Winnipeg) on waivers amidst speculation GM Peter Chiarelli may be ready be break up his young core.
Montreal, meanwhile, picked up veteran grinder Mike Brown on waivers.
The funny thing with waiver claims is they can mean nothing, or at times, can be indicators of things to come.
Edmonton is now at 49 contracts, close to the maximum of 50. Vancouver is at 47, with lots of speculation involving Dan Hamhuis and Radim Vrbata.
And Montreal? There were suggestions this morning that while Lars Eller isn't going anywhere, David Desharnais might be on the move despite being on the injury shelf at the moment.
12:00 p.m.: Patience, people, patience
It's usually between 1 p.m and the 3 p.m. deadline when things start to move.
If they're going to move.
So it may yet be a little while yet before any deals join the Sergei Plotnikov trade (insert smart aleck remark here).
But here's some speculation:
—Columbus winger Kerby Rychel, in the rumour mill for some time, left the Blue Jackets' morning skate at Madison Square Garden this morning and headed back to the team hotel. On paper, he's been reassigned to the minors. But he may have been told to expect a deal.
—There are lots of indications that Tampa Bay Lightning GM Steve Yzerman could make the Jonathan Drouin deal today. It may make more sense to wait, but Yzerman indicated last week he'd like make something happen sooner than later.
—There continues to be speculation that the Leafs want a second-round pick for P.A. Parenteau. Still likely Jared Cowen will be moved to a team interested in the cap credit he carries.
Yep, it's lean at the moment. Patience, people, patience. The pressure points do start to build.
Last year, Buffalo Sabres GM Tim Murray called Minnesota Wild GM Chuck Fletcher at 10 minutes to the deadline looking to see if the Wild still had interest in winger Chris Stewart. Fletcher said he did, and three minutes later, the deal was struck for a second-round pick.
So there's still lots of time. And remember, many deals don't leak through until after the 3 p.m. deadline — sometimes well after.
So that's where we are. And no, the watch hasn't re-started. Purely ornamental at this point.
10:15 a.m.: The future is arriving in Toronto
As first reported on Hockey Night in Canada's Saturday Headlines, top prospect William Nylander was recalled today from the AHL Toronto Marlies by the Maple Leafs.
He's not coming alone. In moves that amount to a lot of AHL/cap shuffling, also coming up with Nylander are Zach Hyman, Nikita Soshnikov, Ben Smith (acquired in the James Reimer deal) and Kasperi Kapanen (acquired in the Phil Kessel trade last off-season).
A lot of Leafs fans have been hoping for a Nylander recall for some time, if only to add a little spice to a long, grinding and unsuccessful NHL season. The 19-year-old has 45 points in 37 games after missing time early in the new year after being concussed during the world junior championships in Finland.
The expectation is that Nylander will stay with the Leafs until the end of the regular season, then join the Marlies for the playoffs. Assuming he plays a few games, the next intrigue will occur in June at the NHL draft when his brother, Alexander, is expected to be a top 10 pick — and would be available to the Leafs.
9:40 a.m.: Not a biggie. But a deal.
Sergei Plotnikov, who bought out of his contract last summer in the KHL to join the Pittsburgh Penguins, was dealt by the Pens today to the Arizona Coyotes in the first official trade of deadline day.
Whew. Got one out of the way. Happened about 9:30 ET this morning.
In 32 games, the 25-year-old Plotnikov had failed to score a goal, and had not dressed for the Penguins since Jan. 6 against Chicago. Agent Mike Liut went public last week suggesting the Pens should move the Russian, and there had been talk he was headed back to the KHL as soon as possible.
The Coyotes were one of more than a dozen suitors for the grinding winger last summer, so it's no surprise he'll get a late season cameo there to see how he fares.
8:40 a.m.: No sentimentality here
The trading of Brooks Laich, to me, marks the end of the last vestiges of sentimentality in the NHL.
As the NHL has grown used to operating under a salary cap system, and with the incoming wave of analytics, it's been tough for many longtime executives to give up old ways of thinking. There was a time when a loyal soldier like Laich, who had been through so much with the Washington organization over more than a decade of service, would have been retained even as his skill waned.
But as I said, sentimentality is gone, sacrificed at the altar of cap necessity as teams look to find ways to get better in an environment where the cap is flat for the foreseeable future. Ostensibly, Laich lost a chunk of his role when the Caps signed Mike Richards, who left Los Angeles in disgrace last summer and was available this season for bargain basement price of $1 million.
When GM Brian McLellan had the chance to move Laich and his $4.5 million cap hit on Sunday in order to create the opportunity to do something today before the 3 p.m. ET deadline, all those years of service went out the window and Laich went to the Maple Leafs. Washington gave up a second rounder and a decent prospect to make the deal happen.
There was the Nathan Horton-David Clarkson deal last year which was all about cap maneuvering, and then more this season, like Vincent Lecavalier and Luke Schenn going to L.A. from Philly.
There's a cold-bloodedness about all this, a calculation that cap space can be more valuable than goals and assists and the "intangibles" that have, for so long, guided the decisions of NHL clubs.
Laich had all the intangibles. But he also represented a major slice of cap space, and that defined his value more than anything he could do on the ice for the Capitals.
So just as the Caps appear set to take their strongest charge yet at winning the Stanley Cup, Laich is out of the picture, not easy to take for a player who gave a lot to that franchise.
Me and u together since my 1st year..We make this team together! Im gonna miss u bro good luck to u!Gonna miss u! pic.twitter.com/feKvUGV6TK
8:13 a.m.: Yes, there are still moves left to make.
It only seems like NHL general managers have gone out of their way to subvert the drama on trade deadline day by making so many moves over the past two weeks.
It's a day when clock-watching to the 3 p.m. ET deadline is what rabid hockey fans do. Fortuitously, my watch stopped cold at 5:54 this morning, so already time seems to be moving rather slowly.
If Eric Staal was the big domino to fall, the biggest marquee name available, that story played out on Sunday when the veteran centre was peddled to the New York Rangers for draft picks and a prospect.
Andrew Ladd went to Chicago from Winnipeg three days before that, and then Florida got busy on Saturday with the addition of Jiri Hudler, Teddy Purcell and Jakob Kindl. The Panthers have 49 of a possible 50 contracts and may sign junior Dryden Hunt, so if Dale Tallon wants to add more, he may have to subtract, as well.
Not fair. They were supposed to wait until deadline day!
That's okay. There's still stuff to do, and some significant names to move.
Loui Eriksson, Mikkel Boedker and Jonathan Drouin could move the needle today. Brandon Pirri of Florida is a name in play. Carolina still has a number of UFAs left, including veteran goalie Cam Ward.
The Columbus Blue Jackets, despite being hot of late, could dump bodies, including winger Scott Hartnell. New Jersey has 32-year-old winger Lee Stempniak to barter.
So we'll see how this plays out today. The Toronto Maple Leafs have been a team to watch as they compile draft picks, and on Sunday they added a big contract in veteran Washington Capitals winger Brooks Laich in order to collect another second-round pick and young defenceman Connor Carrick.
The Leafs can still retain salary on one more player, and that could happen today. Chicago's Bryan Bickell could move, and the Leafs own a player, Jared Cowen, who has an intriguing cap credit element to him, appealing to a team like the Blackhawks.
So lots could happen. Honest. Stick with me. We'll update this blog as the day goes on. If it's slow early, get ready for my analysis of the Oscars.