Forget the elimination of the red line, three-on-three overtime or cloning Alex Ovechkins.
The key to increased scoring in the National Hockey League could lie in an inanimate goaltender.
An assistant coach of an NHL team and his business associates have developed a new and improved Shooter Tutor (yes, that guy) with the objective of upping the number of goals scored through properly training shooters where to aim.
And the inventors' response to big-pad goalies has now secured the endorsement of a bona fide superstar, Pavel Datsyuk.
With goaltenders increasing their athleticism, training and equipment size, it's no secret that NHL scoring has become more and more of a premium at high levels of play. Only 5.34 goals were scored per game last season, and the scoring rate has only popped over six goals per game once (2005-06) since 1995-96. That's way down from the trigger-happy '80s. In 1981-82, the league averaged more than eight red lamps per game.
"We don't have a large enough base to test at this point, but my indication is that [the tutor] does increase scoring," says co-creator Tom Bahls, who developed the Bar Down Shooter Tutor with an NHL coach who requested he and his team not be named in this article, in the spirit of competitive advantage.
That club's scoring has increased since using the tutor in practice, and its shooting percentage is at a five-year high this season, although Bahl recognizes the sample size is small.
"It's more of a passionate move than necessarily a deliberate business move," Bahl says of the invention. "We developed it specifically to address the decline of offensive scoring in hockey over the last few years, but we found that it addresses a lot of other uses."
Traditionally, the Shooter Tutor – you may have used one when the goalie bails on your shinny game – encourages players to aim for the four corners. But those holes don't accurately mimic modern goaltending, specifically the butterfly style preferred by nearly every elite netminder.
Bar Down's version eliminates all low shots, as a butterfly goalie would, and by using mesh for the goalie's "body" outlined by dark black piping, teaches the shooter to aim past the goalie as opposed to picking a corner.
"It's a different mentality," Bahl says.
And it's catching on fast.
Though only one NHL club uses the tutor to Bahl's knowledge, another one, the St. Louis Blues, were spotted practising with a similar model prior to game in New Jersey in November.
The USHL's Dubuque Fighting Saints ordered one after they hit the market on Aug. 1, an association in Toronto bought 25 to distribute to multiple arenas, and the HarbourCenter in Buffalo bought two, then two more because of how well they were received.
At $395 (U.S.) a pop, Bar Down's original batch of 100-plus tutors sold out within a few months. Now the upstart company is in negotiations with "a large international company," Bahl says, to boost the product's marketing and distribution internationally.
"It's been pretty crazy. All of us started working on this a year and a half ago, and all of us have other busy jobs," Bahl says. "Last spring we said, 'If we're going to do this, we better do it,' and it's been going 110 miles an hour since then."
Even better for the brand, Datsyuk has endorsed the tutor and Bar Down's new reaction board as part of a signature series.
The handsy Red Wings star shot a series of different drills in Detroit demonstrating how to get the most of the tool.
"We're pretty excited to have his involvement with the product as such a recognizable name. The Magic Man of hockey is really liking our product," Bahl beams.
The developers experimented with several different designs and materials for the tutor with the NHL club (not the Red Wings) for a year and a half before settling on a 40-pound goalie replacement build with a nine-gauge upper frame and seven-gauge ice rail and comes with 3 mm black netting.
"Coaches will take players on the ice prior to practice or keep players after, and they'll work specifically on quick-shot drills, backhand drills, things like that. Normally they don't have a goalie, or if they do, they'll burn the goalie out by keeping him on the ice for 45 minutes, so this is a tool a coach can use with one or more players and still get the feel of shooting on an actual goaltender," Bahl explains.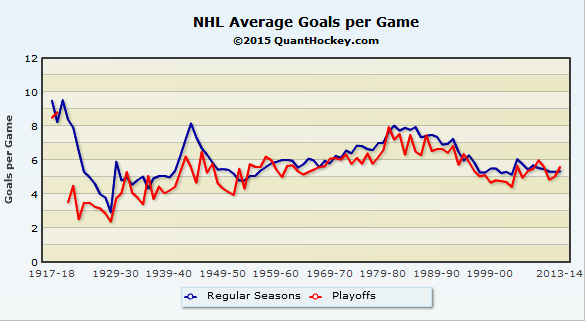 Though originally developed to increase scoring in professional hockey, Bar Down quickly found its product was subbing in for a rec hockey goalie dilemma or for hockey associations wanting to run multiple shooting drills simultaneously on one sheet of ice.
Now college and junior teams, especially, are looking hard at the training exercises Bahl & Co. have been developing with their new tool.
"It started with a question," Bahl says. "How do we increase the scoring opportunities for players, which also increasing the fan experience?
"It'll be good for hockey."