Nichols on Fantasy NHL: Goaltender rankings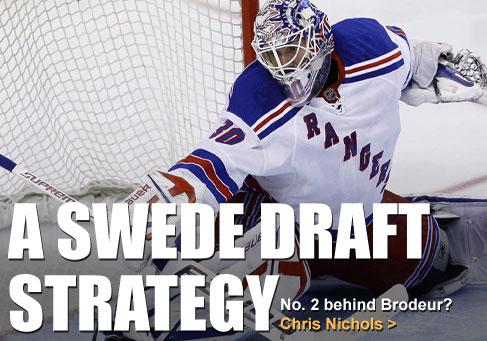 | | |
| --- | --- |
| | September 21, 2010, 4:58 PM |
---
Criteria: For '10-11 single-season leagues which equally weigh wins, goals against average, save percentage and shutouts.
Presentation: The trend in the NHL has seen a greater emphasis placed on secondary netminding, so we've adapted as well. This year we're submitting the goalie rankings in tandem form, which attempts to weigh the worth of individual heavy-start goalies against the joint fantasy value of tandem situations with which a number of teams will begin the season.
Would you rather have a guy who's likely to play 60-65 games on a playoff bubble team, or would you prefer to soak up two roster spots to guarantee starts on a contender with a competitive starting situation? The Washington Capitals and San Jose Sharks are two strong teams that could put poolies at least somewhat in the latter position, while Tomas Vokoun of the Florida Panthers is one guy in the former spot who still brings a lot of positives for his owners. There's a striking SV% stat in his notes that might really surprise you. 
Roto league owners are more easily able to use extra bench spots for the second member of a goalie tandem. With firm, annual GP limits on each position, those reserve slots are for insurance purposes anyway. H2H formats favour owners using their bench players in the active slots on nights when the regulars are off to maximize offensive potential, so having to use up extra space for one team's goalies isn't always the best idea.
Philosophy: Even an offensive juggernaut needs some semblance of goaltending to win in fantasy. How early should you invest your draft picks in the masked men though?
Sink first and second round selections in them and you'll no doubt come away with a pair of heavy-start studs. You'll likely be able to rest easy all season in those categories, although you'll also be missing out on the elite scorers.
Alternatively, a proven strategy is to wait until right around the time the mid-ranked goalies are starting to go off the board and then snatch your pair of starters. The ideal time for this strategy is if you're participating in a snake draft with picks on or near the corners because you know you'll be able to lock two guys up at virtually the same time.
The major advantage to waiting a bit before taking your goalies is that you can potentially snag three or four top-end offensive demons in the early rounds. That'll help to carry those categories and you can still come away with a few of the year's hidden gems between the pipes. Combine two of them with one of the higher-end back-ups and you may have stolen the show right off the hop.
Fair warning though: you could be playing with fire and if you miss your dependable goaltending window then your season could be fighting against the overpowering tide of the flushing toilet.
1. Martin Brodeur & Johan Hedberg, New Jersey Devils: '09-10 NJD starts Brodeur 76; Danis 6 '09-10 NJD goals against rank: 1; 191 Noteworthy Brodeur has started at least 70 GP in 11 of his past 12 campaigns (only his injury-shortened '08-9 campaign ended his remarkable run) and seven of his past eight have included 73+. Scouting report The big man is 38 years old, is still going strong and his blueline now features shot-blocking demon Anton Volchenkov. He loves to start and he basically calls his own shots in that department, but if ever there was a year when his start total might dip below 70 it'd be this time around with Hedberg here. Moose should be a quality play however often he's between the pipes on a top-end Jersey team based on his own work ethic, talent and the stats of NJD back-ups in recent seasons.
2. Henrik Lundqvist & Martin Biron, New York Rangers: '09-10 NYR starts Lundqvist 72; Valiquette 5; Johnson 4; Auld 1 '09-10 NYR goals against rank 9; 218 Noteworthy With at least 30 wins in each of his five NHL campaigns, Lundqvist has also won an average of 37 in each of his past four seasons. Scouting report King Henrik remains a stalwart in net who should receive more offensive support this season. The team also showed some late-season progress defensively under John Tortorella, something on which they can hopefully build going forward. Various other goalies have had better single campaigns than Lundqvist, but how many have demonstrated his consistently-strong overall stats season after season? Biron's presence might allow for the King's first sub-70 start season since '06-7, but you know how that goes.
3. Ryan Miller & Patrick Lalime, Buffalo Sabres: '09-10 BUF starts Miller 68; Lalime 13; Enroth 1
'09-10 BUF goals against rank 4; 207 Noteworthy Miller had never posted a GAA lower than 2.53 prior to last year's 2.22; nor had his SV% gone higher than .918 before his .929 of '09-10. Scouting report Miller must prove he can deliver back-to-back dominant efforts after last season's heroics and on a Sabres team with a few notable changes on D. He'll eat up the starts regardless and there's really no reason to expect a dramatic drop-off. Lalime's start total dipped from 21 two years ago with the Sabres to 13 last year, although his peripherals improved.
4. Roberto Luongo & Cory Schneider, Vancouver Canucks: '09-10 VAN starts Luongo 67; Raycroft 14; Schneider 1 '09-10 VAN goals against rank 11; 222 Noteworthy Luongo has won 155 games with 20 shutouts over his four seasons with the Canucks. Scouting report Luongo, having lost his captaincy and eight pounds (the former an effort to reduce by one the number of ridiculous storylines circulating around a Canadian team and the latter an effort to get quicker), will be looking for a big bounce-back campaign behind a Canucks' team looking to break the 100-point plateau again. Vancouver has finished in the top seven in goals against league-wide three times in the past four years. This will be Schneider's first shot to begin the season backing up at the NHL level, but GM Mike Gillis has said he would like to see Schneider start in the 20-25 game range. Good luck with that.
5. Tuukka Rask & Tim Thomas, Boston Bruins: '09-10 BOS starts Thomas 43; Rask 39 '09-10 BOS goals against rank 2; 200 Noteworthy As much as Thomas had a 0.46 rise in GAA and .018 drop in SV% from '08-9 to '09-10, he still finished a pretty respectable 16th and tied for 14th league-wide in those categories last year. Scouting report Rask seems to be the real deal and he's on his way to becoming this team's rock in net, but discounting Thomas (recovering from off-season hip surgery, but expected to be 100 percent for the start of the season) as a depth handcuff to Rask as your goalie in '10-11 might be a mistake off the bat. The Bruins are expecting bounce-back campaigns across the board from the blueline out, which should help Boston's goalies' chances of success on an already-strong defensive team. Keep in mind the Bruins finished second and first, respectively, in NHL goals against in the past two seasons.
6. Miikka Kiprusoff & Henrik Karlsson, Calgary Flames: '09-10 CGY starts Kiprusoff 72; McElhinney 7; Toskala 3 '09-10 CGY goals against rank 6; 210 Noteworthy Calgary's rededication to defence (22nd in '08-9; 6th last year) helped Kipper recover his star fantasy status, while also putting the brakes on a steady four-year statistical decline in both GAA and SV%. Scouting report The 33-year old Finn posted his best stats in years last season and chances are he'll see another 70+ starts this time around as well, which means even a small decline in his peripherals won't hurt his overall value too much. The 6-6 Karlsson is a relatively unknown commodity with interesting potential, so we'll see whether he'll be Calgary's answer to the annual 'resting Kipper more often' conundrum.
7. Jimmy Howard & Chris Osgood, Detroit Red Wings: '09-10 DET starts Howard 61; Osgood 21 '09-10 DET goals against rank 8; 216 Noteworthy Not since Curtis Joseph's 60 starts in '02-3 had a Detroit goalie started 60 or more games in a single regular season until Howard's 61 last year; as much an indictment on Osgood's unreliable play last season as anything else. Scouting report Howard spent a long time in the minors fighting his way to the NHL, so you'd have to imagine there will be no complacency contributing to any sophomore slump. The Wings are set for a strong campaign that should see them challenge for another Western Conference title too. Unless Osgood is horrible, Howard's start total should drop at least slightly below the 60-game mark in '10-11.
8. Antti Niemi & Antero Niittymaki, San Jose Sharks: '09-10 SJS starts Nabokov 71; Greiss 11 '09-10 SJS goals against rank 7; 215 Noteworthy Niemi and Niittymaki will combine for a cap hit of nearly $1.4M less than that of Evgeni Nabokov's (and $2M in salary), but they'll also come into this season with a combined 327 fewer career starts and 183 fewer career wins than their Russian counterpart. Scouting report Niemi has 37 regular season starts to his name, but that Cup ring gives him the inside edge on the starting role here in what could still be a near-tandem situation in the early going. Niittymaki has never started more than 46 games in a single season (he's done it twice, including last year). You'll likely want both guys here to be sure, but on a strong San Jose team the payoff should easily be worth the two roster spots.
9. Semyon Varlamov & Michael Neuvirth, Washington Capitals: '09-10 WAS starts Theodore 43; Varlamov 23; Neuvirth 16 '09-10 WAS goals against rank T-16; 233 Noteworthy Varlamov and Neuvirth have a combined 47 NHL regular season starts between them. Scouting report Varlamov likely has the edge on the starter's job, but you'll want both youngsters on your roster to play it safe because Bruce Boudreau loves the 'win and you're in' mentality. If you don't know much about Neuvirth, you'll learn in the coming months that he's a legit starting prospect who is going to build on his back-to-back AHL Calder Cup wins. The Caps should once again be a dominant team, so this duo will likely outperform its draft position (which will potentially be dragged down somewhat by the uncertainty over GP division) in most cases.
10. Ilya Bryzgalov & Jason LaBarbera, Phoenix Coyotes: '09-10 PHO starts Bryzgalov 69; LaBarbera 13
'09-10 PHO goals against rank 3; 202 Noteworthy Bryzgalov piled up eight shutouts last year, which matched his entire career output to that point and nearly tripled his prior single-season best of three. Scouting report The Russian is entering a contract year and should be highly-motivated, but he'll be hard-pressed to repeat the career highs he posted in wins (42) and GAA (2.29) in '09-10. His stats should be quite serviceable regardless and he'll start a lot of games. LaBarbera quietly turned into a really good spot-starter last year.
11. Marty Turco & Corey Crawford, Chicago Blackhawks: '09-10 CHI starts Huet 46; Niemi 35; Crawford 1 '09-10 CHI goals against rank 5; 209 Noteworthy Turco has posted at least three shutouts per season for seven consecutive years on a Dallas team that has seen its ups and downs. Scouting report The 35-year old's stats haven't been too impressive for a couple of years now, but even a somewhat-decimated Hawks squad after a summer of change represents a big upgrade defensively on what he has seen in front of him for awhile. Crawford has started five times in the NHL and he'll have to earn more work one game at a time. Cristobal Huet and his $5.625M cap hit are likely slated to play this year in Switzerland.
12. Jaroslav Halak & Ty Conklin, St. Louis Blues: '09-10 STL starts Mason 61; Conklin 21 '09-10 STL goals against rank 12; 223 Noteworthy Halak has nine shutouts in his 96 career starts and last season's total of 43 starts was the highest of his young career to date. Scouting report Halak had emerged from under Carey Price's shadow in Montreal and now Halak will run the show in net for the Blues. It's time to prove he can be consistently as good as he was at times last year, including that great playoff run. Conklin has been a pretty good bench or free agent addition for poolies over the past three seasons.
13. Pekka Rinne & N/A, Nashville Predators: '09-10 NAS starts Rinne 54; Ellis 28 '09-10 NAS goals against rank 14; 225 Noteworthy Despite only starting 49 and 54 games in each of his past two seasons, Rinne still managed seven shutouts in each campaign. Scouting report With Dan Ellis out the door and the Preds lacking a proven commodity backing up, this season should be shaping up to be Rinne's highest start total; which would mean passing last year's plateau of 54. Coming off back-to-back campaigns with seven shutouts each, it seems reasonable to expect modest gains in GAA and SV% for the Finnish goaltender as he heads into his first heavy-start season. Mark Dekanich , Chet Pickard and Anders Lindback will compete for the back-up slot this year, although blue-chipper Pickard will eventually seize it and then challenge Rinne for the starting role of this franchise.
14. Tomas Vokoun & Scott Clemmensen, Florida Panthers: '09-10 FLA starts Vokoun 62; Clemmensen 20 '09-10 FLA goals against rank 20; 244 Noteworthy Since the lockout, Vokoun has not produced a SV% lower than .919 (twice) in five seasons; nor has he recorded fewer than four shutouts in a single campaign. Scouting report Vokoun may not provide poolies with anything close to an elite GAA, but as a mid-range draft pick (where goalies are concerned) in most formats he'll be a reliable heavy-start guy on whom his owners can rely to deliver pretty decent all-around stats. Plus, he'll be a UFA next summer. With stud-in-the-making Jacob Markstrom beginning his North American career this year, Vokoun could find a home on a better-quality team before the trade deadline.
15. Craig Anderson & Peter Budaj, Colorado Avalanche: '09-10 COL starts Anderson 71; Budaj 11 '09-10 COL goals against rank T-16; 233 Noteworthy Anderson was Colorado's horse in net last year with 71 starts. The former back-up goalie had only started 83 times in his prior six years of NHL service. Scouting report The IL-born goalie had 2.42/ .924 splits before the Olympics, but those numbers changed fairly dramatically to 3.28/ .895 afterward. Six of his seven shutouts came in those first 53 starts. As long as you don't have to overpay for him at the draft, he should be a pretty good bargain who'll once again start a lot of games. Budaj has normally been a fantasy nightmare because of his consistency issues, but his peripherals were quite similar to Anderson's last year.
16. Cam Ward & Justin Peters, Carolina Hurricanes: '09-10 CAR starts Ward 45; Legace 24; Peters 8; Leighton 5 '09-10 CAR goals against rank 25; 256 Noteworthy Last year was Ward's first losing record since breaking into the NHL after the lockout, but he still managed to tie his '08-9 career high of a .916 SV%. Scouting report Ward's back injury issues from last year, which contributed to his low 45-start total, will likely push his draft value down this fall. Ideally, this will create a situation with high upside for fantasy owners willing to take a chance on him as their second goalie. He's been using Pilates to both keep his back loose and strengthen his core. 24-year old Justin Peters, who has eight NHL starts to his credit, could potentially be in line for a jump in value if Ward were to go down.
17. Marc-Andre Fleury & Brent Johnson, Pittsburgh Penguins: '09-10 PIT starts Fleury 66; Johnson 15; Curry 1 '09-10 PIT goals against rank 18; 237 Noteworthy Fleury has only posted a GAA lower than 2.65 once (2.33) in his career; while also only putting up a SV% higher than .906 twice (.912 and .921). Scouting report MAF should be able to deliver another 35+ wins to his owners on a deadly Pittsburgh team, but his peripherals have been all over the place in the six years since hitting the NHL as the first overall pick in 2003. As such, he hasn't been able to become an elite fantasy goalie despite having a Stanley Cup on his resume. The Quebec-born netminder will only be turning 26 in late November though, so he's still just coming into his own – having already won a Cup. Johnson remains a pretty decent option for spot-start wins with peripherals that won't hurt badly when you have an open slot.
18. Niklas Backstrom & Josh Harding, Minnesota Wild: '09-10 MIN starts Backstrom 58; Harding 22; Dubielewicz 1; Khudobin 1 '09-10 MIN goals against rank 21; 246 Noteworthy Backstrom averaged a shutout every 9.65 starts in his first three seasons, but only had two in 58 starts last year. Scouting report Minnesota's shift away from a defence-first style of hockey was at least somewhat responsible for Backstrom's fantasy downfall last season. His GAA ballooned to 2.72 from prior efforts of 2.33, 2.31 and 1.97. His SV% dropped dramatically to .903 after having posted .923, .920 and .929. Expect at least modest improvements on last year's stats, which should still make him a bargain for where you'll get him. Long-suffering Harding owners, waiting for him to earn a number one job somewhere else via trade, have but one season left to wait before he'll become a UFA… albeit with a plethora of goalies out there.
19. Jonathan Quick & Jonathan Bernier, Los Angeles Kings: '09-10 LOS starts Quick 72; Ersberg 7; Bernier 3 '09-10 LOS goals against rank 10; 219 Noteworthy Quick jumped from 41 starts in '08-9 to 72 last year, but his shutout total remained at four despite the increased workload. Scouting report The Kings are sneaking up on fewer teams and fans these days as more people realize exactly how strong this roster has and will become, but Quick remains a fairly unheralded man between the pipes. He's especially a bargain for poolies in salary cap leagues, where his annual hit is only $1.8M. Be warned though: Bernier is coming hard for that number one job and while it won't be handed to him and it won't necessarily happen this year – the youngster will snatch it from Quick before all is said and done.
20. Carey Price & Alex Auld, Montreal Canadiens: '09-10 MON starts Halak 43; Price 39 '09-10 MON goals against rank 13; 223 Noteworthy Price posted his first losing season in three tries last year, but still made small strides in improving his GAA (2.83 to 2.77) and SV% (.905 to .912). Scouting report Will Price seize his opportunity as the starter headed into this season to pass easily-attainable career highs of 24 wins, a 2.56 GAA, three shutouts and 49 starts? Even falling somewhere between his best (.920) and second-best (.912) SV% marks would satisfy poolies this year. Price should be given plenty of chances to get out of any slumps in which he finds himself (the Habs did, after all, made "The Choice" and dealt away Jaroslav Halak), but having Auld around as an insurance policy was a good move for the Habs just in case. Price seems to have been humbled by his ups and downs to date, especially last year, so that should serve him well moving forward.
21. Steve Mason & Mathieu Garon, Columbus Blue Jackets: '09-10 CBJ starts Mason 55; Garon 27
'09-10 CBJ goals against rank 26; 259 Noteworthy Despite the statistical abomination that was Mason most of last year, he still managed five shutouts and has 15 overall in his first two seasons. Scouting report Fantasy leaguers obviously want to know which Mason is the real Mason and without Ken Hitchcock's system in place, the answer may lie somewhere in between his rookie season dominance and last year's fallen-off-the-map version. No doubt available for pennies on the dollar this year because of gun-shy '09-10 owners, Mason could prove to be a real steal at the draft. Interestingly, he was 13-18-6 with a 3.28 GAA and .890 SV% under Hitchcock and 7-8-3 with 2.57/ .923 splits after the firing. Garon was more impressive for this team last year than his stats would indicate and it wouldn't be too surprising to see him start in the same general range of games as he played then.
22. Jonas Hiller & Curtis McElhinney, Anaheim Ducks '09-10 ANH starts Hiller 58; Giguere 17; McElhinney 7 '09-10 ANH goals against rank 22; 251 Noteworthy Hiller's starts have jumped from 18 to 38 to 58 in his three NHL seasons; although correspondingly, his GAA has risen and his SV% has lowered each time around too. Scouting report We've seen recent seasons where the goaltending question in Anaheim revolved around whether it would be Hiller or Jean-Sebastien Giguere receiving more starts. Hiller won that battle, but the current fight is centred on how much the loss of Scott Niedermayer and the Ducks' made-over blueline will affect their starter's stats. McElhinney showed something in his brief stint with the team near the end of last season, so he'll be looking to earn a spot in the regular rotation to spell Hiller.
23. Michael Leighton & Brian Boucher, Philadelphia Flyers: '09-10 PHI starts Emery 29; Boucher 26; Leighton 26; Backlund 1 '09-10 PHI goals against rank 15; 225 Noteworthy Leighton has never started more than 33 games in a single season and last year's 16-5-2 mark with Philly was his first winning record. Scouting report With the uncertainty over who will emerge as the starter here (Leighton may have the edge, but don't discount Boucher's contributions last year) and the general unstableness of each goalie's NHL career to date, anything from a mild disaster to a potential goldmine could happen in fantasy circles for last year's Cup finalists. Grabbing these two guys fairly late during the final goalie run of your draft to stash on the bench could really pay off with a potentially strong Philly team though. Johan Backlund, depending on his health, could be a factor as well. Sergei Brobovsky is already turning heads and after some AHL seasoning it's entirely possible he could work his way into the rotation at the NHL level. Come on – this is Philly. Would you expect anything other than a potential circus in net? Load up the clown car and let's see how many will emerge.
24. Chris Mason & Ondrej Pavelec, Atlanta Thrashers: '09-10 ATL starts Hedberg 42; Pavelec 40
'09-10 ATL goals against rank 24; 256 Noteworthy Pavelec has plenty of promise to be a star goalie in this league, but in his small sampling of 56 NHL starts he has a career GAA of 3.33 and a SV% of .902 with two shutouts. Scouting report Mason has posted pretty respectable stats in three of his past four seasons, so with an improved Atlanta team he should fare fairly decently overall. How the starts will be divided between Mason and Pavelec, who will theoretically begin in a tandem of sorts with Mason having the veteran edge, remains to be seen. Regardless, the netminders should receive more support than the departed Kari Lehtonen generally received in his time with the Thrashers.
25. Pascal Leclaire & Brian Elliott, Ottawa Senators: '09-10 OTT starts Elliott 48; Leclaire 31; Brodeur 3
'09-10 OTT goals against rank 19; 238 Noteworthy Leclaire was a first round pick in 2001 and in five NHL campaigns, he's only started more than 31 times once. He was healthy enough for 52 starts in '07-8, where he also racked up nine shutouts. Scouting report After earning an impressive 16-8-3 mark in 30 starts in '08-9; Elliott registered across-the-board improvements in starts, wins, GAA, SV% and shutout marks last year. Can he continue that progression, or will Leclaire stay healthy long enough to gain his own traction in his contract year and keep the starting role? He was able to push himself hard during summer training, which could really help him this year. And just how will the replacement of shot-blocking demon Anton Volchenkov with offensive wizard Sergei Gonchar, who is underrated defensively, impact both netminders? A Leclaire injury could push goalie-of-the-future Robin Lehner into the NHL spotlight for a big league stint earlier than expected if Lehner can outplay Mike Brodeur.
26. Jean-Sebastien Giguere & Jonas Gustavsson, Toronto Maple Leafs: '09-10 TOR starts Gustavsson 39; Toskala 26; Giguere 15; MacDonald 5 '09-10 TOR goals against rank 29; 267 Noteworthy Gustavsson posted 2.40/ .919 splits in his first season in the Swedish Elite League, but it was his second time around the SEL where he really excelled; recording 1.96/ .932 peripherals. What will he do in his sophomore NHL campaign? Scouting report JSG turned in pretty respectable stats after coming over from Anaheim, including those back-to-back debut shutouts, so he may be especially good for spot starts for H2H owners looking to fill empty goalie slots on nights when the regulars aren't playing. Gustavsson's March splits saw him leave the month with a 7-1 record and 2.06/ .923 peripherals, which bodes well going forward with what should be an improved team. He is on his way to becoming this team's franchise goalie and he worked on his explosiveness over the summer. The hot hand will play here, but an opening season tandem situation seems fairly likely.
27. Dan Ellis & Mike Smith, Tampa Bay Lightning: '09-10 TBL starts Niittymaki 46; Smith 36
'09-10 TBL goals against rank 27; 260 Noteworthy Ellis has never started more than 37 games in a season. Smith got the call 36 times last year and his high is only 40. Scouting report The peripherals of Ellis have varied wildly in his three years of NHL service, so it's tough to say what he'll bring to the table for fantasy owners this year. Given the improvements made to the Lightning and the overall climate of excitement with the beginning of the Steve Yzerman era though, it's not a stretch to say that Ellis and Smith could form a pretty decent duo for where you'll get them in the draft. Ellis seems the more likely of the two to earn more than half of the starts, but new coach Guy Boucher has called the situation a tie to begin the year and whoever is in net on that day will be the No. 1 guy. Smith fractured his right ring finger in camp and will miss at least a week.
28. Kari Lehtonen & Andrew Raycroft, Dallas Stars: '09-10 DAL starts Turco 52; Auld 19; Lehtonen 10; Climie 1 '09-10 DAL goals against rank 23; 254 Noteworthy Although Lehtonen has had undeniable injury issues, he still has start totals of 55, 45 and 66 games in his past three years. Scouting report Despite playing for struggling Atlanta teams in his career to date, Lehtonen has always managed to post a respectable SV%. Can the former second overall pick (2002) post a competitive GAA with a winning record on this Dallas squad though? All we know for sure right now is that he'll start the majority of the time when he's healthy. As a third goalie for your fantasy team he'd have nothing but upside for where you'd get him, although he may be of more use in H2H leagues where the impact of his peripherals (his SV% should be good, but GAA will be up in the air on this team) may be less severe on a weekly basis. Raycroft and Brent Krahn are battling it out for the back-up job, although Raycroft should have the edge.
29. Dwayne Roloson & Rick DiPietro, New York Islanders: '09-10 NYI starts Roloson 49; Biron 26; DiPietro 7 '09-10 NYI goals against rank 28; 264 Noteworthy DiPietro started 62, 62 and 63 times over three years before combining for just 12 starts over his past two seasons because of his injuries. Scouting report DiPietro, at only 28 years old, could still pay off in a big way for deeper keeper league owners if he can ever shake off his IR issues. For now though, the 40-year old Roloson remains the most likely to consistently start for this Isles team in '10-11. Although the franchise is headed in the right direction with young talent, the fact that neither Roloson nor Biron could crack the 3.00 GAA mark last year means choosing a NYI starter will likely be a last resort for poolies at this point.
30. Nikolai Khabibulin & Co., Edmonton Oilers: '09-10 EDM starts Deslauriers 48; Khabibulin 18; Dubnyk 16 '09-10 EDM goals against rank 30; 284 Noteworthy The Oilers have not had two goalies record sub-3.00 GAAs in the same season since '05-6. Scouting report A looming prison sentence, no matter how short, hanging over Edmonton's clear-cut starting choice – coupled with serious questions as to how this team will keep pucks out of the net again this year – do not bode well for poolie confidence in any netminder wearing Oilers' silks this year. The joy for fans of the team will come in witnessing the birth of a new generation of young, star talent in the making up front though. For the record; Jeff Deslauriers, Devan Dubnyk and even Martin Gerber are in the mix behind Khabibulin. The starter says his back feels great and he could start 55-60 games if all goes well.