Mario Gabriele Andretti is an auto racing legend and icon with clusters.
He's also the driver with the best success record of my generation. A record that will most likely never been equalled.
To quote my good friend and fellow Hall of Fame inductee Tim Miller of The Hamilton Spectator, "Mario could drive the wheels off anything, dirt or asphalt!"
Formula One, IndyCar, NASCAR, SportsCars, Sprint Cars, Midgets . . .  all conquered  by the mighty little Italian dynamo.
So to be able to state I am in the same auto racing Hall of Fame as Mario Andretti, just makes my induction into The Canadian Motorsport Hall of Fame all the sweeter!
Mario's flight from Pittsburgh to attend the recent CMHF gala at The Canadian International Auto Show Toronto, step one in the induction process, was delayed several hours, and many of us were doubtful he would make it at all.
But the man arrived in time to join Townsend Bell on stage to delight the inductees and the gathered throng with his stories, sharp wit and yes, theories on what's right and what's wrong with our sport.
A short interview afterwards for The Raceline Radio Network makes it close to ten times I have had the legend on the show.
The fact Mario congratulated me on my induction into The CMHF in the new media category during that interview was a career moment I will never forget.
Mario said he would have crawled to the gala if he had to. He was so generous in his praise of the media's role in the promotion of the sport.
To be saluted for close to 30 years work on The Raceline Radio Network covering and promoting Canadian motorsport, and the close to 10 years prior to that on Raceline Motorsport Television is very humbling.
I can start a small list of people I have to thank, but I do so in peril because I know in my advancing age I will unintentionally leave someone unmentioned. But here goes . . .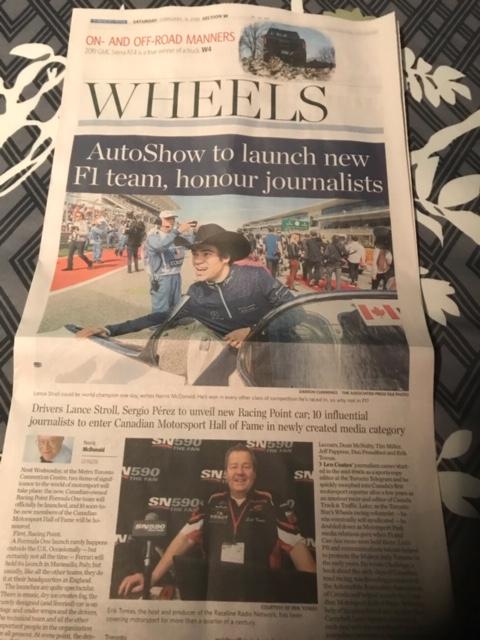 Thanks to fellow Hall of Famer Bruce Mehlenbacher and the late John Massingberd, who started it all back in the late 80s with the Raceline TV show on TSN. They wanted to cover Canadian events not carried by racing TV.  Bruce is actually the man who put my nomination forward to the Hall for consideration.  "Mehl" is the best kind of friend.
The companion Radio show arrived in the early 90s pulling yours truly out of main stream Toronto radio for a full-time gig covering the sport. To this day I am proud to say I am the only sportscaster in Canada afforded that luxury.
Enormous thank yous to radio programmers Allan Davis and Nelson Millman for putting the show on the air and all the affiliate PDs and staff for their support and understanding of the sports' importance to a wide cross section of their audience over the years.
Our sponsors and broadcast partners get a special salute. Raceline Radio would not exist without Subaru Canada Inc. They've kept us in business since day-one. Continental Tire, Continental ContiTech, and Canadian Tire Motorsport Park play a huge role in our story, as have other blue chip companies over the years.
I am also very fortunate my family grew up with the sport so they understand the rigors and irregular hours required to execute something worthy of Hall of Fame induction. Miss Janice's dad, the late Kurt Uhl owned Merrittville and Ransomville Speedways in the 70's and 80's so she grew up with racing.
Our daughter Katelyn also grew up with the roar of racing engines and has done her fair share of officiating.
I most certainly share this CMHF honour with all of these fine people, and certainly anyone connected with the career of a little kid from Niagara-on-the-Lake who's dad took him to Merrittville Speedway when he was only seven to plant the seed.
Like Mario Andretti, I am very proud to be inducted into the Canadian Motorsport Hall of Fame.
Tale Pipes:  Our 27th season on the air across Canada is well underway. We are thrilled Continental Tire has renewed for another year and Subaru Canada Inc. is in the process of renewing as well. Our other seasonal partners are indicating they want to stay buckled in with us for 2019 so we're in pretty darn good shape. Activity at the affiliate level is also starting to percolate with local speedways coming out of hibernation for the spring ahead. It's all good!