Let's say you're Alex Seixeiro, the host of the Fantasy Show here on Sportsnet 590 The FAN, or you're at least the Alex of your group of friends. When it comes to fantasy sports you are the king! The only issue is that you're currently in the month of July and the hockey pre-season can't get here soon enough.
Maybe you're not even that, maybe you're more like me and you really dislike interacting with your fellow man. Maybe the idea of playing with yourself is not some sort of lewd sexual reference, but the chance to boot up your computer, crack a cold beer, and leave behind the stress created by modern man.
Perhaps you are a student of history, and you dream of experiencing hockey as it was played in 1947? All that said, what do you do when you enjoy managing hockey instead of playing hockey? One solution might be to go to this website and download Franchise Hockey Manager, but what is Franchise Hockey Manager? Is it a 3D hockey videogame for your console? Is it a 2D hockey videogame for your smartphone? Is it basically fantasy sports on the internet?
To be honest, it's not really any of those things, and I could explain it but I would be stealing the thunder of Jeff Riddolls. Jeff  is a native of British Columbia and the producer working on Franchise Hockey Manager.
The rest of this blog post is made up of my questions and his answers. If you read the rest of this blog post you'll discover a cool hockey themed game, and you'll walk away with a clear idea of what Franchise Hockey Manager is.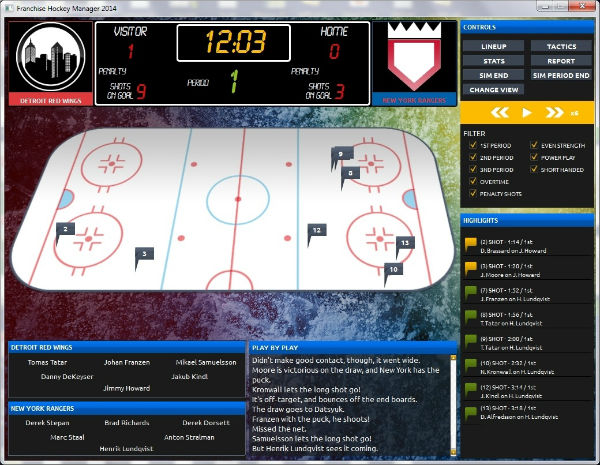 Bryan Calhoun: What exactly is Franchise Hockey Manager?
Jeff Riddolls: Franchise Hockey Manager is a hockey management simulation game.  It's part of a genre of sports management games that's very popular in Europe – Football Manager, our soccer counterpart, sells well over a million copies annually – but only has a small audience on our side of the Atlantic so far.  Unlike most sports games, the focus isn't on what goes on while a game is being played, but rather the way the team is assembled beforehand – scouting, drafting, signing, and trading for players.
BC: So that I can put this all in terms I understand, can I compare Franchise Hockey Manager to online fantasy leagues at all?
JR: The main similarity is that you're in charge of choosing which players you want on your team.  But with fantasy hockey, just about everything beyond that point is out of your control.  If you draft Jake Gardiner and the Leafs decide he's going to spend the year with the Marlies, there's not much you can do about that aside from dumping him if your league allows it.   In FHM, where he plays and how he's developed is up to you.
BC: What do I need in terms of time, money and hardware to get started?
JR: The game sells for US$39.99, through our website or via online retailers like Amazon.  The system requirements are fairly modest, since the game doesn't have any elaborate graphics; if your computer isn't more than five or six years old, you should be able to run it.  As for time, that's up to you – if you have only a few minutes to spare, you can jump in and play a couple of days in the game.  Or, you can spend hours with it.  Since you control the speed at which the game advances, it's a good game to play while you're doing something else on the computer – you can make a few changes to your team and then have the game progress on its own for a few days, and it'll do that in the background while you work or surf the web.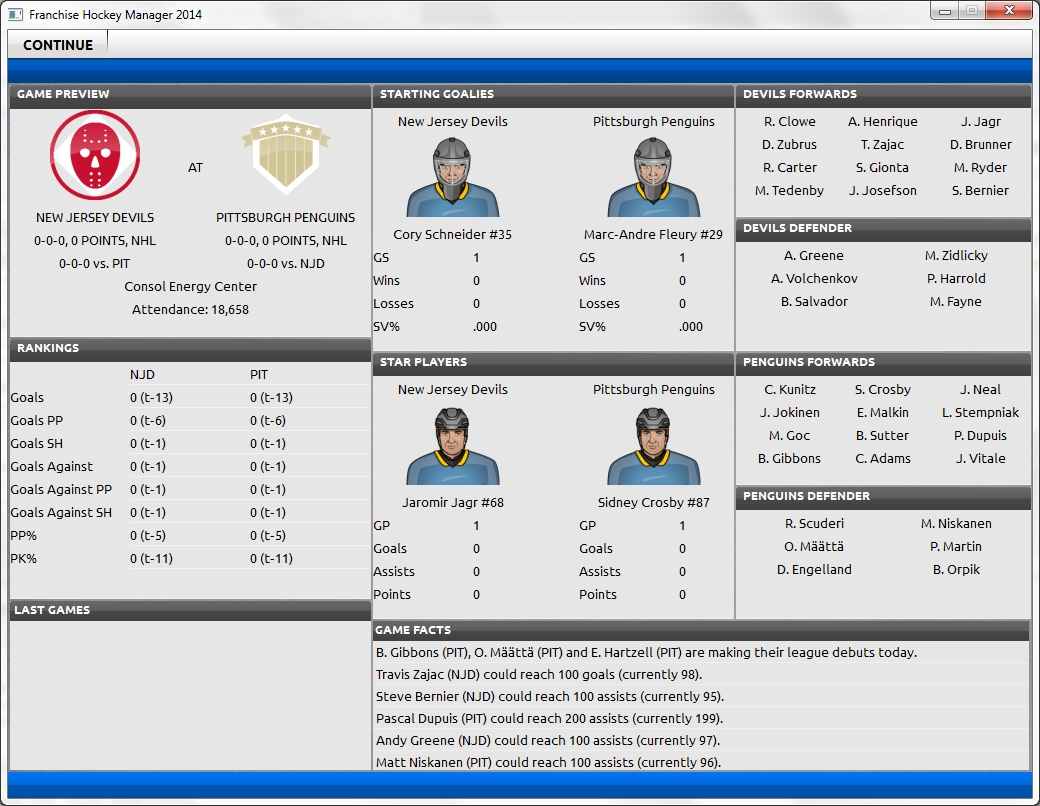 BC: I am not much of a computer guy. How hard is it to get Franchise Hockey Manager up and going?
JR: Not hard at all.  It can be downloaded from our website at http://www.ootpdevelopments.com/franchise-hockey-manager/, and once you've done that, it's just a matter of installing it like you would any other computer program.
BC: How is it that you can offer the complete 2013-14 rosters for over 300 teams across 19 leagues? I thought EA Sports locked all that stuff up for their NHL games.
JR: We don't have a licensing agreement with the league, which means we can't use things like official logos or player likenesses – not that big a loss in a game that's mostly about text and stats.
BC: Franchise Hockey Manager has the rosters of 19 leagues. Does it also have the unique salary cap, age restrictions and other unique rule sets of those leagues?
JR: It does.  In some cases, though, those rules are a little difficult to model within the game – the limitations on the use of 15-year-olds in major junior, for example.  So we occasionally have to handle them in an abstract way or leave a rule out if it just won't work in a game setting, but for the most part we try to have the league rules work as accurately as possible.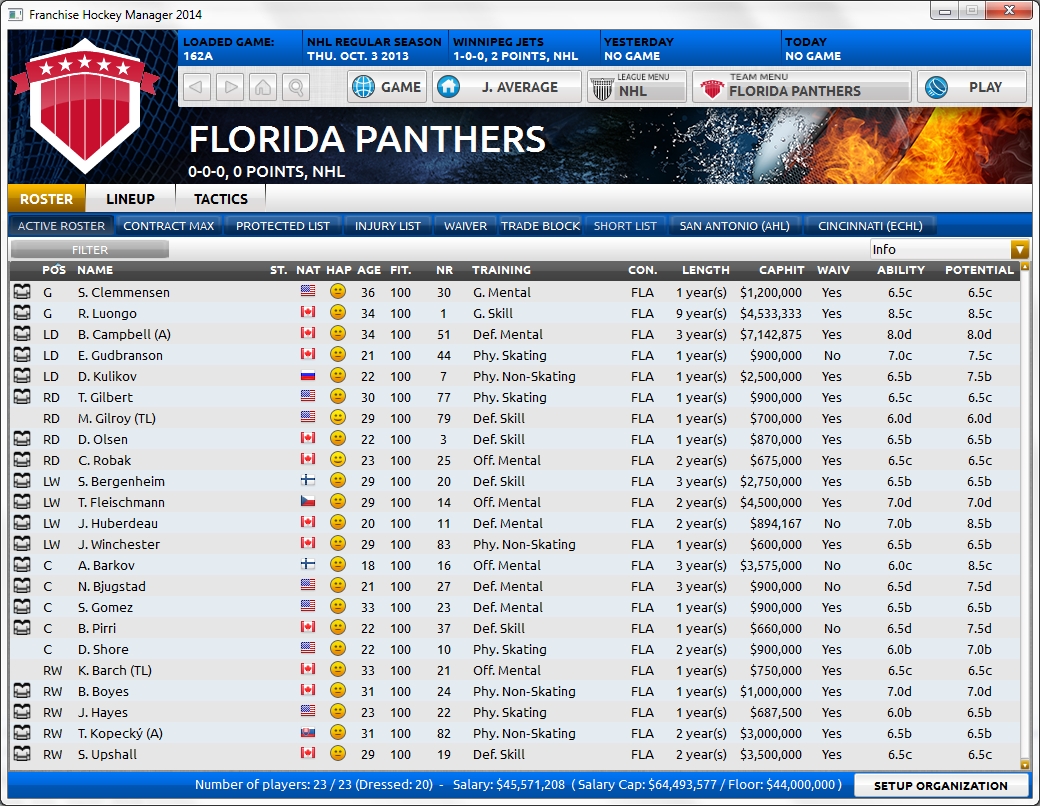 BC: Like most North Americans I only really pay attention to the rest of the world during the Olympics. Is this a game for me if I only care about the NHL? 
JR: Absolutely.  If you're playing as an NHL team, you'll want to have your scouts keep an eye on Europe so you're prepared for the draft and have a chance to spot interesting free agents, but if you know you're never going to want to manage over there, you can set those leagues to a non-playable status that will speed up your game a bit.
BC: If this is a Franchise Hockey Manager, what's happening with the game's commissioner mode?
JR: Commissioner mode is, effectively, cheat mode (no commentary intended on any real-life commissioners, honest.)  It allows you to do things like edit a league's rules or a player's contract status. 
BC: Franchise Hockey Manager is supposed to have a mode that will let you re-live historic match ups. What exactly can we do in this mode?
JR: In historical mode, you can start a season as any team in any season in NHL or WHA history from 1947-48 to last year.  If you want to play as one of the Leaf dynasty teams of the late 40's or early 60's, you can.   Or, you can take over before Harold Ballard dismembered the Sittler-era group and see how they would've done if that team had been kept together.  Depending on how you choose to set up the game, you can have the rookies appear on the historically-correct team at the start of every new season (Wendel Clark joins the Leafs in 1985, Mats Sundin starts as a Nordique, etc.)  or you can completely re-do the drafts and get a shot at Gretzky or Lemieux.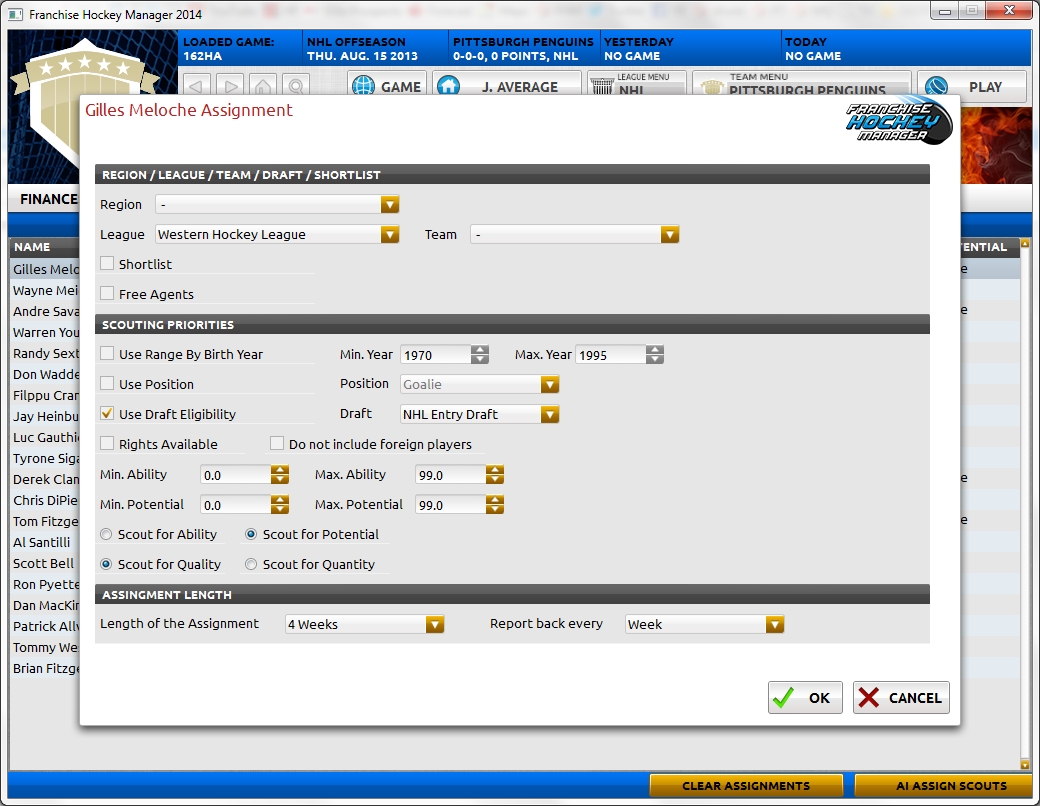 BC: Why is there no data on the 1946 season, or the other earlier seasons?
JR: 1947 was a good cutoff year for a few reasons.  First, the rules are recognizably modern at that point – there's a red line at centre ice, icing isn't allowed, and so on.  It's also the second full postwar season, so by that point all the players were out of the military and back on the ice.   Starting then avoids having to deal with the odd rosters full of replacement players during the war years.  And finally, building the historical database is a very time-intensive process: the career of every player, even ones like Don Cherry that played a single NHL game, is evaluated individually and then specific ratings are assigned to him to model him in a realistic way.  That takes quite a while, so there was a limit on how far back we could go in the first version.  Even cutting it off at 1947, I just barely managed to get it done.  Next year, though, we want to go back quite a bit further; I'm hoping for 1910 so we can include the end of the pre-NHL era.
BC: How specific does Franchise Hockey Manager get? Is there a pre-season or training camp? Can I sign prospects?
JR: There's no pre-season or training camp right now; that's something we're planning to add in next year's version.  Signing prospects is a huge part of the game; you have a scouting staff to send out to evaluate young players and, hopefully, find the hidden gems while discovering which well-known prospects are over-hyped.  And then, of course, you have to go through the draft and hope the other 29 teams don't steal the guys you're targeting.
BC: Is this an annual franchise? Will I have to spend money to get Franchise Hockey Manager 2015?
JR: It will be annual, yes.  The annual versions are something that's worked well for our baseball game for 15 years now, so we're confident in our ability to deliver interesting improvements and new features that will make it worth buying every year.  It won't be just a roster update and some new graphics; some of the things we intend to add next year include full training camps and preseason schedules, the extension of historical mode back to the early part of the 20th century, and international tournaments, so you can watch your players and prospects participate in the Olympics or World Juniors – or maybe run the national team yourself.