A year after his famous decision to give up his spot at the 2014 Sochi Games, Gilmore Junio talks about that fateful day, its impact and his motivation for the future.
By Lucas Meyer (@meyer_lucas)
On a crisp Friday in late January, students, professors, staff and regular residents are walking out of the Olympic Oval at the University of Calgary, while others cross their paths heading inside the famous athletic facility. Some are looking forward to the weekend, while some are getting in a late-day workout. There are also plenty of children running around the grounds holding skates and sports bags, some likely with the dream of following in the footsteps of athletes who have trained at the very same building and have gone on to win Olympic medals.
Among those walking out is an athlete hailed as a national and Olympic hero, but didn't win a medal. A Calgarian who was ready to quit the sport five years ago, but now couldn't be more focused on his discipline. He's someone who has never been on an Olympic podium hearing our national anthem, but has been heaped with the praise and appreciation of any champion who has worn the maple leaf.
He walks out of the Oval after finishing class and heads home. The 24-year-old won't be here for long, with an upcoming trip to Europe on the horizon, which includes this weekend's World Single Distance Championships for Long Track Speedskating in the Netherlands. A year after his life changed forever, Gilmore Junio has the next competition in his sights; another step in his quest to make more history.
*****
It was a year ago today that Junio made the famous decision to give up his spot in the men's speedskating 1,000 metres event at the 2014 Sochi Games to teammate Denny Morrison. Two days later, Morrison skated to a silver medal, electrifying Canadian Olympic fans and making both skaters household names.
"It was based on performance the decision, but what we started, I had no idea," Junio said in Calgary before heading overseas late last month. "It started quite the whirlwind and it's still kind of settling down right now."
Going into the Olympics, Junio was aiming for a medal in his specialty of the 500 metres, but he was also prepared for the 1,000 metres after Morrison had fallen at the Olympic trials in December. Although he did a re-race and was named an alternate, it seemed his dream of medalling in the event was dashed.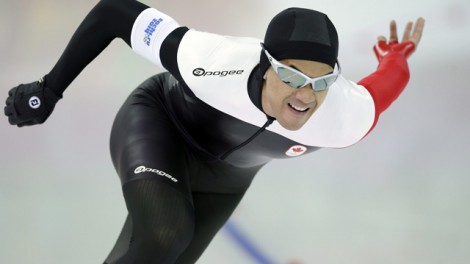 Unfortunately in Sochi, disappointment followed Junio as he didn't medal in the 500, instead finishing 10th.
That's when his coach Michael Crowe asked his pupil whether he would consider giving his 1,000 metres spot to Morrison, the veteran's strong suit.
But Junio had already long considered moving over for his teammate. After Morrison's fall at the trials, Junio leaned over to fellow teammate Danielle Wotherspoon-Gregg and said he would give his spot up if necessary, even though she replied by telling him not to say anything.
"My coach is definitely somebody that says if there's a job that needs to get done, you do it, no matter what and you never say never and never say die, so I know he probably wouldn't have been a fan of my decision had I told him then," Junio said, knowing in the back of his mind through the entire month of January that he would likely move aside.
The Calgarian said despite the approach, there was still no pressure to give up the spot and he has completely denied rumours he was ever forced to by team officials.
He reiterated that decision-making process and said after a conversation with Crowe, letting Morrison skate didn't take much contemplation.
"We talked about it and talked about giving the spot to Denny and I thought it was the best thing to do and he kind of agreed, but made sure that it was my decision and made sure that I was going to be the one that talked to Denny," Gilmore said, before sending the now famous text message from a Russian number: "Are you ready to skate a 1000? Yay or no?"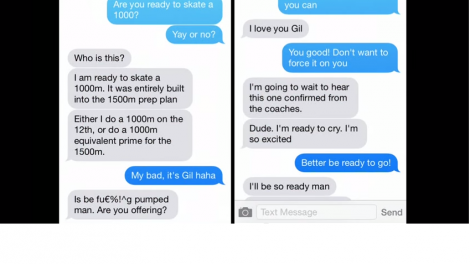 Morrison won his elusive individual Olympic medal as Junio and the rest of the team cheered from the stands.
The decision and subsequent result set off a massive reaction both at the Games, as well as Canada, and became one of Sochi's biggest storylines, linking the friends and teammates in Canadian sports history forever.
Looking back a year later, Junio said there was no way to anticipate the impact it left on the nation and his life.
*****

The first sign that things were going to be different was February 27th when he dropped the puck at the Saddledome when the Calgary Flames hosted the Los Angeles Kings. Although that might pale in comparison to future honours, for a lifelong Flames fan like Junio, it was a telling sign.
"I've been to a lot of Flames games in the past and watched a lot of Flames games, so that was kind of the one that was like, okay this is going to be quite the ride," he said, adding his return and upcoming offseason were unlike anything he had experienced before.
Instead of normally spending time with friends and family, training and going to school, he was travelling across the country as a keynote speaker for various events and appearances, from Vancouver to Toronto to Montreal.
He was named Honourary Marshal for the Calgary Stampede (along with Morrison and acting icon William Shatner,) became a 2014 United Way Do Good Ambassador and was one of the speakers at the TEDxTalk Calgary event in June.
Although he didn't win a medal in Sochi, Canadian donations produced a crowd-funded one, which was presented to him at a Kitchener elementary school in May and in December, a CBC Sports poll had Junio only second to Toronto Raptors GM Masai Ujiri as the most influential person in Canadian sports in 2014.
"It's just been pretty overwhelming all the support that I've received but all in all, I don't think I've changed that much," he said. "I'm still the same kid that just likes skating in circles and still a student at the university and just trying to get an education like everyone else, but it's been quite the ride for sure."
Although it's been a year, Junio says adjusting to the attention still takes a little bit of getting used to, whether it's travelling across the country or simply being recognized at a local Starbucks. The attention also extended to his family.
"I don't think my mom would be sharing one of her recipes in a magazine, let alone being featured on TV and stuff like that," he said. "It's been a lot of fun and again, quite the year since that decision."
*****

It was Morrison and his team's performance at the 2010 Vancouver Games that inspired Junio to stay with the sport when he was considering quitting. Ironically four years later, it was Morrison's latest feat – thanks to Junio's graciousness – that inspired him again.
Leading into Sochi, Junio says he was already thinking his first trip to the Games would be his only one.  With the accomplishment of becoming an Olympian complete, he said winning a medal would be incredible, but he was ready to come back to Calgary, leave skating and focus on finishing his kinesiology studies.
The completely logical life-plan quickly altered course following Morrison's race when Junio headed to the media scrum.
"First question I was asked I immediately responded with we're going to be back next Games and be even stronger," he said. "In my head I'm thinking, oh boy, did I just commit to another four years?"
He did and he's also committed of adding to his legacy, not with an act of selflessness, but one of victory.
"I don't want to be defined by that moment, I want to make my own, my own career and have my own accomplishments to my name," he said. "I didn't get that medal in Sochi, but now I'm definitely more motivated, having seen such a good friend accomplish a dream like that, it definitely motivates me."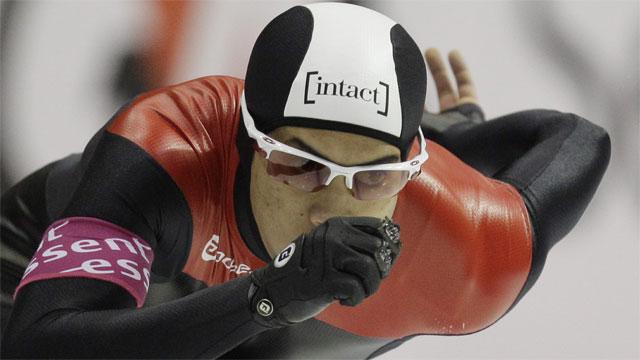 Although the motivational fire is burning for that Olympic medal, Junio said Sochi showed that team accomplishment could produce many kinds of individual rewards.
"Things have changed with how people perceive me, but I've always been kind of this person that is willing to do whatever it takes, get the job done and the team comes first," he said. "You can accomplish anything as a team and the nice guy doesn't have to finish last."
It seems the nice guy isn't finished at all and perhaps he's the inspiration for a future Canadian Olympian walking into the Oval right now.
Lucas Meyer is a reporter and producer at 660News in Calgary and a Sportsnet contributor. He is also the play-by-play voice of the University of Calgary Dinos basketball teams. Follow him on Twitter: @meyer_lucas.