When drivers hit the 1,000-metre straightaways before Turns 1 and 3 of the iconic Indianapolis Motor Speedway, it's not uncommon to see them rocketing down in excess of 240 m.p.h., an unfathomable speed that would leave just about anyone seeing nothing but blurs other than professional race car drivers like Robert Wickens.
"Our vision is perfectly normal [when driving at those high speeds] as if you were going 100 km/h on the 401 so it doesn't really change anything," Wickens told Sportsnet in a recent telephone interview. "Everyone always asks, 'Don't you get tunnel vision? Do you get dizzy?' But it's what we've been training our whole lives for."
In Wickens' case, this is what he might have been born for.
This Sunday, Wickens will race in his first-ever Indianapolis 500, a moment the Canadian has seemingly been waiting for his whole life.
Hailing from Guelph, Ont., the motorsport bug bit Wickens from a very young age, to the point that the only toys he ever played with were his Hot Wheels toy cars and the only television he wanted to watch was auto racing.
"I basically saw a Formula One race on TV as a really young kid and I guess I was hypnotized by the cars and the colours or the sound or whatever it was," Wickens said of how he got into motorsports to begin with.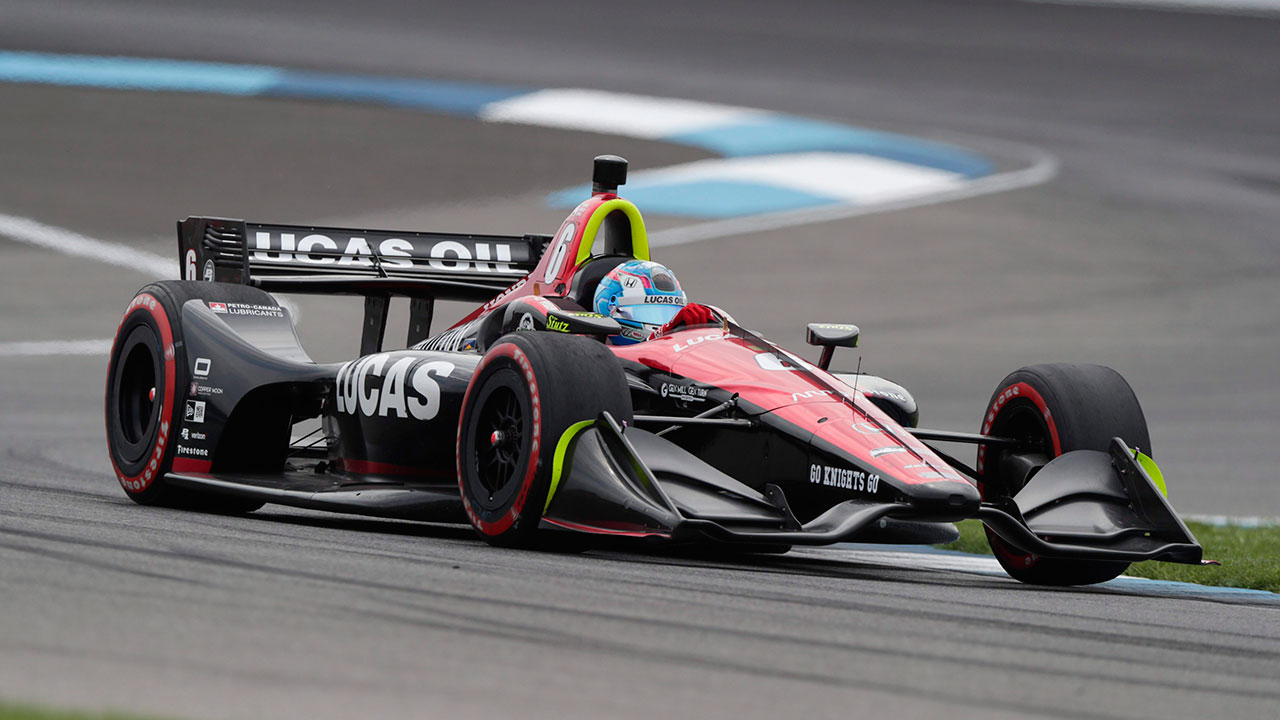 This early racing fandom transitioned into friendly Mario Kart competition with his older brother Trevor, and eventually led to Wickens inevitably wanting to get behind a steering wheel himself.
An athletic kid growing up, Wickens approached his parents when he was seven about potentially beginning karting, but was forced to make a decision between that or scratching off "try hockey" from his Canadian bingo card.
"I didn't hesitate and said I wanted to try karting."
"I feel like already at a young age I found a sport that I wanted to have a career in," Wickens added. "How many kids can say by the time you're 10 years old you knew exactly what you wanted to do with your life?"
And as he grew up, trips to the Honda Indy Toronto only bolstered Wickens' desire to become a pro himself.
The earlier dreaming he was doing was transforming into conviction.
"For me [visiting the Honda Indy Toronto] was kind of closure to know this is exactly what I wanted to do because once you saw it on a bigger stage it just made you even hungrier to go after it."
When you're famished, you feast.
Wickens would go on to become a three-time Ron Fellows Karting champion – a primarily North American-based karting series – before launching a professional career that's seen him race for mostly single-seat open-wheel race cars in Europe for a variety of series, including a 2011 Formula Renault 3.5 Series drivers' championship.
Now, at age 29 and having spent the past 13 years grinding in lesser-known series, Wickens is getting his shot to introduce himself to the rest of the world in motorsport's Super Bowl.
"Any race that's been around for over 100 years you just know as a driver is one that you want to compete in."
Starting Sunday's 102nd Indy 500 on the outside of Row 6, Wickens isn't exactly in the most advantageous position, but he's confident his No. 6 car is good enough to move him up from his 18th-place starting point over the course of the 200-lap marathon.
Currently sitting in eighth in the IndyCar drivers' championship, Wickens is off to a strong rookie season with already one pole position – in the first race of the season no less – and a podium finish – third place at the IndyCar Grand Prix a couple weeks back – to his name. But if Wickens is to really make some real big noise and move up the championship standings, a strong showing this Sunday is almost paramount.
There are two races on the IndyCar calendar that are worth double the points: one is the season finale at Sonoma, the other is Sunday's Indy 500. As it currently stands, Wickens is just 45 points behind leader Josef Newgarden, so a big swing and shakeup in the standings is very possible with twice as much on the line.
If Wickens is going to make the kind of leap he'll be looking for, he's going to need the full support of his Schmidt Peterson Motorsports team. A major part of the Indy 500 is team strategy out on the track with teammates helping each other out by drafting for each other and the like. Wickens will have Jack Harvey and Jay Howard out there supporting him, but Schmidt Peterson's biggest gun won't be.
Fellow Canadian James Hinchcliffe, who is fifth in the drivers' championship, failed to qualify for the big race, a major disappointment not only for Hinchcliffe and his fans but also for Wickens, who could've benefitted from having a powerful partner out on the course with him in similar fashion to how other strong teams like Penske and Andretti will with the likes of Newgarden and Will Power and Alexander Rossi and Ryan Hunter-Reay.
This likely means there will be added pressure on Wickens to perform for his team. Not like that will be much of a problem for him, though.
From playing with Hot Wheels on a little race track-themed carpet as a child to burning rubber on IMS's historic asphalt at 240 m.p.h., what's a little pressure to a guy who has worked his entire life for an opportunity just like this?
"I couldn't tell you why this sport appealed to me but I'm just really happy that I found it," Wickens said of what attracted him to motorsport in the first place.
On Sunday, he may just finally find his answer.