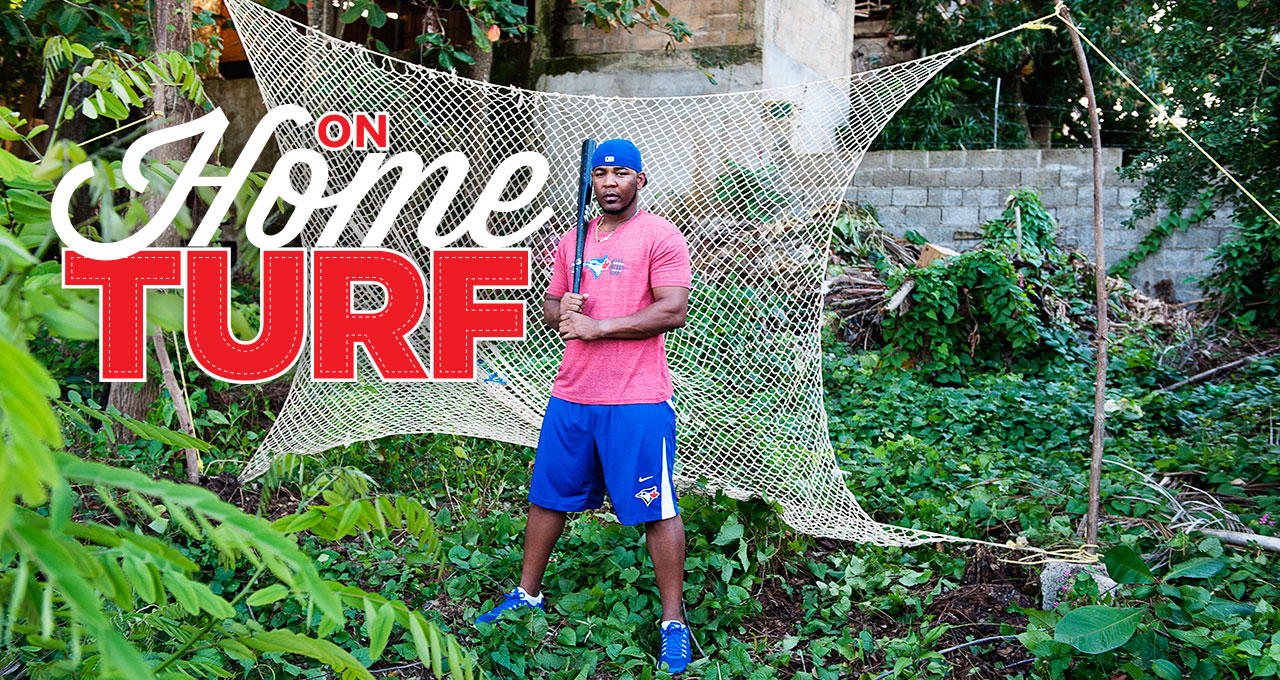 One-on-one with Toronto's
Edwin Encarnacion,
the "best-kept secret in the game"
BY STEPHEN BRUNT IN LA ROMANA, DOMINICAN REPUBLIC PHOTOGRAPHY BY SIAN RICHARDS
This is a company town, the home of Big Sugar.
The tentacles of the Central Romana Corporation and its owners, the controversial Cuban-American Fanjul brothers, reach into nearly every aspect of life, beginning with the cane fields that surround the city. There, the cutters, Haitian émigrés from the other half of this culturally complicated island, live in squalid bateyes and spend their days in stifling heat hacking down the thick stalks by hand with machetes, earning two dollars a tonne. It's a pittance, even by Dominican standards, and they can spend it only in company stores. They load the crop onto ox carts, and then it's transported to the rail line that runs between the fields and the mill in the centre of the city. The trains rumble by at a snail's pace, the engines' dolorous whistles sounding so that everyone in La Romana knows when they're coming through. Kids grab pieces of cane from the moving cars, or wait for them to fall by the wayside, chewing them for the sweet sap, then spitting out the fibrous bits that remain.
Eventually the cane arrives at the refinery, which all day long sends a plume of thick black smoke into the blue Caribbean sky, and where the sugar produced is shipped far and wide by sea to satisfy the planet's insatiable sweet tooth.
But Central Romana's influence doesn't end there. The company built or owns just about everything else in La Romana as well—the airport, the cruise-ship terminal, the Toros del Este of the Dominican Baseball League, the massive and luxurious Casa de Campo golf resort, where behind locked gates the likes of former U.S. president George H. W. Bush play on manicured Pete Dye layouts.
The company also maintains a little-league diamond not far from the mill, which is regarded by local kids as the absolute best in town, though, to an outsider, the patchy grass outfield and rocky, rutted infield aren't suggestive of a field of dreams.
The kids practising here this afternoon are members of the Oscar Rivera organization, tykes to teenagers. It works that way in the Dominican—each youth baseball league is a one-man show, named after the person who acts as coach and manager and sometimes bird dogs for the street agents, the buscones, who snare even the most long-shot prospects. Practices are on weekdays, games on the weekend against other leagues from other neighbourhoods run by other guys.
This afternoon, Rivera's charges are playing catch and taking batting practice, none of it terribly organized or regimented, when the most famous alumnus of the organization—not to mention La Romana's favourite son—roars up, driving a sort of souped-up dune buggy at breakneck speed. Cars, it turns out—fast cars—are Edwin Encarnacion's guilty pleasure.
In Toronto, he is known as a dominating presence in the heart of the Blue Jays' batting order, the guy who celebrates home runs by extending his right elbow like a wing as he rounds the bases, who can seem impassive until he breaks out a million-dollar smile. He has yet to be fully appreciated for his superstar production—in part because he is uncomfortable delivering post-game soundbites in English.
But here he is in his element. Here, with Oscar Rivera on this sandlot, he first played the game, and at age 13 hit his first home run over the left-field fence."I was just like these guys," says Encarnacion, as the worshipful kids gather around. "It's still the same. Things don't change much. Oscar taught me to play, to catch the ball, hit the ball. Here, they just go play the game, play ball, enjoy the game. We had a great team in those times. We had the best team in La Romana. We didn't lose many games."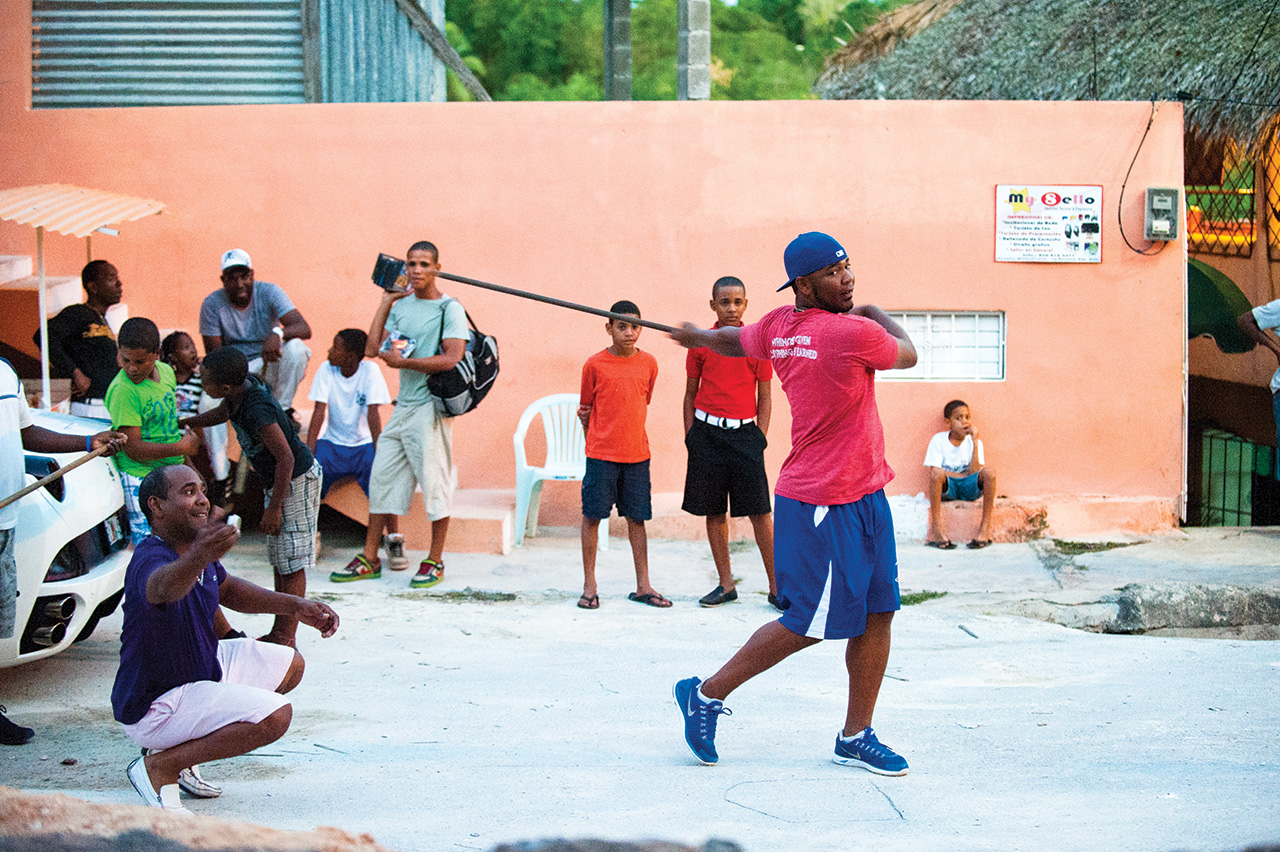 Edwin Encarnacion grew up a 10-minute walk from the baseball field, in a humble barrio called Rio Salado, named for the place where the saltwater tide mixes with the fresh water flowing down La Romana River to the sea. His father, Elpidio Encarnacion, is a track-and-field coach and former athlete. (He is also… well… a bit of a character. Before settling down with Edwin's mother, Mireya Rivera, and having four children—Edwin has two older brothers, Richard and Julio, and a younger sister, Evelin—he fathered 12 other children hither and yon, half-siblings who are very much a part of the larger Encarnacion clan. "My dad," Evelin says with great affection, "he's a little bit crazy.")
As a boy, Encarnacion picked mangoes from the trees in his yard and sold them down by the river. With his brothers, he played vitilla, the street baseball game beloved by Dominicans, in which long sticks serve as bats, and the ball is the cap from a water bottle, spun like a Frisbee, dipping and darting and for anyone who didn't grow up doing it, nearly impossible to hit (which is one way you learn how to deal with a big-league breaking ball).
When Encarnacion was a child, Elpidio looked at his youngest son and despaired. "Well, he was timid," the father says. "He hardly used to speak. Of all my sons, he was the youngest, and I thought he was going to be like his mom. He wasn't going to be tall. I realized that he wasn't a strong boy. But he was focused on what he was doing. When we talked to him, he looked directly at us, into the eyes, and at the same time, he would repeat what he was told."
It was imperative, though, that the Encarnacion boys succeed in sports. "Here in my town, everybody considers me a good athlete," Elpidio says. "I wanted my kids to play well. I didn't want people to say, 'Look at Elpidio's kids—he's a national track champion and his kids can't play sports.' So we kept practising, and I noticed that there was something special about my kids in comparison to the others when they
played baseball. They were in a league, but nobody trained them except me. In my old house in the backyard in Rio Salado, I decided to make a batting cage. Across the street lived a man—he still lives there—a fisherman, and I asked him if he could make the net for me so the kids could play baseball. I remember the cost, it was 500 Dominican pesos. It was a lot of money back then. We didn't have a lot of money, but my wife used to work; we combined the money to save enough for the net, and we made the batting cage. From that moment on, the rest is history."
Elpidio Encarnacion—the Dominican Walter Gretzky.
Encarnacion hit in that makeshift cage before and after school. "My dad said, 'You guys have to hit every day,'" he says. "We even told him, 'Dad, we need some lights because we want to hit at night,' and he did that. I had this game in my heart." He grew to be bigger and stronger than his brothers, the best kid ballplayer of the hundreds upon hundreds in La Romana. Sometimes, he and his siblings gazed across the river from Rio Salado, the city's line of class demarcation, to the fancy houses high on the leafy hillside beyond, and wondered what it must be like to live over there.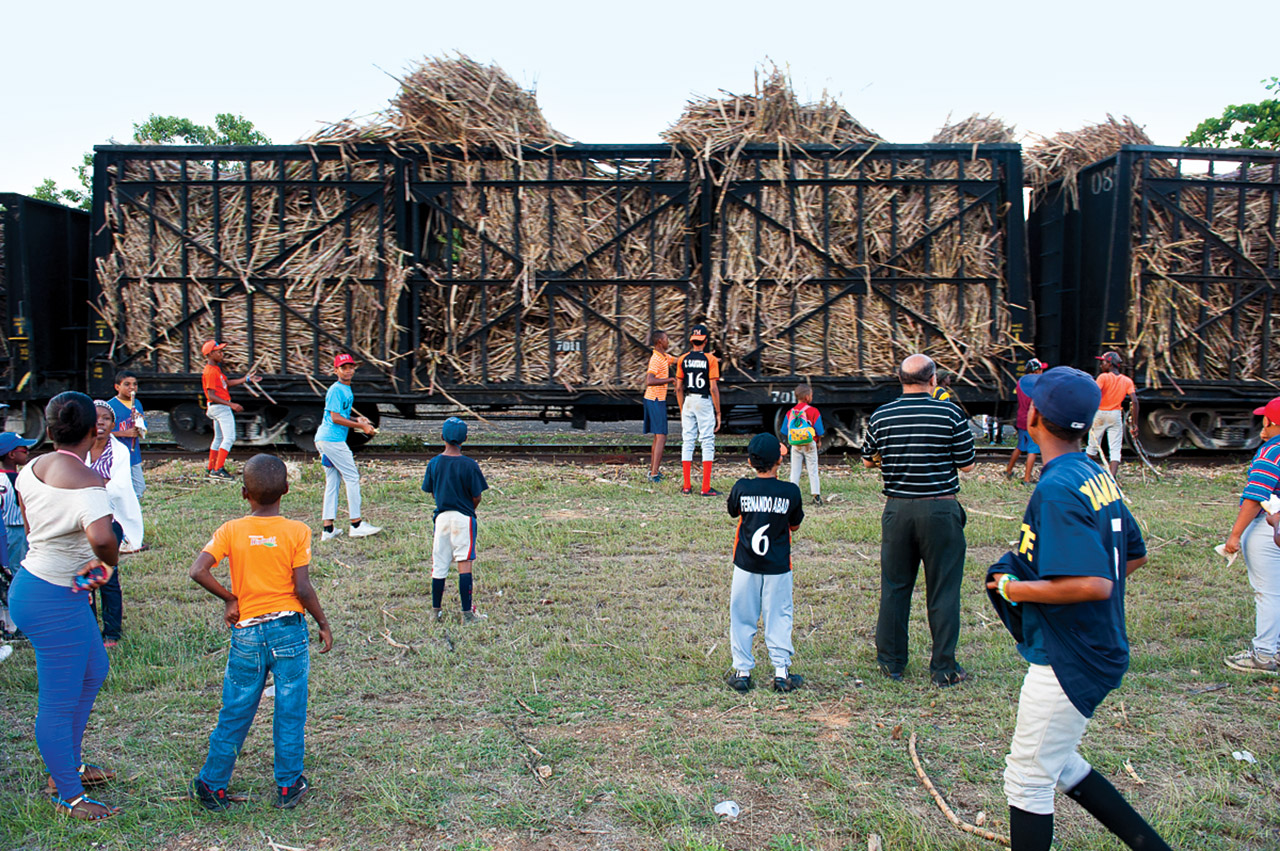 When Encarnacion was a teenager, his father took a job in Puerto Rico, coaching at a college. The Encarnacion kids split their time between the two islands, and Edwin played high-school baseball in Caguas. That's why he wound up as a baseball anomaly: A Dominican player selected in the major-league amateur draft—players in Puerto Rico, like those from the U.S. and Canada, are draft eligible—rather than being signed as a teenaged free agent like most of his baseball-playing countrymen.
In 2000, the Texas Rangers chose him in the ninth round, 274th overall. A year later, his rights were traded to the Cincinnati Reds, with whom he made his major-league debut in 2005, a momentous occasion for the Encarnacion family, and for all of La Romana. "One of the things I'm most proud of is [on] the day he was called up to the big leagues, he gathered the family to tell us the news," his mother remembers. "And he told his brothers, 'I didn't get into the big leagues alone. The three of us did.'"
The story of Encarnacion's arrival in Toronto is one of those tales that suggests the evaluation of baseball talent is not an exact science—or at least that even great players sometimes evolve along a non-traditional arc. In 2009, at a time when the Blue Jays organization was intent on shedding salary, then-GM J.P. Ricciardi was looking for a buyer at the trade deadline for third baseman Scott Rolen and his $11-million
salary. The Reds bit, and were willing to offer a couple of players in whom the Jays had interest, reliever Josh Roenicke and pitching prospect Zach Stewart. But there was a catch: Toronto would also have to take Encarnacion, who had one year left on his contract at a little over $5 million, just to relieve some of the Reds' financial burden.
Encarnacion had actually enjoyed a couple of pretty good years in Cincinnati, which is how he had earned the contract. But there were questions about his fitness, his defensive play at third and his level of commitment. "Candidly, we did not want him to be part of the deal," says Alex Anthopoulos, who was then the Jays' assistant GM. But in the end, the Jays held their nose and accepted him, understanding that it was a price that had to be paid to get the trade done.
Encarnacion didn't see it coming.
"I was surprised," he says. "That happened the last hour before the deadline. I remember we were talking in the clubhouse that day and we were happy because no one got traded. Then we were going to go out and stretch before the game—it was like 4:15 in the afternoon—and they called me into the office. I didn't want to leave Cincinnati, but I can't control that. The only thing I knew about Toronto was George Bell, Tony Fernandez, all of the Dominican guys who had played there. And I knew Jose Bautista. We played against each other in the low minors when he was in the Pittsburgh system. Every Dominican, when you see another Dominican, you ask, 'What town are you from?' You bring food and invite them to your house. We're like family. I called Bautista right away. He said, 'It's great. We're going to work together. They will give you the opportunity to play.' I took a big breath because at least I had somebody there. I was very happy after that."
Encarnacion caught up with the Jays in Oakland. "The first thing when I got there, Cito [Gaston] talked to me. He is a great guy. He said, 'You are going to play every day at third base. Enjoy the game and have fun.'"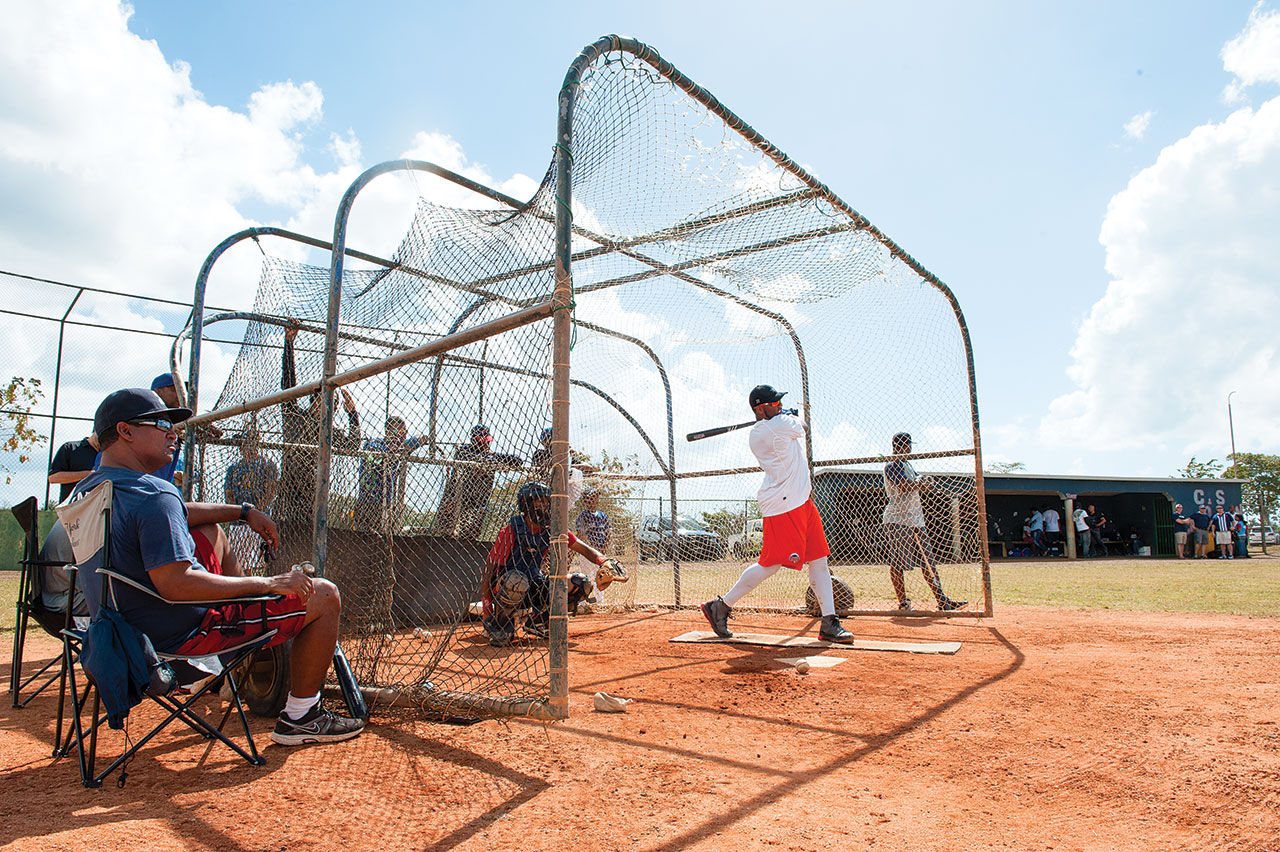 He didn't. The following season, the last guaranteed year of his contract, Encarnacion struggled, and Anthopoulos—by then the Jays' GM—made the decision to send him to the minors. "He was always quiet," Anthopoulos remembers. "Didn't say a lot. Cito and I told him we were going to send him down and that it was important that he didn't go down and pout, that if he worked hard and cleared his head and got himself going offensively and defensively he'd be back soon."
Of course, that kind of promise has proven empty time and time again in baseball history. Though he kept his feelings to himself, Encarnacion was devastated to find himself on a plane to triple-A. "I never thought they were going to send me down," he says. "I know I was hitting like .200 with 10 homers, but I thought I was getting better."
He didn't hide the pain from those close to him. "It was pretty tough," says Encarnacion's fiancée, Jennifer Pena, who is the daughter of former all-star catcher Tony Pena. "It was tough for him, tough for his family. I was in California, and I drove to Fresno [where Las Vegas was playing] because I wanted to be there for him. I tried to give him strength. But he was also pretty secure about himself. He knew what he could do and he knew what he could be."
To his everlasting credit, Encarnacion didn't react by sinking into a funk. "I was making $5 million a year," he says. "Maybe some people would go down there and be chilling, saying, 'I'm going to have fun.' But that's not me. I don't want to make $5 million in the minor leagues. I'm a big-league player. I want to be in Toronto. I'm going to show them."
The result was a spectacular week at the plate—14 hits in 32 at-bats, three home runs, 13 RBIs—and a quick call back to the Jays. But Encarnacion's bumpy ride wasn't nearly over yet. At the end of the 2010 season, the Jays decided to put him on waivers (in arbitration, he would have been given $7 or $8 million a season). Oakland claimed him and attempted to sign him, but when they couldn't, they released him, making Encarnacion a free agent. Before letting him go, the Jays had talked to Encarnacion about re-signing at a reduced rate if he reached free agency. "We thought there was upside to the bat, and if we could get him away from third base we might get more out of him," Anthopoulos says.
Ultimately, it came down to two suitors: the Jays and their division rivals the Tampa Bay Rays. "I think having Jose Bautista on the team helped," Anthopoulos says. For Encarnacion, his familiarity with Toronto and its players was important. But he also wanted some assurances about his role with the Jays. "I told my agent that I wanted to go to Toronto if they would give me at least 400 at-bats," he says, "to show them who I could be."
The Jays made that promise, but they wavered on another one. "When I signed with Toronto, they told me I was going to play first base and DH," Encarnacion says. "I wasn't playing good at third, so they said forget about it. So I started practising at first. I forgot about playing third. But the last day of spring training, I was in really good shape, and they asked me if I could play third base. I didn't really have my timing. But I did the best I could."
Thus began the painful era of "E5" (and yes, it was as bad as you remember, eight
errors in 74 chances). It was painful for both Encarnacion and Jays fans, although because the fans rarely heard from him, because the language barrier prevented him from fully expressing himself, few outside of his closest teammates actually knew how he felt. "The fans started yelling at me," he says. "I understand that's part of the game if I don't do my work. I know they're going to be pissed. I tried to do the best I could. But it got in my head—and when that gets in your head, it's hard to get it out. I got frustrated a little bit. I couldn't hit because I was thinking about defence."
In early June, with Encarnacion struggling badly in the field and at the plate, the Jays had a roster decision to make. One of two veterans—Encarnacion or outfielder Juan Rivera—was going to be released. "I wouldn't have been surprised," Encarnacion acknowledges, "because of the way they'd been using me. The fans had been booing me."
Bautista played a big role in getting Encarnacion through that rough patch. "Edwin is one of the guys that I've become closest to in the game," says Bautista. "I was just trying to help him like a brother would. I'm glad it worked out. He never gave up, and he finally got a chance to relax and just go out there and play—kind of like I did. Now he's put up the numbers to prove what he's capable of."
Encarnacion turned things on in the second half of the 2011 season. And there was more to come. "Sometimes those things have to happen to make you a better player," says fellow Dominican Robinson Cano. "He got sent down. He got put on waivers. He came back, worked even harder. Look what kind of player he is now. He's the face of that team."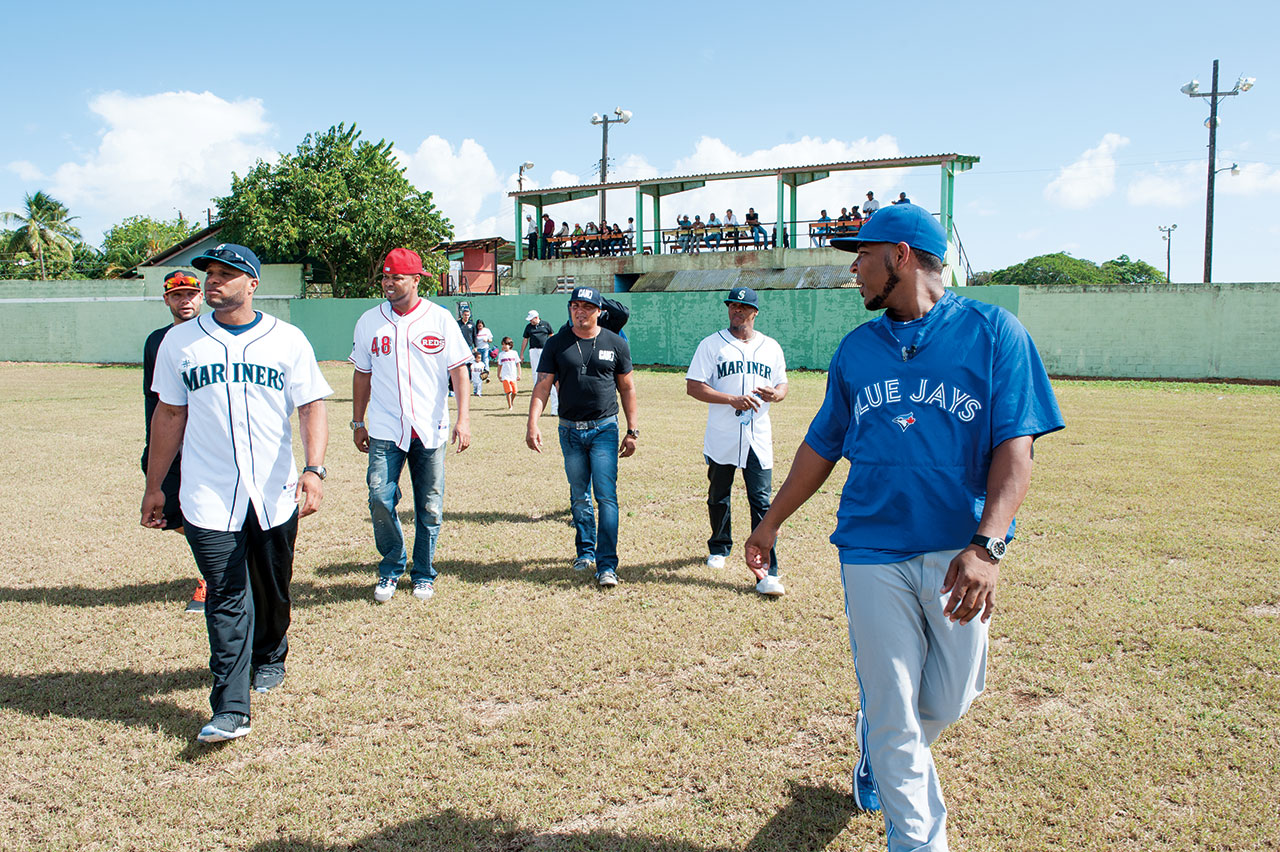 In the off-season between 2011 and 2012, Encarnacion made what in hindsight seems a rather key decision: He called Cano, the power-hitting second baseman then playing for the New York Yankees, and asked him for advice. Cano hails from San Pedro de Macoris, 40 km from La Romana, and had set up a small training facility cut out of the cane fields near there, where he worked with his personal hitting guru Luis Mercedes—whose previous claim to fame (no snickering) was his tutelage of Sammy Sosa during his breakout seasons. "Sosa asked me to help," Mercedes says one morning at the Cano complex, while Cano and Encarnacion take turns in the batting cage behind him. "And I worked with him when he hit 64 and 69 home runs. After that, Cano started working with me too, and he brought me Edwin. Edwin's a good kid. I remember when he came over here for the first time. The first day, he swung the bat and didn't say anything—and I didn't say anything. But I saw with his swing that it was too long, and he only used one hand. The next day, I told him, 'You have to change your bat from that position. You don't do the high leg kick no more. I want you to get your bat down. Use two hands. And if you don't do what I say, you're running.' He didn't like that. He got mad at me. We fought every day. I told him that I wanted to exploit what he had. It was good, but he had to work with it. And I told him, 'If you don't do good, you don't have to pay me.'"
The genial push-pull between the two continues to this day, though now there is no question that Encarnacion is a believer. "In the beginning, I told Luis I didn't feel good without the leg kick," Encarnacion says. "He said, 'Continue. You're going to see the difference.' And then I started hitting homers. I thought, whoa, that works."
With his new, Mercedes-built swing, Encarnacion delivered what would become his signature moment early in the 2012 season. "We were playing against Seattle," he remembers. "Bautista was hitting third and I was hitting fourth. [Hisashi] Iwakuma was pitching. He gave Bautista an intentional walk to get to me. I said, 'OK, I'm going to show you.' I hit a home run. Opposite field. I was so excited I almost fell over. And I go around the bases like this." He demonstrates the wing. "Everybody loved it." (And yes, he's seen the GIF, with a parrot perched on his outstretched arm as he rounds the bases. "It was very fun when I saw that picture.")
His great start in 2012 begat a contract extension. In 2013, he was an island of consistency in a tumultuous, injury-ruined Blue Jays season, and played in his first All-Star Game. In 2014, it's hard to imagine Toronto contending unless Encarnacion has another monster year in the middle of the order. "He's one of the quietest superstars you'll ever meet," Anthopoulos says. "Nobody even identifies him as a superstar. But when you look at his production over the past two years, then look at Albert Pujols and Prince Fielder and all those guys, he's right there, if not better. I know it sounds crazy, but go look at the stats. He's the best-kept secret in the game."
It's Sunday night, and on the streets of Rio Salado, music is blaring: merengue, the pulse of the Dominican. It's a scene that's repeated almost every night during the winter months, the old neighbourhood gang getting together for a game of dominoes—another one of those Dominican passions—or, as is the case tonight, to play vitilla under the streetlights. Those who once did this as boys are men now, and Edwin Encarnacion can hit those bottle caps a mile. One other difference: the white Ferrari parked at the end of the block.
The spot where the Encarnacion family home once stood is now a vacant lot, with only a few vestiges of the old foundation remaining. (Edwin is hoping to buy the land from its current owners and turn it into an office for his charitable foundation.) But Elpidio is undaunted. He's worked his way past the rubble into his old backyard and is hacking away with a machete, clearing away the undergrowth that has sprung up around where the old batting cage stood.
In front of where the house was, a little bamboo enclosure that looks like a poolside bar has been erected. Nothing formal, but tonight there are enough cold bottles of Presidente for everyone.
Brother Richard lives in Puerto Rico now. But Evelin is here—she lives in Florida and manages Edwin's non-baseball affairs. And so is his brother Julio, who was once a promising ballplayer in his own right, and who lives with Edwin in Toronto, taking care of the cooking both for his brother and for a rotating cast of visiting Dominican players who regularly drop by for a meal.
And the whole barrio is here as well, whether they're part of the game or sitting on doorsteps watching or keeping an eye on the Ferrari or hanging around the "bar" or surveying the whole scene from a rooftop.
Up there you can look down to the river, then up, to the rich people's neighbourhood on the other side, and if you look hard enough you can almost see Edwin Encarnacion's house, which has a swimming pool, a gym, hired help, a garage for all his toys and plenty of room for his extended family.
His house is way over there. But his home is here.