By Brendan Emmett in St. John's
St. John's… this city…. it just grabs a hold of you and never lets go.
Yesterday was a treat for me. Our first Rogers retail stop was a huge success. Thank you to the Blue Jays fans that made it out on short notice! The East team was so excited to have everyone there. Our consensus favourite fan of the day was young Tucker, who could recite the whole Toronto Blue Jays lineup and had an outstanding Edwin Encarnacion "chicken wing" impression/dance!
So much happened in so little time after that…. It was personally very fulfilling to go to St. Pat's Ballpark and see the St. John's Intermediate League have a game. Just a year ago I was playing on that field myself in the Senior Men's National Championships. I managed to sneak in a toss with the Shamrocks right-fielder!
Then things got really crazy. We went to the infamous George Street, where I stumbled upon not one, but TWO weddings where BOTH TIMES the parties were all Blue Jays fans!
Um… YES I DO take the Blue Jays to be my one and only!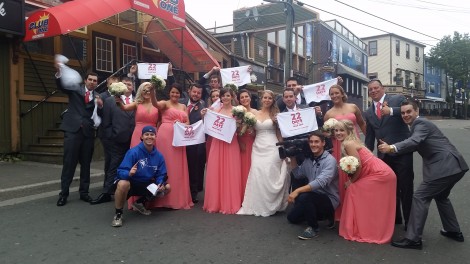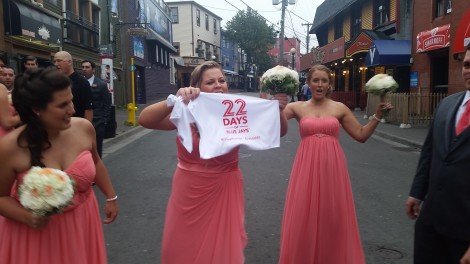 Lastly, I visited our retail contest winner, Ann O'Reilly, who won the invite to attend the last regular season home game on Sept. 27th at Rogers Centre. She has a fantastic setup to watch Blue Jays games at her home: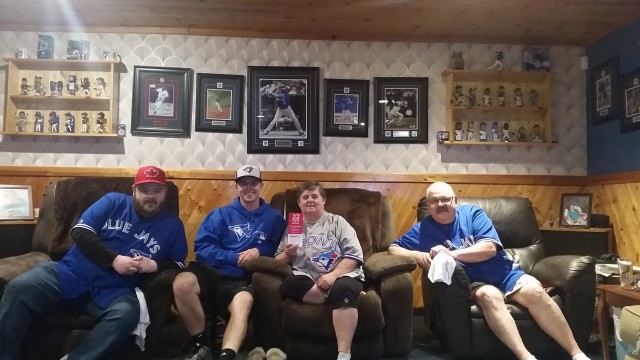 Stay tuned for some video coverage of the O'Reilly shrine – the bobblehead collection is something else.
If anyone out there thinks they can beat it, you need to tweet me and use the hashtag #22DaysBlueJays immediately!
The Team East caravan has to say goodbye to St. John's today unfortunately. We're going to hit up the Grand Slam of Curling in Paradise before taking to the road (and ferry) to reach Halifax. Thank you so much to all the wonderful people here and Blue Jays fans that made my second visit to this town even more memorable than the first.
Fun story of the day:
For those of you who might not know, my dad is a rockstar. Woo! Rik Emmett! He's a big-time Blue Jays fan, incredible guitar player, and overall amazing dude.
I talked to him before I left for this craziness on Friday, and he texted me:
"I love it! You're like a rockstar going on tour! :)"
Well, when I got back from dinner last night – true story – I forgot my hotel room number. #RockstarStatus
And to think, St. John's was only stop one! People of Halifax, I can't wait to forget hotel room numbers in your city. See you soon.
Big couple of wins yesterday! Go Jays Go.