TORONTO — We can start in the sixth inning, when Toronto Blue Jays manager John Gibbons had a three-run lead, 12 outs remaining, and eight men in the bullpen to get them with. This being the Blue Jays, it could never be that easy.
The first six relievers Gibbons called upon combined for only 10 of those outs, surrendering six hits, four walks, and five runs as they coughed up the lead and let the Los Angeles Angels come from behind for a 5-4 victory. Nothing about it was pretty.
Most of the damage came off Tyler Clippard, who blew his second save in four opportunities since taking over the closer's role for Roberto Osuna, who has been on administrative leave since he was arrested and charged with assaulting a woman on May 8.
A veteran of 12 seasons in MLB bullpens, Clippard's been here before. He was just here on Saturday, when he gave up an eighth-inning grand slam in a loss to the Oakland Athletics. It never gets easier.
"You just try to forget about it. I mean, these are tough. I've had two tough losses here in a short period of time. You've just got to move on," Clippard said. "You don't ever want to go through this stuff. The guys down there [in the bullpen], we feel like we've got a good thing, but these are tough days and tough losses to swallow. But, like I said, you've just got to move on."
Toronto's bullpen, once a source of stability for this team, has been anything but of late. Part of that is due to the loss of Osuna, easily the team's best reliever. Another part is the high-variance danger of relief pitching — they're good until they aren't. In March and April, Toronto's bullpen had the second-best ERA in baseball. Over the last 14 days, it's been eighth-worst. And Wednesday night's performance isn't improving that standing.
Anyway, to the sixth. After Blue Jays starter Aaron Sanchez exited — more on him later — John Axford took over a 3-0 lead and allowed three hard-luck singles to the first three batters he faced, the third a lazy fly ball carrying a hit probability of only six per cent that nevertheless fell in and scored a run.
Axford gave way to Seung-hwan Oh, who allowed some much harder contact, but benefited from two Angels running into outs at third base. Things got back on the rails momentarily as Danny Barnes, Aaron Loup, and Ryan Tepera each got an out in the seventh. Tepera even returned to pitch a clean eighth. That set up Clippard to face the top of the Angels order in the ninth.
[snippet id=3918627]
The first batter was retired, but the second, Mike Trout, drew his third walk of the game before stealing second. Clippard then dug his hole deeper, walking the next two batters to load the bases for Shohei Ohtani, who went after a pitch off the plate and served a soft single into centre, scoring two. Andrelton Simmons was next, and he drove a single through a drawn-in infield to cash two more.
Collapse complete. Clippard was lifted for Jake Petricka, Toronto's seventh reliever, who finally got his team that 12th out. It just came three runs too late.
"Just not executing when I needed to," Clippard said, asked what went wrong. "I got into some 3-2 counts, felt like I needed to be a little more aggressive in the zone. They fought off some tough pitches, took some tough pitches. But just ultimately didn't make the pitches when I needed to."
Asked to assess his current level of concern with his bullpen after its recent run of rough performances, Gibbons took the long view.
"Well, I don't overreact to one game," he said. "It was a tough game, an ugly game. Those guys have been pretty good. You know, we're missing a big piece [Osuna]. Everybody's in a different slot, and some guys aren't throwing it over the plate. It's that simple. But those guys have been great all year and they'll bounce back."
The bullpen implosion would have been much easier to swallow had the Blue Jays completed an attempted rally in the bottom of the ninth. After Dwight Smith Jr. led off with a single, and Curtis Granderson doubled them both into scoring position, Kendrys Morales damn near won the game, crushing a 2-2 fastball from Angels reliver Blake Parker off the wall in right-centre.
Granderson had to stay close to second, as runners are instructed to do in no-out situations, which meant he could only reach third when the ball dropped in. Teoscar Hernandez was next, and gave it his best shot to tie the game, lifting a fly ball 279-feet to right as Granderson tagged up. But Angels outfielder Kole Calhoun gunned Granderson out at home with a throw up the line, his seventh outfield assist of the season.
"I expected it to be close," Granderson said of the play at the plate. "I thought it was deep enough. We thought everything was right and everything has to be perfect. And sure enough, it was.
"I mean, if the ball was to the right a little bit, if it's up a little bit, if it doesn't get these a little bit — there's a lot of things in our favour that give us an opportunity to score there, regardless of who happens to be out there throwing the ball in that situation. We have to take a chance in that situation."
Meanwhile, long before all that, Sanchez pitched a scoreless start in which he struck out two and walked five over five innings. Of his 97 pitches, 44 were called balls. Here they all are: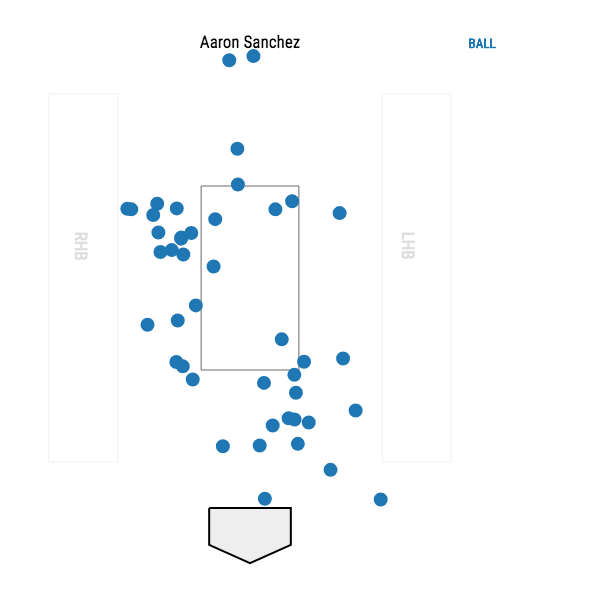 If you watched the game, you know Sanchez and his catcher, Russell Martin, weren't particularly pleased with some of the judgments being made by home plate umpire Mark Wegner. And in some cases they have a point. You can count at least five pitches that are clearly inside the strike zone, and another four that catch at least part of the outside black.
"I went back and watched and there was a couple ones that could have went either way," Sanchez said. "It is what it is, you know? The dome's open, my stuff was running on and off the plate all night. It's just getting back to harnessing all that stuff.
"My stuff moves a lot and probably [the umpires] are not used to it. I think that's my conclusion, because it happens an awful lot. But I don't want to get into that game. They do a job and they do it well. So, we'll leave that up to them."
Regardless of umpiring, Sanchez has to start throwing more strikes. After Wednesday's start — an otherwise strong outing that lowered his season ERA to 4.07 — Sanchez has walked 34 over 55.1 innings pitched this season. That's the second-most of any pitcher in the majors, and his 5.53 BB/9 is fourth among MLB starters.
It's simply too many, and it's limiting Sanchez's ability to pitch deep into games. Wednesday, he used 97 pitches (only 55 per cent of them strikes) to get through five innings, which forced his manager to lift him on a night when he was featuring strong stuff.
[snippet id=3966765]
And it's not the first time that's happened. His last time out, Sanchez was electric, earning 15 swinging strikes. But he threw 97 pitches over only four innings. The outing before that he threw 96 over five. He hasn't completed more than five innings since April, and he's walked four or more in five of his 10 starts this season.
The good news is Sanchez recently identified a mechanical issue he hopes will help get him in the zone more consistently. He tried it out Wednesday and, despite the five walks, felt he made progress.
"I made some mechanical adjustments throughout this whole year and this time through I found something out that was kind of limiting me from staying in the zone more often," he said. "But, at the end of the day, when you walk as many people as we walked, it's going to come back to bite you. And in the end it did."
[relatedlinks]