When Al Alburquerque was breaking into professional ball as a 20-year-old Chicago Cubs prospect out of San Pedro de Macoris, Dominican Republic, he spent part of a season pitching for the Northwest League's Boise Hawks. It was short-season A-ball, and the Cubs were flipping Alburquerque between the bullpen and rotation as they tried to determine what he was going to be.
It was a rough time. Alburquerque wasn't having a great year, putting up a 5.83 ERA over 21 appearances. He was playing in front of less than 3,000 fans a night. And his catcher, a 21-year-old Floridian, didn't seem to enjoy catching at all.
That catcher's name was Josh Donaldson.
"No, no, not a good catcher. He didn't like to catch," Alburquerque says now with a laugh. "But I was throwing hard and I didn't know where it was going. So, he helped me at that time. I wasn't easy to catch."
More than a decade later, Donaldson is one of the best third basemen in baseball, and Alburquerque is his teammate again, as he competes for a spot in the Toronto Blue Jays bullpen this spring.
"I feel really good to be here. Some of the best outings in my life I've thrown in Toronto," the now 31-year-old says. "So, I feel really happy working with the organization. They've shown confidence in me. Hopefully I stay healthy and they give me the opportunity to play in Toronto."
After a difficult 2016 and '17, two seasons in which Alburquerque spent the majority of his time at triple-A, the seven-year MLB veteran is hoping a small yet crucial tweak to his repertoire can help get his career back on track — an increased use of his two-seam fastball.
To this point, Alburquerque has been an unusual pitcher in that he's relied extremely heavily on his slider.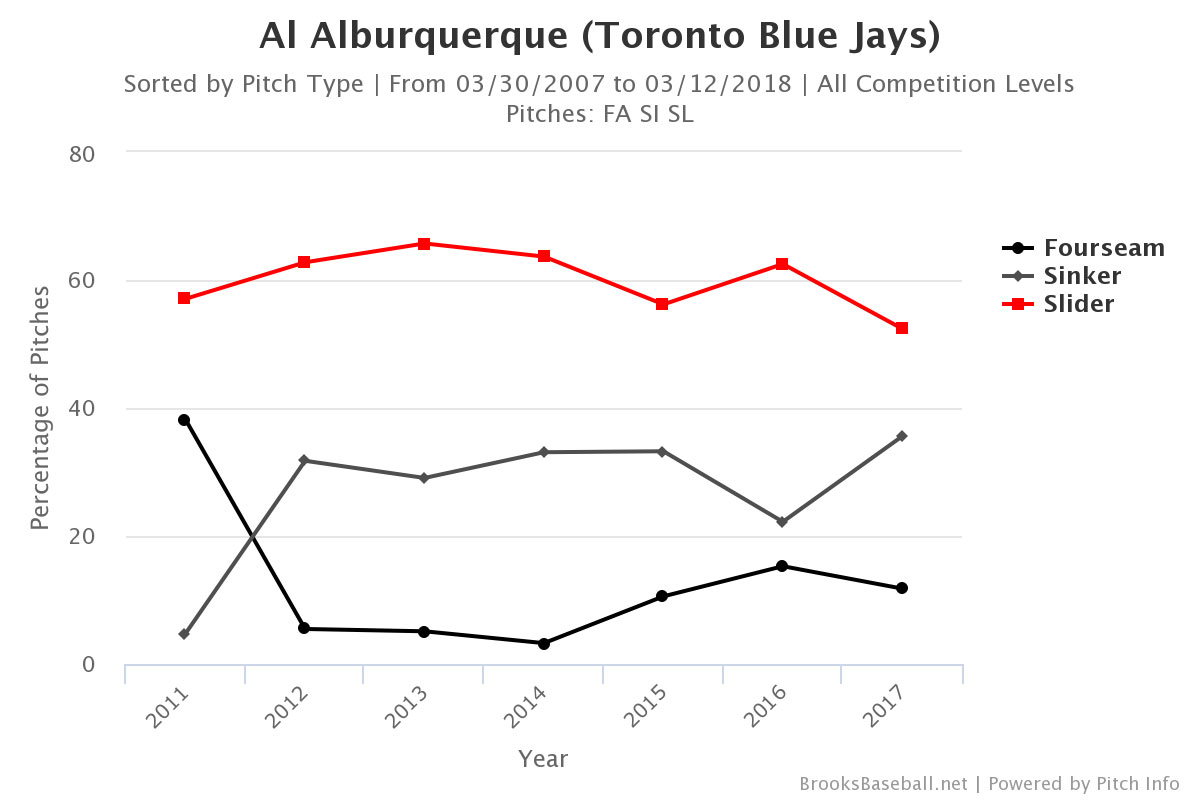 He's done that because his slider has been a very effective pitch, earning him whiff rates of 20 per cent or higher in six of his seven MLB seasons. Opposition batters have never hit better than .221 against the pitch in a single season, and batted .167 against it in 2017. It's a difficult offering to square up.
Here's the issue: using that one breaking pitch so often not only makes Alburquerque predictable, it also places great importance on his command. He has to be able to locate that slider for strikes down in the zone, and on the edges of the plate. On the days that he can't, hitters can lay off of it and hunt for a fastball. And if Alburquerque misses his location with the slider up and on the plate — a hanger — it's bound to be hit a very long way.
So, after 2016, Alburquerque began focusing on improving his sinker, and turning it into a weapon he could go to more often. You can see the spike in its usage in 2017 on the chart above.
It's a simple idea. Throw more sinkers, both so hitters have something else to think about and the effectiveness of Alburquerque's slider on a particular day is less of a make-or-break factor. Of course, it's easier said than done. Alburquerque has to get to a point with his sinker where he's comfortable throwing it for a strike in most counts to both sides of the plate. And the only way to do that is to throw it over and over again.
"We're trying to refine it now and make him use it," says Blue Jays pitching coach Pete Walker. "I think he enjoys using it right now. He's always had a good slider. But, at times, it can be overused. So, we're trying to find a good balance of the sinker-slider combination right now.
"And he's been real effective. He throws strikes, he certainly has a nice track record. He's someone who's really opened up some eyes in camp so far."
Livestream the Toronto Blue Jays on the most popular devices. Plus, get over 150 marquee MLB matchups, the Home Run Derby, All-Star Game and Postseason.
One of the primary reasons Alburquerque chose to pitch in Dominican winter ball this offseason was to continue working on the pitch. He's had mixed results so far this spring, allowing two runs on six hits over his six appearances, striking out eight. But he's encouraged with how far he's come.
"I think that it's going to help me pitch better and stay in the big leagues. That's what I want," Alburquerque says. "Before, the hitter was looking just for one pitch. But right now, I can show my two-seamer, I can show I have a fastball, too. And I can throw it for a strike. It's much better."
Inconsistent results have led Alburquerque to bounce around four different organizations over the last two seasons. But he isn't far removed from being an effective MLB reliever, pitching to a 3.20 ERA over 241 appearances for the Detroit Tigers from 2011 through 2015.
He gave up only 16 home runs over that stretch (0.6 HR/9) and put up 11 K/9. Alburquerque's groundball rates have also increased in recent seasons as he's thrown his sinker more often, which is one of the reasons why Toronto's taking a chance on him.
"The Blue Jays gave me an opportunity. And my mindset now is to try to make the team and stay healthy," Alburquerque says. "And right now, I feel really strong. My ball is moving really good. My slider is still nasty. I know I can help the team."
He's no one's closer, but when Alburquerque's on he can be a very effective reliever against right-handed hitting, holding that side of the plate to a .203/.319/.270 line over his career. In a division with Aaron Judge, Giancarlo Stanton, Gary Sanchez, JD Martinez, Mookie Betts, and Manny Machado, you can see why the Blue Jays would be interested in a reliever like that.
You can ask Alburquerque's old catcher how tough he can be. One of baseball's best hitters, Donaldson doesn't have a knock in five career plate appearances vs. Alburquerque, striking out twice and walking once. Coincidentally, the way Alburquerque's beaten Donaldson sounds similar to what he's trying to accomplish this spring.
"Every time he was waiting for a slider," Alburquerque says, "I threw a fastball."