Compared to Dallas Keuchel and Justin Verlander, Charlie Morton's pretty anonymous, but he quietly put together a strong season in Houston this year with a 3.62 ERA over 25 starts. When the Astros needed a starter for Game 3 of the ALCS, he was a deserving choice.
(By the way, how about the story of how Morton gained velocity? "For some reason I just went out there and tried to throw the ball hard one game," he told the Philadelphia Inquirer. "I wound up throwing it harder.")
Ultimately, the decision to start Morton didn't work out for Houston. The Yankees scored seven earned runs against the right-hander on their way to an 8-1 win Monday night that narrows Houston's ALCS lead to 2-1. A few more observations after a lopsided win for the Yankees…
JUDGE RECOVERS AGAIN
It's taken little more than a year for Aaron Judge's slumps to develop two characteristics. First off, the slumps are awful—they include strikeout after strikeout and can last entire months. But, just as you're starting to wonder if Judge was too good to be true, the slumps end abruptly.
This pattern started the moment Judge arrived at the MLB level last summer. His big-league career began inauspiciously, with 42 strikeouts in 84 at bats. But he had adjusted by the spring, and he soon became a breakout star. By the end of July, he had 34 home runs and a 1.067 OPS.
He scuffled in August, striking out in nearly half of his plate appearances while hitting just three home runs, but soon recovered again. September was by far his best month of the season, with 15 home runs and a .311/.463/.889 slash line.
Entering play Monday, Judge had struck out in 19 of 31 playoff at bats on his way to a .528 OPS. Once again he rebounded, this time with a three-run homer that put the game out of reach early (as a bonus, he made three impressive catches in right field).
No one, not even the Yankees, can say whether Monday's home run will mark the beginning of a new hot streak. What we can say is that we've seen it happen before.
OFF-BALANCE SWING
MLB players constantly make exceptional plays look effortless. It's not easy to throw 95 m.p.h., hit a slider or turn a double play, and yet if you watch enough big-league baseball you could start to believe otherwise.
In the second inning of Monday's game, Todd Frazier did something most people can barely dream of, sending a 95 m.p.h. fastball into the right field seats. The way he did it, though? That was pretty relatable. Appearing completely off-balance, Frazier took a swing straight out of the Hunter Pence playbook.
Hard to believe, but of all the swings taken Monday, this was the biggest of the evening.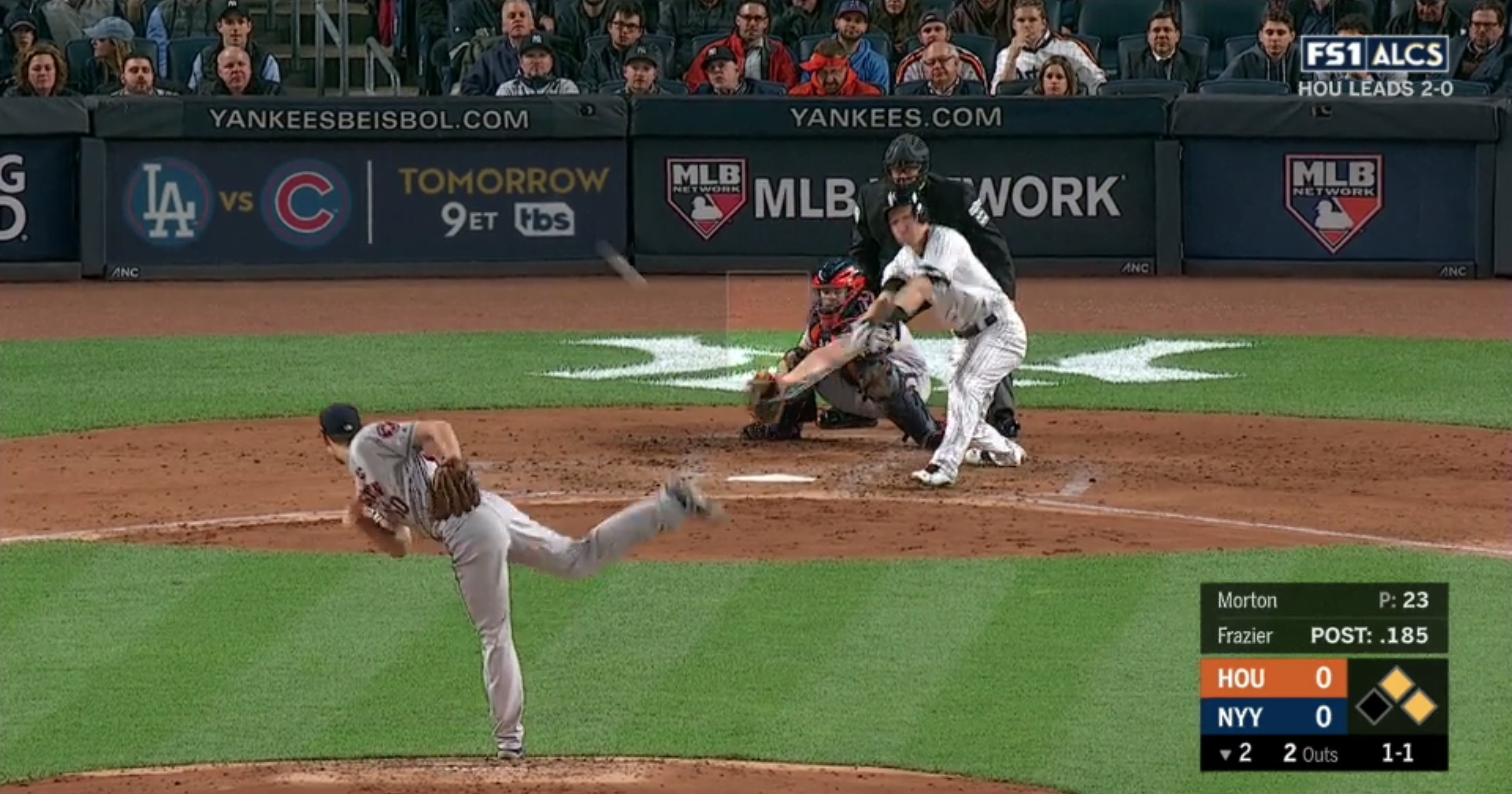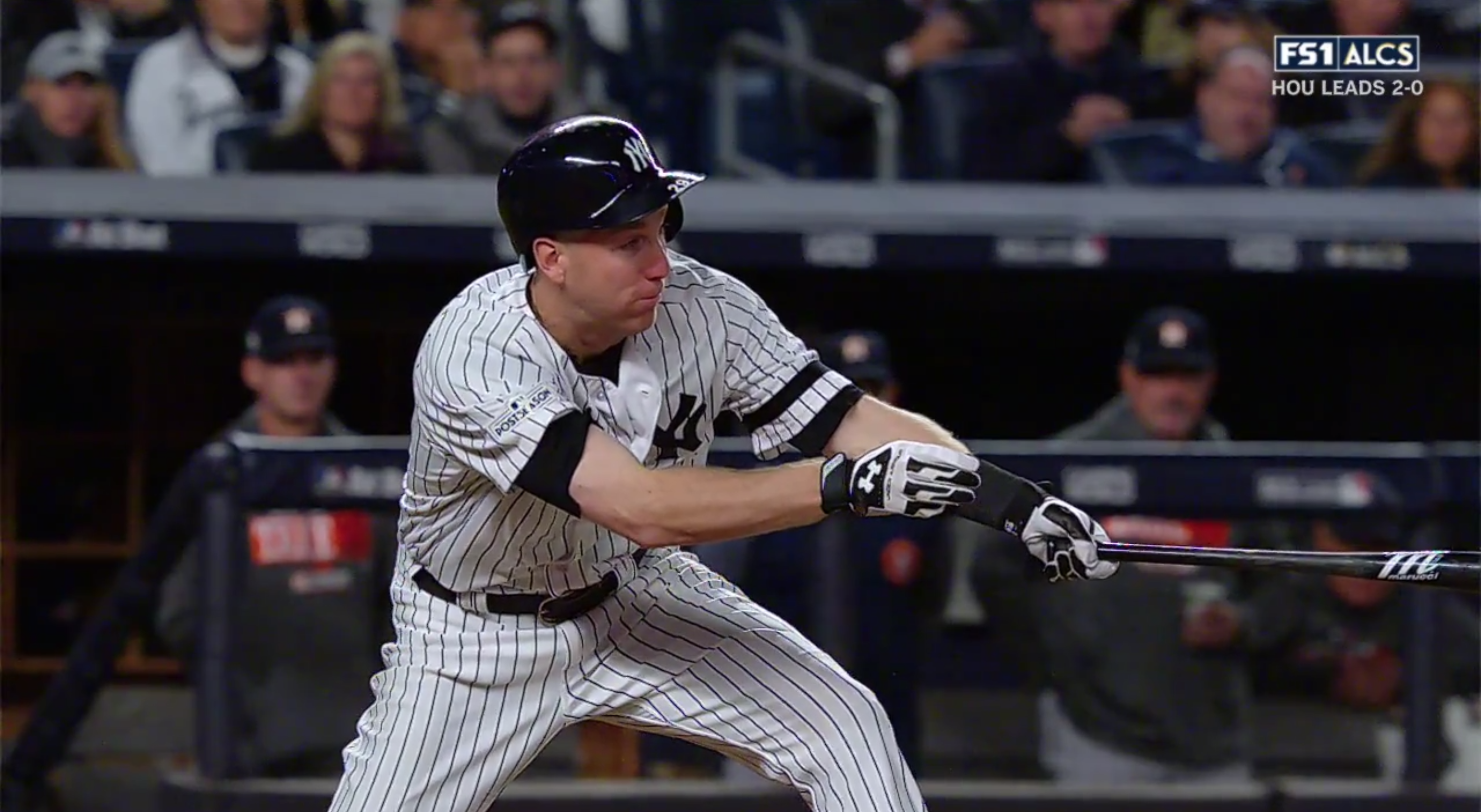 SABATHIA PITCHES WELL ENOUGH TO SAVE THE 'PEN
C.C. Sabathia continued his stellar October with six scoreless innings against baseball's top offence Monday. The short-term benefits are clear here: the Yankees are back in the series now.
Less apparent, perhaps, are the benefits for a heavily-taxed New York bullpen. Entering play Monday, the Yankees had asked their relievers to pitch 35 innings, more than any other playoff team. By recording 18 outs against Houston, Sabathia allowed manager Joe Girardi to rest trusted relievers like Aroldis Chapman, David Robertson and Chad Green.
… BUT BETANCES LOOKS LOST
With the game seemingly in hand, Girardi called on struggling right-hander Dellin Betances, only to be disappointed. Of the 10 pitches Betances threw, only two were strikes. After two walks, as fans in the Bronx booed the 29-year-old off the field, the Yankees went back to their bullpen.
Apparently intent on avoiding a bullpen collapse, Girardi turned to a top reliever before it seemed completely necessary. With two on, nobody out and an eight-run lead, Girardi burned Tommy Kahnle and had Chapman warming. It worked, but when Game 4 begins Tuesday, the Yankees' bullpen won't be quite as fresh as it could have been.