Now that we know Los Angeles Dodgers vice-president of baseball operations — and, of course, former Toronto Blue Jays general manager — Alex Anthopoulos will be taking over as the new GM of the Atlanta Braves, let's take a look at the circumstances he'll be assuming.
Ownership and payroll
The Braves are owned by Liberty Media, which purchased the team from Time Warner in 2007 as part of a complex deal that saw the baseball franchise valued at $450 million. Liberty has a wide portfolio of assets but its most notable are the Formula One racing series and a 69 per cent share in Sirius XM Radio. In April, Forbes magazine estimated the value of the Braves at $1.5 billion, and in 2015 Forbes put Liberty Media's value at $13.5 billion.
Since Liberty assumed control, the Braves have operated with a payroll hovering around $90-100 million, which has generally been right in the middle of MLB spending if not slightly below average.
That changed in 2017, as the Braves payroll shot up to $126 million thanks to the off-season acquisitions of veterans Bartolo Colon, R.A. Dickey, Sean Rodriguez, and Jaime Garcia. The increased spending coincided with the opening of a new ballpark, SunTrust Park, which cost more than a billion dollars, with a significant chunk of the funding coming from public money.
Attendance at SunTrust Park this season was decent, as the Braves averaged 30,929 fans per game in their new 41,000-seat stadium. That was up from the average of around 25,000 the Braves drew in 2015 and '16.
Major-league roster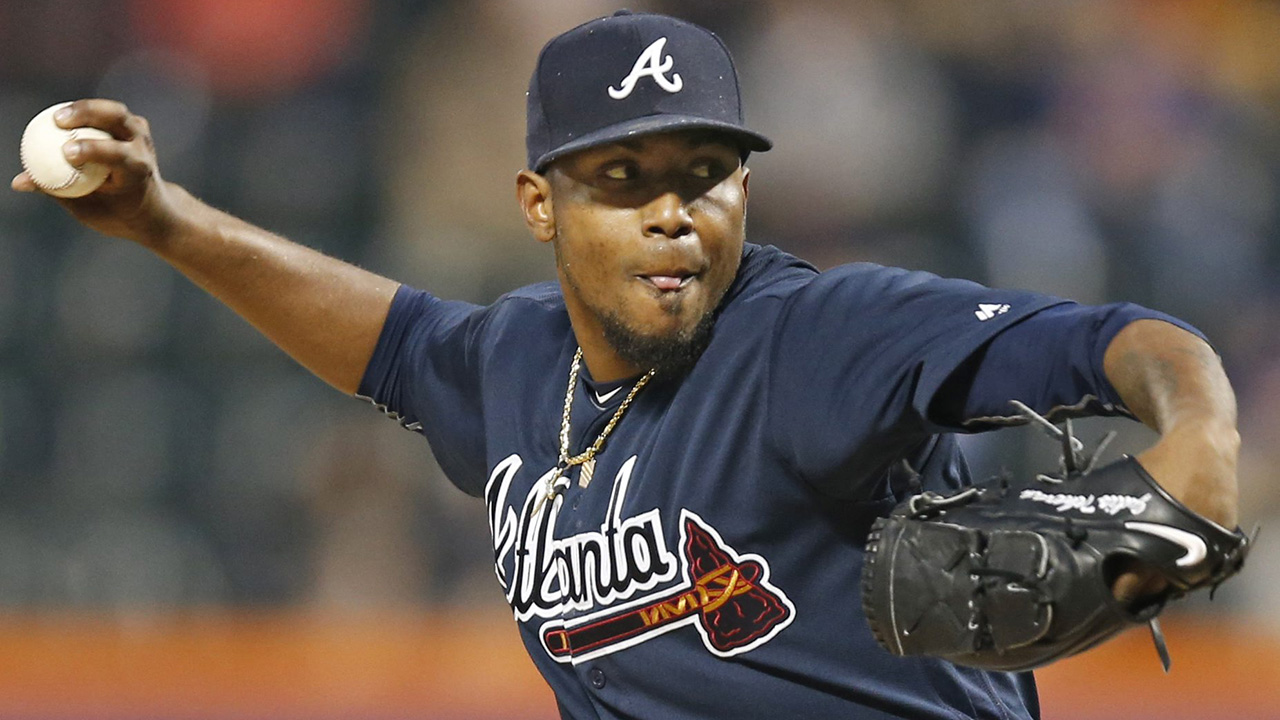 Julio Teheran, Luiz Gohara, Mike Foltynewica and Sean Newcomb are likely locks for the 2018 rotation unless one of them is moved this off-season, with talented youngsters Mike Soroka, Lucas Sims and Max Fried currently positioned to compete for the fifth spot in spring training. The club recently declined its $8-million option on R.A. Dickey, who pitched a team-high 190 innings in 2017, making him a free agent.
In the bullpen, Arodys Vizcaino, A.J. Minter, Jose Ramirez, Sam Freeman, Jim Johnson and Dan Winkler currently make up a strong core, although the Braves have been rumoured to be interested in adding to it this off-season.
Around the diamond, Freddie Freeman and Dansby Swanson are locked in at first base and shortstop, respectively. Highly touted 20-year-old Ozzie Albies took over for Brandon Phillips as the club's everyday second baseman last season and will likely continue in the role in 2018, while 23-year-old Johan Camargo could be a regular at third base or be used in an everyday utility role, as he saw time at second, third, short and left field in 2017.
Currently, the outfield is made up of Ender Inciarte between Matt Kemp and Nick Markakis, although one of the latter two could be moved this off-season to make room for top prospect Ronald Acuna, who is expected to be ready to contribute at the major-league level on opening day.
The Braves settled their catching situation towards the end of the 2017 season, exercising their $4-million option on Tyler Flowers and inking Kurt Suzuki to a one-year, $3.5-million contract. Meanwhile, on the bench, Matt Adams, Adonis Garcia, Rio Ruiz, Jace Peterson and Danny Santana are all controllable, and affordable, for 2018.
Minor-league system
Before we begin, it must be noted that the Braves front office has been an unholy mess since early October when shocking revelations surfaced about an MLB investigation into the club's violation of international signing rules. That investigation remains ongoing, and is rumoured to have actually expanded, but former Braves GM John Coppolella and special assistant Gordon Blakely have both already resigned in its wake.
It remains unclear exactly what the Braves did — and exactly who knew about it, as club president John Hart, who oversaw baseball operations at the time, remains in his role for now — but its expected MLB will hand out a severe punishment to the Braves for their prior transgressions sometime in the near future. That could merely include fines and a restriction on Atlanta's ability to sign international free agents going forward, but also may see the Braves lose some prospects they have acquired over the last several years.
With that in mind, the Braves have an excellent farm system. Baseball Prospectus ranked it the best in baseball going into the 2017 season and Baseball America agreed with that assessment in its mid-season rankings released this August. The Braves have nine of Baseball America's top-100 prospects, led by Acuna at No. 10 overall.
Much of the organization's top talent has already graduated to the MLB roster — or is expected to in 2018 — but there's still more coming like pitchers Kolby Allard, Kyle Wright and Ian Anderson, and position players Kevin Maitan (SS), Austin Riley (3B), and Cristian Pache (OF). Considering Atlanta's currently very young, controllable MLB team, Anthopoulos still has plenty of minor-league depth to tap into if he wants to make a move for an established major-leaguer.
[snippet id=3305549]
Coaching staff
Brian Snitker — a 62-year-old who first joined the Braves in 1977 as a minor-leaguer and has patiently worked his way up the organization's coaching ranks since — will manage the Braves in 2018. He took over in 2016 in an interim capacity after Fredi Gonzalez was fired before being named the full-time manager prior to the 2017 season. He holds a .458 winning percentage (131-155) while at the helm of this rebuilding club.
The majority of Snitker's 2017 staff will return, with Chuck Hernandez serving as pitching coach, Kevin Seitzer and Juan Castro splitting duties as hitting coaches, Marty Reed in the bullpen, and Ron Washington coaching third base.
But there will be two changes as just last week the Braves announced Walt Weiss would take over for Terry Pendleton as Snitker's bench coach in 2018, and Eric Young Sr. would replace Eddie Perez as first base coach. Both Pendleton and Perez had served on Atlanta's coaching staff for over a decade and were reportedly offered new positions within the organization. The club also recently added former Blue Jays coordinator Sal Fasano as a catching coach.
2018 Outlook
Considering how much they'll rely on players with extremely short major-league track records in 2018, it's a little hard to forecast how competitive this team will be. If all of Atlanta's exciting, youthful talent hits the ground running, this could be one of baseball's most fun clubs to watch, and one of its most fearsome to play. But if Atlanta's youngsters experience some growing pains, as many prospects do early in their careers, this season could be more about learning than winning.
How Atlanta fares will also be impacted by how quickly Anthopoulos looks to put his mark on this roster. Moving one of Kemp or Markakis is a no-brainer in order to free up playing time for Acuna, but it remains to seen what he'll do beyond that. Will Anthopoulos leave the club mostly as is in order to get a sense of what he has on his hands? Or will he start making moves immediately in the hopes of accelerating Atlanta's path to contention? And how will the fallout from the on-going MLB investigation that currently looms over all of this affect what Anthopoulos is able to do?
Regardless of what happens in 2018, the consensus across baseball is that the Braves are very well positioned to be contenders sometime in the near future. How quickly that happens is now in Anthopolous's hands.
[relatedlinks]