When you try to pinpoint the very best transaction that Alex Anthopoulos made during his time as general manager of the Toronto Blue Jays, there are ample moves to choose from. Of course, the Josh Donaldson trade stands out, as do the flurry of deals ahead of the July 2015 trade deadline.
One that shouldn't be overlooked? His January 2011 trade of outfielder Vernon Wells to the Los Angeles Angels.
Anthopoulos discussed the infamous salary dump during an excellent episode of MLB.com's Executive Access podcast.
"If we don't move Vernon Wells, I can't tell you Jose Bautista stays in Toronto or that we're able to afford signing him," Anthopoulos, now GM of the Atlanta Braves, told host Mark Feinsand.
Wells enjoyed one of the best seasons of his career in 2006 and following the campaign, signed a seven-year, $126-million extension with the Blue Jays, the richest contract in franchise history. Wells regressed over the next few seasons and the mega deal, perceived as unmovable, soon became an obstacle for the team.
In 2010, Bautista crushed 54 home runs and officially supplanted Wells as the driving force behind the Blue Jays' offence. Bautista was also about to enter his final year of arbitration, a reality that presented quite the decision for Toronto brass.
"Where our payroll was, financially, we couldn't have $20 million dollars of Vernon Wells and $14 to $16 million of Jose Bautista both on the payroll," said Anthopoulos.
The club ultimately shipped Wells — and his four remaining years — to the Angels for Mike Napoli and Juan Rivera, then signed Bautista to an extension.
Courting the Canuck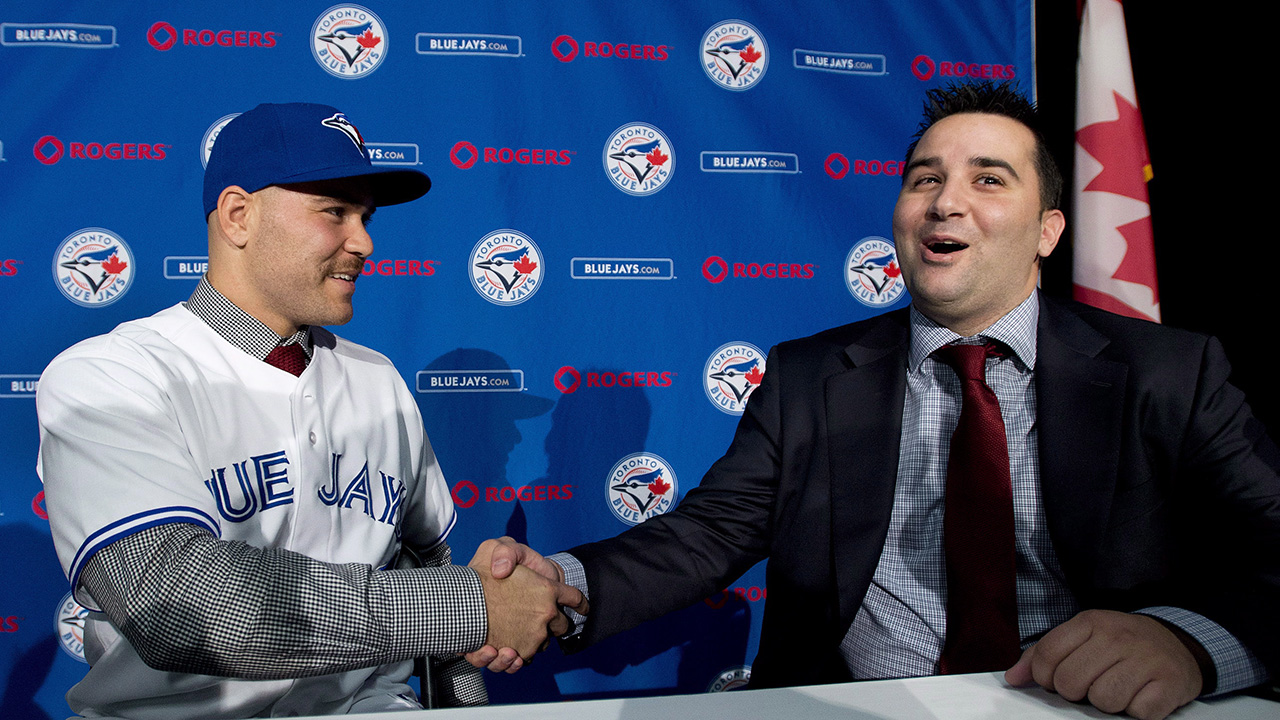 Anthopoulos also offered insight into his recruitment of free agent catcher Russell Martin during the 2014 off-season. The GM coveted everything about his fellow Canadian: Superior defence, athleticism, durability and a winning track record.
"He was the No. 1 target and we had to have him," Anthopoulos said.
Anthopoulos and the Blue Jays played up the Canadian angle, too. He drove to Montreal on five occasions to meet Martin and even booked a suite at the Bell Centre for the Montreal Canadiens fan.
"We did it quietly. We met with him an hour before the [Canadiens] game and then I said, 'Hey the box is yours. Bring in your buddies.'
"I remember telling him, 'We're going to sign you,'" Anthopoulos added. "I don't care — you're going to meet with the Cubs and the Dodgers and all that, but just know that we're going to sign you. There's no option."
Despite that declaration, Martin was having a hard time deciding where to sign. During a conference call with the player, Anthopoulos and Co. played the Canadian national anthem in an attempt to lighten the mood.
"I remember telling him, 'If we can't sign you, this great Canadian player, who the heck are we going to sign?' … We thought we had a lot to sell."
The Blue Jays eventually locked Martin up to a five-year deal that featured one season more than other teams were willing to offer.
Anthopoulos also touched on several other Blue Jays-related subjects on the podcast. Check out the full interview here.