TORONTO – The range of questions from season-ticket holders during the Toronto Blue Jays' annual State of the Franchise event covered the issues you'd expect: What are the team's biggest remaining needs; did the payroll go down; who's going to play second base; is a natural grass field really coming?
All relevant queries, particularly as spring training for the 2015 season looms, and all were answered as you might imagine: Depth in the bullpen remains the priority; money is available if needed; open competition at the keystone; studies are underway for grass in 2018.
No alarms, and no surprises.
---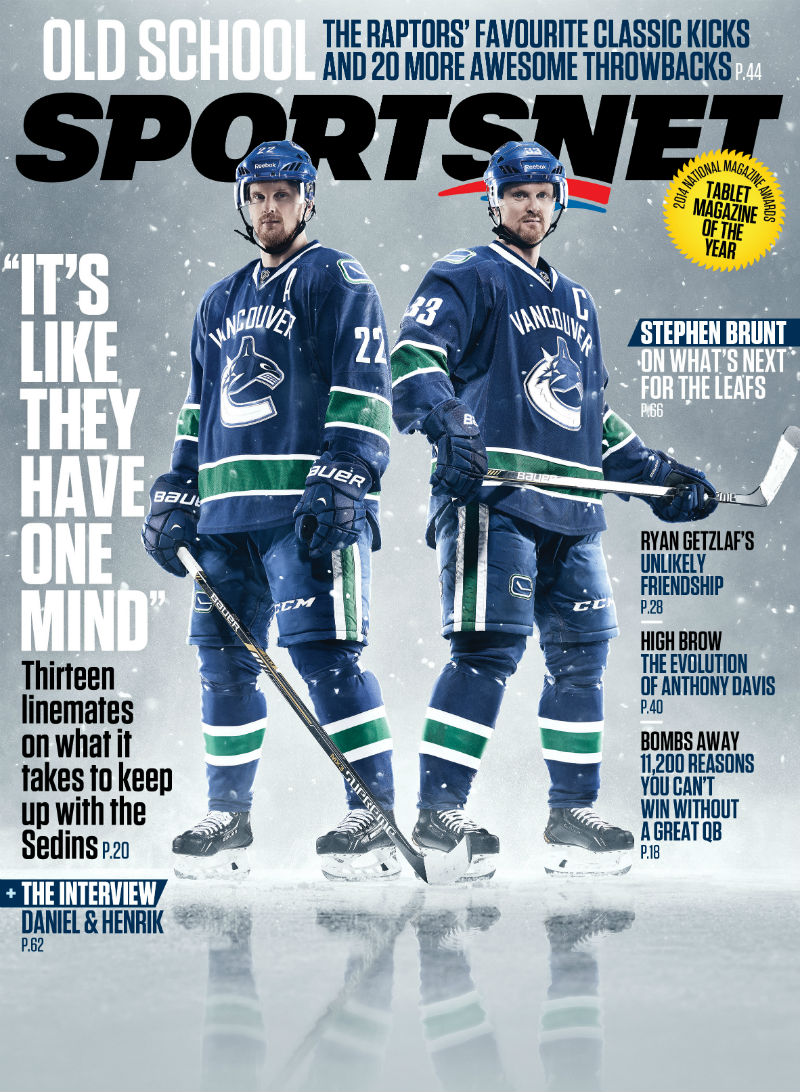 ATTENTION Rogers and Shaw customers.
Already enjoying Sportsnet ONE? Now
get access
to digital editions of Sportsnet magazine at no extra cost.
---
So rather than review a regurgitation of all we already knew, let's really go macro and seriously assess the state of the franchise, one that has transition coming at the president and CEO role at the end of the new campaign, and real questions about the direction it's headed as a result.
How do things look, not only in 2015, but in the years beyond? And do the Blue Jays have the pieces in place to become the sustainable contender GM Alex Anthopoulos promised to develop when he first took the job on the penultimate day of the 2009 season?
"I think we definitely do," Anthopoulos said Thursday before the State of the Franchise event. "We're always looking out ahead all the time. You try to time things but it's tough, you're banking on young players, their emergences, and so on. You talk about the young starters – even the pick (compensation for Melky Cabrera's siging with the White Sox) in the upcoming draft is an important pick for us. Guys like [Aaron] Sanchez got picked in the sandwich round and there's plenty of talent there."
The talent the Blue Jays have accumulated previously under Anthopoulos — Sanchez among them — is now starting to make an impact at the big-league level, and will need to be at the forefront of a core that is slowly getting younger for the team to remain competitive beyond this year.
Pitching has been the focal point of the club's drafting and developing over the past five years, with Marcus Stroman, Drew Hutchison, Sanchez and Daniel Norris set to form a young and inexpensive rotation for years to come.
Prospects Roberto Osuna, Miguel Castro and Jeff Hoffman are following fast on their heels, and they'll be needed with Mark Buehrle eligible for free agency in the fall and R.A. Dickey with a club option for 2016.
If they don't hit, the Blue Jays will be in some trouble, since their stash of elite position player prospects is far, far thinner. Dalton Pompey is set to play centre field and second baseman Devon Travis may be ready soon, but beyond them there's a wide gap to the next group of real positional prospects like Dwight Smith Jr., Mitch Nay, Matt Dean and Max Pentecost, who were in A-ball last year.
Excess pitching is needed for trades – the way Kendall Graveman and Sean Nolin were used in the Josh Donaldson deal and J.A. Happ was used to get Michael Saunders – and to cope with the inevitable attrition.
"That's by design," Anthopoulos said of the focus on drafting pitchers, "and that's by design as much because from a positional standpoint, you look around the field, I think everyone can agree we've had strong offensive clubs. … The way we're set up in free agency, I don't know that you're going to see us go after those big front-line starters – we're going to need to develop our own.
"It just seems like for the ballpark, and the way we do things here, we have a much better chance of attacking the position player core through free agency or trade than we do in the rotation."
Still, knowing there are few sure-fire blue-chip players coming makes the acquisition of Donaldson, who has four years of club control remaining, especially pivotal, joining Jose Bautista and Edwin Encarnacion in the middle of a formidable lineup.
But the futures of Bautista and Encarnacion may hinge on what happens in 2015, as both have club options for 2016, and a new president, and perhaps even a new GM, may want to deal them for other assets if things don't play out well this season.
Anthopoulos has often mused about extending both players and Thursday he made his most significant public statement on the matter when he told fans, "I expect that at some point we'll sit down with them and try to work something out."
Locking them up would certainly extend the club's competitive window beyond 2016, but the payroll implications are significant, since it's unlikely any potential new deals would be as club friendly as the ones that they're on now.
The Blue Jays have $37 million guaranteed to Russ Martin and Jose Reyes in 2016 with options on Bautista, Encarnacion and Dickey that would push the total to $73 million, and Hutchison, Aaron Loup and Steve Delabar among the notable first time arbitration-eligible players that would join Donaldson, Brett Cecil and Saunders.
In 2017, the Blue Jays have $42 million in commitments to Reyes and Martin, with $20 million to Martin in each of 2018 and 2019 the only guaranteed money beyond there.
Bautista and Encarnacion could certainly fit in such a structure, even at current market rates, but only if the assembly line of young pitching remains productive. Remember, too, that by virtue of his status as an immensely productive Super 2 arbitration player, Donaldson is on the fast track to big bucks.
The Blue Jays have some time to figure this all out, but if their payroll is going to remain in the $138 million range it's expected to settle at for 2015, or go down, a decision must be made on whether the team can support a top-heavy salary structure while the trade value for Bautista and Encarnacion remains high.
"I'm always concerned about the payrolls going forward, you try to do projections, but I don't know that you can really go out more than two or three years, regardless, because players change, but I think we're in a very good position for the long term," said Anthopoulos.
"Guys like Bautista and Encarnacion, they have two years of control left which is quite a bit of time. We extended Encarnacion when he was three months away from free agency, we extended Bautista when he was one year away from free agency and that was with the backdrop of salary arbitration. There's certainly the potential for those guys to be here long term and it's something we're going to be open to."
Ultimately, the young pitching Anthopoulos is banking on so heavily will provide the key determining factor.
If Stroman, Hutchison, Sanchez, Norris and perhaps even Castro can reach their potential and help push the Blue Jays to success, the longer-term vision for the team falls into place. If not, all bets are off, and the club can go in a number of different directions, with a core that leaves many paths open.