TORONTO – The Houston Astros were so bad at the beginning of the decade that when they went 70-92 in 2014, capping a four-year stretch of misery in which they lost 416 games, it represented a 19-win gain. That's what a tear-it-to-ground rebuild looks like. It's brutal. And there are no promises when embarking on such a process. You can enter the tunnel and find no light at the end, only more tunnel.
Executed intelligently, however, and a front office can build a juggernaut, which is precisely what the Astros are at the moment. At 59-28 after trashing the Toronto Blue Jays 12-2 Friday night, they're easily the class of the American League. Record-wise, only the National League-leading Los Angeles Dodgers are in the same realm.
Stacked at both the big-league and minor-league levels, the decision to punt four seasons after five years of fake-contention mediocrity has paid off handsomely. Now, the Astros debate things like how many chips they can sensibly play at the trade deadline without impacting plans to sustain a winner.
"It's probably the most challenging thing that any general manager has to grapple with. There is no right answer," Astros general manager Jeff Luhnow says in an interview. "We've seen clubs that have gone all-in and used all of their future currency to have a better chance to win this year and sometimes that works. Sometimes you pay the price next year, or the year after. We're going to try to thread the needle and do both. We want to win now, for sure, and we're going to do whatever it takes to win now. But at the same time, we've been building up all this currency, all these players in the pipeline so that we could be good for a long time. The Braves showed that they can do it for a decade plus. I don't know if we're going to be able to do that, but I certainly want it to be more than a three- or four-year run."
The Blue Jays, to a certain degree, fit the description of a team that burned through a good chunk of their close-to-the-big-leagues currency in building to the post-season runs of 2015 and '16. They are now suffering from a gap at the triple-A and double-A levels. President and CEO Mark Shapiro this week repeatedly stressed his goal of transitioning the roster without the kind of tear-down the Astros endured, which is an attempt to thread a very different kind of needle.
His goal will be to position the Blue Jays similarly to the Astros, who boast a big-league roster balanced between young and old players, left-handed and right-handed hitters with power, speed, athleticism and a staggered set-up of contractual control that allows the core to be turned over in gradual stages.
Consider that Carlos Beltran and Luke Gregerson are the club's only prominent free agents up this fall; ace Dallas Keuchel, Charlie Morton, Evan Gattis and Marwin Gonzalez are under control through 2018; Jose Altuve, Collin McHugh and Mike Fiers are controlled through 2019; George Springer, Yulieski Gurriel, Josh Reddick, Jake Marisnick and Ken Giles are theirs through 2020; Carlos Correa, Lance McCullers and Chris Devenski are in place through 2021; and Alex Bregman won't be eligible for free agency after 2022.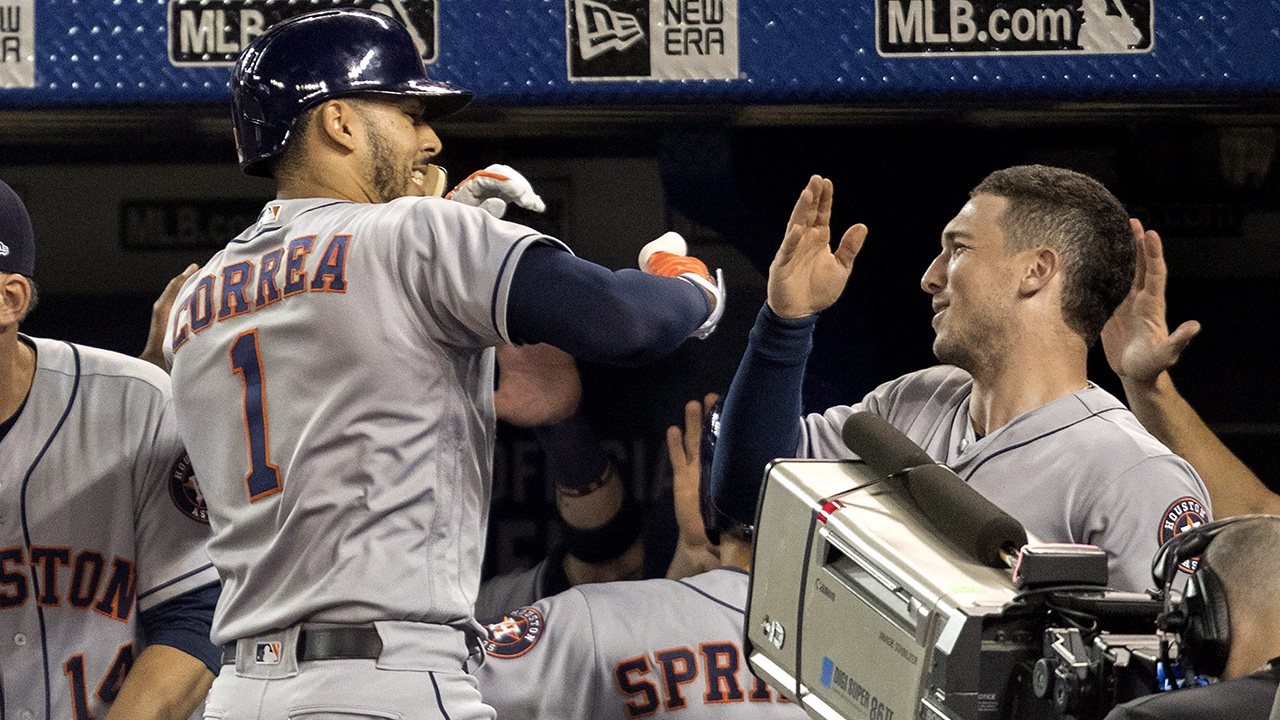 With five prospects among baseball's top 58 by Baseball America in its mid-season rankings released Friday, they still have pieces that offer potential solutions when roster holes open up.
"We're pretty fortunate that we're going to have guys coming off, unless we sign them long-term, not all at the same time," said Luhnow. "If they all come off at the same time, that's a real challenge because they get expensive at the same time and they're all gone at the same time. Our flow is a little bit better. It wasn't designed that way; Springer came up one year, then Correa, Keuchel was up before that, and Altuve was signed to an extension. We're pretty fortunate. But to be able to think that you're going to replace a player like Altuve or Correa or Keuchel easily from your system is really a pipe dream."
For that reason, how the Astros attack the trade deadline in the weeks ahead will be intriguing to watch. Luhnow loaded up with Scott Kazmir, Carlos Gomez and Fiers in 2015, when his team beat the New York Yankees in the wild-card game before losing the division series in five to the Kansas City Royals. But only Fiers ended up contributing meaningfully to that run while right-fielder Domingo Santana, one of the prospects they surrendered, is growing into a core piece for the Milwaukee Brewers.
"We want to win now, for sure, and we're going to do whatever it takes to win now. But at the same time, we've been building up all this currency, all these players in the pipeline so that we could be good for a long time."
This year, everyone in the Astros' intended starting rotation has spent time on the disabled list, with Keuchel and McHugh still on it and Morton just activated for Friday's start versus the Blue Jays. Certainly Keuchel and McCullers offer two front-end options, but with the AL West title pretty much wrapped up, the Astros can focus on adding specific elements to win in the playoffs, rather than to survive the qualifying marathon.
"We're in an advantageous position that it is highly likely, unless we have some sort of catastrophic collapse, we're going to be in the post-season and you really can start focusing on what does this team need to look like to face the Cleveland Indians in a seven-game series, to face the Boston Red Sox in a seven-game series, do we match up well," says Luhnow. "We won only one game against Cleveland this year and lost five. They've got our number right now. What is it that we need to do in a seven-game series to match up with them better? It's certainly something we think about. The solutions aren't easy. The players you need to put on your roster to help you in that situation are few and far between and they cost a fortune to acquire. But it's certainly something you have to think about."
Those are the problems teams face in baseball's first world. It's good to be them.
Less good is being the Blue Jays, who aspire to roll among the elite but are at risk of getting caught in the black hole of the majors' middle ground.