TORONTO – Baseball general managers never really stop shopping, so it should come as no surprise that Ross Atkins says the Toronto Blue Jays continue discussing possible trades and free agent pickups. But having checked most boxes on their offseason list, the Blue Jays can safely start turning their attention inward.
"At this point we feel good about our team," Atkins told reporters Wednesday. "You're always looking to make it better, but there isn't one specific area that we're looking to improve upon, it's depth in all of them."
The Blue Jays could use additional catching depth and no team ever has enough pitching, yet Atkins dismissed the notion that any further upgrades would have to be marginal.
"Any possible way that we can improve we're considering," he said. "It's not just can we improve upon what [are] referred to as marginal areas."
Regardless of whether the Blue Jays make a move, Atkins and team president Mark Shapiro will spend time in the coming weeks getting to know their players and communicating expectations for the coming season.
That includes discussions with sluggers Jose Bautista and Edwin Encarnacion, two pending free agents Atkins "would love" to keep in Toronto long-term. Bautista has said he'd like to finish his career with the Blue Jays, but his track record of offensive production means he's positioned for a substantial raise. Encarnacion, a similarly accomplished hitter, intends to wrap up contract talks by the end of spring training.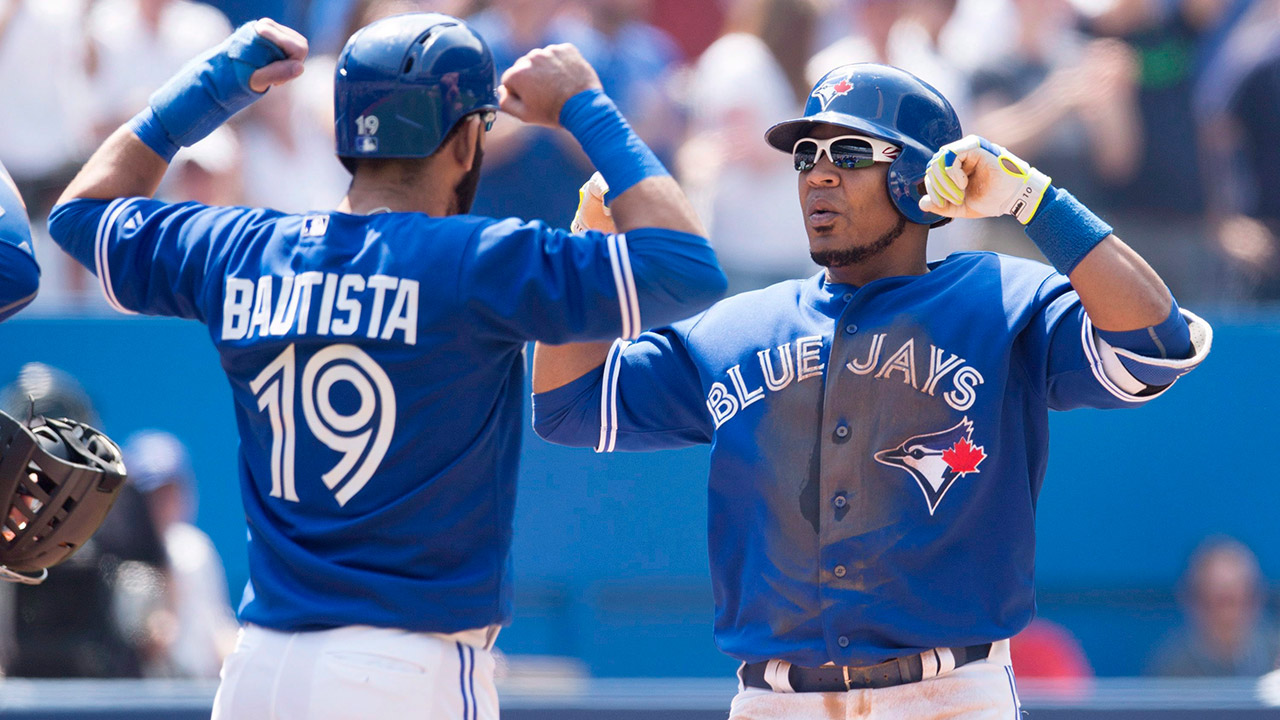 Then there are decisions about the 2016 team. The losses of Mark Lowe, LaTroy Hawkins and Liam Hendriks prompted the Blue Jays to spend much of the winter seeking relief help. They ultimately acquired Drew Storen, whose track record of late-inning excellence makes him a logical candidate to pitch high-leverage innings in 2016, but Roberto Osuna showed down the stretch that he's capable of saving games, too. The Blue Jays don't expect to choose a closer until halfway through spring training, if not later.
"We're going to take as much time as we can to make that decision," Atkins said. "Also that can change over the course of a year based on health, consistency and how guys are feeling and performing.
"We're just glad to add the depth and feel good about all of our options at the back of our bullpen. I feel like we'll have one of the better bullpens in baseball."
Given that the Blue Jays' projected rotation includes just one starter with a 200-inning season to his name, the bullpen will be essential to the team's success in 2016. Not only will Storen and Osuna have to contribute, the Blue Jays will need breakthrough performances from unexpected sources.
Gavin Floyd, who signed a major league deal this month, could be one such arm. The Blue Jays will stretch him out this spring in the hopes that he can build on a strong finish to the 2015 season and keep his persistent elbow issues at bay.
Floyd's in good company, with veteran big leaguers such as David Aardsma, Roberto Hernandez and Brad Penny also expected in big league camp. And as Atkins says, the team hasn't ruled out more acquisitions.
More judgment calls await the Blue Jays' front office, but those decisions are changing in nature. After months spent seeking upgrades outside the organization, Atkins and Shapiro are now turning more of their attention to players already wearing Blue Jays uniforms.