It was just the second game of his major-league career, yet Ivan Rodriguez found himself in a situation that would require even the most grizzled veterans to tread lightly. The Texas Rangers catcher was behind the plate during a June 21, 1991 contest and on the mound was none other than legendary right-hander Nolan Ryan.
Rodriguez, a native of Vega Baja, Puerto Rico, had taken English classes when he first joined the organization a few years prior, but wasn't fully confident in his grasp of the language. Yet here he was, a 19-year-old jogging up to the mound at Comiskey Park to meet with Ryan, who was 44 at the time.
"I went up and talked to Nolan Ryan and the first guy that came up to me and tried to make sure I fully understood was Julio Franco. That was the importance of having a Latin player on the field [to help]," Rodriguez said during a conference call last week to promote his participation in the Diamond Resorts Invitational celebrity golf tournament, which raises funds to benefit the Florida Hospital for Children.
"Early in my career I had the privilege to play with Rafael Palmeiro at first base, Julio at second base. Those guys, every time they saw me go up to the pitcher, always came and tried to help me."
Rodriguez's experience at the outset of his Hall of Fame career is not unlike what many Spanish-speaking players go through today. Over one in four MLB players last year were Latino and there's an underlying value to bilingual veterans, like a Palmeiro or Franco, who make life easier for their younger counterparts.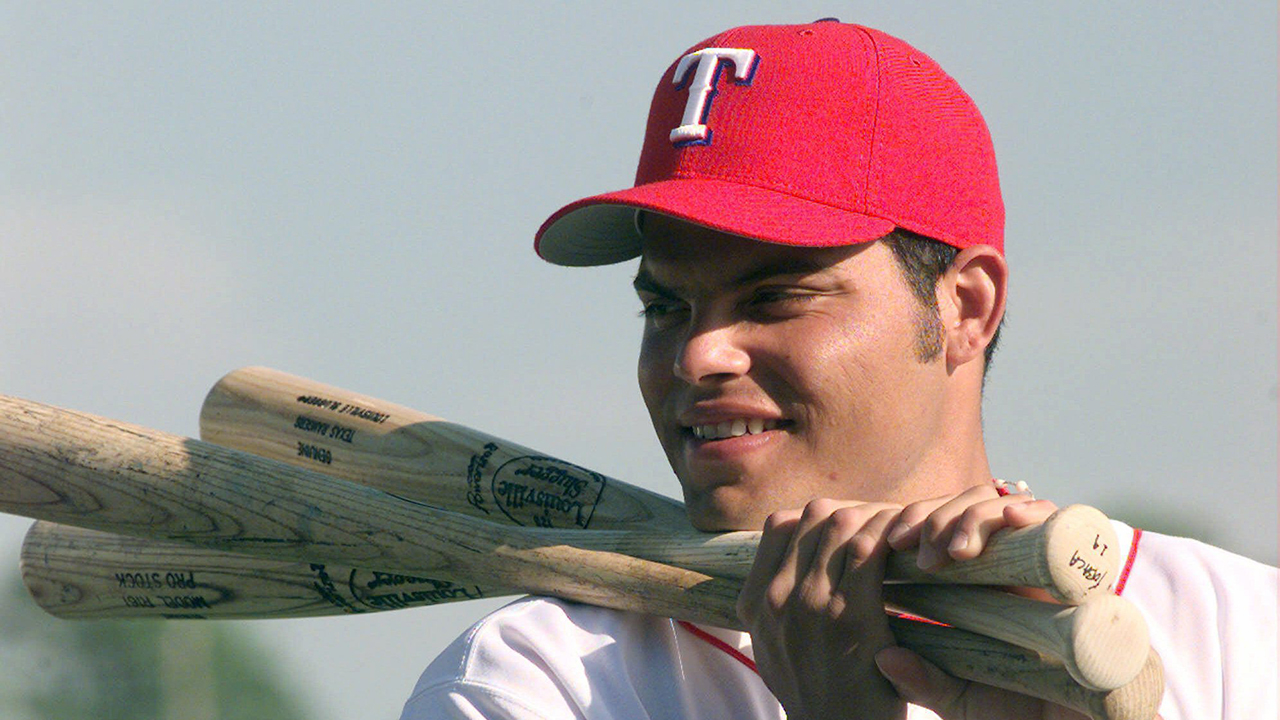 Jose Bautista raised similar sentiments in his thoughtful 2015 Players' Tribune piece, sharing examples from his time as a bilingual minor-league player.
"I can't tell you how many times in my career I witnessed a Latin American player develop an unfair reputation strictly because of a language barrier or cultural differences," he wrote.
"Many times, I overheard managers saying that a player was lazy or stubborn, and I was blown away because I knew that baseball was everything to the guy. He just had no idea what he was being asked to do. He didn't know the manager was telling him to take extra batting practice or do a drill a certain way, and then I'd step in and explain in Spanish and the player would be like, "Oh! Sorry, sorry. Tomorrow, tomorrow, tomorrow! Better tomorrow."
What Bautista didn't mention in the piece, but what became evident over the course of his decade-long tenure with the Blue Jays, was that he filled that role in the Toronto clubhouse. A respected veteran, Bautista could straddle the line of English- and Spanish-speaking players with ease. He was a clubhouse bridge.
An example occurred in September when Bautista guided fellow Dominican Teoscar Hernandez during the rookie's brief stint as a call-up. Every MLB club employs interpreters and many have bilingual coaches, but those types of personnel don't share the same pressures or experiences that teammates do.
Bautista is a free agent and is unlikely to return to Toronto. The team completed a trade over the weekend for Yangervis Solarte, a bilingual Venezuelan who general manager Ross Atkins lauded for his "great reputation" in the clubhouse. Further additions may come, so it remains to be seen who will fill Bautista's conduit role in the Rogers Centre locker room. But it's certainly something the Blue Jays, and all teams, really, should consider when crafting rosters.
"It's a 100 per cent must," said Houston Astros catcher Brian McCann, while on the same conference call as Rodriguez. "You see it when guys are bilingual … When they can bring guys together, it's special. Language barriers are a big deal. If you can't communicate, it's hard to have a relationship."
The Astros featured a fascinating clubhouse dynamic amidst their championship 2017 campaign. Carlos Beltran was the central, bilingual, father figure, who operated in the same vein as Palmeiro, Franco and Bautista. But there were several other bilingual players who could weave between English and Spanish — George Springer, Carlos Correa, Jose Altuve and even American Alex Bregman, who has worked hard over the years trying to master the latter language.
"You go to dinners and you're hanging out and you're talking," said McCann. "It's just a big deal. Off the field, on the field."
The 33-year-old Georgia native at times finds himself in similar instances to the one Rodriguez encountered in his debut season. Only in McCann's case, the language obstacle is reversed.
"Not all Americans could speak Spanish, but if I could do it all over again, I would've actually listened when I was in class," he said. "I know the bare minimum. I wish I knew more."