For most teams, the success or failure of a season can be deduced from a quick look at the standings. In that respect the 2017 Toronto Blue Jays were a disappointment.
But even though they won just 76 games, the Blue Jays experienced plenty of highs and lows over the course of their 162-game schedule. Here are some of the numbers that stand out from their 2017 season…
.714: Ryan Goins was a monster with the bases loaded this year, hitting .714 with two grand slams for a 1.902 OPS. Thanks in part to his clutch hitting, Goins finished the season with 62 RBI—more than Ryan Braun, Kyle Schwarber or Miguel Cabrera.
2: The Blue Jays had two walk-off grand slams in their first 40 seasons of existence. Then, to the delight of his fans and teammates, Steve Pearce hit two more in a four-day span in July.
4: Blister, nail and ligament issues pushed Aaron Sanchez to the disabled list on four separate occasions this year, and he logged just 36 innings in total.
5: As a team, the Blue Jays hit only five triples. That's the fewest triples of any team in major-league history and fewer triples than 22 individual players. The goal isn't to hit triples, of course, but this stat's a reminder that this team lacks speed.
8: Already it's safe to say that the Blue Jays won the Teoscar Hernandez-Francisco Liriano trade. While Liriano scuffled in Houston, Hernandez hit eight home runs in 27 games with the Blue Jays, creating optimism that he can continue impacting the team in 2018 and beyond.
10: An up and down season for Roberto Osuna included an MLB-leading 10 blown saves, though he did earn an all-star berth and set a career high with 39 saves.
11: When August began, Josh Donaldson had all of 11 home runs and he appeared to be on his way to a down year. After a torrid stretch during which he batted .302/.410/.698 over the last two months, he finished with 33 home runs.
16: Devon Travis had a memorable May during which he hit .364/.373/.646 with 16 doubles, but he didn't play after June 4 because of a knee injury.
23: Jose Bautista hit 23 home runs during his 10th and presumably final season with the Blue Jays while also setting a franchise record with 170 strikeouts. If this is indeed it for Bautista in Toronto, he finishes with 288 home runs and a robust .253/.372/.506 batting line.
25: The Blue Jays hit the disabled list early and often in 2017. From stars like Donaldson, Troy Tulowitzki and Russell Martin to lesser-known players such as Taylor Cole, a wide range of players spent time on the sidelines. All told, 25 players spent time on the DL.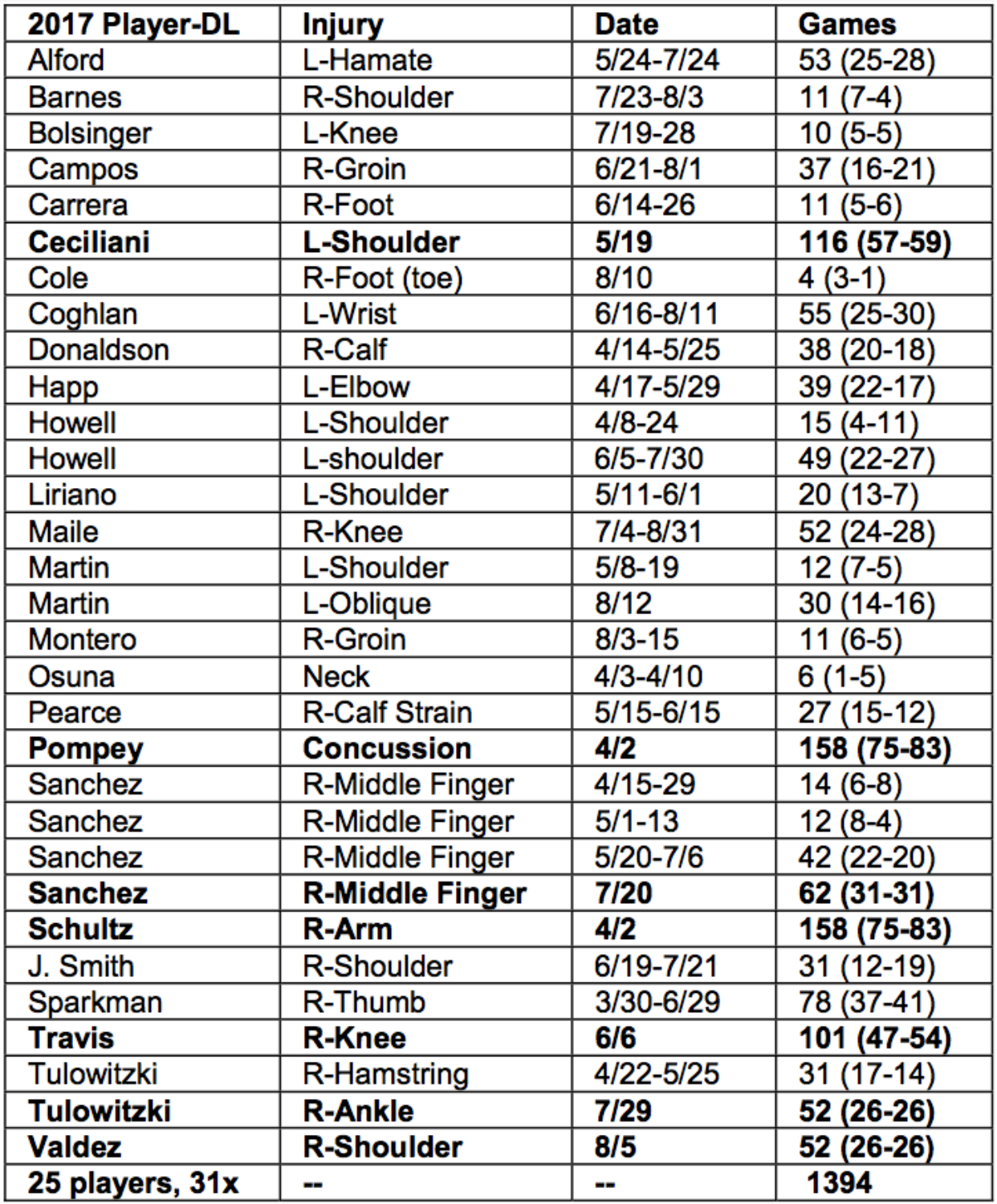 27: Of the 31 baserunners who attempted steals against Miguel Montero, 27 succeeded. He wasn't alone among Blue Jays backup catchers who struggled, though. Jarrod Saltalamacchia struck out in 16 of his 25 at-bats and Luke Maile's .407 OPS ranked last among the 435 players who batted at least 100 times.
38: Granted, his finish wasn't that great. But viewed as a whole, the season Justin Smoak put together was impressive. He hit 38 home runs, nearly doubling his previous career high, and slashed .270/.355/.529 while playing in 158 games.
60: The Blue Jays set a franchise record by using 60 different position players. They also used 33 pitchers, one shy of the franchise record set in 2012.
69.6: Blue Jays defenders converted 69.6 per cent of batted balls into outs, a significant drop-off compared to 2016, when they led the American League with 71.7 per cent.
77.2: Ryan Tepera emerged as a trusted late-inning option for manager John Gibbons and pitched a career-high 77.2 innings. Dominic Leone and Danny Barnes also took on heavy workloads out of the bullpen.
97: Although Kendrys Morales hit 28 home runs, his wRC+ of 97 reflects league average offence from a player who had been expected to produce more.
201: Marcus Stroman reached the 200-inning plateau for the second consecutive season, this time with an ERA of 3.09. The six pitchers to log more innings than Stroman over the last two seasons? Jeff Samardzija, Corey Kluber, Max Scherzer, Rick Porcello, Justin Verlander and Chris Sale.
693: The Blue Jays finished last in the American League with 693 runs scored in 2017. Upgrading the lineup will be a priority over the winter.
868.1: Despite the work of Stroman, Marco Estrada and J.A. Happ, the Blue Jays had trouble getting innings from their rotation. Last year, Blue Jays starters led the big leagues with 995.1 innings pitched. This year they saw that total drop substantially, as the likes of Mike Bolsinger, Cesar Valdez and Casey Lawrence cycled through the Toronto pitching staff. Only five teams saw their starters log fewer innings in 2017.
3,203,886: Even in a disappointing season, Blue Jays fans showed impressive support for their team, averaging just shy of 40,000 per home game.