TORONTO — The moment the disappointment really sank in for Anthony Alford, he was buying a bottle of water at Pearson International Airport Thursday afternoon. He looked up at a television overhead and saw pregame programming for the Toronto Blue Jays home opener in full swing. Fans filing through turnstiles; bunting hung around the outfield; ballplayers running and stretching. Everyone was getting ready for Opening Day.
About 24 hours earlier, Alford thought he'd be there with them. Why wouldn't he? The Blue Jays had told him to report to Toronto a day prior to the opener. He slept that night in the Rogers Centre hotel — the one with rooms that look out over the outfield. When he woke up in the morning, he posted a photo of himself in a Blue Jays jersey to Instagram with the caption: "Happy Opening Day. Excited to experience my first opening day in Toronto. #Blessings"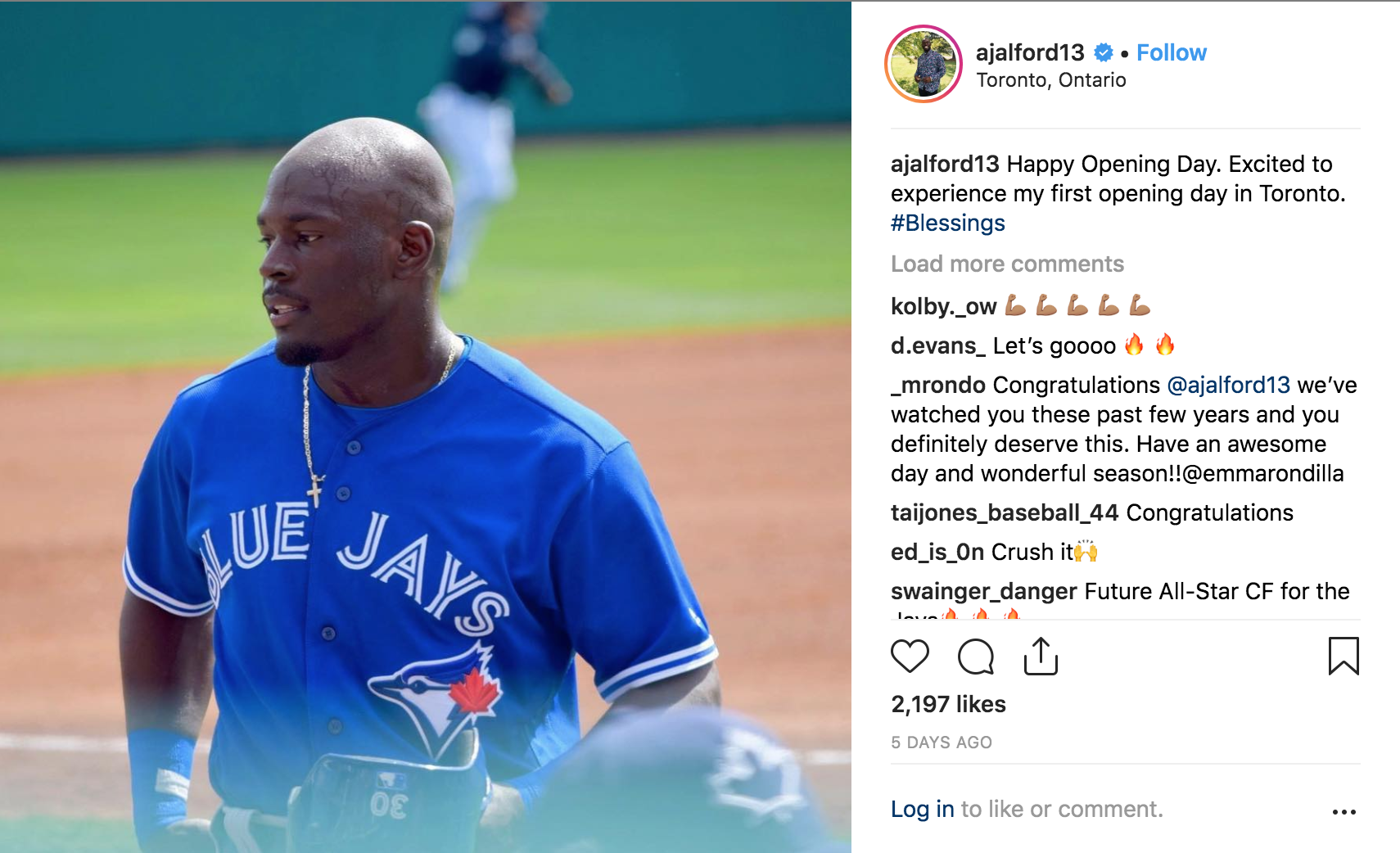 But not long after that, Alford was informed he in fact hadn't been selected to the Blue Jays roster. Rowdy Tellez had the final spot for a position player, after Kendrys Morales was traded the night prior. What Alford had was a flight to catch that afternoon, back to Florida where he'd return to the Blue Jays facility in Dunedin for a few days. Alford was crushed.
"It was emotional. I'd be lying to you if I said it wasn't tough," he says. "But it wasn't until the airport that it really hit me."
After he paid for his bottle of water, Alford realized the game wasn't only being broadcast on the television overhead — it was on practically every television in the airport. He couldn't escape it. So, he sat down at a restaurant, waited patiently for his flight, and watched the team he thought he was going to play for go on without him.
"I saw the big Canadian flag in centre field, I saw everybody running out during the introductions," Alford says. "That was the most frustrating thing. Like, 'Dang, I really wish I was out there.' It wasn't the fact that I didn't get activated. It wasn't that it didn't work out the way I thought it would. It was sitting in an airport in Toronto, watching it on TV. Seeing everybody else get to run out there for Opening Day, this really big day, and just having to sit through it, you know?. That was more challenging than anything."
That's the kind of week it was for Alford, who finally made it onto the Blue Jays roster Tuesday, starting in centre field after the club traded Kevin Pillar to the San Francisco Giants. Not that he was taking anything for granted this time around.
"When they told me I was coming up, I went, "Okay, I'm not putting nothing on social media until I see my name on the lineup card," Alford says, sitting at his locker after Tuesday's game, unwrapping blue athletic tape from his wrists. "I was like, 'Surely they're not going to call me back to Toronto and then not activate me again.' That was just my thought process. But, at the same time, you never know what happens in this game. So, I just didn't look at social media when I got the call. I didn't want to see what was out there and what was being said. I just kept to myself and stayed on the down low."
Following the disappointment of Opening Day, Alford spent two days in Florida, before flying north again, this time to Buffalo, where he moved into an apartment with his wife on Monday. Alford had been named to the Opening Day roster of Toronto's triple-A affiliate, the Bisons. And Tuesday morning, he left his new apartment to head to the club's first workout.
He was right down the street from Coca-Cola Field when the call came. He was told to turn around, pack his bags, head back to the stadium, and catch a ride to Toronto where he was going to play that night for the Blue Jays. Perhaps understandably considering the week he had, Alford went 0-for-3.
"I thought I was going to be here on Opening Day. But I guess I had a misunderstanding. It happened. I can learn from it, you know?" he says. "Don't assume anything until you actually see your name in the lineup. Then you know it's real. It's been a tough week. A challenging week for me. But it's something I can learn from. It's just part of the game. I'm not the first person to go through it, I won't be the last person."
It's not even certain Alford will remain on the Blue Jays roster come first pitch Wednesday. Shortly after they traded Pillar, the Blue Jays acquired 26-year-old outfielder Socrates Brito from the San Diego Padres. Brito is out of options. The club would have to expose him to waivers if they wanted to send him to triple-A. Alford, who's on minor-league option this season, can be sent straight to Buffalo. If the Blue Jays want to take every precaution to preserve their outfield depth, Alford is the obvious choice to be demoted.
That would be another tough conversation for Alford to experience. A third-round pick who was a consensus top-100 MLB prospect from 2016 through '18, Alford is one of Toronto's most promising young players. He's demonstrated immense tools at ballparks everywhere from rookie ball to triple-A to the Arizona Fall League to major-league spring training. He's the best athlete in practically every room he enters.
Only three things have held him back to this point: an NCAA Div. 1 football career that delayed his arrival as a full-time baseball player, a series of unfortunate acute injuries that robbed long stretches of developmental seasons, and an unimpressive 2018 sample at triple-A in which Alford hit .240/.312/.344, never looking quite like himself as he chased his season after suffering a hamstring injury late in spring training.
[relatedlinks]
But through it all, it's always seemed like Alford's time as a major-league ballplayer wasn't a matter of if, but when. The trade of Pillar suggested that time was now. The trade for Brito suggested the opposite. For his part, Alford says the Blue Jays haven't told him anything about what to expect.
"Nah, we haven't really talked about it. Me, personally, I'm not jumping the gun no more and getting my expectations up or down," he says. "I'm just going to take it day-by-day, or pitch-by-pitch when I'm on the field. That's all I can control. I can't control nothing else — who goes where or who does what. I can just control what I do and that's my main focus."
But does Alford feel he should be in the majors? When Blue Jays GM Ross Atkins talks about moving players like Morales and Pillar in order to open up playing time for the club's young prospects, does he hope the GM's talking about him?
"I mean, I'd be lying if I said no," Alford says. "I ain't gonna toot my own horn, but I know I can play here. I'm confident in myself. I'm confident I can play here. It's just a matter of getting an opportunity and taking full advantage of it. It's just about being ready whenever your name is called. I can't complain. It's nothing that I can control. I'll just go out there and play my hardest and see what happens."