TORONTO – The biggest question of the off-season removed with a new collective bargaining agreement reached, the Toronto Blue Jays shifted gears Thursday to the looming winter meetings, and getting on with the business of a stunted off-season.
Kendrys Morales is their only impact add so far, and holes in the outfield corners, the bullpen, at backup catcher and as a complement to Justin Smoak at first base need to be addressed. Dexter Fowler, Jay Bruce and Steve Pearce are among the players they've shown interest in but how general manager Ross Atkins ultimately ends up reinforcing his roster is a matter that remains somewhat opaque.
Still, what's becoming apparent is that the Blue Jays are more likely to rebuild a lineup set to lose Edwin Encarnacion and Jose Bautista rather than bolster a pitching staff that led the American League with a 3.78 ERA.
Over the past month what they've found is that's there where the opportunities lie.
"It seems like that market is much more robust, it certainly is in our view much more robust on the offensive side," general manager Ross Atkins said during a meeting with the Toronto chapter of the Baseball Writers' Association of America. "We're more confident that we can make team our team better on the offensive and defensive side than we are on pitching side."
Certainly that's where the greater need is, even after adding Morales to Josh Donaldson, Troy Tulowitzki and Russell Martin for the heart of the lineup. With Encarnacion, Bautista and Michael Saunders on the open market, the Blue Jays are without 88 of their 221 home runs last year.
Morales covers roughly 30 of those, but Kevin Pillar, Melvin Upton Jr., and Ezequiel Carrera are the only big-league outfielders currently under control, and any team wishing for success in the AL East better be able to put up runs.
One school of thought is that their prime target is Fowler, a switch-hitting leadoff man with a career on-base percentage of .366 who is in many ways an ideal fit. Bruce, whom the Blue Jays have twice tried to trade for, could be a complement, or an alternative as an inexpensive trade option, and perhaps his New York Mets teammate Curtis Granderson could be another possibility in that vein.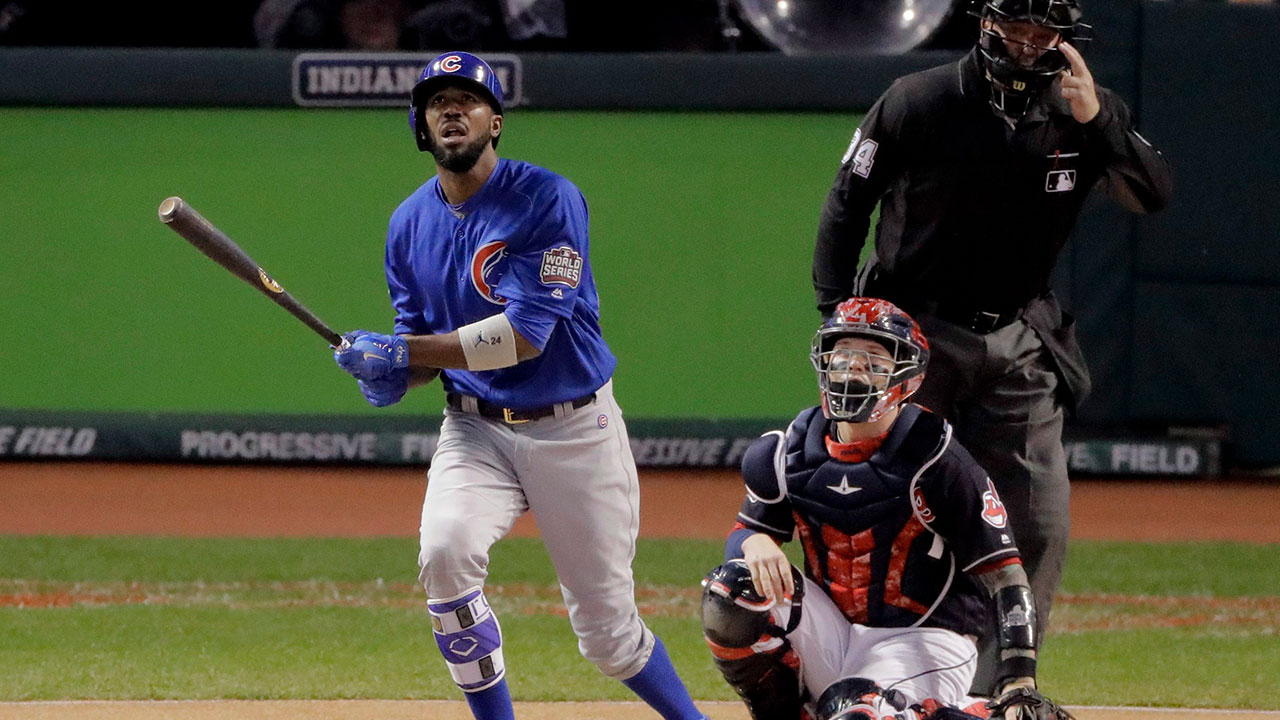 Dexter Fowler's career .366 on-base percentage would seem to be an ideal fit atop the Blue Jays' lineup. (Charlie Riedel/AP)
---
The price on someone like a J.D. Martinez could also come down since under the new CBA, the compensatory draft choice for a qualified free agent will be no better than a signing club's second highest pick. Without the attachment of a potential first-rounder any longer, the acquisition cost of players entering their walk years should decline.
"It certainly could," said Atkins. "Those types of opportunities are things every GM and front office executive is thinking about right now. But at the same time, every front office and GM values those things differently."
Whatever the case, the Blue Jays have options on that front, something they lack on the pitching side. Brett Cecil's departure for a $30.5-million, four-year deal from the St. Louis Cardinals not only leaves a massive hole in their bullpen for a leverage lefty, but also underlines the bull market for relievers.
Boone Logan, Jerry Blevins and Mike Dunn are the prime lefties still available. But with the Blue Jays payroll expected to be around $160 million, and roughly $122.2 million including salary arbitration projections already committed to 13 players, spending big on the bullpen may not be the right move.
"Are there relievers that would make our team better? Absolutely. We're not certain of all the costs on every single one of them, but have a very good feel for most of them and how that would impact our team," said Atkins. "We just have to factor in how we build around them if we were to acquire them and it seems to be escalating, that market, at least over the past couple of years. We have to factor that into the outfielder, or the backup catcher or whatever piece it could be that we might not potentially be able to acquire if we did acquire that top-end reliever.
"But (we're) certainly open to it if the value is right and our objective and subjective analysis tells us we should do it."
What many Blue Jays fans would tell Atkins to do is re-sign Encarnacion, whose market may not fully emerge until Carlos Beltran signs and sends the teams that fell short after him. Dialogue continues between the Blue Jays and their iconic slugger, but to expect a reunion remains folly.
Theoretically, Encarnacion could play 100-plus games in the field as part of an unsustainable split of first base and DH with Morales, but that makes little sense.
As Atkins put it, "two guys that do similar things is less than ideal for a team and money has been spent. It doesn't make it impossible but it certainly made it less likely. We realized that the day we made the move (to sign Morales) and we talked to Edwin about that, as well."
The Blue Jays moved quickly to land the Cuban slugger after Encarnacion turned down their $80-million, four-year offer just before free agency opened, seeing him as the linchpin to their off-season. Their subsequent moves are still to come.
"We feel with Morales here that we're in a good position to stay aggressive on the players that we feel are closer to ideal fits, more seriously consider on a daily basis guys that were here," said Atkins. "And then also, because Morales is here, we feel like we're in a position to be more opportunistic later in the off-season."
That time is approaching, and with the action of the winter meetings due to start moving, could come quickly.