BOSTON – There are times when the Toronto Blue Jays can remind you why they were considered legitimate post-season contenders heading into the 2017 season, and then there are times when they show you why they're full value for their sub-.500 record.
Sometimes, maddeningly, they can demonstrate both ends of the spectrum in the same game, the way they did Monday night.
A 4-3 victory over the Boston Red Sox featured some of their best and worst, with Marcus Stroman dominating a game like few starters can for six innings, the offence grinding down a good starter, and their defenders stealing hits before a seventh-inning error unravelled it all, only for an eighth-inning rally to save the day.
The performance reinforced how rarely all facets of the Blue Jays' game converge at the same time, although on this night at Fenway Park, they managed to overcome a damaging self-inflicted wound.
"We responded great," said Steve Pearce, who capped a game-salvaging rally in the eighth with an RBI single after hitting his first career homer at Fenway in the second. "We didn't let that inning knock us down."
Toronto Blue Jays on Sportsnet NOW
Want to stream every Blue Jays games this season? Sportsnet NOW has you covered. Catch every Blue Jays game, marquee MLB matchups, the playoffs and entire World Series.
The Blue Jays carried a 3-0 lead into the seventh behind a dominant Stroman, who used a tremendous sinker and a ridiculous slider to allow only three hits and two walks through the first six frames. Andrew Benintendi's one-out double looked to be of little concern in that fateful seventh, but it was followed by an awkward Jackie Bradley Jr. chopper that was fielded by Justin Smoak at first, and he double-clutched the relay to Stroman, who missed the bag after changing momentum to catch the ball.
"My fault," said Stroman. "Smoakie kind of got it caught in his glove a little bit, but I should have just went straight to the base. I got caught in rhythm, because I thought it was going to be an in-pass, I should have just went to the base, planted my foot and reached from there. That's on me."
A walk to Christian Vazquez followed before Brock Holt ripped a ball to left-centre that Kevin Pillar caught for the second out, but also brought home a run. Mookie Betts, who waved at a vicious slider with two on to end the fifth, proceeded to rip a single that made it 3-2 and ended Stroman's night.
Dustin Pedroia pounded Dominic Leone's first pitch off the Monster to plate the tying run, but a nice relay from Pillar to Troy Tulowitzki to Russell Martin at home cut down Betts – who ignored a stop sign – at the plate to keep the game tied, a play that proved pivotal.
"We made the best of the situation at that point," said Martin. "It was just a nice fundamental play, K.P. plays it really nicely off the wall, perfect relay to Tulo, then Tulo feeds me a perfect one-hop to the plate to get a fast runner. It's not how you want to draw it up, but we made the best of the situation."
The offence, which missed chances to add on in the third and fifth innings, replied immediately in the eighth, as Smoak started a rally with a walk off Heath Hembree and advanced to third on a Kendrys Morales single. After Tulowitzki popped out, Pearce ripped an RBI single to left to put the Blue Jays up 4-3.
Handed a second lead to protect, this time the bullpen was able to get the job done, with Ryan Tepera delivering a clean eighth before Roberto Osuna pitched a clean ninth for his 23rd save. Coming off a rough ending to a series in Detroit, starting a four-game set at Fenway Park off on the right foot was important.
"We're going to keep fighting, keep grinding," said Martin. "It's never fun to lose a lead, but you always have to go out there with the belief you can come back and score some runs. It's just frustrating when a guy is pitching his butt off and we didn't really give up any good contact and they found a way to sneak a runner on with Jackie Bradley there, they took advantage of a mistake we made and top teams are able to do that.
"They capitalized on certain things and we did a good job answering back right away."
The Blue Jays haven't been able to do that consistently enough this season, which is why they're just 43-49, and 2-5 versus the Red Sox (52-42), despite a talented core that should be better.
"Really, we haven't combined anything," manager John Gibbons said before the game. "Really, you've got four things: hitting, pitching, bullpen and defence. We haven't really put it all together for a stretch. It's happened in spurts, we're good in certain areas, struggle in other areas. That's kind of a mystery. It happens, but usually you hit a stretch where everything just comes together. I still like our ball club, I think it's a good ball club, but we haven't played good enough, that's for sure."
The Blue Jays did a nice job of working Eduardo Rodriguez, who needed 111 pitches to get through 5.1 innings. A two-run double by Morales in the first opened the scoring and Pearce made it a 3-0 game in the second by clubbing a solo shot over the Monster for his eighth homer of the season.
That looked like it would be plenty for Stroman, whose two-seamer helped produce 11 ground-ball outs while his slider, which he threw 17 times and generated four swings and misses, was a nasty weapon.
"I've recently found my lane, where I need to be as far as guiding my sights where Russ is setting up," said Stroman. "It all starts with fastball command, everything plays off that. If I'm locating that sinker, everything else is going to play up if I'm able to do that."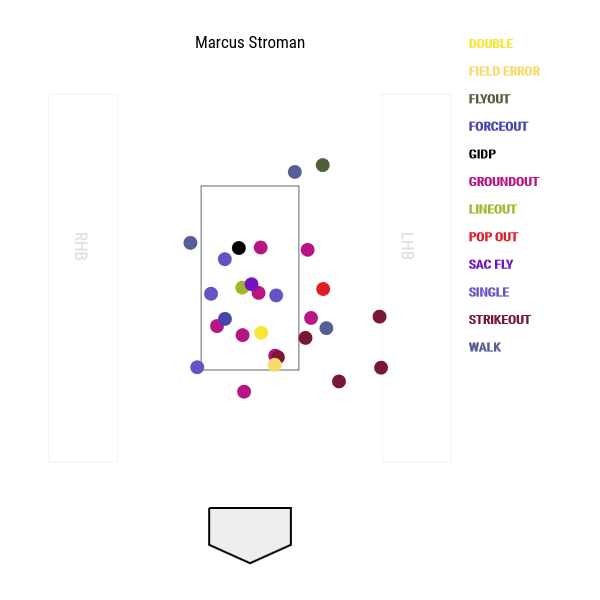 Four of Stroman's five strikeouts came on sliders, three well outside the zone on pitches that broke over a foot across the plate. He was in full Stro Show mode for much of the night, too, jiggling his shoulders after a Xander Bogaerts strikeout to end the first, and yelling loud enough for the upper deck to hear when Betts went down swinging to close out the fifth.
"The sinker and the slider were awesome," said Martin. "Really heavy, late sink and power with the sinker, and it felt like he was really hitting that extension-side lane really well with the sinker and the slider, and they were playing off that same lane and he was disguising it with his arm speed. You couldn't really tell them apart because the rotation was really tight and the action was late. When he has good stuff like that he's really tough to hit, nothing is straight and everything is just electric.
"It was nice to see him that way."
The Blue Jays feel the same, having won for the 12th time in Stroman's 19 starts so far, as the three unearned runs against him squandered a lead, but not the game.