TORONTO — In acquiring Randal Grichuk, Toronto Blue Jays general manager Ross Atkins knows he's getting a young, controllable outfielder who's been worth 7.3 wins above replacement since breaking into the majors four season ago. And he hopes he's getting a whole lot more.
That's what Toronto's internal analysis and evaluation has told him — that Grichuk is an underrated player who could break out offensively in the right environment. That's why Atkins pulled the trigger on a deal with the St. Louis Cardinals Friday, acquiring Grichuk for reliever Dominic Leone and right-handed pitching prospect Conner Greene.
"We valued Randal very highly. We were aggressive in trying to acquire him," Atkins said. "Our internal metrics on him are very good. And as we read the industry-wide metrics — which we respect — in this individual case our internal metrics are better on Randal Grichuk than how the industry views him."
The knock against Grichuk his entire career has been a lack of on-base ability (he carries a .297 career OBP) and an excess of strikeouts (his career K rate is 30 per cent). Now, he's only 26, and his discipline could improve with age. But it's unlikely those numbers will change dramatically. Grichuk struck out lots and walked little during his minor-league career, as well. So far, it's just who he is.
Where Toronto's front office does think Grichuk could break out is with the long ball. The hope is that getting out of St. Louis' Busch Stadium — which was the sixth-worst offensive environment in 2017 according to ESPN's Park Factors — and into the more homer-friendly confines of Rogers Centre (and the AL East's similarly small ballparks) will be a boon for Grichuk offensively.
Grichuk's already demonstrated above-average power over his 400 games in the majors, hitting north of 20 home runs each of the past two seasons, despite being a part-time player for the Cardinals. In fact, since 2014, Grichuk's isolated power has been .239, which is the 18th-highest among qualified MLB hitters — better than noted sluggers such as Paul Goldschmidt, Justin Upton, and Joey Votto.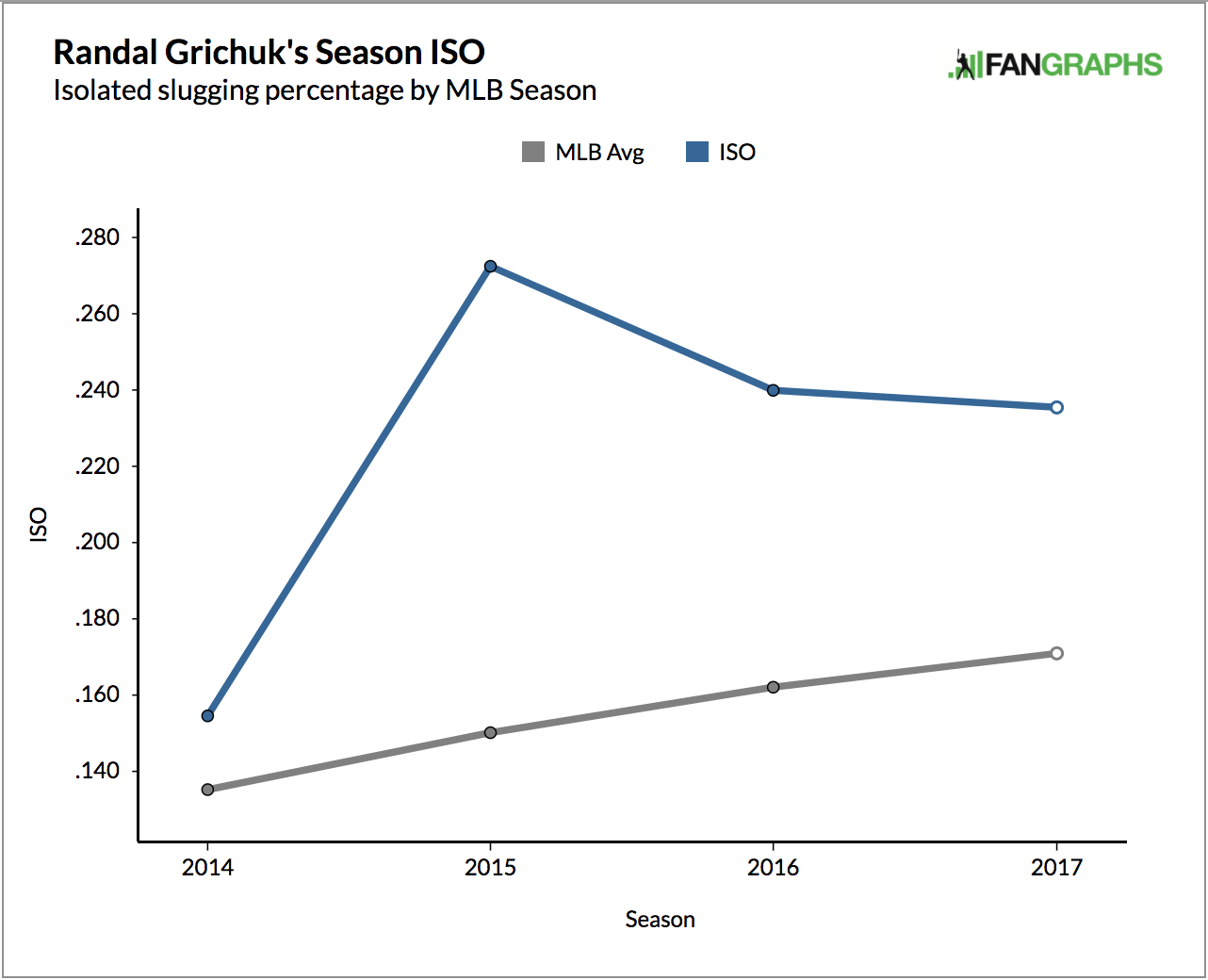 Grichuk's certainly trying to hit the ball a long way whenever he's in the box. He's posted fly ball rates of 41 per cent or higher in each of his four major-league seasons, and his 40 per cent hard-hit rate since 2014 is 13th among players with more than 1,000 plate appearances over that span.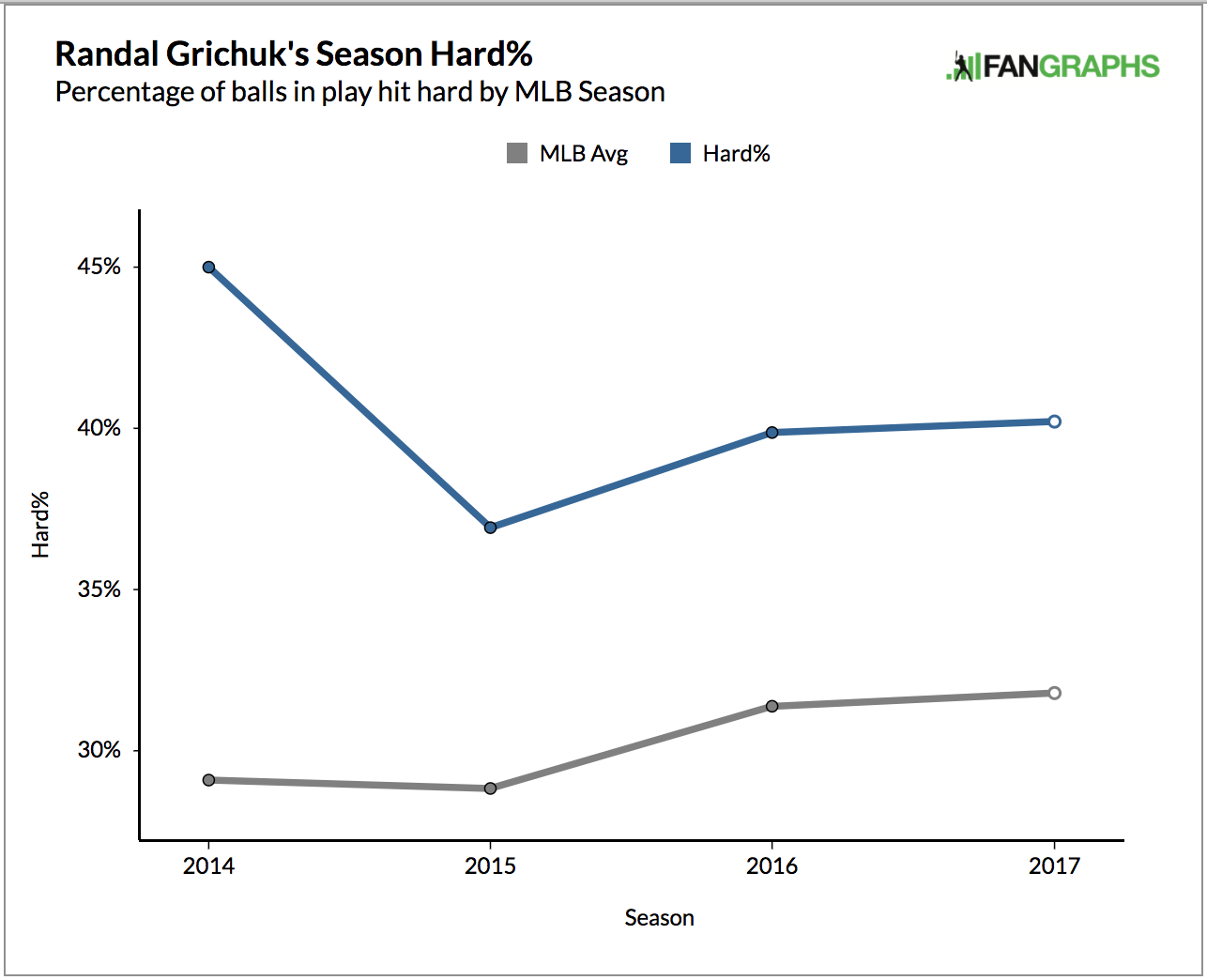 And modern statistics are especially fond of him. In 2017, Grichuk posted MLB's sixth-highest barrels per plate appearance, a StatCast metric that measures how frequently a player puts balls in play with an exit velocity and launch angle that have led to at least a .500 batting average and 1.500 slugging percentage. In 2015, Grichuk's average exit velocity of 92.3 amph was the ninth-best in baseball.
So, there's the bet. That with every day plate appearances — coming into spring training, right field will be Grichuk's job to lose — in a more optimal offensive environment, the hard-swinger will drive in a bunch of runs for a club that scored the fewest in the American League last season.
"We feel like there's some upside to his power and his swing plane coming into the AL East," Atkins said. "With somewhat small ballparks and him being a fly ball guy — there could be some uptick in home runs.
"I think it's really just doing what he's done for St Louis for another 100 plate appearances," Atkins continued. "There's a lot of upside to that athleticism."
Grichuk isn't a big stolen-base threat but does grade as an above-average runner per StatCast's sprint speed metric, with a 27.8 feet-per-second average, which is on par with Kevin Pillar and Ezequiel Carrera (both 27.9).
Defensively, Grichuk has put up 25 DRS and a 14.5 UZR over the course of his career, which suggests he's an above-average corner outfielder. But the Blue Jays believe Grichuk is underrated defensively by industry numbers, and are bullish about his ability to play all three outfield positions. The club also feels his throwing arm is more than strong enough to handle right field, which is where he'll likely see the bulk of his playing time in 2018.
"Athleticism, youth, control, plays multiple positions, power," Atkins said when asked what he likes most about Grichuk. "Actually, our objective and subjective information is very, very good on him defensively. There's a lot to like."
It's an added bonus that Grichuk will come at a relative bargain and is controllable through 2020. The right-handed hitter recently settled with the Cardinals for a $2.8-million salary in 2018, his first year of arbitration. That leaves the Blue Jays ample payroll room to pursue pitching ahead of spring training, both in the rotation and the bullpen.
Turning Leone, a reliever signed to a minor-league contract last winter, and Greene, a 2013 seventh-round pick who has yet to pitch above double-A, into a young, controllable, major-league asset is a tidy piece of business for Toronto's front office.
After receiving strong, high-leverage performances from several young relief arms in 2017, the Blue Jays found themselves with a bullpen surplus from which to trade. And the slew of expensive, multi-year contracts awarded to similar late-inning relievers this off-season made that depth of controllable relievers all the more valuable in the eyes of the industry.
Case in point, Atkins said multiple teams contacted the Blue Jays this winter about trading for Leone, who put up a 2.56 ERA and 10.4 K/9 over 70.1 innings while earning the league minimum in 2017. He'll cost the Cardinals only $1.085 million this upcoming season with three more years of arbitration before he becomes a free agent.
"We were definitely working from a position of depth," Atkins said. "And now we'll look to have to backfill for Dominic. He had an incredible year for us. And we expect him to have another incredible year — and it will be for another team. I can't say enough about his professionalism. It was a very tough loss for us. I think a lot of him as a professional and a pitcher."
Ben Nicholson-Smith is Sportsnet's baseball editor. Arden Zwelling is a senior writer. Together, they bring you the most in-depth Blue Jays podcast in the league, covering off all the latest news with opinion and analysis, as well as interviews with other insiders and team members.
As it stands now, the Blue Jays have a surplus of major-league outfielders competing for playing time on the 2018 roster: Grichuk, Pillar, Carrera, Steve Pearce, and Curtis Granderson. Recent acquisition Yangervis Solarte has also played some corner outfield in his career, while young prospects Teoscar Hernandez, Anthony Alford and Dalton Pompey are all expected to make their case for big-league jobs during spring training.
That could mean the outfield is suddenly a position of depth the Blue Jays can trade from in looking to bolster another area of the roster this winter. Or the club could enter the season with its outfield as is, anticipating its depth will be tested by health or poor performance.
"We have a solid group," Atkins said. "Now, how that ends up looking will largely depend upon the rest of our off-season, the remaining acquisitions that we make, the health of our infield at the start of the season. Having depth and having options is where we stated we wanted to be and we're getting closer to being there.
"We have to stay open about all the players on our roster. If there's any way to make our team better, more fluid, provide more versatility — we'll look to do that."