From the beginning of games through approximately the sixth inning, the Toronto Blue Jays are getting some of the best pitching in baseball. Similarly, when the ninth inning rolls around their run prevention has been on point.
Unfortunately for the Blue Jays, there are a couple innings sandwiched between each game's bookends, and those frames have consistently been an adventure.
From Brett Cecil's injury and Drew Storen's miserable start, to the long balls conceded by Gavin Floyd and Jesse Chavez, it seems like the gap between the team's starters and closer Roberto Osuna has been devilishly hard to bridge.
That said, in recent weeks that chasm has appeared a little less daunting. Part of that can be chalked up to Storen's solid May or the addition of Jason Grilli, but the biggest factor is the emergence of Joe Biagini.
When the Blue Jays selected Biagini in the Rule 5 draft it was hard to picture him as a high-leverage relief arm. At the age of 25 he had yet to crack triple-A, and in his minor league career he'd made all of three appearances out of the bullpen. The 5.8 K/9 he posted last season at double-A suggested he didn't exactly have electric stuff.
For all his perceived flaws, however, since donning a Blue Jays jersey Biagini has posted a 0.86 ERA in 21 innings. That's the kind of number that will endear even the most unheralded rookie to fans and his manager alike.
It's also the kind of number that can be immensely deceptive. When it comes to fantasy baseball, baseball cards and most baseball broadcasts ERA is the gold standard, but the statistic is as flawed as it is ubiquitous.
Especially when dealing in small samples, it's almost always preferable to look at peripherals and fielding-independent ERA estimators like FIP and xFIP. By these measures, Biagini isn't as impressive.
The rookie's 7.29 K/9 is well below the average reliever (8.67) suggesting his success is heavily reliant on good fielding. He has a 2.36 FIP, driven largely by the fact he has yet to concede a home run and his xFIP, which assumes an average HR/FB rate, sits at an unspectacular 3.65.
Taking this information together, the easiest conclusion is that Biagini has been lucky. To some degree this is certainly true. Keeping up a 0.86 ERA for an extended period of time is virtually impossible. Mariano Rivera's career ERA was 2.21.
It would be foolish to claim luck has nothing to do with Biagini's rise to prominence, but there's more to the story. In the past, a pitcher's ability to induce weak contact was very difficult to quantify and often altogether dismissed as a skill. Thanks to advancements like Statcast data, it's now easier to pick out which pitchers are best able to manage contact, and Biagini has been very strong in this area.
Among pitchers who've allowed at least 50 balls in play, Biagini's average exit velocity against of 85.1 mph ranks sixth lowest. On fly balls and line drives his 86.7 mph ranks third. Most pitchers who suppress exit velocity do so by forcing popups and shallow fly balls like Marco Estrada, who consistently outperforms his peripherals. Biagini has been a little different by keeping the ball on the ground.
His 59 per cent ground ball rate, the 19th best among qualified relievers, combined his tendency to avoid hard contact explains why no one has taken him deep yet. In fact, no one has been particularly close.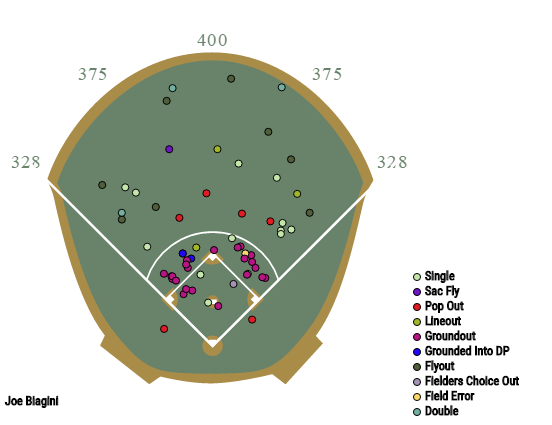 (Graphic via Baseball Savant)
It's not like Biagini is relying on Kevin Pillar heroics at the warning track. The longest fly ball he's allowed this season went 376 feet and it was to straight-away centre field.
Just 21 innings into his big league career, it's too early to declare Biagini a master of peripheral beating and contact management. The fact he has been so far makes the matter worth monitoring, but rendering a conclusion would be rash.
For now, it's fair to say Biagini is the type to keep the ball on the ground and in the park. For those qualities alone he's exactly what the Blue Jays need right now, even if his 0.86 ERA has serious growth potential.
Unsurprisingly it was a pitcher, Hall of Famer Lefty Grove, who's most commonly credited with the saying "I'd rather be lucky than good." Biagini has lived by Grove's mantra so far, but there's no reason he can't have it both ways.