John Schneider, the Toronto Blue Jays' major-league coach, always keeps a piece of paper with him in the dugout. He sees a pitch he likes, he jots it down. He sees one he doesn't, he makes note of that, too.
Schneider is keeping track of how Toronto's catchers — Danny Jansen and Luke Maile — are receiving the ball. Are they quiet behind the plate? Are they too jumpy? Are they making borderline pitches look like strikes? Are they taking pitches that catch the plate out of the zone?
As modern pitchers continue to throw harder and with more movement, the importance of framing — catchers would prefer you call it "presentation" — is greater than ever. Umpires are already being asked to make immediate judgments on the location of a rapidly and unpredictably moving small object within a variable, imaginary box. The least a catcher can do is give them a decent view.
At least that's the way Maile likes to think about it. He isn't trying to deceive anyone. He's trying to make sure borderline pitches, the ones that just nick the zone, look like the strikes that they are.
"I don't like that word, 'framing.' I know everybody uses it, but it connotates that I'm tricking umpires. And that's just not the case," Maile says. "I'm just trying to show them where the ball is. I'm trying to present the pitch to give them as good of a look as I possibly can."
Framing statistics vary depending on the source, but one constant you'll find is Maile's name near the top of any leaderboard. Baseball Prospectus ranked him among MLB's top-15 framers in 2018. FanGraphs had him 11th. Both Sports Info Solutions and StatCorner had him fifth.
"Is he as good as all the computers say?" Schneider asks, smiling when solicited for his own subjective scouting report. "Absolutely. He's as solid as they come back there."
The importance of framing and the advantage the Blue Jays have enjoyed with a tandem of Maile and Russell Martin over the last several seasons, was put into interesting perspective when FanGraphs added the metric it to its wins above replacement calculation this spring. Maile — whose .700 OPS last season was good for a catcher, yet below that of a league-average hitter — is now your 2018 Blue Jays WAR leader at 2.2.
It also drives home just how important Martin was to the Blue Jays pitching staff over his four seasons in Toronto. Martin ranked seventh in framing among the 32 MLBers who caught at least 2,000 innings during his Blue Jays tenure. And when FanGraphs added framing to its WAR formula, Martin's value over the last decade soared by more than 17 wins, the second-highest increase in the game.
| Catcher framing from 2015-18 (FanGraphs) | | | |
| --- | --- | --- | --- |
| Rank | Player | Innings caught | FRM |
| 1 | Yasmani Grandal | 3,875.10 | 81.8 |
| 2 | Tyler Flowers | 2,926.10 | 73.8 |
| 3 | Buster Posey | 3,557 | 45.6 |
| 4 | Martin Maldonado | 3,275.20 | 44.8 |
| 5 | Austin Hedges | 2,070.20 | 41.5 |
| 6 | Roberto Perez | 2,047.10 | 30.4 |
| 7 | Russell Martin | 3,367 | 29.2 |
| 8 | Yadier Molina | 4,511.10 | 28.9 |
| 9 | Jason Castro | 2,875 | 28.6 |
| 10 | Francisco Cervelli | 3,346.20 | 21.1 |
Per the FanGraphs measure, Jansen — the 24-year-old who made his MLB debut last August — ranked 32nd among the 82 MLBers to catch more than 200 innings in 2018, saving 1.7 runs above average. Good, but not elite. Meanwhile, Maile (9.1) and Martin (7.0) were each among the top-15 catchers in the league, although they caught more than double the innings Jansen did.
Catcher framing isn't quite a counting stat, but it accumulates similarly to one, so Jansen was at a distinct disadvantage to his colleagues. It's very early days, but so far Jansen's tied for third in MLB this season with 1.4 runs above average. Maile's in a five-way tie for 9th at 0.6.
| 2019 catcher framing through April 21 (FanGraphs) | | | |
| --- | --- | --- | --- |
| Rank | Player | Innings caught | FRM |
| 1 | Buster Posey | 138 | 2.1 |
| 2 | Austin Barnes | 144 | 1.6 |
| 3 | Jorge Alfaro | 130 | 1.4 |
| 3 | Danny Jansen | 126.1 | 1.4 |
| 3 | Martin Maldonado | 151.1 | 1.4 |
| 4 | Tucker Barnhart | 123.2 | 1.2 |
| 4 | Christian Vazquez | 120.2 | 1.2 |
| 5 | J.T. Realmuto | 163.2 | 1.1 |
Of course, the Blue Jays have proprietary framing statistics — the primary metric is called Strikes Looking Plus — which factor into their own version of a wins above replacement measure. Maile and Jansen have access to those framing numbers, and both say they regularly track their performance throughout the season.
Schneider's subjective in-game notes are another source of information. Every day before a game, he'll compile video of some of the pitches from the night before that were either well-framed or in need of improvement, and quickly run through them with both Jansen and Maile. Schneider will gather feedback from Toronto's pitchers, as well, to help the club's catchers better understand what's working and what's not.
"I think a big thing that gets missed in all this is how the pitcher sees it. Because it's a good feeling as a pitcher when you like the way a guy catches your stuff," Maile says. "It's impossible to measure and it never will be, but you can be getting all the strikes in the world — if it looks ugly to the pitcher, there's just something to that, you know?"
Maile remembers gaining a true appreciation for high-level framing from watching Jose Molina when they were both in spring training with the Tampa Bay Rays in 2013 and '14. It was late in Molina's career, and early in Maile's. Molina was leaning on his extensive experience to bring all the value he could as a pitch receiver and remain in the majors. Maile was trying to soak as much of it up as possible so he could merely get there.
"Watching Jose work, it was art. It was a thing of beauty," Maile says. "He was just so quiet. Everything was so subtle and calm."
That's one of the biggest focuses for Maile when it comes to receiving: looking as relaxed as possible. It's like the old duck analogy — you can be paddling like hell beneath the surface, but above water, you want to look calm and controlled.
To that end, Maile tries to move his glove, arm and torso as little as possible, in ascending order of importance. The glove has to move, of course, but if Maile can keep it smooth, direct and carry it toward the zone, he's happy. The arm naturally follows the glove, but ideally, the wrist and hand do the majority of the work. And if your torso is moving, you risk disturbing the umpire, or throwing off their line of vision. That's the last thing you want.
There are different strategies for different pitches and different quadrants of the zone. It's one thing framing for a pitcher who likes to work up and down (think a four-seamer, curveball guy like Trent Thornton) and another with one who predominantly works side-to-side (as Clay Buchholz will with his two-seamer and cutter).
For instance, Maile's focus with a pitcher like Aaron Sanchez, who throws a power sinker anywhere from 94-96 mph, is keeping his glove parallel to the ground when he's catching pitches at the batter's knees. If he tilts his glove down to corral that sinker, it's more likely to look like a ball, whether it catches the zone or not.
Movement patterns are just as important. With a sinker like Sanchez's, you don't want to start with your glove up high, go down to catch the pitch, and then pull it back up into the middle of the zone. You want to start with your glove down and catch it moving up in one fluid motion.
That's Jansen's biggest focus right now. He's trained himself to keep his glove close to his body when setting a target, and then make a downward first movement as the pitcher delivers what's meant to be a low pitch.
Here's a good example of what Jansen's trying to do. Watch how he drops his glove down as Sanchez delivers, then brings it up to vacuum a pitch down and inside into the zone for a called strike.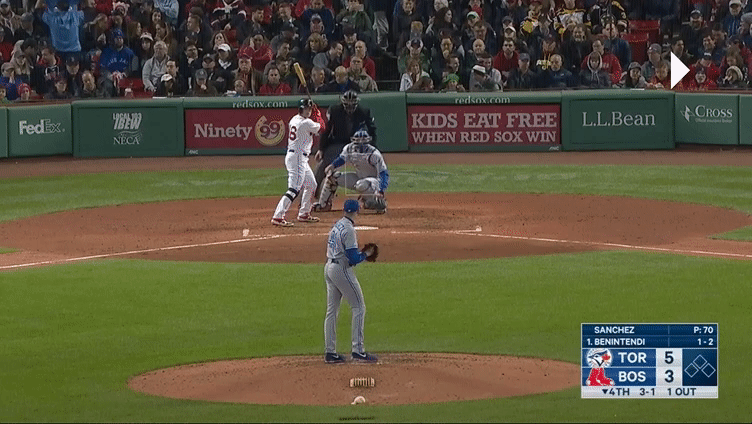 "That's where I used to get beat — because I'd start with my glove where it was, and then I'd go down to get the ball and then bring it up. It was sloppy. It was shaky. It wasn't strong and presentable," Jansen says. "I want to make a really subtle move. Nothing too big. Just one move, down to up."
Jansen's worked hard to improve his framing over his six seasons as a professional, and the training never stops. Recently, Schneider wheeled a high-velocity pitching machine out onto the turf between the mound and plate at Rogers Centre, and set it up to pump fastballs right at the bottom of the zone. Jansen crouched behind the plate and took pitch after pitch after pitch.
For a catcher who's regularly working with Sanchez and Marcus Stroman, two pitchers who lean on sinkers at the bottom of the zone, this is extremely important. It can be the difference between a 2-1 count and a 1-2. Or, in the case of the Andrew Benintendi plate appearance above, a walk and a full count.
"You're always trying to work around the strengths of your staff. And guys like Stroman, Sanchez, Thornton — they're all really trying to get that low strike," Schneider says. "And as a catcher, if you can get the low one, you're ahead of the game. A lot of the pitches that are up are either swung through or fouled off. You don't get the chance to present as many of those. The low one's definitely the money pitch."
Of course, properly receiving high pitches is important, too. Schneider thinks one of the things that sets Maile apart is his ability to get the top of the zone called in his favour, thanks to his large build and upright set-up behind the plate.
Maile's so good at it, it's difficult to choose only one example. So here's two. In this one, notice how Maile sets up on the outside edge of the plate, effectively shifting the strike zone away from the hitter: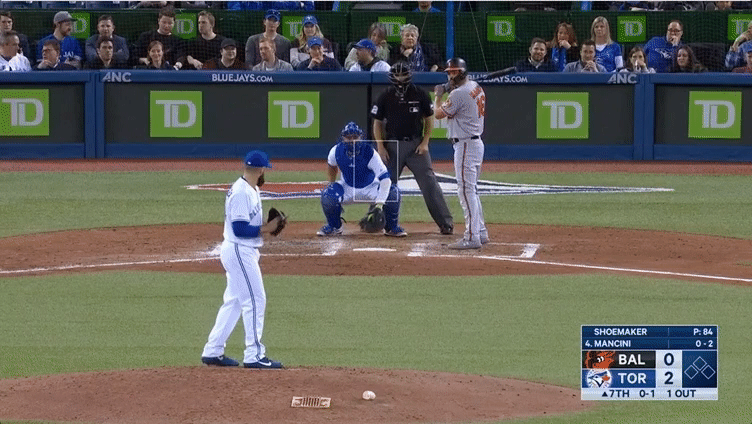 And here, watch how Maile's torso doesn't move an inch, even as he has to go up and out of the zone to get a pitch that was supposed to be down: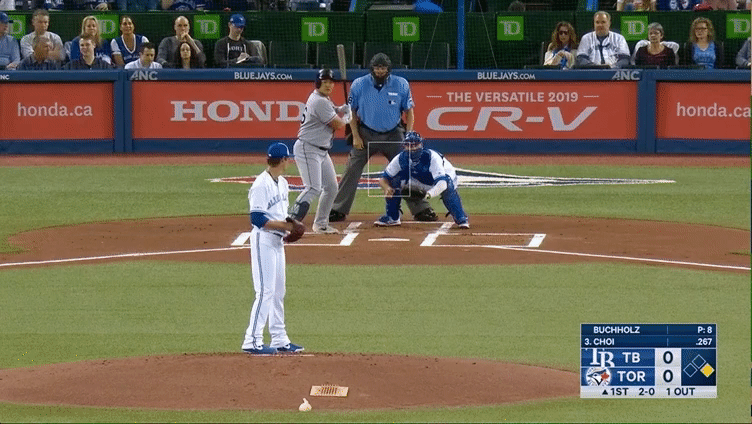 It doesn't come easily. Maile says he got into the habit of continuously practising his framing early in his minor-league career, and hasn't stopped since. Every two or three days he'll work at it without a glove on, catching balls flipped to him by a coach with his bare hand, honing in on the specific movements he wants to make on pitches in different parts of the zone.
It's also on his mind when he catches bullpens. Although the focus of side sessions is entirely on the pitcher, Maile doesn't let himself relax behind the plate. He concentrates on receiving the same way he would in a game, letting the momentum of pitches carry his glove into the strike zone. He calls it "putting hay in the barn."
"You want to make sure you're not practising bad habits. Because eventually, that will catch up to you," he says. "You have to maintain that attention to detail at all times. Because if you get lazy in bullpens, or in between innings, it'll show up in games."
And it'll show up in the numbers. You don't have to hit a ton to keep a major-league catching job these days, but if you don't, you'd better be nailing your position's defensive aspects. There's a lot riding on every borderline pitch a catcher receives — the leverage of a plate appearance, the success of a pitcher, the outcome of a game and, ultimately, the employment of the catcher.
It was a lot easier 15 years ago, when Schneider spent six seasons in the Blue Jays system, topping out at triple-A. No one was jotting down notes on every pitch he caught, and showing him video the next day.
"I like to think that I was a pretty good receiver — pitchers and coaches always told me I was. But it was different because they didn't have all these numbers when I caught," Schneider says. "So, who knows where I ranked? It's definitely harder for these guys than it was in my day, I can tell you that. That's why I always tell them, 'do as I say, not as I do.'"
[relatedlinks]