TORONTO — They talked about it before the game. The Toronto Blue Jays were going to have a quick toast to their season following the final out, with speeches from John Gibbons, Alex Anthopoulos and a few team leaders. They'd only made the playoffs—it wasn't time to go nuts just yet.
Let's just say that things escalated rather quickly.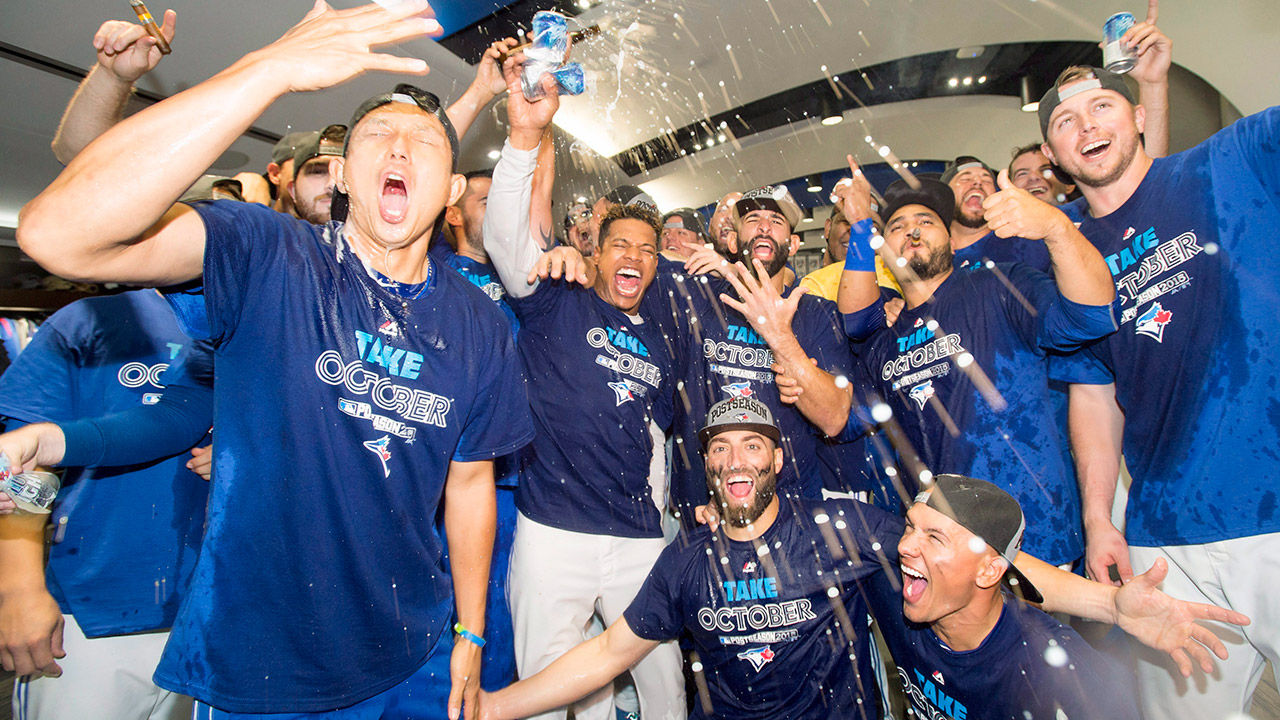 —
"It was short, man," said Dioner Navarro of the post-game toast. "Gibby wanted to congratulate us all and let us know what kind of year we had—and that it's the beginning of a lot of good things. Short and quick. Then lots of champagne."
Most of the Blue Jays point to first baseman Edwin Encarnacion as the trigger for the celebration. He walked around the room smoking a cigar, double fisting bottles of Veuve Clicquot. The Blue Jays clubhouse staff kept the cheap stuff in another room and brought out the fine French bubbly, which retails for around $70 in Ontario, because they'd been told this would just be a quick toast. They'd been told things weren't going to get crazy.
"This feels great, man. A long time waiting for this. I'm trying to enjoy this as much as I can because it's going to be my first post-season. I'm really going to enjoy it," Encarnacion said. "This game is not easy, man. It's a very hard game and that's why we're enjoying this as much as we can. To be here, with 30 teams in the big leagues, to get into the post-season is hard. I've been waiting for 10 years and I never made it before, now I made it."
—
David Price settled into the familiar spot in the centre of the clubhouse where every game's starting pitcher delivers their post-game interview. He only got about three minutes into it before a pack of Blue Jays—Marcus Stroman, Chris Collabelo, Aaron Sanchez and Marco Estrada among them—started creeping behind him, armed with cans of Bud Light. When the signal was given, they jumped up on the tables on either side of Price and unleashed a torrent of suds on the Blue Jays ace.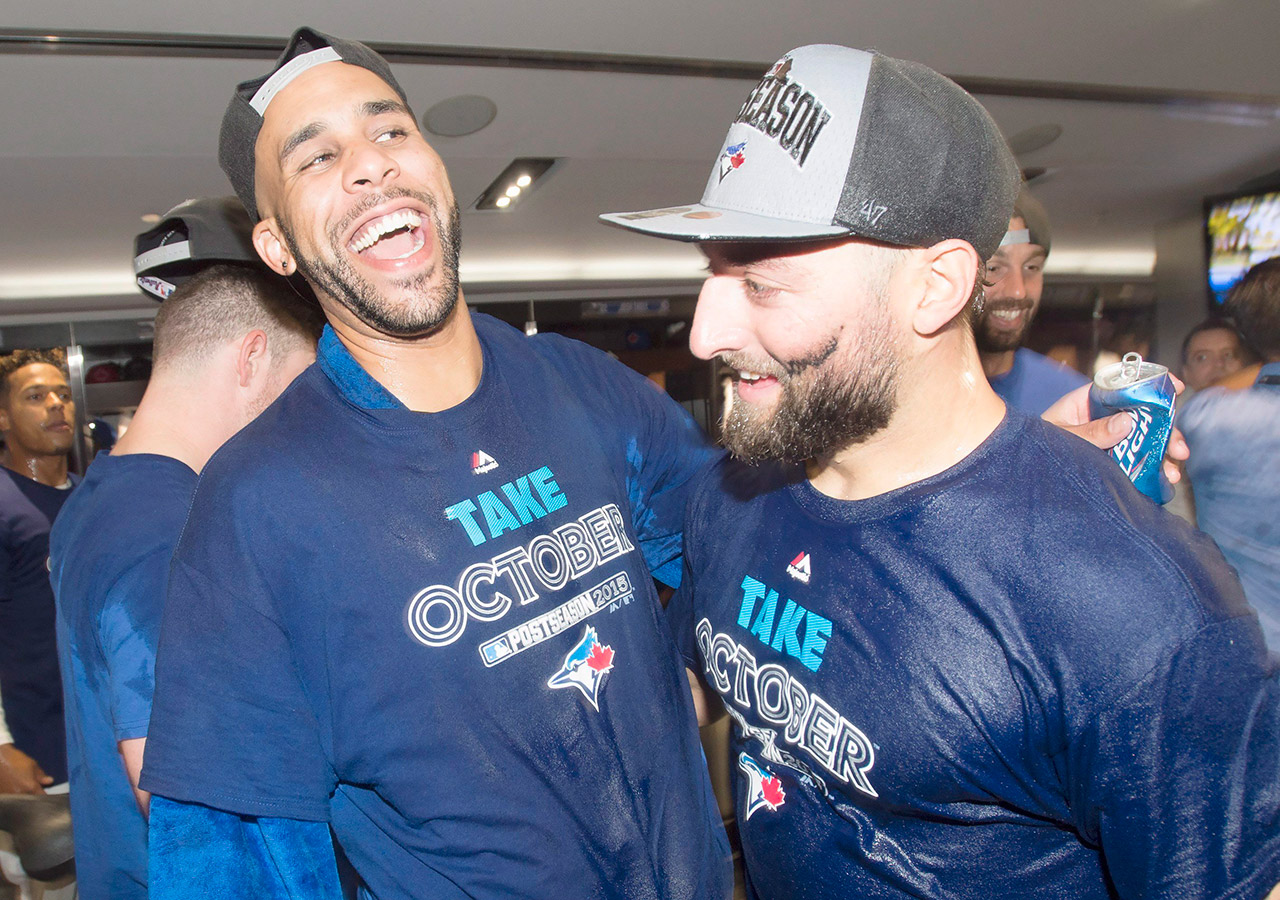 "I gave up a four-spot in the third and I gave up another run in the fourth. I think my nickname in the clubhouse is 'bringer of runs.' I'll take it," Price said. "Anytime you put yourself in the post-season like these guys have you've got to celebrate it, so that's what we did."
—
Munenori Kawasaki bounced around the clubhouse, talking about staying up all night for a "bush party," whatever that is. Stroman and Aaron Sanchez danced to Fetty Wap and Drake, demanding the music be turned up louder and louder every few minutes. And no one enjoyed themselves quite like Mark Lowe, who wore Elvis sunglasses and ambushed his teammates with "beer facials," which are exactly what they sound like.
"Now that we're in position to accomplish something, not only for the city but for the whole country, it's a great, great feeling," said Navarro. "It's important to celebrate, you never know what can happen. You've got to enjoy the moment and then after that whatever happens, happens."
In one corner Kevin Pillar and Ryan Goins hugged, pouring beer over each other's heads. In another LaTroy Hawkins and Roberto Osuna shared a champagne cheers at their lockers, the oldest and youngest players in the major leagues both celebrating the post-season.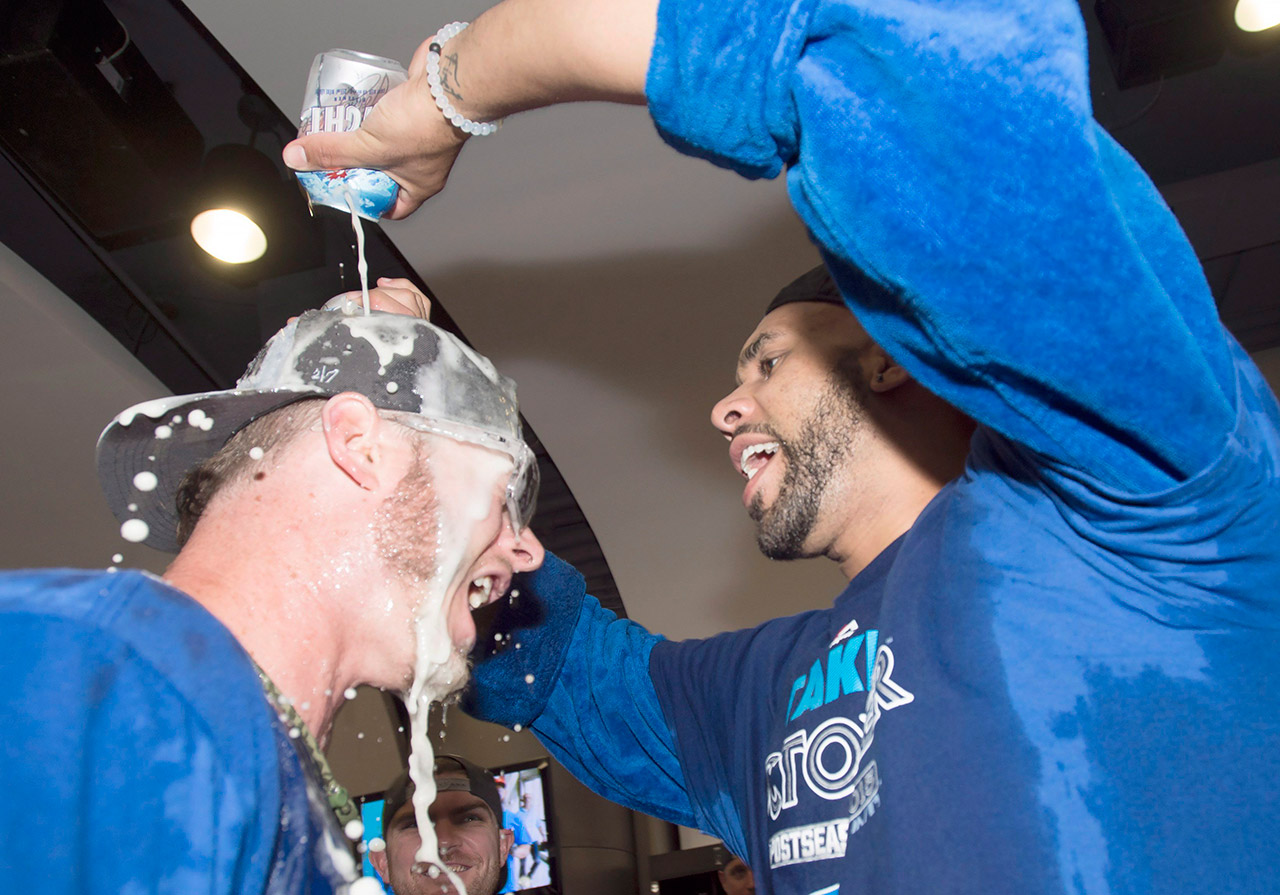 "Everything happened so fast, it's unbelievable," Osuna said. "I'm 20-years-old. I think we have a great team and I think we're going to make history."
—
During the ninth inning, Alex Anthopoulos, Tony LaCava, Andrew Tinnish, and other members of the Blue Jays baseball operations staff made their way down to the clubhouse for the toast. They didn't know they'd have to wait as long as they did for the players, as the Blue Jays surrendered three runs in the ninth and made the game interesting.
"I kept asking how many outs there are. They were telling me it was 10-8 all of a sudden," Anthopoulos said. "I was like, geez, I hope we don't' go extra innings and we're here for another two hours."
Anthopoulos remembers sitting in a box at Camden Yards in Baltimore with Tinnish and LaCava last season, watching the Orioles celebrate the AL East championship. As the Orioles regaled beneath them, the trio talked about the changes they were hoping to make to their roster, and the type of players they wanted to bring in.
"I think the closeness in this group is amazing and it's real. I think Gibby allows that environment to be in place," Anthopoulos said. "It's great, it's great seeing these guys celebrate. I love these guys as human beings, these guys are awesome. To see them come together, to me it's the epitome of a team. I don't know what that means in terms of wins and losses, or where we're headed, but this group is an epitome of a team as far as I'm concerned.
"I know everyone was trying to ask what are they going to do, how are they going to celebrate," Anthopoulos continued. "I don't think there should be a script. There's not a manual for how you celebrate. You just let these guys do what they want to do. They deserve to be themselves. They earned it. They put in the time. Whatever they want to do we're going to follow their lead because they drive the bus on this thing."
—
R.A. Dickey tried to stick to the sidelines, as he does. But even he was dragged into the champagne-soaked fray at one point, giving hearty hugs to Pillar, Goins and others.
"It's super special. A lot of us came in year one and we were stinky, then we got a little bit better and now we made it. The three-year plan has worked. It's fun, it's really fun," Dickey said. "This is the before party — imagine what the after-party will be."
Meanwhile, Josh Thole sat at his locker with his kids, who had the widest eyes on their faces you've ever seen. Josh Donaldson tried giving an interview before he was showered with champagne by a jumping-up-and-down Ben Revere, who was shouting "MVP dog! MVP dog!" Navarro circulated the room, handing out cigars, which were carefully lit by Hawkins.
"I think you have to recognize that it's been so long and it's been a battle all year. We were just hovering around that .500 mark around the trade deadline, made some great acquisitions, and we just took off and have been playing great ball ever since. You tip your hat to those guys," Gibbons said. "They all want to enjoy it. They won't get carried away. We can hopefully save that one for a later day or the near future… Is that a Yogiism?"
—
For many Blue Jays it was their first chance to celebrate a postseason berth. But there were others, like Mark Buehrle and Josh Donaldson, who had seen it all before.
"This is a little overboard if you ask me," Buehrle said. "We talked about it, I was asked if we were going to celebrate, and I said we can do a little bit, but I think we need to wait for once we try to clinch the AL East. But at the same time some of these guys haven't clinched, this organization hasn't been there in so long, so I guess take advantage of it and have fun with it."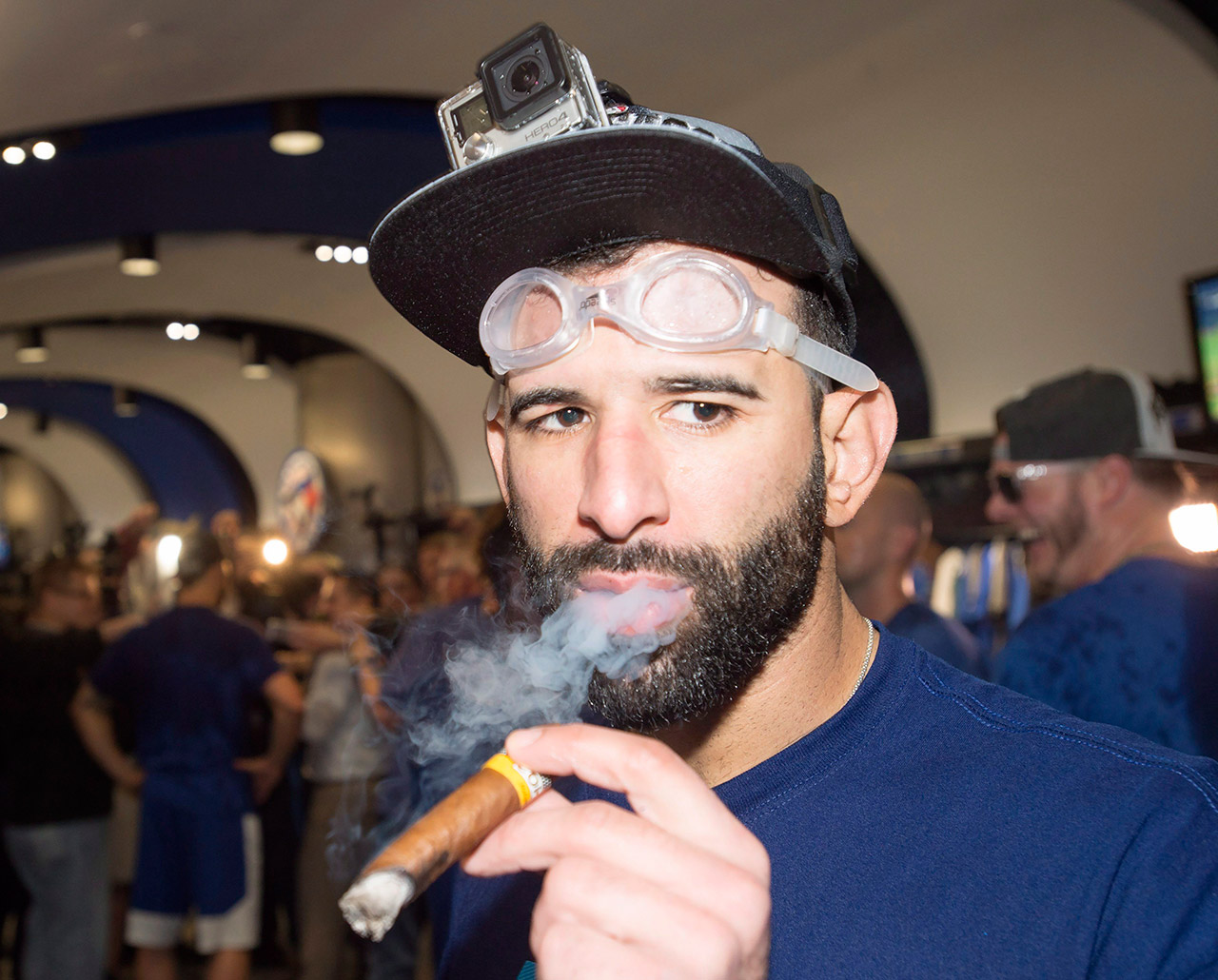 Josh Donaldson found a good bridge between celebrating the moment and keeping his eyes on the prize.
"It's good for the city, it's good for all the guys on this team. I'm happy to be a part of it," Donalson said. "But we're not finished yet. We still have other goals that we're trying to meet. It's nice to know that we're for sure in the playoffs. But we still want to win the division as well."
Donaldson, like everyone else was expecting a quick post-game toast. But then Encarnacion took over.
"Yeah, Eddy got a little excited. It's good for guys like him and Bautista that they're going to get a chance to experience the post-season. I shared a few moments with them. For us and this team, we've put a lot of work into where we're at right now," Donaldson said.
—
It was Encarnacion and Bautista who likely enjoyed the celebration the most, as the two of them have logged a cumulative 15 seasons with the Blue Jays trying to reach this moment.
"We had a little talk before the game that we weren't going to do this," Bautista said, before he was promptly doused from behind by a gaggle of teammates armed with beer and champagne.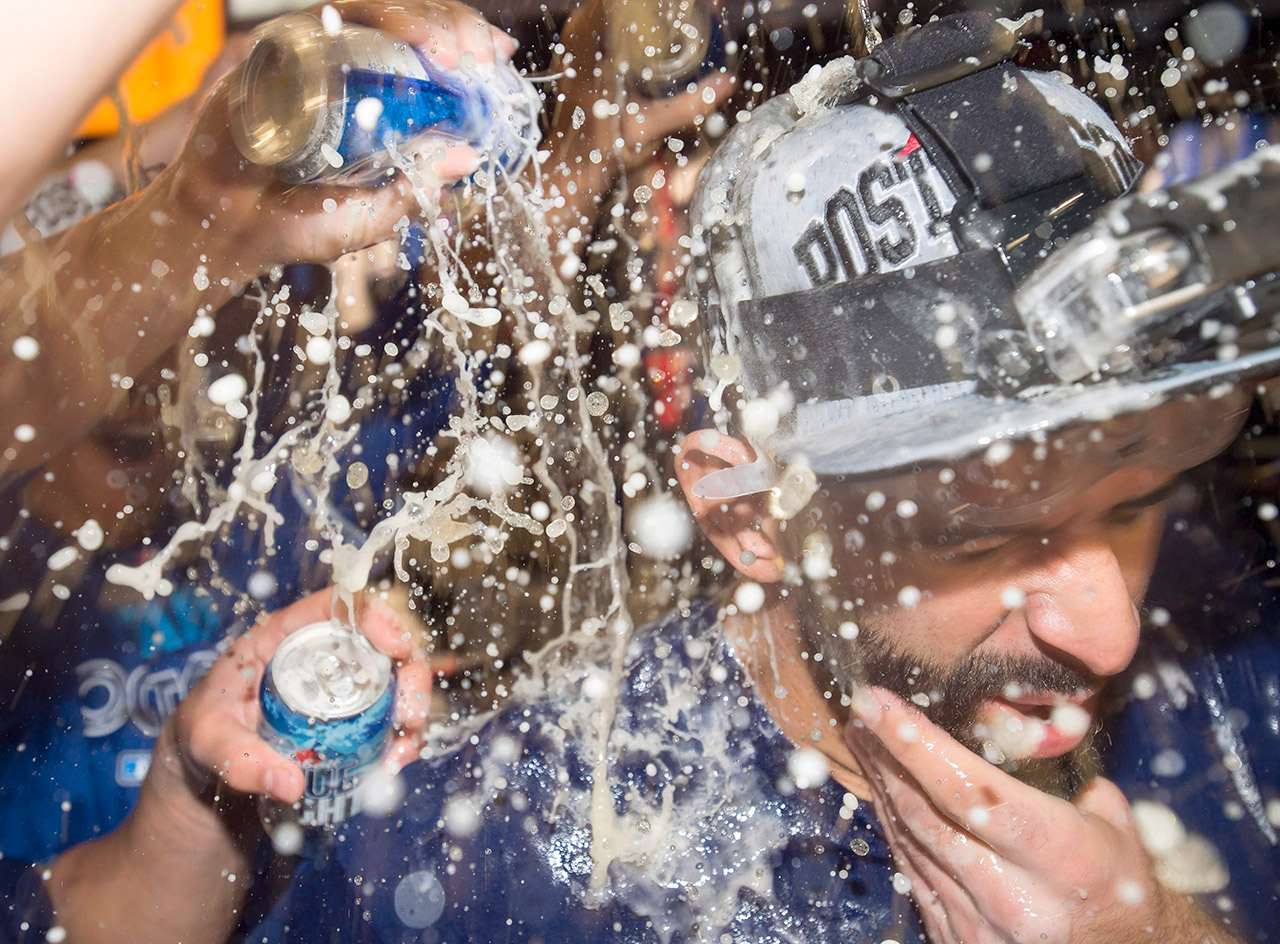 Bautista has 12 major-league seasons; Encarnacion 11. They've both been all-stars; both put up gaudy power numbers and taken turns carrying the Blue Jays on their backs.
"The emotion, the excitement, everything took over. And we just started celebrating," Bautista said. "I don't know where they were hiding the champagne. Someone went and got it. And it got a little crazy. We expect to have another one of these when we win the division. That's our goal and we're going to get it done."
At that moment, Encarnacion interrupted his good friend and countryman, wrapping his arm around Bautista's shoulders and raising a bottle of champagne.
"Excuse me, guys, we've got to enjoy it," Encarnacion said. "It's been years and years waiting for this."