DUNEDIN — Randy Choate will accept that he played a small role in the middle reliever financial revolution of recent seasons, courtesy of a three-year deal, $7.5 million deal he signed with the St. Louis Cardinals in 2012, but only if you'll agree with him that there has been a boomerang effect.
The game no longer thinks of middle relievers as the halt and lame. It's too busy giving them multi-year contracts and not just for chump change, either. Paging Brett Cecil: middle relievers are cashing in. This season, it was Tony Sipp (three years, $18 million) and Darren O'Day (four years, $31 million) as everybody thinks money is one of the ways to capture what has worked with the Kansas City Royals. The likes of Boone Logan (three years, $16.5 million) and Jeremy Affeldt (three years, $18 million) did OK in preceding years, too.
"It's nice if I've had a small role in guys reaping the benefits," Choate, the newest Toronto Blue Jays pitcher, said Sunday. "On the other hand, the way guys are throwing in the seventh, eighth and ninth inning now … well, unfortunately for me, it's kind of taken away that specialty role.
"So it's kind of been unfortunate," he said with a chuckle.
Maybe not yet. Choate, 39, will get a late shot auditioning for a lefty specialist role that opened when Aaron Loup suffered forearm tightness. Choate's side-arming delivery remains one of the games signatures and the Blue Jays hope his high BABIP from 2015 suggests perhaps tough luck contributed to a so-so campaign.
Sunday, as Choate loosened up before a bullpen session, he saw the usual menagerie of funky arm angles that is now de rigueur for the game. The Blue Jays have a switch-pitcher (Pat Venditte) whose lefty delivery is more side-armed than his righty delivery; submariner Ben Rowen and 27-year-old Patrick McCoy, who was sent to the minor league camp with an altered arm angle but still managed a quick session with Choate. Hearing McCoy ask how he could keep his slider as effective as it was in his higher arm slot, Choate showed him how to keep his wrist cocked so it stays on top of the ball. There's a lot goes on in this game…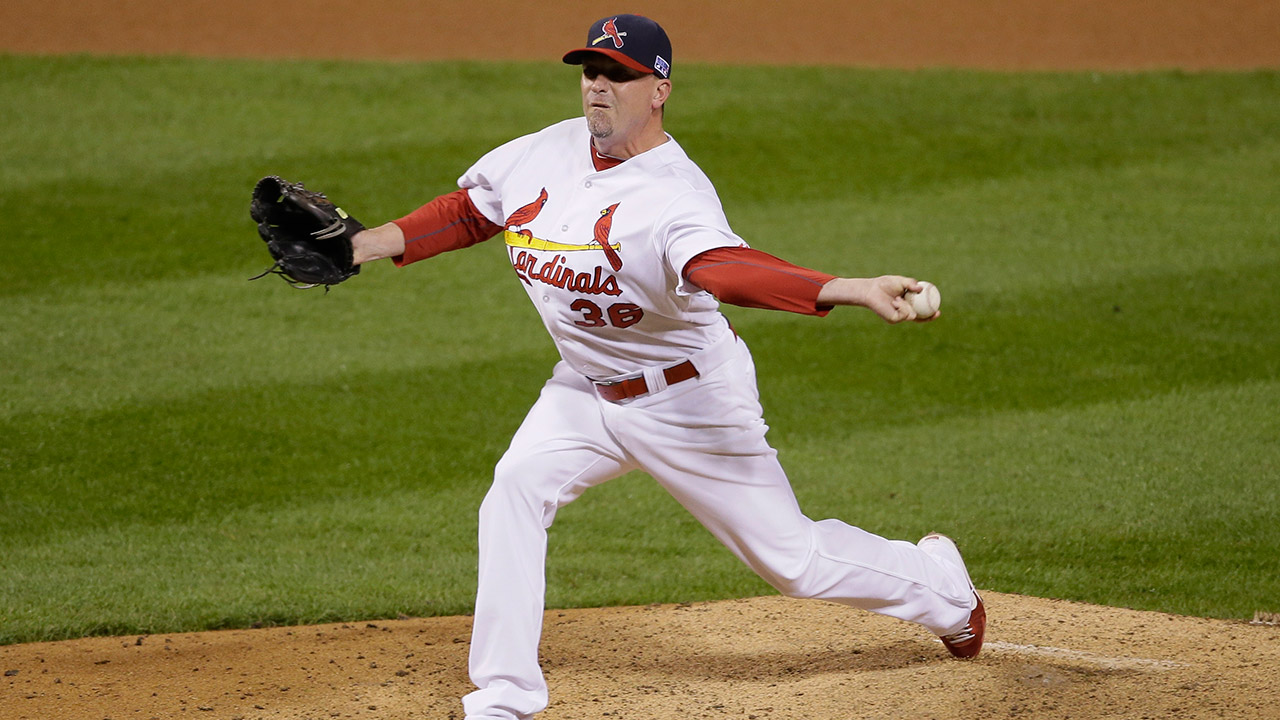 Randy Choate, then a member of the St. Louis Cardinals, throws during the seventh inning in Game 2 of the NLCS in 2014. (Charlie Niebergall/AP)
---
In 1999, the New York Yankees made a deal with Choate: they'd be patient with him if he agreed to settle in as a reliever and find an arm angle that worked for him. Sixteen years later, people are still asking him to use his slider to get ground-ball outs and then get the hell out of the game. Choate faced just 117 batters in 71 appearances last season, spread over 27 1/3 innings.
"It's just such a different look," said Choate. "All the guys in this game throw so hard now, but any change of speed and a different angle — especially if there's a firmness to the pitch — is going to make it seem as if the pitch is coming in a lot harder."
The Royals are getting credit for the way the game is re-evaluating what used to be the middle reliever wasteland, but save some time for the Houston Astros, who are spending $18 million on middle relievers Luke Gregerson, Pat Neshek and Sipp — roughly a quarter of last year's payroll. That is no doubt a reflection of the philosophical underpinnings of Astros general manager Jeff Luhnow, who cut his teeth in a Cardinals organization that has ridden a sturdy, homegrown corps of middle relievers to repeated success. The Astros bullpen success in 2015 was literally an overnight thing compared to the patient Cardinals, but it shows its importance to Luhnow.
---

Download it now: iOS | Android | Windows | Special Offer
---
Choate remembers how, as a member of the Miami Marlins, he and bullpen coach Reid Cornelius — the latter of whom was a former Montreal Expos bonus baby — would spend an inordinate amount of time in spring training talking about 'The Cardinal Way,' since the two organizations share facilities in Jupiter, Fla.
The Cardinals have a 25-year-old homegrown closer in Trevor Rosenthal — a failed junior college shortstop — and homegrown workhorses Seth Maness and Kevin Siegrist, who are 27 and 26 respectively.
"The Cardinals were pretty fortunate. It's the way they scout and develop pitchers," said Choate. "But that group they have now? They were special. People think it's easy to make the transition from starter to reliever. But it's not. It's such a different mindset, even if you're a hard thrower. People think it's just swing and miss, but it's different than that because you're coming in to a situation. Guys on first and second? No way you can just kind of work yourself into that."
QUIBBLES AND BITS
• Unlike my good friend Mike Wilner, I'm still torn about what to do with Aaron Sanchez. I mean, I put my two cents worth into the debate a while ago: I wanted the Blue Jays to make a decision once and for all between Roberto Osuna and Sanchez; pick one as a closer, let the other become a starter and let's move on, for Pete's sake.
Forget the lure of what could be if they both start. So I showed up here fully expecting Sanchez to be in the starting rotation, with Osuna a quasi-closer behind Drew Storen. But Gavin Floyd — a favourite of new brain trust Mark Shapiro and Ross Atkins — is making a case for a spot in the rotation alongside Marcus Stroman, J.A. Happ, R.A. Dickey and Marco Estrada, and barring a trade … well, I'd like to be around for the discussion with Sanchez if he is moved back to the bullpen. But here's the thing: it's still about winning in 2016, and it's easier to do that while also managing innings and workload out of the bullpen. This will be 2.5 years of to and fro for Sanchez, though. Man, I just don't know…
• Blue Jays manager John Gibbons wonders — correctly — if perhaps we've become so focused on Jose Bautista and Edwin Encarnacion's imminent free agency that we've over-looked how motivated R.A. Dickey is, in the final year of his contract with the Blue Jays at the age of 40. Dickey is still all about finding that repeatable delivery in spring training — he has a much leaner body — and, in his words, "filling the strike zone," but he's also found an extra two miles per hour on his fastball and talks about wanting to be able to "drive it into" lefty hitters every now and then.
It was suggested to Gibbons that Dickey, a prideful man, might also still be a little chapped after a so-so post-season, including a 1 2/3-innng meltdown in Game 4 of the American League Championship Series against the Kansas City Royals.
"Don't forget, one of those games he was pitching pretty well, it was me that took him out of the game," Gibbons said with a chuckle, adding: "I know he's motivated by that. It has to be a big focus for him. People talk all about Jose and Edwin … but I don't think it's any different for R.A. I mean, he throws a knuckleball, so you'd figure he'd be able to pitch longer than most of them."
Dickey has racked up five consecutive seasons of 200 innings and if he does so again he'll find some joy in a thin off-season market.
• NHL general managers open three days of meetings across the state in Boca Raton and kudos to them for appearing to have settled on adjusting the size of goaltending equipment as a means of increasing offence instead of the silly notion of expanding the size of nets.
What really caught my attention, though, was a suggestion from Nashville Predators GM David Poile that perhaps its time to discuss whether certain defensive structures ought to be deemed illegal, as is the case in basketball. No clue where Poile wants to go with this, but in a game that is as stiflingly over-coached as hockey it is an intriguing, outside of the box concept.
THE ENDGAME
We've all spoken about how these are the "dog days" of the NBA schedule, but Monday night that's off. No excuses. The Chicago Bulls are in town to play the Toronto Raptors, with guard Jimmy Butler questionable (although expected to play) and centre Pau Gasol out with a swollen knee. The Bulls have lost two in a row, including a 22-point bludgeoning at the hands of the Miami Heat.
They have the Raptors right where they want them, in other words. The Bulls have won eight consecutive games between the teams — games without one of or both of Joakim Noah and Derrick Rose; games without Butler — and remain, along with the Cleveland Cavaliers, the team the Raps want no part of in the post-season.
At least, that will be the case until they change our minds.
---
Jeff Blair hosts The Jeff Blair Show from 9 a.m. to Noon ET daily on Sportsnet 590 The Fan