Each week Blue Jays Confidential will ask a panel of Sportsnet Blue Jays Insiders and personalities to weigh in on issues big and small with the team, and around Major League Baseball.
1. On Wednesday, Ken Rosenthal tweeted (threatened?) that if the Blue Jays option(!) the struggling Aaron Sanchez to the minors after his next start Friday, they could gain another year of control with him. How likely do you think that scenario is, and what would you do with Sanchez if he continues to struggle?
Jeff Blair (@SNJeffBlair):
Knowing Ken's sources it's just shy of gospel. The move makes a certain amount of sense; you need to save this guy's career. He's a change of scenery candidate for sure … but you can't do that without getting something in return. Hard to envision that right now, even in a sport where everyone thinks they can re-invent the wheel.
Arden Zwelling (@ArdenZwelling):
In order to gain that extra year of control, the Blue Jays would have to leave Sanchez in the minors for the remainder of the year — I certainly don't expect that to happen. I think the best course for Sanchez right now is a brief stint on the IL to clear up any lingering finger issues and let him recalibrate mentally. Work through any mechanical tweaks he wants to make in bullpens rather than in games, and return sometime in the second half to give it another go with a fresh start.
Shi Davidi (@ShiDavidi):
Man, the reaction of Scott Boras if that happened would be epic. Unfortunately, I don't think that's on the table. The likeliest progression of events is Aaron Sanchez gets a few more starts to get himself right, to see if he can translate the mechanical and pitch-mix adjustments he's been working on into games. If so, great, problem solved. If not, I can see the Blue Jays experimenting with some openers ahead of him as a way to better help him navigate a lineup. If that fails, maybe then we see a transition to the bullpen. As for a trip to the minors, I'd bet on IL before Buffalo.
Ben Nicholson-Smith (@bnicholsonsmith):
Personally, I'd be surprised if the Blue Jays option Sanchez to try to get another year of control. He'd basically have to stay in the minors for the rest of the season for the Blue Jays to get another year, and that could spark a grievance from agent Scott Boras, while also alienating Sanchez.
More likely, the Blue Jays will start adjusting Sanchez's role if his struggles continue. Maybe that's a three-inning start, maybe it's pitching after an opener. Eventually, the club would have to consider a move to the bullpen. Right now, though, Sanchez isn't getting through opposing lineups more than once (.992 OPS second time through the order, .907 OPS third time through) so something has to give.
Mike Wilner (@Wilnerness590):
Sending Sanchez down on the weekend if he gets lit up by Baltimore on Friday night is a legitimate course of action, but not in an effort to manipulate his service time. He's coming off an awful month of June (12.00 ERA in six starts, 2.33 WHIP, 1.047 OPS against), and a trip to the minors might allow him to work on things away from the spotlight. But so might 11 days between starts, which he would get if he's the last guy out of the chute after the all-star break. The way Sanchez is pitching now, sadly, he's a candidate to be non-tendered after the season rather than someone out of whom a team would want to squeeze another year of service. I don't think either of those things will happen, though.
[snippet id=4545751]
2. With Lourdes Gurriel tearing the cover off the ball (.350/.395/.741/1.136, 15 home runs) and playing solid defence in left field since being recalled on May 24, should the Blue Jays simply abandon any hope of making him an infielder, or do you think it's worth another shot next spring?
Jeff Blair (@SNJeffBlair):
Stop it. Anybody thinking of moving him should be fired. Immediately.
Arden Zwelling (@ArdenZwelling):
The Blue Jays should never, and would never, dissuade a player from being his most versatile. The club is trying to field rosters with as much positional flexibility as possible, which gives a manager more options when filling out the lineup card and trying to play the most optimal match-ups. To that end, I'm sure Gurriel will play some infield in the coming years. Even if he only plays left field for the remainder of the current season, he's not going to forget how to play second base or shortstop, which he's been doing at a high level since he was a teenager in Cuba.
Shi Davidi (@ShiDavidi):
Don't fix what ain't broke.
Ben Nicholson-Smith (@bnicholsonsmith):
It's worth another shot next spring. He's more valuable if he can play the infield, too. That said, I'd be quite surprised to see Gurriel Jr. anywhere on the infield as long as he's hitting like this and I think you can basically rule out second base for the rest of 2019 (shortstop's easier to imagine).
Mike Wilner (@Wilnerness590):
I don't see why you would ever put him back in the infield unless there was some sort of emergency. "If it ain't broke, don't fix it", right? This year was supposed to be about finding things out, and one thing the Blue Jays have found out over the last six weeks is that Gurriel is one hell of a hitter when he's playing the outfield, and he's a very good outfielder, too. Don't mess with success.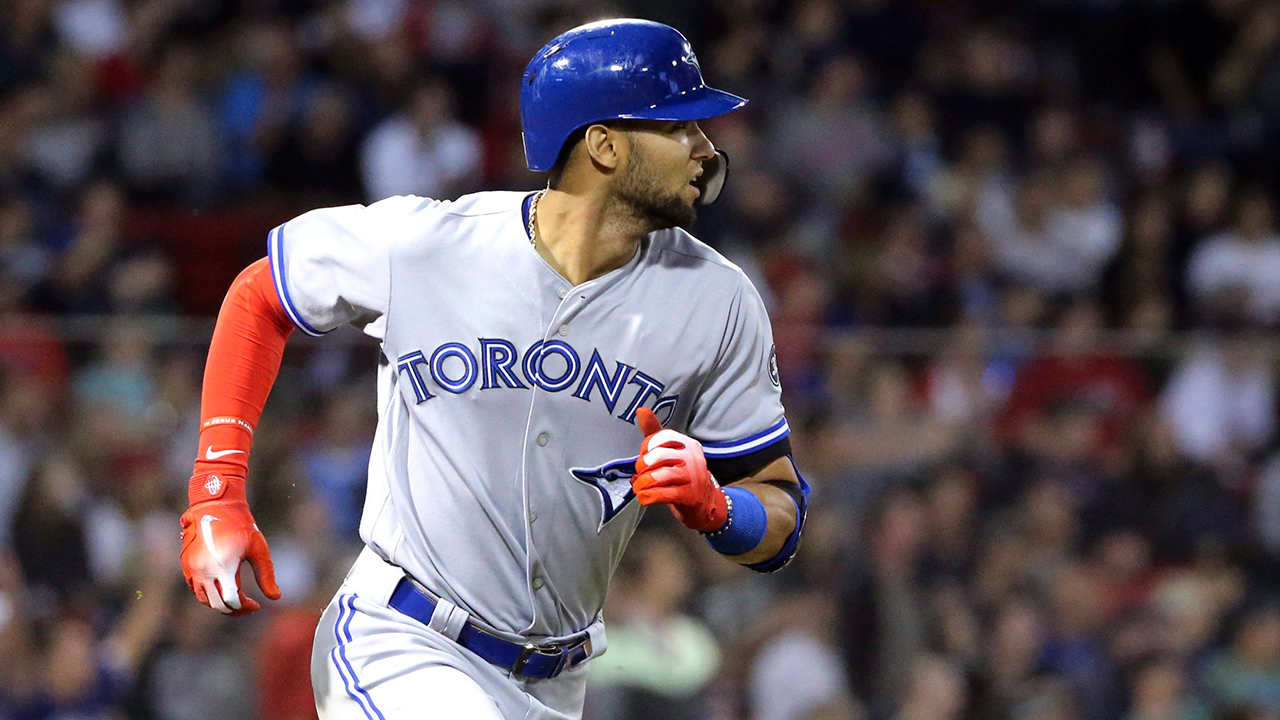 3. Over their past 21 games entering play Thursday, the Blue Jays have gone 10-11, but they own a positive run differential (140-131) while averaging 6.7 runs per game. Are you "buying," "selling" or "holding" on the idea the worst baseball the 2019 Blue Jays will play is now behind us?
Jeff Blair (@SNJeffBlair):
Let me see what the rotation looks like in two weeks.
Arden Zwelling (@ArdenZwelling):
I think the Blue Jays will continue to play more watchable baseball as the club's younger players grow increasingly comfortable at the major-league level. But we're approaching a trade deadline that could see many, if not all, of Marcus Stroman, Ken Giles, Freddy Galvis and Justin Smoak moved off the roster. Those four have been among Toronto's most steady players all season. Younger players are prone to more variance and fluctuation in their performance, naturally. So there could still be a hard-to-watch week or two coming for this team.
Shi Davidi (@ShiDavidi):
I'd like to buy that notion and I think it's especially true for an offence rejuvenated by the additions/returns of Guerrero, Biggio and especially Gurriel. Eventually Bichette will be here too to further lengthen the lineup, but things have room to get plenty more ugly on the pitching side, especially if all of Marcus Stroman, Ken Giles and perhaps Daniel Hudson are dealt.
Ben Nicholson-Smith (@bnicholsonsmith):
Buying. Alen Hanson and Socrates Brito aren't getting at-bats anymore. Ryan Feierabend and Edwin Jackson aren't in the rotation. This team will still lose more games than it wins, but the worst should be over.
Mike Wilner (@Wilnerness590):
I'm buying it. May was so hard to watch, not just because the Jays were losing three out of every four games, but also because they just didn't hit. The slash line – for the team – in May was .210/.277/.377 as they went 7-21. They averaged 3.5 runs per game but scored two runs or fewer 13 times! That was part of a 9-28 run over which the Blue Jays had a minus-93 run differential. There will be other losing streaks to come, but the worst of it is, as far as unwatchability, in the rear-view mirror
4.Since MLB all-star games are largely an event for kids, what's your favourite all-star memory from your childhood?
Jeff Blair (@SNJeffBlair):
Reggie hitting the light tower at Tiger Stadium in 1971. Best event I took part in? Slamming into Ozzie Smith in bumper cars at the All-Star gala in Arlington one year. The reception was at Six Flags theme park.
Arden Zwelling (@ArdenZwelling):
Not a baseball memory (I was three when Toronto hosted the MLB all-star game), but the NHL all-star game was played in Toronto in 2000 and my dad took me down to the fan festival at what was then a brand new Air Canada Centre. For a 12-year-old who wasn't yet burned out on hockey, it was an awesome experience. I'll always remember that.
Shi Davidi (@ShiDavidi):
Having been to a bunch of them they sure feel like they're more for corporate sponsors than kids, but tangent aside, my first HR derby was the one here in 1991, seated out in the bleachers and my most vivid memory is of watching Cecil Fielder launch balls above the old CF restaurants and off the Jumbotron. Cal Ripken Jr., won it, but that was Cecil's show.
Ben Nicholson-Smith (@bnicholsonsmith):
The 2001 all-star game stands out for me. Ichiro, then in his rookie season, was playing at home in Seattle and Alex Rodriguez ceded shortstop to Cal Ripken Jr. early in the game. That was a fun era for me since I was old enough to know all the players but young enough to still get swept up in everything.
Mike Wilner (@Wilnerness590):
Dave Stieb starting the all-star game in 1983 and throwing three no-hit innings is a standout. If memory serves, the American League went into that game with a long losing streak and Stieb just shoved (facing five future Hall of Famers plus Dale Murphy, who is eventually getting in). Then Fred Lynn of the Angels hit a Grand Slam off Atlee Hammaker and the A.L. won in a rout. But the best is the story from the next year, when Damaso Garcia was selected and brought Alfredo Griffin as his guest. Then, when Alan Trammell and Robin Yount showed up hurt, Griffin was asked to play in the game. I remember hearing that Griffin didn't have his equipment and had to buy the jersey he would wear in the game from the concession stands, but I'm not sure that's actually true.
5. Assuming none of you have ever pursued an athlete travelling by car by helicopter, what's the most interesting/bizarre "watch" story you've had to cover?
Jeff Blair (@SNJeffBlair):
Oof. I had to stake out a rehab facility in West Palm Beach for a couple of days during spring training when Floyd Youmans was in one. Courthouse in Atlanta waiting for Carlos Perez to come out after being brought in on rape charges. Best sort of stake-out story: Anthony Gargano when he was a reporter for, I think, The Post going into an MLBPA players-only meeting during 1995 replacement spring training, successfully claiming to be a minor-leaguer. Scooped all of us.
Arden Zwelling (@ArdenZwelling):
I haven't done anything like that. Looking forward to reading Blair's, though.
Shi Davidi (@ShiDavidi):
In the spring of 2008, while I was still with The Canadian Press, I got pulled off Blue Jays duty for the day and sent to the Coleman prison near Orlando to watch Conrad Black report to prison. The facility was off a two-lane highway in the middle of the swamplands and scores of cars gathered on the shoulder where media huddled to try and get a glimpse of his car on the way in. It was more dangerous than it sounds as one photographer sitting in her car got rear-ended by a driver not paying attention. We were there for several hours before the Escalade carrying Black arrived, turned into the facility as photographers tried their best to press up against the windows for a picture. I shot the video of the car pulling in and then leaving, filed it and then wrote a story. And the next day it was back to the ballpark.
Ben Nicholson-Smith (@bnicholsonsmith):
A few years ago when the last CBA was up, covering talks between the MLB and MLBPA in Dallas was a bizarre experience. Negotiations are private, of course, so you're watching people in business attire move from board room to board room, always closing the doors behind them. Even their expressions stay calm. As a reporter, you try to unearth what you can, but that experience definitely fell outside the norm of my typical coverage.
Mike Wilner (@Wilnerness590):
I staked out Russell Martin at the Toronto Island Airport when we got a tip as to when his flight from Montreal was arriving after he signed his huge deal with the Blue Jays pre-2015. I don't know how bizarre it was, or whether that really counts as a "watch," but I was the only reporter there.