Each week Blue Jays Confidential will ask a panel of Sportsnet Blue Jays Insiders and personalities to weigh in on issues big and small with the team, and around Major League Baseball.
1. What are your early impressions of Vlad Jr.? Anything in particular jump out at you, on or off the field since his arrival?
Jeff Blair (@SNJeffBlair):
Pretty much exactly what I expected, although I've been more favourably impressed with his defence than I thought I'd be. Still trying to figure out where any weight loss has occurred, though …
Arden Zwelling (@ArdenZwelling):
How careful pitchers are being with him. Through his first four games, only 27 per cent of the pitches Guerrero had seen were in the zone. Mike Trout, the most feared hitter in the game, is at 41 per cent. The challenge for Guerrero now will be to maintain the plate discipline that got him to the majors in the first place. He can't expand the zone searching for his first MLB home run. If pitchers won't throw him pitches to hit, he has to lay off the junk, take his walks, and force them back on the plate.
Shi Davidi (@ShiDavidi):
The Gong Show around Guerrero has been wild, far more intense than I expected. And I expected it to be stupid. Even a week in, a Blue Jays-Angels game is getting hyped by ESPN in the morning with Junior as the main attraction. Everybody is all in on the kid, which makes the poise with which he's carried himself remarkable. He's shown a lot of court-awareness by trying to blend in as much as possible and making all his public comments revolve around winning and the team first. Handling the scene as deftly as he has is really what has stuck with me so far.
Ben Nicholson-Smith (@bnicholsonsmith):
Off the field, it's been interesting to see how huge this story is outside of Toronto. Even when I'm watching other games, Vlad Jr.'s name will often come up in conversation. On the field, Guerrero Jr. has impressed defensively and made some legitimately hard contact. But he has also expanded the zone with a few uncharacteristically aggressive swings. I'd expect to see those become far less frequent as Vlad Jr. gets used to the MLB level.
Mike Wilner (@Wilnerness590):
I have been impressed by how unfazed he seems by all the attention – and it's been an incredible amount of attention – and how well he has fit into the clubhouse as "just one of the guys" despite all of it. On the field, I've seen an incredible eye at the plate, but a tendency to expand his strike zone once he's had pitches that he thinks were balls called strikes. He's been right almost every time when taking a pitch that wound up called a strike, and you can't blame him, especially in his first week in the bigs, for coming out of his approach if he's not sure a ball will be called a ball.
Livestream the Toronto Blue Jays on the most popular devices. Plus, get over 150 marquee MLB matchups, the Home Run Derby, All-Star Game and Postseason.
2. Now that Vlad Jr.'s up and Bichette is injured, which Blue Jays prospect are you watching most closely these days?
Jeff Blair (@SNJeffBlair):
Cavan Biggio. Get him up here NOW.
Arden Zwelling (@ArdenZwelling):
Cavan Biggio's the obvious one — 20 walks vs. 16 strikeouts over his first 23 games is impossible to ignore. But keep an eye on 2018's No. 12 overall pick Jordan Groshans as well. He's hitting .342/.429/.507 through his first 19 games with the mid-A Lansing Lugnuts. Groshans really barrels the ball and as he continues to grow — he's still only 19 — we could see some impressive power numbers.
And for a deeper cut, how about Forrest Wall, who's off to an impressive .278/.412/.392 start in his second season at double-A. People forget he was once a very highly regarded prospect before losing nearly his entire 2017 due to injury. When he's healthy, he's a threat both at the plate and on the base paths.
Shi Davidi (@ShiDavidi):
Cavan Biggio is my guess on the next big prospect to debut but in some ways Nate Pearson is now the team's most important prospect. If he carries roughly 100 innings this year, that would set him up, possibly, for a jump into the 140 range. Based on the way he's progressing, those innings would be in the big-leagues, and the team's trajectory can change significantly if that's the case.
Ben Nicholson-Smith (@bnicholsonsmith):
It's fun tracking the progress of Nate Pearson, the hard-throwing 22-year-old now pitching at Class-A Dunedin. Through 21 innings, he has 35 strikeouts compared to just three walks, reinforcing his status as the Blue Jays' top pitching prospect.
Mike Wilner (@Wilnerness590):
Cavan Biggio. He won the double-A Eastern League Rookie of the Year AND Most Valuable Player last season, and if the Blue Jays are slow to call him up, he might do the same thing in the triple-A International League (AAA) this year. Not only has he been hitting the snot out of the ball, he's been playing all over the field, and providing strong defence. He's 24, as opposed to 20 and 21 like Vlad and Bo, and his time is coming very soon.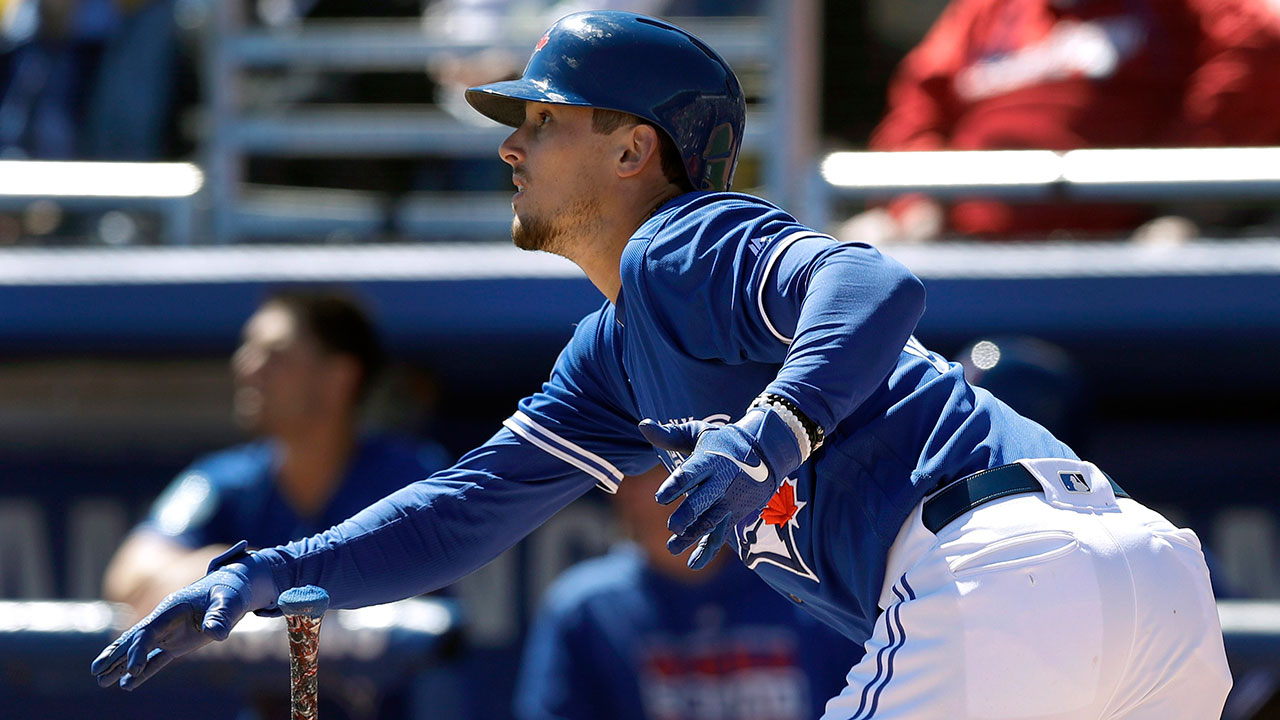 3.Of the young Blue Jays who got off to a slow offensive start in April, who do you think is most likely to bounce back with a big month of May?
Jeff Blair (@SNJeffBlair):
Yikes. I'm not sure any of them are anything other than what we've seen. Teoscar Hernandez, maybe?
Arden Zwelling (@ArdenZwelling):
I would've said Lourdes Gurriel Jr., but he's already raking (in Buffalo). So, let's go with Teoscar Hernandez. His .115 isolated power stands in stark contrast to the .229 rate he posted last season. And while Hernandez hasn't seen the results on balls in play that he'd like thus far, he has managed to cut his strikeout rate and increase his walk rate from 2018. That's a good indicator of future success.
Shi Davidi (@ShiDavidi):
Danny Jansen is a much better offensive player than he's shown thus far and I'd expect his numbers to begin recovering. There are so many defensive demands on a catcher that it makes sense for his offence to suffer somewhat amid a transition. He's done a nice job for the most part with his glove, that you'd expect the bat to correct soon.
Ben Nicholson-Smith (@bnicholsonsmith):
Aside from Guerrero Jr., I'd point to Teoscar Hernandez. He hasn't tapped into his power yet, but once he does we should see his OPS climb from .603 to .750 and beyond.
Mike Wilner (@Wilnerness590):
Danny Jansen. He hit his way to the big leagues with outstanding minor-league seasons in 2017 (.323/.400/.484 at three levels) and 2018 (.275/.390/.473 at triple-A) and didn't look out of place at all at the plate in his month and a half in the bigs last season. He's had a better line drive rate this season than last, maintained his strong walk rate and is actually seeing more pitches per plate appearance than he did last year. He'll turn this around.
4. The Blue Jays' record entering play Thursday stood at 14-16. Given that they own the majors' second-best batting average with runners in scoring position (.291), but pythagorean win-loss says their record should be 16-14. Do you feel this club's record to date suggests: a) They're playing a little over their heads b) They've been a little unlucky or c) They've been fairly rewarded for their performance?
Jeff Blair (@SNJeffBlair):
I'd say they're being fairly rewarded for their pitching performances.
Arden Zwelling (@ArdenZwelling):
I think C is most accurate — they're right where they should be. They've gotten very good pitching and very little offensively, thus producing a middling, .500 team.
Shi Davidi (@ShiDavidi):
The pitching has certainly been better than expected and you'd expect that to correct, especially minus Matt Shoemaker, whose loss is a very damaging one on a number of levels. But they're about where they should be based on how they've played. They left a few games on the table early in the season versus Detroit and Baltimore, did better versus Oakland and Minnesota than perhaps you'd expect, so give a game or two, 14-16 seems about right.
Ben Nicholson-Smith (@bnicholsonsmith):
I think their record reflects their performance. They pitched all month long, but only really started hitting within the last two weeks. To continue hovering around .500 they'll need more pleasant surprises on the pitching staff because their rotation is looking pretty depleted following Matt Shoemaker's season-ending injury.
Mike Wilner (@Wilnerness590):
Going by the word of good ol' Pythagoras, they've been unlucky, but it feels from watching every game that they're about where they should be. This team was just awful the first two weeks of the season, struggling to hit anything and losing 10 of 14 despite having excellent pitching. Then they started to hit – especially with runners in scoring position – and won 10 of 14 to get back to .500. It's been a roller coaster early on, and I don't expect those kinds of huge swings in performance fortnight to fortnight will continue. Things will settle, and they'll likely find themselves fighting to stay close to the .500 mark most of the season.
5. The Ichiro Suzuki "retirement" saga has been, um, kinda weird. The dude's love (obsession?) of the game is legendary. Who else comes to mind when you think of players who loved to play baseball as much as, and wanted to play as long as, Ichiro?
Jeff Blair (@SNJeffBlair):
Jamie Moyer. Dude had Tommy John surgery in 2010 at the age of 47 and came back and pitched at 49. Geezus.
Arden Zwelling (@ArdenZwelling):
Joey Votto comes to mind. Adrian Beltre, Carlos Beltran, Alex Rodriguez, Albert Pujols, Carlos Delgado. He doesn't have the career credentials of those guys, but Craig Breslow is a real student of the game. David Aardsma, too.
Shi Davidi (@ShiDavidi):
I can't think of a comp for Ichiro, who's a total unicorn in so many ways. In terms of single-minded obsession, Roy Halladay comes to mind, just utterly dedicated to wringing all he could out of his body. In terms of wanting to play as long as he could, oft forgotten is that Vladimir Guerrero finished his career in the Blue Jays minor-league system, unable to jump up from triple-A Las Vegas back to the majors in 2012 at the age of 37. His body was giving out at that point, and he played eight winterball games with Licey before finally hanging them up.
Ben Nicholson-Smith (@bnicholsonsmith):
Julio Franco, Omar Vizquel and Jamie Moyer definitely come to mind for me. How crazy is it that Franco last hit a home run in 2007, a quarter century after making his MLB debut with the 1982 Phillies? Of course the pitcher who allowed that homer belongs in this category, too. Randy Johnson pitched until he was 46 and even generated 3.2 WAR in his age-44 season.
Mike Wilner (@Wilnerness590):
I think most players really love the game and want to play for as long as they possibly can. The overwhelming majority of them just can't, though, because they're not nearly as good as Ichiro was. When I think of that kind of love for the game, I think of the late, great Hall of Famer Ernie Banks, "Mr. Cub," whose famous quote "Let's play two!" was a reflection of his unbridled enthusiasm for baseball. I remember watching Julio Franco almost win Rookie of the Year in 1983 for Cleveland and seeing him still playing in the majors as a 49-year-old with Atlanta nearly 25 years later. Rickey Henderson went and played three seasons of Independent ball in his mid-40s after the big leagues were done with him because he just didn't want to stop. As far as more current players, it wouldn't surprise me if Bartolo Colon, who turns 46 this month, pops up in a major-league rotation before this season is over.