Each week Blue Jays Confidential will ask a panel of Sportsnet Blue Jays Insiders and personalities to weigh in on issues big and small with the team, and around Major League Baseball.
1. We know what Ross Atkins said Tuesday about the decision to sit Guerrero Jr. on Victoria Day. What he didn't say were the words, "I'm/we're sorry." Do the Blue Jays owe fans — especially those who travelled from out of town for the game expecting to see Guerrero Jr. play — an apology for how Monday was handled?
Jeff Blair (@SNJeffBlair):
Geezus, no. All that needed to be said was: "In hindsight, as an organization we should have handled it differently." Period.
Arden Zwelling (@ArdenZwelling):
No, they don't. It doesn't say anywhere on anyone's ticket that they're entitled to a game featuring Vladimir Guerrero Jr. Fans bought tickets for an MLB game, and that's what they received. That said, it's still a remarkable own-goal for a franchise that can't afford the public ill will — a disappointing and disheartening misstep that could have so easily been avoided if the Blue Jays had the foresight to schedule Guerrero's off day for Sunday or Tuesday. It was either stubborn, naïve, or tone-deaf. Maybe all of the above.
Shi Davidi (@ShiDavidi):
Sure, but if the Blue Jays are saying sorry, shouldn't they start with needing 10 different starting pitchers through the first 45 games? Talk about signs your season has gone off the rails. Look, the Blue Jays have a responsibility to help manage their players' health. Long-term, these rest days for Guerrero make sense. Some court awareness would help. He's their primary selling point. Every day in the bowels of the stadium, I see people unwrapping boxes upon boxes of Guerrero jerseys for sale in the team store. It's not hard to think of the fans when deciding which day he rests.
Ben Nicholson-Smith (@bnicholsonsmith):
The most informed fans are likely aware that rest is essential for any player, especially someone who has missed significant time due to knee and oblique injuries over the last year. Those fans realize that there's no guarantee of seeing Guerrero Jr. on any given day.
But alongside those fans are thousands who consume the game more casually. They know who Guerrero Jr. is and want to see him play, but they'd have no reason to believe that a 20-year-old would need the day off when he had just homered to cap off a breakout week.
Some of those fans planned trips on the assumption he'd play, and the Blue Jays' decision surprised them. Those fans matter. We're not playing MLB The Show here. End of the world? Not at all. Vlad Jr. will be here for a while. But why not apologize to those who were inconvenienced?
Mike Wilner (@Wilnerness590):
The easy answer is yes. It's very easy to say "we, as a collective, messed up, we're sorry, and we won't let it happen again." I think that would go a long way with fans who were so disappointed on Monday, and who are likely to bring the story back every long weekend for quite a while. In an effort to see things from the Jays' perspective, though, I'm wondering if the front office might be reluctant to do that for fear of what might be seen as confirming a lot of fans' belief that Mark Shapiro and Ross Atkins are pushing many of the buttons that the manager ordinarily would be. Perhaps they worry that an organizational "mea culpa" would fan the "the manager is a puppet" claims.
Livestream the Toronto Blue Jays on the most popular devices. Plus, get over 150 marquee MLB matchups, the Home Run Derby, All-Star Game and Postseason.
2. Whether it's Auston Matthews in hockey or Darius Bazley in basketball, today's young athletes seem more willing than ever to take an unconventional path to the pros. Now there's Carter Stewart, the 19-year-old Atlanta Braves draft pick from 2018 — and Scott Boras client — who is in agreement with a Japanese Pacific League team on a six-year contract worth more than $7 million. The deal will theoretically allow him to become a MLB free agent when he's 25 after earning up to $3 million more than we could have with the Braves over the same period.
Barring dramatic changes to the MLB draft in the next CBA, do you think the case of Stewart is a.) an anomaly b.) eye-brow raising and worth monitoring or c.) more proof that the MLB draft system will be blown up in the next CBA
Jeff Blair (@SNJeffBlair):
I'd say it's an anomaly because I'm not sure a lot of corn-fed American teenagers are big on heading over to a new culture to play baseball. Or it could just be that Scott Boras is trying to figure out new ways to get a commission since he can't get his free agents signed and has others (Marcell Ozuna) ditching him.
Arden Zwelling (@ArdenZwelling):
A mixture of A and B. Stewart's certainly in a unique position. He's an undeniably high-ceiling talent, so he has more leverage to pull something like this off rather than your typical, run-of-the-mill prospect. Plus, Stewart's negotiations with the Braves reportedly fell apart due to medical issues, so maybe he's motivated to get as much out of his body while he can. That said, I love everything about it. He gets to play high-level ball, make more money than he would with an MLB organization (not to mention the marketing and endorsement opportunities in Japan), and enjoy an interesting cultural experience in his youth, all while preserving the ability to join an MLB team as a free agent in his mid-20s. It's going to be fascinating to watch this play out.
Shi Davidi (@ShiDavidi):
For now, I'd say Carter Stewart is an outlier, someone who had been a first-round pick but didn't sign with the Atlanta Braves, who said he had a wrist injury. This year, he was expected to go in the second round, which would have cut his bonus by millions, and going to Japan gives him an immediate payoff, as well as a quicker path to a top league. That being said, I'd guess most dudes won't want to go that route unless the financial incentive is sufficiently weighted toward their benefit, although it is intriguing for the rare player who finds himself squeezed. And yeah, this is more proof the draft bonus pool system needs a rethink.
Ben Nicholson-Smith (@bnicholsonsmith):
Part of the allure of major league baseball is that the best players play here. Stewart's willingness to go to Japan should create some concern for MLB decision makers, not because the loss of one 19-year-old pitcher hurts so much, but because of the precedent it sets.
For years, players have wondered 'what if I sidestepped a flawed draft process and played elsewhere?' Over the coming seasons we'll get at least one answer to that question. If it works well for Stewart many more could follow. Regardless, this should prompt MLB to re-work a system that seriously underpays drafted players.
Mike Wilner (@Wilnerness590):
It's definitely worth keeping an eye on, but I doubt it'll become a regular thing. Stewart was drafted eighth overall, and his signing bonus was slotted at almost $5 million, but the Braves only offered him $2 million, which was relatively easy to turn down. If he was offered the slot bonus, made it to the big leagues within three years and, of course, stayed healthy, he could have made as much or more as the $7 million he'll get in the Far East. It could become a point of leverage for high picks who are being offered below-slot bonuses, but I'm not sure it'll be anything more than that.
3. On Tuesday it was announced that the series between the Yankees and Red Sox in June in London, England will be played on artificial grass. Given MLB's recent challenges with declining national U.S. TV audiences and poor April attendance — especially in colder North East cities — would they be better served considering hosting a handful of early-season series each year in warmer, mid-sized U.S. markets? Say, Louisville, Oklahoma City, Durham, etc.
Jeff Blair (@SNJeffBlair):
No.
Arden Zwelling (@ArdenZwelling):
No team wants to give up home dates considering the revenue they generate, so that's going to be a tough sell. I do think MLB could do a better job ensuring markets with covered stadia — Toronto, Seattle, Miami, Milwaukee, etc. — open the season with two or three-series home stands.
Shi Davidi (@ShiDavidi):
The games in London and Mexico serve a greater good. I'm not sure the same holds true for mid-sized US markets, where baseball is already a thing.
Ben Nicholson-Smith (@bnicholsonsmith):
Interesting idea. It'd be fun to have the Reds play in Louisville, the Rays play in Durham and the Rangers play in OKC–even just for a few games. Owners might hesitate to give up home dates, but if that's the case just schedule these games late in spring training the way the Blue Jays have with their visits to Montreal.
With that said, I still think MLB needs to try to showcase the game in Europe and Asia because there's so much potential to grow in those markets.
Mike Wilner (@Wilnerness590):
Last year, the Blue Jays went to Texas in early April and temperatures were in the single digits. They went to Baltimore, which is south of the Mason-Dixon line, and froze. It was cool and rainy in Anaheim when the Blue Jays arrived there at the end of April this year. Warm-weather cities aren't necessarily so warm in the early spring anymore (climate change doesn't care whether you believe in it or not), so I don't think playing games in neutral sites that are supposed to have better weather will necessarily help as much as might be assumed.
Teams aren't thrilled to lose home gates, even if they're smaller in April, so I don't think we'll ever see an abundance of neutral-site games. And you would also have the colder cities (not just northeast – it's no fun in Minnesota, Cleveland, Detroit, Chicago, Oakland and San Francisco in April, either) rightly complaining that they're losing home games while their warmer-weather competitors aren't.
4.On Tuesday it was also announced that Andrelton Simmons was diagnosed with a Grade 3 ankle sprain (that's really bad). Given Freddy Galvis' recent return to offensive earth, if you're Ross Atkins, have you already texted Angels GM Billy Eppler, or are you happy to slow-play the Galvis trade market?
Jeff Blair (@SNJeffBlair):
I'm not sure there is a Freddy Galvis trade market. To me, the decision with all Jays players is the same: does the return give us measurable better value than what the player gives us while he's playing for our team. Doesn't matter who or when.
Arden Zwelling (@ArdenZwelling):
Selfishly, I shudder to think what it will be like to watch this team without Galvis at short — his defence really is a pleasure to watch. And there's something to be said for the veteran dependability and savvy he provides. Still, he's a clear candidate to be moved if there's a return out there the Blue Jays like. Toronto's obviously listening on any of their veterans. But I doubt Galvis is fetching anything considerable.
Shi Davidi (@ShiDavidi):
First, do you want the pitchers to revolt? Beyond Guerrero, Galvis is one of the few enjoyable things about this team right now. Besides, I can't imagine the Blue Jays would get an asset sufficient enough to give up all that Galvis brings.
Ben Nicholson-Smith (@bnicholsonsmith):
At this point, the Blue Jays should let Eppler come to them. They don't need to rush to move Galvis, who has anchored their defence with stellar play at shortstop. Instead, they can enjoy his production for now and wait for a team to come to them with serious interest. If that's the Angels, great. If not, there will be other chances to move Galvis this summer because he'd help many contenders as a bench piece or more.
Mike Wilner (@Wilnerness590):
I would think that Atkins has his ear to the ground, monitoring every situation where a Blue Jay who won't be part of the core in a year or two might be helpful to a contender in need, so I'm sure he's already communicated with Eppler. I'm just not so sure that the Angels would be willing to give much up for Galvis right now. The Angels have a losing record, and while they're still within five games of the second wild card, they're not playing especially well at the moment and have been abominable (5-14) against their own division. It's not a situation where it appears as though a team is in position to give up some of its finest meats and cheeses for some plug-in help for a couple of months.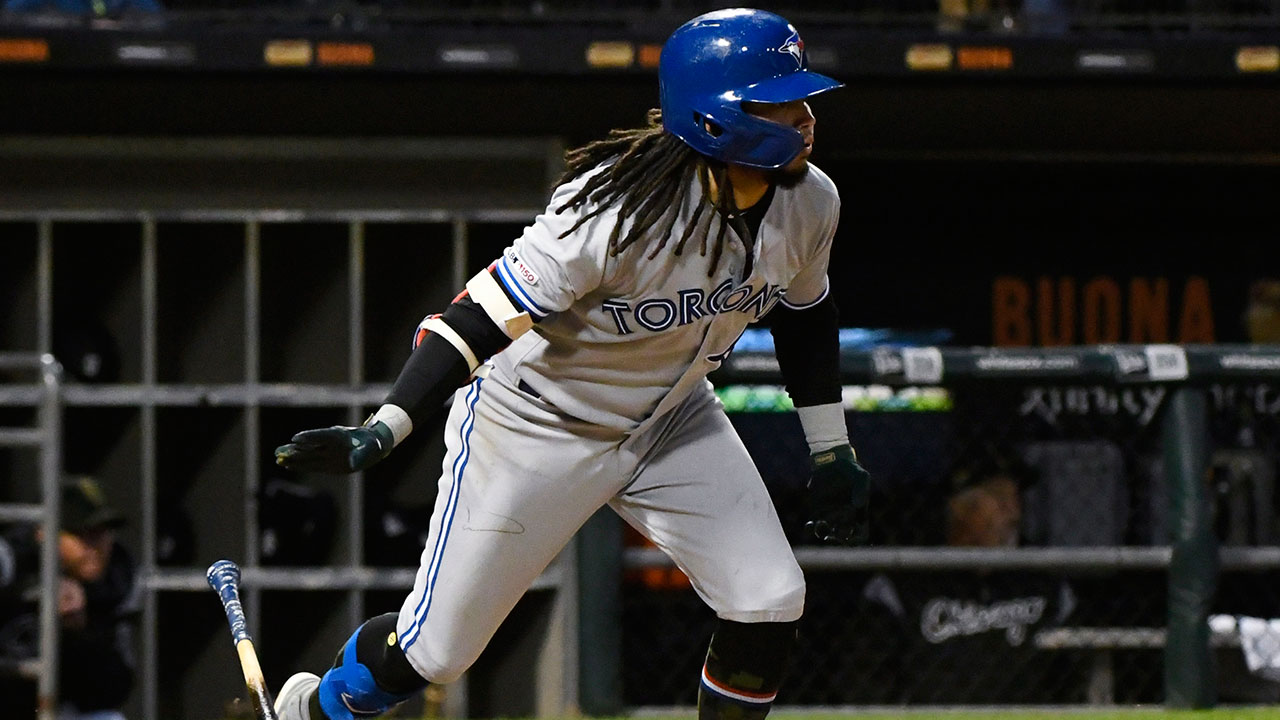 5.There will be a very rare San Diego Padres sighting in Toronto this weekend. When I say "The San Diego Padres" the first thing/memory that comes to mind for you is _____
Jeff Blair (@SNJeffBlair):
Randy Jones Bar-B-Que at old Jack Murphy Stadium – a stadium that was, incidentally, named after a sportswriter. Jones used to work the pit himself wearing an old Padres jersey. That, plus sneaking into the bleachers on a Sunday afternoon to hammer 24 ounce Tecate for a couple of innings before going back to the pressbox to write. Brilliant!
Arden Zwelling (@ArdenZwelling):
Trevor Hoffman and Adrian Gonzalez. That's about it.
Shi Davidi (@ShiDavidi):
Tony Gwynn being one of the purest hitters I've ever seen, nearly impossible to strike out, putting the ball into play in every way imaginable. Just a delight in the batter's box. So him and those hideously beautiful yellow and brown jerseys.
Ben Nicholson-Smith (@bnicholsonsmith):
Tony Gwynn comes to mind. The 1998 Padres-Yankees World Series comes to mind. And so does Nate Colbert, who's the all-time franchise leader in home runs with 163. No offence to Colbert, a three-time all-star, but you'd think the Padres' franchise leader in home runs would have more than that after half a century of baseball.
Mike Wilner (@Wilnerness590):
Tony Gwynn, Tony Gwynn, Tony Gwynn is what I'm sure comes to mind for everyone, and he does for me, too. One of the greatest singles hitters of all-time. But I also remember, for some reason, the 1984 World Series and Kurt Bevilacqua. I don't know what he did, but I remember he was on that team and had a very cool name. Also, I remember that when Steve Garvey, the great and prolific Dodgers first baseman, signed as a free agent with San Diego in the early '80s, he said (of the Friars' brown and yellow uniforms) "I used to dress like the American flag, now I look like a taco."
Vintage Photo of the Day: #MLB

Graig Nettles, Steve Garvey, and Tony Gwynn during the 1984 World Series. #Padres pic.twitter.com/Kki3VE46nm

— Chris Larson (@SportsTechie17) December 28, 2017