Each week Blue Jays Confidential will ask a panel of Sportsnet Blue Jays Insiders and personalities to weigh in on issues big and small with the team and around Major League Baseball.
1. With Vladimir Guerrero Jr. making his MLB debut Friday, what's the most memorable and/or hyped Blue Jays or MLB debut you recall watching or covering?
Jeff Blair (@SNJeffBlair):
Aug. 10, 2010. J.P. Arencibia. Homered off James (Big Game) Shields on the first pitch he saw and became the fifth Major Leaguer to ever hit two home runs in a debut. Had four hits, missing the cycle by a triple. Nice. So nice, in fact, that he was optioned back to triple-A 11 days later.
Arden Zwelling (@ArdenZwelling):
I covered Masahiro Tanaka's MLB debut at Rogers Centre. It was Toronto's home opener in 2014, and when Melky Cabrera led off with a solo shot three pitches into the outing the place went nuts. But it was that classic Toronto sports tease, as Tanaka ended up going seven and getting the win.
Shi Davidi (@ShiDavidi):
In terms of sheer hype, Brett Lawrie is the closest thing to this in recent memory, and he garnered extra attention because of the Canadian element. The Jays triple-A affiliate was Las Vegas at the time and hitters tend to crush the PCL, so he was putting up ridiculous numbers. Fans were looking at the boxscores every day and asking, "why isn't this dude up yet?" With Kyle Drabek, there was a ton of fan expectation, but the team even broke news of his promotion to a group of season-ticket holders during a private event, using him as a sign of the future. No pressure. In terms of the actual debut, J.P. Arencibia's first game may be the best debut ever: Two homers, a double and a single. It was bananas.
Ben Nicholson-Smith (@bnicholsonsmith):
Who can really top J.P. Arencibia's debut? He went deep on the first pitch he saw and collected three more hits that day, including a second homer. Adding to the intrigue, he was a legitimate prospect at the time. There's no better way to announce yourself as a big-leaguer.
Mike Wilner (@Wilnerness590):
I remember months of BlueJaysTalk when there would be at least one call a night asking about when Brett Wallace was going to get called up, but I think the most-hyped MLB debut for a Blue Jay in recent memory was Brett Lawrie's. A talented young Canadian kid for whom the Jays had traded their Opening Day starter from the season before, he absolutely tore it up in Las Vegas leading fans to be pretty impatient. He was days, if not hours, from being called up when an inside pitch broke his hand, stalling his debut for a couple of months. But when he finally came up in August, he produced at an MVP level over his 43 games.
Ben Nicholson-Smith is Sportsnet's baseball editor. Arden Zwelling is a senior writer. Together, they bring you the most in-depth Blue Jays podcast in the league, covering off all the latest news with opinion and analysis, as well as interviews with other insiders and team members.
2. You've all seen in recent years some young players (Ricky Romero, J.P. Arencibia, Brett Lawrie and Marcus Stroman to name a few) arrive in Toronto to great fanfare, achieve some early success and then struggle for a period of time, either on or off the field, with elements of life in the Blue Jays fishbowl. If you were in the Toronto front office, what would you do to help ensure Guerrero's transition to life as a Blue Jay is as smooth as possible?
Jeff Blair (@SNJeffBlair):
I'd get him comfortable doing his media availabilities in English. Interestingly, Jays manager Charlie Montoyo has said publicly he thought the game did Vlady, Sr. no favours when it gave him a pass and allowed him to pretend he didn't understand English. Of course, the rest of us could just as easily learn Spanish, I guess …
Arden Zwelling (@ArdenZwelling):
Just provide him the resources he needs at the ballpark and away from it. That's what the club's high performance department exists for. Athletic trainers, strength and conditioning coaches, physical therapists, nutritionists, mental performance coaches, employee assistance professionals, etc. Ultimately, it's up to the player to take advantage of the opportunities you provide and make the most of their career. You can't force anyone to maximize their potential — it's up to the individual.
Shi Davidi (@ShiDavidi):
Ultimately it comes down to performance, right? If you're bringing it, the fishbowl stuff isn't an issue. If you're not, then the walls close in fast. Naturally you'd expect some ups and downs and I think the front office and coaching staff understands and has plans for that. But Guerrero has grown up in the spotlight thanks to his dad, so I'm not sure there's any sort of comparison here.
Ben Nicholson-Smith (@bnicholsonsmith):
Great question, but not an easy one. For me, it'd be vitally important to make sure Guerrero Jr.'s prepared to handle both the highs and lows of a baseball season. He's 20 years-old, about to face the best pitchers in the world while also playing a tough defensive position on a regular basis. So there's no doubt: he'll struggle at times. When he does, he'll need help. The Blue Jays need to make sure he knows where to find it.
Clearly, the Blue Jays need Guerrero Jr. to trust people within the organization, so he can turn to them for support if and when he needs it. On that front, coaches Guillermo Martinez and John Schneider should help, since they've known him for years. Trainers and mental skills coaches will also figure into that mix. Combined, they'll help Guerrero Jr. when necessary.
Then there's the question of who keeps Guerrero Jr. level-headed when he hits four homers in four days and starts seeing big-league money in his bank account every two weeks. Who urges him to eat healthy and get enough rest when indulgent meals and entertainment are available in every city? Who's there taking ground balls with him five hours before game time? At one point it might have been Kendrys Morales. Maybe it's Freddy Galvis now, or someone else entirely. Honestly, I don't know the answer to that question, but if I were the Blue Jays I'd definitely want one.
Mike Wilner (@Wilnerness590):
There's really nothing you can do. Hitting in the big leagues is the most difficult thing to do in pro sports (which is why even the greatest ever still get out more than half the time), and even a generational talent like Vlad, Jr. is going to have some stumbles along the way. All you can do is provide him with the best support system possible, mentally and physically, and the Blue Jays will do that.
3. Rowdy Tellez now has 139 MLB plate appearances under his belt, including 106 against right-handers whom he has owned to the tune of a .333/.377/.677/1.054 line. The sample size is still small, but he's also just 24 years-old, so he's hardly a finished product. Given what we saw from him last September and so far in 2019, have you changed your outlook on what he might be able to achieve at the major league level?
Jeff Blair (@SNJeffBlair):
I've always thought Rowdy could be a productive DH and masher off the bench. Nothing's changed. He's worth the effort.
Arden Zwelling (@ArdenZwelling):
It's obviously a miniscule sample, but it's certainly encouraging to see Tellez's 2019 exit velocity in MLB's 93rd percentile. Also encouraging: seeing him hit that grand slam the other night off a left-hander. And a pretty damn good one in Tony Watson. That's always been the knock against Tellez — that he can't handle left-handed pitching as well as right-handed. He'll likely need to prove he can do so at the big-league level in order to be an everyday player.
Shi Davidi (@ShiDavidi):
Look, Tellez can rake, he was drafted as a hitter and he's hit at every level of the minors, despite some down times, which you can understand given the other circumstances in his life those seasons. It's way too early to draw any meaningful conclusions or to hand him the reins at first base for the next several years, but he's certainly showing that his bat has a chance to play at the big-league level.
Ben Nicholson-Smith (@bnicholsonsmith):
Tellez can hit. His grand slam against a left-hander Tuesday reinforced that much for any doubters. Steamer projects an above-average 110 wRC+ from here on, and that seems reasonable. That said, if you're a first baseman with limited speed you have to hit.
Mike Wilner (@Wilnerness590):
I think the jury's still very much out on what Rowdy Tellez will wind up being, but he's definitely making the case for "legit, middle-of-the-order scary, big-league bat," seemingly louder and louder every time he gets into a game. I hope he winds up being the big slugger that sits right in the middle of the core young group with Guerrero, Bo Bichette, Danny Jansen and hopefully Cavan Biggio, Anthony Alford and more, but we have to wait and see. Tellez hasn't had a good season since 2016, when he tore up the Eastern League with New Hampshire, but the start of his major-league career is nothing but promising.
4. The Blue Jays are in Anaheim next week. Have you seen Mike Trout's ridiculous numbers this season? Incredibly, he seems to have taken his all-universe game to yet another level. Where does Trout rank on the list of the greatest baseball players you've ever seen play?
Jeff Blair (@SNJeffBlair):
I saw both pre-steroid and steroid Barry Bonds and he and Ken Griffey, Jr., remain for me the best overall players I've seen in person. Bonds scared managers into doing weird stuff. Trout would be behind them.
Arden Zwelling (@ArdenZwelling):
No. 1. Mike Trout is the best player on the planet. He has a chance to go down as the best to ever play the game.
Shi Davidi (@ShiDavidi):
Not to answer a question with a question, but remember the Trout vs. Harper debate? How laughable is that now? And how sad is it that he's made only one post-season appearance, all the way back in 2014? The only comparable player I can come up with is Barry Bonds, and I didn't get the chance to see him live as much as I would have liked because he was in the NL. Vladimir Guerrero was a total freak, a baseball supernova. But in terms of total package, how many players in baseball history compare to Trout? This term gets thrown around a lot so I'm reluctant to use it, but he really is one of the all-time greats.
Ben Nicholson-Smith (@bnicholsonsmith):
Objectively speaking, he's probably the best, right? I mean he's the best of all time through age-27 and just so much fun to watch every time I see him.
On a more personal level, I've been more impressed with players. Growing up, the likes of Ichiro, Derek Jeter, Carlos Delgado and Roy Halladay captivated me completely in a way that Trout probably doesn't, but to answer the question, Trout's the best player I've ever seen.
Mike Wilner (@Wilnerness590):
He's probably the best, the closest in a long time to what the old-timers talk about when they saw Joe DiMaggio, Mickey Mantle, Willie Mays and players of that vintage. I still believe that Barry Bonds was the greatest hitter ever, and I had the privilege of watching him play a few times, but – for some odd reason, not really sure why – he stopped providing the speed and defense as his career went on. Trout still does that, along with the phenomenal bat.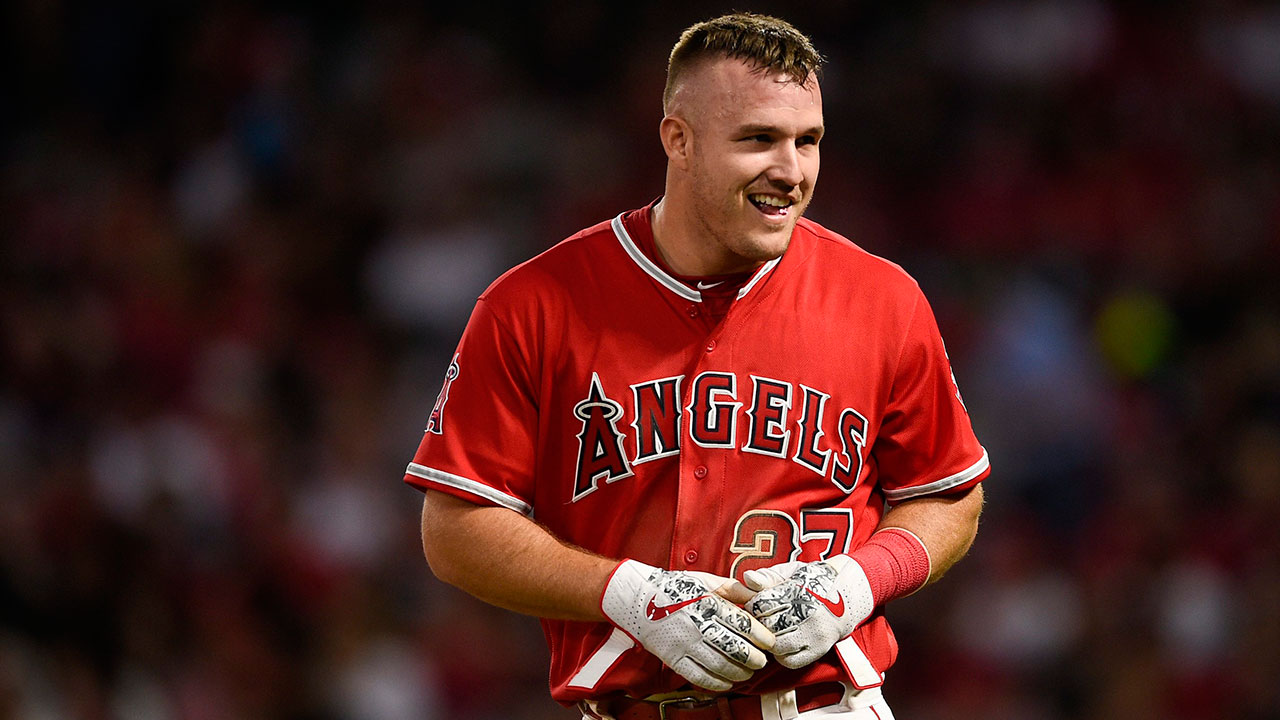 5. Earlier this week, Jayson Stark wrote about the death of the no-hitter. You all grew up in eras when pitching a no-hitter was a very big, very exciting deal. You also grew up while batting titles were celebrated, and we all now have a different, lesser appreciation for those. Given that no-hitters, like batting average, have always been a product of an event that relies on a certain degree of luck, do you feel differently today about the merits of a no-hitter? And consequently: is their "death" something to be mourned?
Jeff Blair (@SNJeffBlair):
I was lucky enough to cover perfect games by Dennis Martinez and David Cone and there is an odd pleasure derived from witnessing the combination of luck, skill and general happenstance when they occur. In Martinez's perfect game, Larry Walker made a rare start at first base and Delino DeShields, who'd suffered the yips, handled all his plays flawlessly. Nothing a hitter can do in this game matches the perfect game, especially now that homers are a dime a dozen. Nothing.
Arden Zwelling (@ArdenZwelling):
I enjoy baseball's modern era in which hitters are better, pitchers throw harder, managers are more strategic, and teams are attentive to the health of their athletes. I believe those elements lead to a better product. If the price for that is fewer individual no-hitters, I'll pay it. If anything, the increasing difficulty of throwing one adds to the achievement. No more cheap no-hitters! You're telling me there's no difference between Max Scherzer's 2015 no-hitter (in which he struck out 17 and allowed only one baserunner on an error) and Francisco Liriano's in 2011 (in which he walked six and threw only 66 of his 123 pitches for strikes)?
Shi Davidi (@ShiDavidi):
I'd mourn the demise of the complete game long before the demise of the no-hitter, but the thing that's really changed for me is my outlook on the combined no-hitter. While still a great achievement, I looked at them as a bastardized accomplishment by a group of pitchers because the starter couldn't get it done on his own. In this era, where six-inning starts are becoming the new nine, that's not the case anymore.
Ben Nicholson-Smith (@bnicholsonsmith):
I love no-hitters. Granted, they're also the product of luck and defence, but they're so much fun. I'm not about to mourn their death, since I like the fact that the game changes over time, but it's definitely not nearly as fun when you get a combined no-hitter.
Mike Wilner (@Wilnerness590):
I'm not sure the no-hitter is dead – heck, the Blue Jays waited until the sixth inning to get their first hit five times in the first 15 games this season – and we got to see one at Rogers Centre last May when James Paxton worked his magic for Seattle. No-hitters are incredibly special, but don't really say anything about the pitcher other than he had a great day (and probably got a lot of help behind him). I mean, Dallas Braden, Len Barker and Phil Hughes have thrown perfect games, and their careers were pretty non-descript.
I think Blue Jays fans especially know how much luck has always been involved in no-hitters, given the three near-misses by Dave Stieb in the late '80s, but I think they'll always be special and the anticipation of one, the way the heart starts to race when you get into the sixth or seventh watching a team still hitless, will always be very exciting.