Each week Blue Jays Confidential will ask a panel of Sportsnet Blue Jays Insiders and personalities to weigh in on issues big and small with the team, and around Major League Baseball.
1. Are the Blue Jays offensive struggles merely due to coincidental hitting slumps, or are their troubles more systemic?
Jeff Blair (@SNJeffBlair):
Systemic, in that they have about six everyday players who couldn't start for most Major League teams. This is the true ground zero of a rebuild.
Arden Zwelling (@ArdenZwelling):
A little bit of both. This group of Blue Jays hitters isn't as bad as they've shown. Given their track records, there's reason to believe guys like Randal Grichuk, Teoscar Hernandez and Danny Jansen will perform better, given time. But aside from Justin Smoak, the Blue Jays don't have any hitters who have produced sustained, elite-level results in the majors. The floor should rise. But the ceiling isn't particularly high.
Shi Davidi (@ShiDavidi):
I'm very anti the nonsensical hitting-is-contagious stuff — as if hitting a round ball with a round bat effectively is a communicable virus – and likewise I wouldn't paint struggling hitters with the same brush. Still, there are some collective concerns, starting with a big-league high 26.7 per cent K rate. Their O-Swing rate of 32.7 per cent is seventh highest in the majors while their contact rate of 73.4 is second-lowest in the majors. Some of that is correctable, and some of it is simply a matter of needing to get more good hitters.
Ben Nicholson-Smith (@bnicholsonsmith):
They're definitely not hitting, but I think it's more coincidental than systemic. With a rebuild comes lots of volatility. Right now, we're seeing the downside of that volatility as high-risk, high-reward players such as Danny Jansen, Teoscar Hernandez and even Socrates Brito struggle. It's a necessary part of establishing a talented core, but it's definitely tough to watch at times.
Mike Wilner (@Wilnerness590):
I think that in the same way that hitting can be contagious, so can a lack of hitting. Slumps often feed slumps, and make everyone go up to the plate trying to be the one to make something happen. But there's also a lack of patient bats on the team, which is more a current-personnel issue than a systemic one. The Blue Jays are more than one-fifth of the way through the regular season and have exactly one hitter, Justin Smoak, who has drawn more than eleven walks.
It says something about the lineup, and it's not complimentary, that Eric Sogard is one of the two hitters who have drawn exactly 11 free passes, since he's played half as many games as Teoscar Hernandez, with whom he's tied for second on the club. Walks are certainly not the be-all and end-all, but an ability to take a base on balls shows patience and a willingness to get deep in counts, and the Blue Jays have too many hitters who don't do that right now. Slumps are a major issue too, though, since Hernandez, Vladimir Guerrero, Jr. and Danny Jansen each have an isolated OBP (OBP – AVG) of .069 or more, which is good, but they're all hitting under .200.
Livestream the Toronto Blue Jays on the most popular devices. Plus, get over 150 marquee MLB matchups, the Home Run Derby, All-Star Game and Postseason.
2. Do you think Guerrero's slow start and the team's recent struggles will cause the front office to keep some other prospects down in the minors as long as the big-league club continues to struggle?
Jeff Blair (@SNJeffBlair):
Guerrero's slow start won't have an impact. But continued sloppy, uninterested play will for sure. Mark Shapiro and Ross Atkins have both talked about the need for a proper environment to welcome prospects.
Arden Zwelling (@ArdenZwelling):
Guerrero's a unicorn — baseball's top prospect, preternatural hitting ability as a teenager, video game numbers at every level he touched. So, I don't think his results will have any bearing on how the club approaches other prospects. The team's results could have more influence. Is it ideal to begin a young player's MLB career in a gloomy, losing environment? No. But it's those high-upside prospects who could turn things around. The best way to improve your team's results is by rostering better players. And, generally, I think teams shouldn't get too cute about these things. If a guy's ready, he's ready. Call him up and let him go.
Shi Davidi (@ShiDavidi):
I would really hope such reactionary front-office thinking doesn't exist in pro sports. Having better players may be the only way to keep this team from continuing to struggle.
Ben Nicholson-Smith (@bnicholsonsmith):
I'd be surprised to see the front office change its decision making much based on the last couple of weeks. They're pretty deliberate when it comes to promoting top prospects, considering everything from offence, defence and baserunning to off-field routines, mental readiness and big-league alternatives. Then there's the more administrative side such as managing the 40-man roster and keeping service time in mind.
When considering a call-up of say, Cavan Biggio, I expect the front office would first look at those variables, since they're related to the prospect himself. Only then would the club's struggles enter the equation, but I doubt they'd present a serious obstacle.
Mike Wilner (@Wilnerness590):
The front office has said many times that each player's development path is different, everyone moves at his own pace and what's right for one may not work for another. Hopefully, each prospect comes up when they force the big team's hand, as Guerrero did by tearing a swath through Triple-A in his second look at the level after dominating there last August. Unless there are service time considerations, which there wouldn't be with a Cavan Biggio, but there might be with a Bo Bichette or Nate Pearson, I expect the next wave to come up as it's determined that they're ready.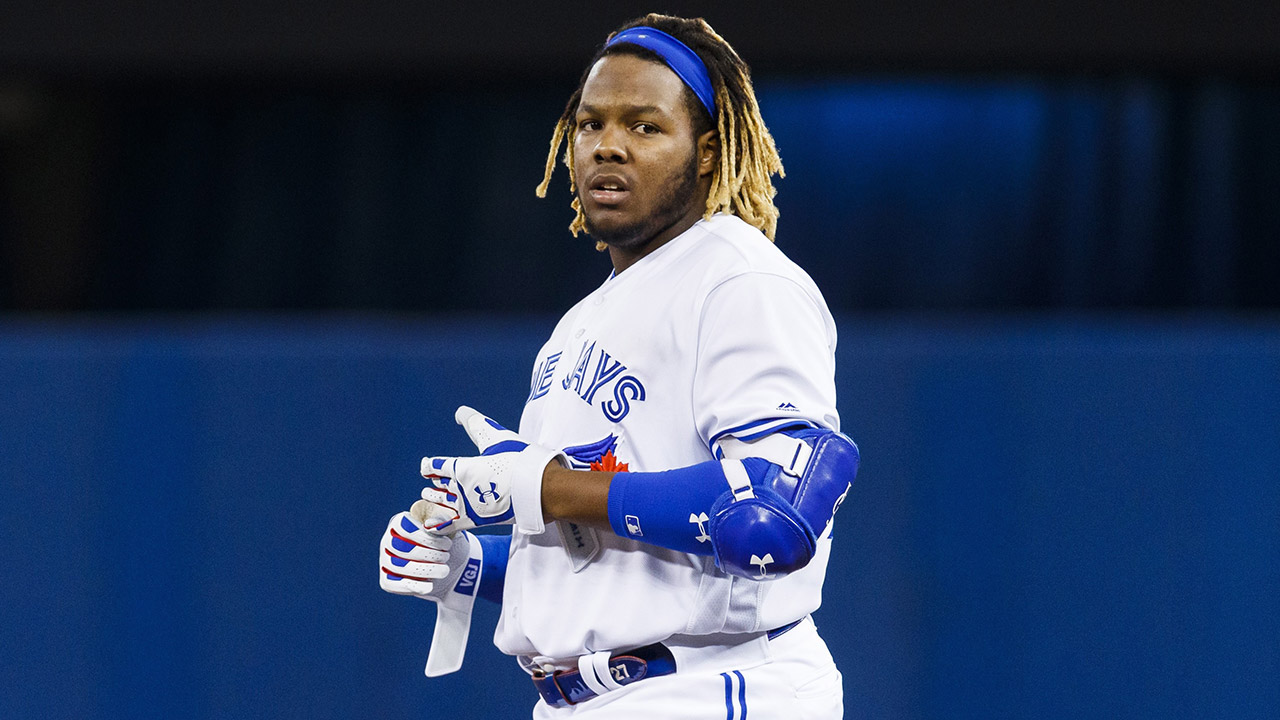 3. As things stand today, who is a more important player to the Blue Jays future success: Bo Bichette or Nate Pearson?
Jeff Blair (@SNJeffBlair):
Bichette. Pearson solves just one issue every five days. Bichette – touch wood – solves an issue 162 times a year.
Arden Zwelling (@ArdenZwelling):
Considering Toronto's scarcity of high upside pitching in its minor-league system, Pearson gets the edge. But if the Blue Jays are going to be competitive in a couple years, they'll need both those guys to be really good. And they'll likely need to turn some position player prospects into major-league pitching, not unlike how the Red Sox built a trade package for Chris Sale around Yoan Moncada. Bichette, Kevin Smith, Jordan Groshans, and Vladimir Guerrero Jr. can't all fit on the left side of the infield. Not to mention the younger wave — Orelvis Martinez, Miguel Heraldo, Leonardo Jimenez, Kevin Vicuna — coming behind them.
Shi Davidi (@ShiDavidi):
Man, that's a complicated question. Given the state of their pitching, my lean would be to say Nate Pearson, who has a chance to be a monster. But if Bo Bichette is an everyday shortstop with an OPS in the mid-.800s providing a complementary threat to Vladimir Guerrero Jr., that's just so vital to your team on a daily basis. So I end up at Bo. But really, if this rebuild is going to ultimately work, Bichette, Pearson and Guerrero all have to be really good.
Ben Nicholson-Smith (@bnicholsonsmith):
What a double-A debut for Pearson, who certainly stands out as the club's best pitching prospect. At the same time, Bichette has the chance to be an impact everyday shortstop. That makes him more important than Pearson in my view.
Mike Wilner (@Wilnerness590):
Bichette has a chance to be a batting champ in the middle of the infield. Pearson has a chance to be a true No. 1 starter, so that's not an easy choice. But it's a 25-man game, as cliche as that sounds. The Los Angeles Angels have had the best player in the game right now – maybe ever – performing at a peak level for the last seven years and haven't won a single post-season game with him, so it's impossible to say that one player is of massive importance to a team's future success.
True aces are hard to come by. So are all-star middle infielders, but great pitching gives you a chance to win every time out. Then again, There's No Such Thing As A Pitching Prospect. Feels like I'm dodging this one, but the truth is, it'll take more than either one of them, even if they both do wind up as good as everybody thinks. (But if they do, Pearson).
4. Kawhi Leonard has had several dominant performances during the Raptors' current playoff run. What's the most impressive single playoff game you've seen from a Toronto Blue Jay?
Jeff Blair (@SNJeffBlair):
Marco Estrada. Game 5, 2015 ALCS against the Royals. Marvellous.
Arden Zwelling (@ArdenZwelling):
The game's result has shrouded it, but Jose Bautista had one hell of a performance in game 6 of the 2015 ALCS vs. Kansas City. He hit two home runs that night, the second tying the game in the eighth inning against Ryan Madson, who was lights out that year. No other Blue Jays hitter could get anything going that night — Bautista had half his team's extra-base hits. And, of course, he was on deck when Josh Donaldson grounded out to end the game. Honourable mention to Marco Estrada, who threw 7.2 innings of three-hit, one-run ball in Game 5 of that series with his team's season on the line. Crazy to think that was nearly four years ago now.
Shi Davidi (@ShiDavidi):
Maybe there's some bias because I was a kid and it was the first-ever Blue Jays post-season contest, but Dave Stieb was total money in Game 1 of the 1985 ALCS vs. Kansas City. Eight shutout innings, three hits (two by George Brett), a walk and eight strikeouts – the Royals simply didn't have a chance. As a second choice, I'd go with Jose Bautista in Game 5 of the 2015 ALCS against Texas, during which he delivered a WPA of .405 largely thanks to the bat flip. Oft forgotten though is that it was his RBI double in the third off Cole Hamels that started the rally from an early 2-0 deficit.
Ben Nicholson-Smith (@bnicholsonsmith):
I wasn't there in person for Joe Carter's World Series-winning home run, but I do remember the stadium shaking on October 14, 2015 after Jose Bautista flipped his bat. That was incredible given the context of that wild seventh inning and, on a larger scale, the franchise's return to prominence. This part gets forgotten, but a week and a half later, Bautista nearly did it again. With the Blue Jays facing elimination, he hit two homers in Game 6 of the ALCS, including a game-tying two-run shot against Ryan Madson. Incredible.
Mike Wilner (@Wilnerness590):
The batflip? Doesn't it have to be the batflip? It was only one at-bat, true, but a huge one, an iconic moment and a series winner. But if we're choosing something other than Jose Bautista's seminal shot deep into the Rogers Centre night, and if I have to have been there to see it, it's Marco Estrada in Game 5 of the 2015 ALCS. The Blue Jays were down three games to one, having just been beaten so badly that Cliff Pennington had to come on to finish the ninth inning of Game 4. Estrada came out and put up zeroes into the eighth inning, allowing his teammates to finally bust open a 1-0 game with Troy Tulowitzki's three-run double off Kelvin Herrera in the sixth. Given the stakes, it was arguably the best post-season start for a Blue Jay since the first one – Dave Stieb's eight innings of three-hit shutout in the opener of the 1985 ALCS against the same (but very different) Royals.
5. Not sure if you saw this thread floating around on Twitter, but let's have at it:

Quote this tweet with the 5 things you'd want to immediately fix if you were named MLB commissioner

— Brandon Warne (@Brandon_Warne) 6 May 2019
And to make life easier on you, just give us three things, not five.
Jeff Blair (@SNJeffBlair):
• Universal DH. Pitchers with bats is a stupid idea.
• Eye in the sky umpire. Every play automatically reviewed from a seat in the press level. Two-way communication with on-field crew chief. No managers challenges.
• 150-game regular season; re-alignment into two leagues, no divisions.
Arden Zwelling (@ArdenZwelling):
• Implement the designated hitter in the National League
• Computerized ruling of balls and strikes
• Shorten the regular season and expand the playoffs
Shi Davidi (@ShiDavidi):
Here are five because I have lots of ideas (most probably dumb).
• Teams no longer lose draft picks for signing qualified free agents.
• Bonus draft picks between Rounds 1 and 2 for the top five clubs record-wise out of the playoffs and bonus picks for post-season teams later on, perhaps between rounds 4-5.
• 144-game regular season and an extra round of playoffs.
• A balanced schedule.
• Expansion teams in Montreal and one of Portland/San Antonio/Monterrey
Ben Nicholson-Smith (@bnicholsonsmith):
First, I'd ensure top prospects reach the majors as soon as they're ready by preventing teams from manipulating their service time. One suggestion, as long as we're brainstorming here: what about a 70-day service time bonus for any player who generates 18-plus wins above replacement over his first six seasons in the majors?
Under these rules, Vladimir Guerrero Jr. would likely have been up on opening day 2019, or perhaps even last September. As always, there are unintended consequences to consider and introducing WAR would create bookkeeping complications. It wouldn't be simple, but keeping stars in the minors seemingly inhibits the growth of the game so MLB needs to find a solution.
Next, I'd make TV broadcasts more interesting and accessible. That would include mic'ing up coaches and players far more regularly and starting some World Series games earlier to reach more kids (of course a World Series day game at Dodger Stadium or Wrigley Field would be an awesome TV viewing experience for any fan regardless of age).
Finally, I'd eliminate blackout restrictions and encourage highlight sharing of all kinds. People are on their phones all the time. If I'm running a business, I want to find ways to reach people's phones, not prevent them from accessing my product.
Mike Wilner (@Wilnerness590):
• Balance the schedule. If there are going to be wild card teams, everybody should be playing basically the same schedule. End the unfairness of allowing teams in crappy divisions to beat up on multiple lesser lights 19 times a year. If interleague play has to go as a result, I'm fine with that. The novelty has long since worn off.
• Electronic strike zone. I'm sure umpires are trying their best, but calling balls and strikes completely accurately is not something a human being is capable of doing. Yes, the K zone or strike box or whatever you want to call it isn't 100 per cent perfect, but it's a hell of a lot better than what the humans are doing, and calling a pitch a strike when it's really a ball, and vice-versa, has a massive effect on an at-bat.
• No more losing to win. Too many teams have decided that tanking for better draft picks and a bigger pool of signing bonus money is the way to go, which means too many teams are actively not trying to win (and a few are trying not to win), and plenty of fan bases are left with minimal entertainment value. Discourage tanking by not allowing teams to lose their way to a top draft pick. Perhaps seed the non-playoff teams in the draft, one through 20, by winning percentage post-trade deadline. Best team from August 1 on that doesn't end up in the playoffs gets the top pick.