Each week Blue Jays Confidential will ask a panel of Sportsnet Blue Jays Insiders and personalities to weigh in on issues big and small with the team, and around Major League Baseball.
1. What do you think has been the most significant story to develop in MLB over the first half of the 2019 season?
Jeff Blair (@SNJeffBlair):
How the game continues to be difficult to watch on too many nights. I've avoided being too dramatic about it and prefer to see if it is a cyclical thing. But I fear it's gone deeper, to the point where I think the best answer is more off days/fewer games.
Arden Zwelling (@ArdenZwelling):
It didn't really develop this season, but the game's labour issues. The slew of extensions signed earlier this season; Dallas Keuchel and Craig Kimbrel sitting out until June; service time manipulation keeping some of the game's best young players in the minors.
Shi Davidi (@ShiDavidi):
It didn't get a ton of play but the fact that the players' union and MLB held some very preliminary CBA talks with some economic issues put forward is really remarkable, particularly when you consider some of the venom that existed during the off-season. Whether anything positive materializes is another matter, but there seems to be some level of acknowledgement that the economic principles underpinning the game may need a rethink, and given what we've seen develop over the past few years, that really matters.
Mike Wilner (@Wilnerness590):
For me, it's the Minnesota Twins. So many teams pulled back over the winter in what was a quiet off-season, with many free agents shocked at the lack of interest, but the Twins saw an opportunity and took it. They noticed that Cleveland wasn't doing anything to improve – and was even talking about trading Corey Kluber – thinking that the A.L. Central would be another slam dunk, and they made moves to improve, counting on returns to health and form from Jake Odorizzi, Michael Pineda and Miguel Sano and a full (unsuspended) season from Jorge Polanco.
They signed Nelson Cruz, C.J. Cron, Marwin Gonzalez and Jonathan Schoop to boost the offense. They identified a pitcher they felt they could turn around in Martin Perez and they did, and they got a closer in Blake Parker. And they signed maybe the hottest rookie managerial candidate in Rocco Baldelli. Now they have the best record in the league and are on pace for 105 wins.
Livestream the Toronto Blue Jays on the most popular devices. Plus, get over 150 marquee MLB matchups, the Home Run Derby, All-Star Game and Postseason.
2. What storyline do you think will be the most significant in the second half of 2019?
Jeff Blair (@SNJeffBlair):
The Yankees. I think we're seeing offensive history being made.
Arden Zwelling (@ArdenZwelling):
The race to the bottom. Five teams (including the 29-52 Blue Jays) currently have winning percentages below .400 and are legitimate contenders to lose 100 games. They can't all draft first overall. Also, the sheer amount of home runs being hit. There are 18 players with 20 homers at the halfway point, and 27 with 19. The single-season record for most 40-homer hitters was 17, set in 1996.
Shi Davidi (@ShiDavidi):
A few jump to mind, such as the increased need for extended protective netting and surge of home runs, but with the trade deadline looming, I'm going to say the ongoing concentration of talent among only a handful teams. We'll see more contending clubs load up ahead of the deadline, more bottom-feeders strip down and whether having the talent disparity swing so wildly depending on what stage of the competitive cycle is in is ultimately healthy across the game is a conversation that needs to take place.
Mike Wilner (@Wilnerness590):
The trade deadline is going to be really interesting, since they've gotten rid of waiver trading. The end of July was always a trade deadline that wasn't really a deadline, with teams knowing they could still make improvements in August through waiver deals to acquire help for a post-season run. They can't do that anymore. With only one deadline, and with no chance to add to your team after July 31 (unless it's by taking a shot at a player who had been released), I'm looking forward to seeing how aggressive some contenders get, and whether things might get a little nuts.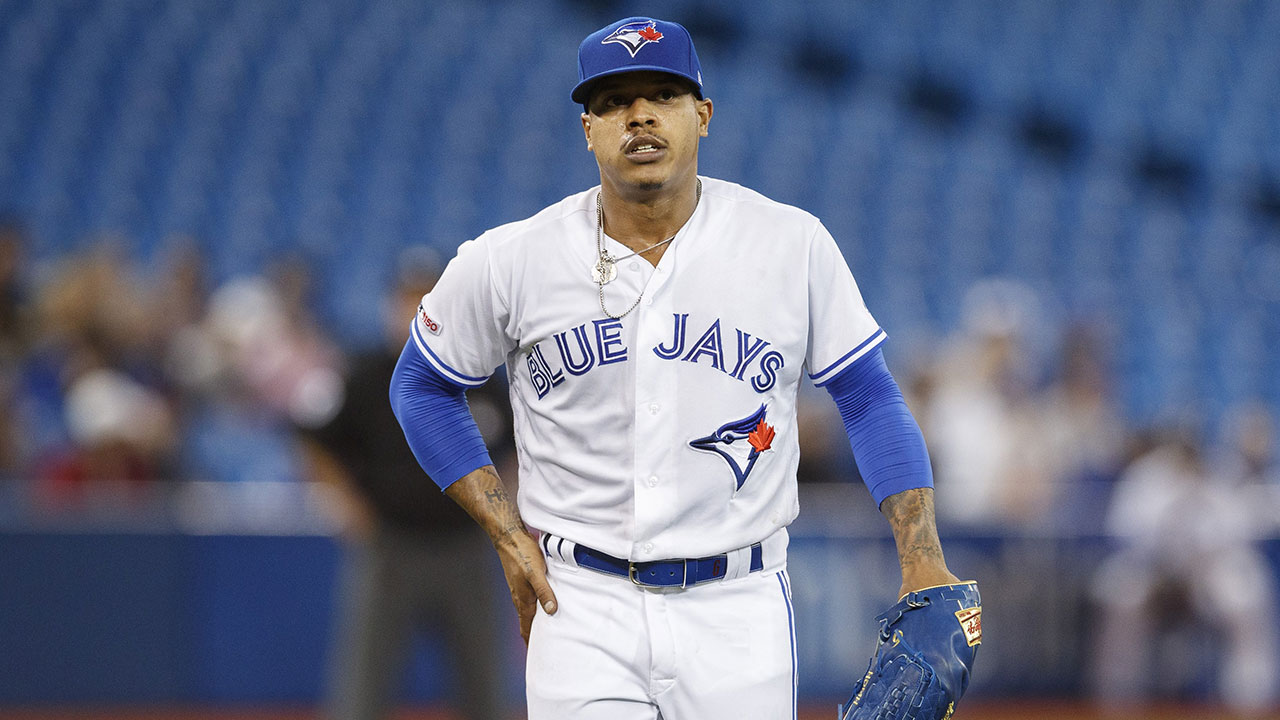 3.Which Blue Jays player — in the majors or minors — has exceeded your expectations the most in the first half?
Jeff Blair (@SNJeffBlair):
Cavan Biggio is good enough to be an everday player. Wasn't sure about that. Plus, to be honest… he's been more fun to watch than Vladdy, Jr.
Arden Zwelling (@ArdenZwelling):
At the major-league level it has to be Eric Sogard. He'd already smashed career-bests across the board after, like, 30 games. In the minors, the Alejandro Kirk surge has been an interesting development. I don't think he was on anyone's radar when the Blue Jays signed him, but all he's done at every level is hit.
Shi Davidi (@ShiDavidi):
Well, Lourdes Gurriel Jr., in the past month has certainly vaulted into consideration here but I'm going to say Trent Thornton. He was an unknown commodity coming in, likely ticketed for triple-A Buffalo, perhaps seen as a reliever, and he's held his own to this point. For a pitching-poor organization, they needed a development like him. Now, if only they could replicate him.
Mike Wilner (@Wilnerness590):
Lourdes Gurriel, Jr. I've thought that he should be given a shot in the outfield for a while now given his rocket arm and his issues making short throws in the infield, but I didn't think it would work out this well – second in the league in outfield assists despite playing only 30 games out there – nor did I see the bat exploding the way it has. When he was sent down to triple-A to deal with "the thing" in mid-April, Gurriel was hitting .175/.250/.275 with no home runs in 13 games. Since his return at the end of May, he has hit .347/.385/.727 with 12 homers, and he's now second on the team in bWAR.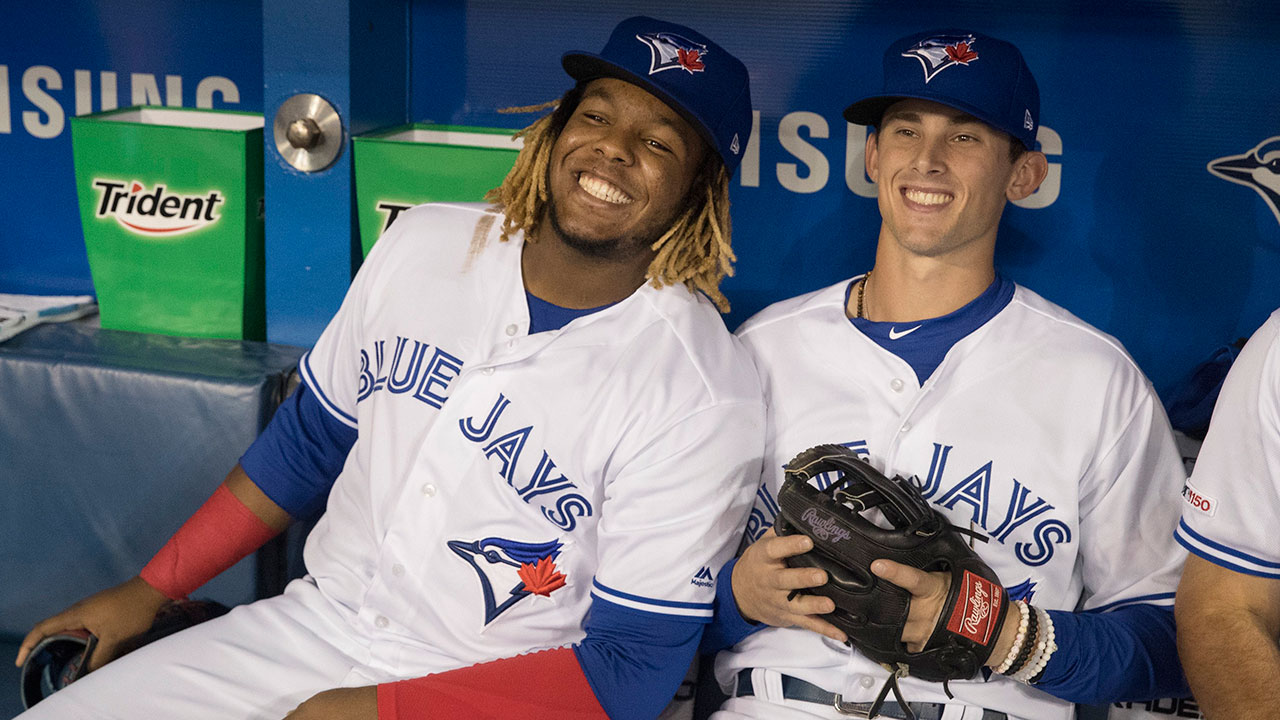 4.If you had to write a headline to encapsulate the first-half of the 2019 Blue Jays season, what would it be?
Jeff Blair (@SNJeffBlair):
"We don't have anybody else."
Arden Zwelling (@ArdenZwelling):
I'm so bad at headlines. Let's go with: "Lessons learned."
Shi Davidi (@ShiDavidi):
"Turns out that living through a rebuild is way worse than you imagined."
Mike Wilner (@Wilnerness590):
"Living Through The (Hopefully) Short-Term Pain."
5. Let's toss suffering Blue Jays fans a second-half bone: Give us one surprisingly positive development you could see unfolding over the final 81 games?
Jeff Blair (@SNJeffBlair):
Bo Bichette hits .300 after his callup; Vladdy and Gurriel each hit 25 dingers.
Arden Zwelling (@ArdenZwelling):
Watching Bo Bichette in the majors should be fun. An Anthony Alford breakout would be, too.
Shi Davidi (@ShiDavidi):
Bo Bichette comes up and a top of the order that looks something like Biggio, Bichette, Guerrero and Gurriel starts to click, and while the Blue Jays don't suddenly become a contender, you can begin envisioning how they one day become one.
Mike Wilner (@Wilnerness590):
I think Jordan Romano takes over for Ken Giles as the team's closer once Giles is traded and absolutely crushes it.
Ben Nicholson-Smith is Sportsnet's baseball editor. Arden Zwelling is a senior writer. Together, they bring you the most in-depth Blue Jays podcast in the league, covering off all the latest news with opinion and analysis, as well as interviews with other insiders and team members.