Each week Blue Jays Confidential will ask a panel of Sportsnet Blue Jays Insiders and personalities to weigh in on issues big and small with the team, and around Major League Baseball.
1. What do you think was running through the minds of Ross Atkins and Mark Shapiro as they watched the Raptors parade on Monday? (in all seriousness)
Jeff Blair (@SNJeffBlair):
Can Kawhi pitch? If Masai doesn't take the Wizards job, can I? Wonder what's for dinner?
Arden Zwelling (@ArdenZwelling):
They saw it themselves in 2016: there is unbelievable enthusiasm in this market, and across Canada, to support a winning team. A losing one, not so much.
Shi Davidi (@ShiDavidi):
If you're a sports executive, you had to be awed a little bit by the sheer volume of the turnout. The Jays witnessed a similar response in '15-'16 and would have gotten a crowd just as big had they won those years. That's what a sports team can do to this market and they had to be thinking of the upside, and the gap in front of them to get there.
Ben Nicholson-Smith (@bnicholsonsmith):
I'd guess it was something like "that's pretty cool … we have lots of work to do before something like this happens for us."
Mike Wilner (@Wilnerness590):
If it wasn't "we have to make sure we're doing everything we can to give ourselves the best chance to be doing that in the near future," then they're in the wrong line of work.
2. Now that the Raptors season is over, do you think it will be easier or more difficult for the Blue Jays to attract fans to the park and TV?
Jeff Blair (@SNJeffBlair):
My guess is national ratings remain robust, because summer is baseball season in great wide swaths of this country. Locally? Not much else but winning will make a difference in drawing fans to the park. Vladimir Guerrero, Jr., had small coat-tails; not sure Bo Bichette's would be any bigger.
Arden Zwelling (@ArdenZwelling):
There's inevitably a summertime boost as the weather gets nicer, kids are out of school, and people take time off from work. Going to the ballpark is always a nice way to spend an afternoon, regardless of who's playing. Still, the best way for the Blue Jays to attract fans is to field a winning team.
Shi Davidi (@ShiDavidi):
I wouldn't expect there to be much impact. Sports fans who locked in on the Raptors may re-engage a little bit, but for people who didn't follow along while the NBA post-season played out, they're not going to suddenly jump back in.
Ben Nicholson-Smith (@bnicholsonsmith):
Neither. I don't think the Raptors' success got in the way of the Blue Jays. If the baseball team were winning, people would have found ways to follow both the Raptors and Blue Jays. In fact, if the Leafs, Raptors and Blue Jays are ever legitimate contenders at the same time, people will find ways to watch all three. Technology makes it pretty easy to follow multiple games at once if you want to. The reality facing the Blue Jays right now is that only the most die-hard fans want to watch a potential 100-loss season unfold.
Mike Wilner (@Wilnerness590):
I'm not sure one has all that much to do with the other. The Raptors' championship certainly raised the spirits of sports fans in Toronto in a huge way, and gave us all something to look back on and be excited about for a long time. But were there that many Jays fans who never checked in on them at all while the Raps were in the playoffs? Even though basketball is far from an every day sport? I'm not sure there are people who will change their minds about heading down for a summer night at the ballpark one way or another now that hoops is done.
3. What do you make of Marcus Stroman's post-game comments on Monday? Do you think his tone suggests a recent change in outlook for him?
Jeff Blair (@SNJeffBlair):
I think we're one more start away from him lobbying for a trade.
Arden Zwelling (@ArdenZwelling):
It was a little weird. He's a smart guy and he consumes everything written/said about him — I can't imagine he just discovered now that a trade was a distinct possibility and a long-term extension wasn't. The comments he makes about the Blue Jays front office after a trade are the ones I'm looking forward to.
Shi Davidi (@ShiDavidi):
Not much, to be honest. Only thing that's changed is the calendar, the end is nearing and everyone knows it. Stroman has handled himself brilliantly so far, underlining his desire to stay so that when he gets traded, the Blue Jays front office is going to wear it. But as far things that are tangible, the Blue Jays aren't going to rush to extend him or speed up the trade process, so we've got more of this drama to come.
Ben Nicholson-Smith (@bnicholsonsmith):
Hard to say exactly when Stroman's outlook shifted, but after Tuesday's game he didn't sound like someone who expects to stay in Toronto long-term. Under the circumstances, that's pretty understandable. He's one of the better starting pitchers available and the Blue Jays need to prioritize future wins over 2019. As Stroman said, "It's just something you have to come to terms with."
Mike Wilner (@Wilnerness590):
I have always been a fan of athletes giving honest answers to honest questions. It seems as though Stroman is, at least publicly, resigned to the fact that he's about to be traded. It would be interesting to know how far extension talks ever got, if the two sides even really engaged on any.
4. Earlier this week, the Texas Rangers announced they'll be retiring Michael Young's No. 10 jersey. Sure, hindsight is 20/20, but in terms of how it played out, where does the Esteban Loaiza for Michael Young + package rank among the worst trades in Blue Jays history?
Jeff Blair (@SNJeffBlair):
Ripping this deal is akin to ripping the Troy Tulowitzki or David Price transactions. Remember, at the time Young wasn't as fancied by Blue Jays people as as Felipe Lopez, Brent Abernathy or Cesar Izturis. They were close to the division lead and needed a starter because Roy Halladay was sent back to the minors with an ERA over 10.00. I had more of an issue with J.P. Ricciardi's trade of Izturis and Paul Quantrill for Luke Prokopec and Chad Rickletts. That sent the Blue Jays into the shortstop wilderness for years.
Arden Zwelling (@ArdenZwelling):
It's up there. I'm sure someone's going to mention Mike Sirotka. David Cone, too. The Roy Halladay deal deserves consideration. And then there's trading Noah Syndergaard as part of the R.A. Dickey deal. I'll throw one more in from left field — trading Yan Gomes (along with Mike Aviles) to Cleveland for Esmil Rogers. Gomes immediately broke out with Cleveland and has posted 13.7 WAR over the seven seasons since, 11th-most among MLB catchers over that span. Rogers made 60 appearances for the Blue Jays and pitched to a 5.06 ERA.
Shi Davidi (@ShiDavidi):
I'm not sure there's another deal remotely near as damaging, especially since, as the story goes, the Rangers would have accepted either Cesar Izturis or Felipe Lopez instead of Young in that deal. Imagine him on the Jays throughout the 2000s? The franchise's entire trajectory changes.
Ben Nicholson-Smith (@bnicholsonsmith):
It's up there. Michael Young was a really good player. The Blue Jays traded away an even better infielder, Jeff Kent, in 1992, but David Cone helped them win their first World Series and flags fly forever so I'm fine with that deal.
On the pitching side, the Blue Jays didn't get much back for Roy Halladay and the David Wells for Mike Sirotka swap was obviously a failure. Don't forget about the Shawn Green for Raul Mondesi trade, either. Green hit .280/.366/.510 while averaging 32 homers per year with the Dodgers while Mondesi hit .251/.328/.470 while averaging 22 homers in Toronto.
Mike Wilner (@Wilnerness590):
Worst. Trade. Ever. Set them back a decade.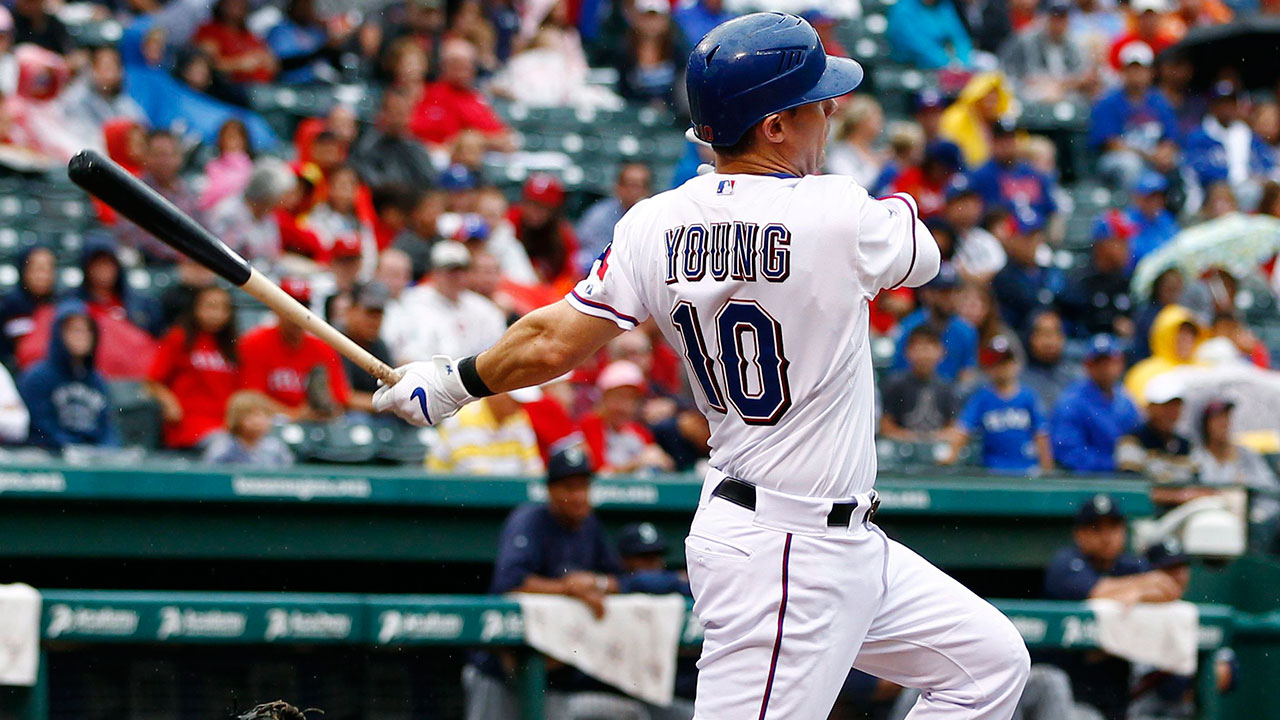 5. There are currently five former Blue Jays on the New York Yankees 40-man roster (Morales, Encarnacion, Happ, Urshela and Tulowitzki). How many do you think there will be on Aug. 1?
Jeff Blair (@SNJeffBlair):
Four. Tulo will be mowing the lawn. Or cleaning his pool.
Arden Zwelling (@ArdenZwelling):
Four — Happ, Encarnacion, Tulowitzki (on the 60-day IL), and a player who they haven't acquired yet.
Shi Davidi (@ShiDavidi):
Don't think we don't know what you're doing here with this question. You're trying to see if we think Stroman ends up with the Yankees. One scout recently suggested that a Stroman-Clint Frazier deal makes all the sense in the world for both clubs and sure, but to me, the Jays have to get pitching back. We've all heard Padres and someone suggested to me that the Jays and Twins match up well. Ross Atkins and Jeff Luhnow haven't made a trade in seven months so they're probably due, too. With EE in New York, Justin Smoak is no longer a fit (I thought he'd be perfect for them) so all that is a long way of saying it probably stays at five.
Ben Nicholson-Smith (@bnicholsonsmith):
Still just five. The Yankees are a fit for Stroman, but there are too many other potential suitors to count on a deal to New York.
Mike Wilner (@Wilnerness590):
Three: Edwin, Urshela and Happ. I don't think Stroman is going to the Yankees and I think Morales will be DFA'd by then. They just won't have room for him once both Stanton and Judge are back. If Tulowitzki doesn't retire before August 1st, then he likely would be, too.
6. Nevermind the "split-city" proposal being floated by the Tampa Rays ownership. Do you think Thursday's news means Major League Baseball's return to Montreal is now inevitable?
Jeff Blair (@SNJeffBlair):
Yes. The split-city concept is a non-starter; Stuart Sternberg knows the city of St. Pete can get more money – tax revenue – if it lets the team leave and the land gets developed for mixed use. I think the Rays relocate to Montreal before 2023.
Arden Zwelling (@ArdenZwelling):
The only things inevitable in life are death and taxes. But here's hoping the momentum we've seen recently culminates in MLB returning to Montreal before long.
Shi Davidi (@ShiDavidi):
As I wrote Friday morning, this isn't on the table if MLB didn't believe in Montreal as a market. They're not trading one problem for another. They want this team contributing to the pot. Still, I hate to use the term inevitability because experience with the Lords of Realm teaches you to take nothing for granted. Maybe TB buckles, builds the Rays a stadium, this proposal dies off and MLB decides Portland and Nashville are the two best expansion spots. Unlikely, but it's certainly on the spectrum of possible outcomes. Still, between Stephen Bronfman's change in tone during the spring (https://www.sportsnet.ca/baseball/mlb/land-development-progress-gives-hope-montreal-stadium-expos/) and the split home-game plan, MLB's return has never been a more realistic possibility, and perhaps sooner than we might have expected.
Ben Nicholson-Smith (@bnicholsonsmith):
To me, inevitability is too strong. Think of all that has to happen for Montreal to get a stadium. And even if that happens, you've still got political, financial and logistical hurdles complicating matters. Don't get me wrong—I hope it happens—but the existence of this option doesn't assure Montreal of anything.
Mike Wilner (@Wilnerness590):
Inevitable is a very strong word, but it certainly feels as though there's a greater chance that big-league baseball will be back in Montreal than there has been since the Expos packed up for D.C. I'm not sure anyone believes the split-time solution will work, but it sure seems that MLB is sending a message to Tampa Bay that it's time to get off the pot, as it were, and there's now a clear and direct path for the Rays to move to Montreal.