TORONTO — Dalton Pompey thinks it was about the 20th of May. Somewhere around there. He woke up in Florida, where he'd been for months rehabbing a concussion, and felt… fine. No brain fog, no blurred vision, no sensitivity to light. He just felt like himself.
He walked into the Blue Jays' Dunedin clubhouse that morning like he had so many mornings before, but this time without one accessory that had become as much a part of him as his beard. It was an obvious tell.
"Hey," barked a Blue Jays trainer, "you don't have your sunglasses on. Are you feeling alright?"
"Oh yeah," Pompey replied. "I'm actually feeling great."
Pompey hadn't felt great in an awfully long time. Early in March, while playing for Canada at the World Baseball Classic, he slid head-first as he stole second base and slammed his face into the dirt. He stayed down for several minutes before picking himself up and continuing. But an inning later, when he felt dizzy running back to the dugout from the outfield, he knew something was wrong.
It was Pompey's second concussion in less than a year, after he suffered one running into an outfield wall while playing for the Buffalo Bisons in June, 2016. That one sidelined him for about three weeks. This one turned out to be much worse.
"It just didn't get better," Pompey says. "I just didn't feel like myself. It was so weird. And it was every single day. I didn't know if I was ever going to feel better and feel like myself again. It was kind of scary.
"It was really hard for me mentally to comprehend what was going on," he continues. "There were times when it was just dragging on for so long. I'd talk to my parents, talk to my friends — and they didn't understand. And neither did I, to be honest."
One of the first people Pompey got in touch with after the injury was Justin Morneau, the 2006 MVP and fellow Canadian whose career was never the same after he suffered a concussion trying to break up a double play in 2010. Morneau experienced several concussions throughout his life, including multiple while playing hockey and basketball in his youth, and one early in his major-league career when he was hit in the head by an errant fastball.
Morneau's first child, Evelyn, was born just a few months after his concussion in 2010. To this day, Morneau isn't able to remember much from the first nine months of her life.
"It's such an emotional roller coaster. I wouldn't wish it on my worst enemy, what I went through and the frustration that I dealt with," Morneau said in October during an interview on At the Letters. "It was a very, very frustrating and emotional time."
Morneau stressed to Pompey to stay on top of the injury, limiting exposure to light and electronic devices as much as possible in order to give his brain every opportunity to heal. For a 24-year-old under strict orders to do absolutely nothing, it was a more difficult task than it sounds.
"Changing your whole life around is kind of hard, right?" Pompey says. "Going from being on your phone all the time to not being on it at all, not watching TV — it's a tough commitment."
Ben Nicholson-Smith is Sportsnet's baseball editor. Arden Zwelling is a senior writer. Together, they bring you the most in-depth Blue Jays podcast in the league, covering off all the latest news with opinion and analysis, as well as interviews with other insiders and team members.
He sat out days, weeks, months. The baseball world carried on without him. He wore sunglasses everywhere, and spent his days at Toronto's facility in Dunedin, watching injured Blue Jays like Josh Donaldson and Steve Pearce come and go. Until that morning in May, when the sun came up and Pompey felt like himself again.
"It just went zero to one hundred. I have no words for it," Pompey says. "But it was a great feeling. Just from the standpoint of being, like, a human. I just felt like a normal person again. That felt good."
But he wasn't out of the weeds yet. He suffered a knee injury in his first rehab game for the triple-A Buffalo Bisons and was set back another month. He tried one last comeback attempt in July. It lasted only a week. His knee just wouldn't let him play the way he needed to.
And that was it. Pompey's season was over. He finished the year having played only 13 rehab games. He had nine hits, two of them home runs. But that's hardly a consolation.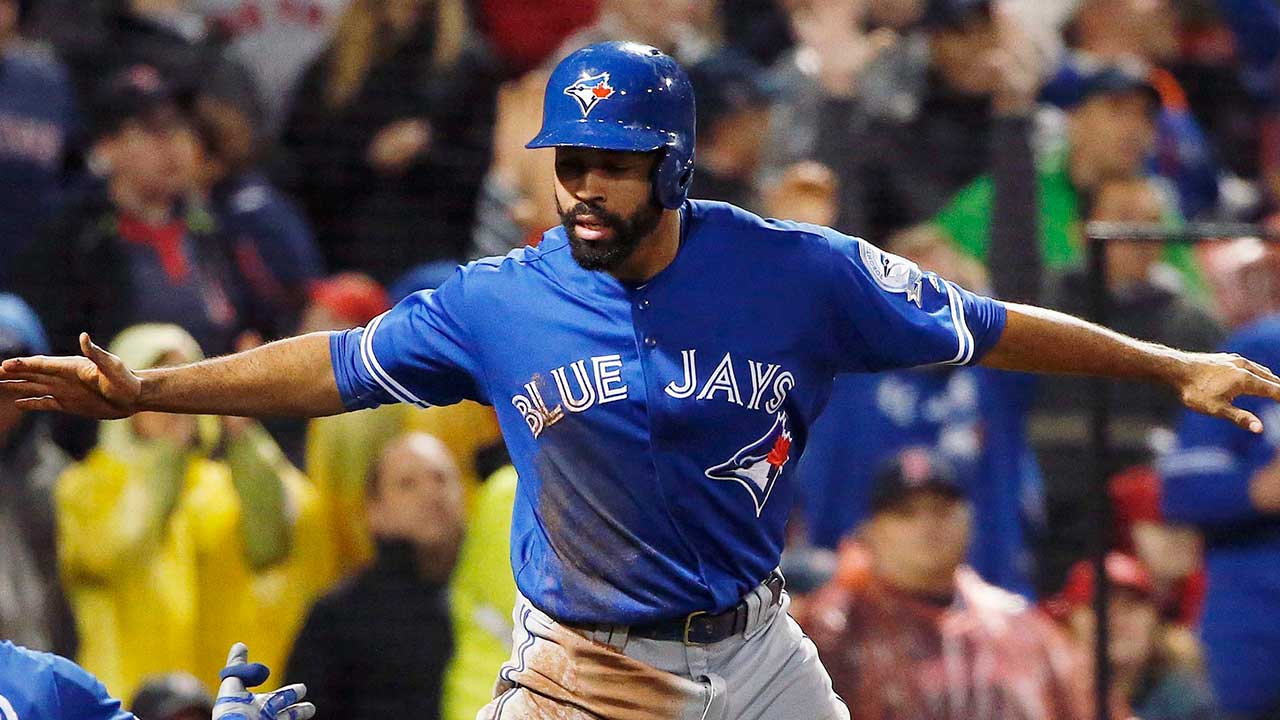 Now 25, Pompey enters 2018 trying to start over. He still has all the tools that made him a top prospect not so long ago — the speed, the athleticism, the gap power from both sides of the plate. It's his final season with a minor-league option, meaning the Blue Jays will need to figure out just what they have in him at some point this year or risk losing him for nothing when his option's up.
He's pretty far removed from 2015, when he started the season as Toronto's everyday centre-fielder. But Pompey's still on the 40-man roster, and still being given a chance to compete for a job this spring by a front office that didn't draft him. So, he's encouraged.
"I missed the whole year and I'm still here. So, obviously they still value me in some sort of way," he says. "The only goal I have this year is just to try to stay as healthy as possible. Because if I'm not healthy, then I can't help myself and I can't help the team. So, that's my main goal this year. That's going to be my focus.
"Just kind of hit the reset button, leave 2017 in 2017, and just move forward — that's it."
The knee injury cleared up in October. The concussion appears behind him, too. But head injuries can be misleading.
Pompey saw Morneau recently at Baseball Canada's annual awards banquet in Toronto. Even now that Pompey's past the concussion, Morneau warned him his symptoms may reoccur, and that he has to be alert for troublesome signs going forward.
"He's always there as a support system," Pompey says. "He said if I feel anything, I should say something. Because I've still got to live the rest of my life."