TORONTO – The text popped up on Daniel Hudson's phone as he was leaving the ballpark Monday, after the Toronto Blue Jays' 11-4 win over the Kansas City Royals. "Did you hear about Skaggs?" wrote Barry Enright, a friend and former teammate on the Arizona Diamondbacks.
Oh no, thought Hudson, is Tyler Skaggs, the personable kid he got to know during two seasons in the desert and reconnected with again in camp this year with the Los Angeles Angels, injured again? The lefty's elbow had been barking in the spring but he'd gotten through it.
"Barry replied, 'No,' and he sent me a link and I just couldn't believe it," Hudson said of learning that Skaggs had been found dead in his hotel room at age 27. "Just complete shock.
"Everything you read about him is 100 per cent true, he was just a really, really, really good guy. The world was a better place with him in it. It really sucks."
As a small tribute to his late former teammate, Hudson took the mound Wednesday with "Skaggsy" inscribed across the bottom-right corner on the front side of his cap. He stranded a pair of inherited runners in the seventh inning before tearing through a clean eighth, helping secure a 6-3 Blue Jays victory over the Boston Red Sox, feeling like he was "able to take (Skaggs) out there with me tonight and moving forward."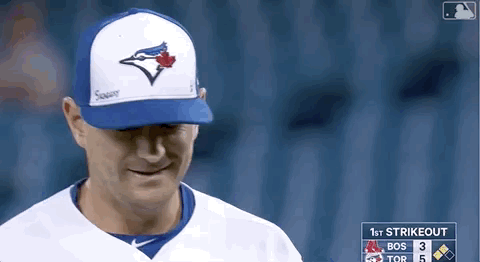 "Hopefully his close family and friends know that he touched my life in the same way he touched everybody's life. I want people to know," Hudson said of the cap. "He was just a positive influence on everybody he came in contact with. I don't think anybody can say one bad thing about him. He really was a really good guy."
On the left side of Hudson's cap was another inscription, LA49, a gesture of support for Leighton Accardo, the daughter of former Blue Jays reliever Jeremy Accardo, who was recently diagnosed with stomach cancer. She wears No. 49 on her all-girls baseball team in Arizona.
Skaggs' death is the latest tragedy to befall the Angels. In April 2009, starter Nick Adenhart was killed in a car crash caused by a drunk driver while last December Luis Valbuena, along with Jose Castillo, died in a car crash in Venezuela caused by bandits.
At camp this spring with the Angels, there were jerseys in remembrance of Adenhart and Valbuena hanging in the clubhouse.
"It's terrible that they'll put another one up next spring there," said Hudson. "Obviously I didn't know Nick but it's just a weird thing, a really bad coincidence that it's happened to that organization three times. People by all accounts loved all three guys.
"It's just not fair sometimes."