DUNEDIN, Fla. – Steve Delabar had no idea what his manager could have wanted when pitching coach Pete Walker came up to him early Thursday morning and told him John Gibbons needed to speak to him. Delabar thought kiddingly to himself "all right, I've been pitching well. I don't know what this could be unless it's like 'hey, you're going to be a starter.'"
Instead, it was a ticket to Buffalo. Delabar was floored to learn he had been optioned out.
The big righty admitted that he was 'really not happy right now,' but his demeanour showed a lot more than that. He appeared to be furious.
"I thought I was going to be a big part of this 'pen to start," Delabar told the media assemblage. "It's a shock to me this morning being as I was supposed to throw again today after throwing yesterday, preparing myself for the season and being a big part of this bullpen. But obviously I'm not going to be there to start."
---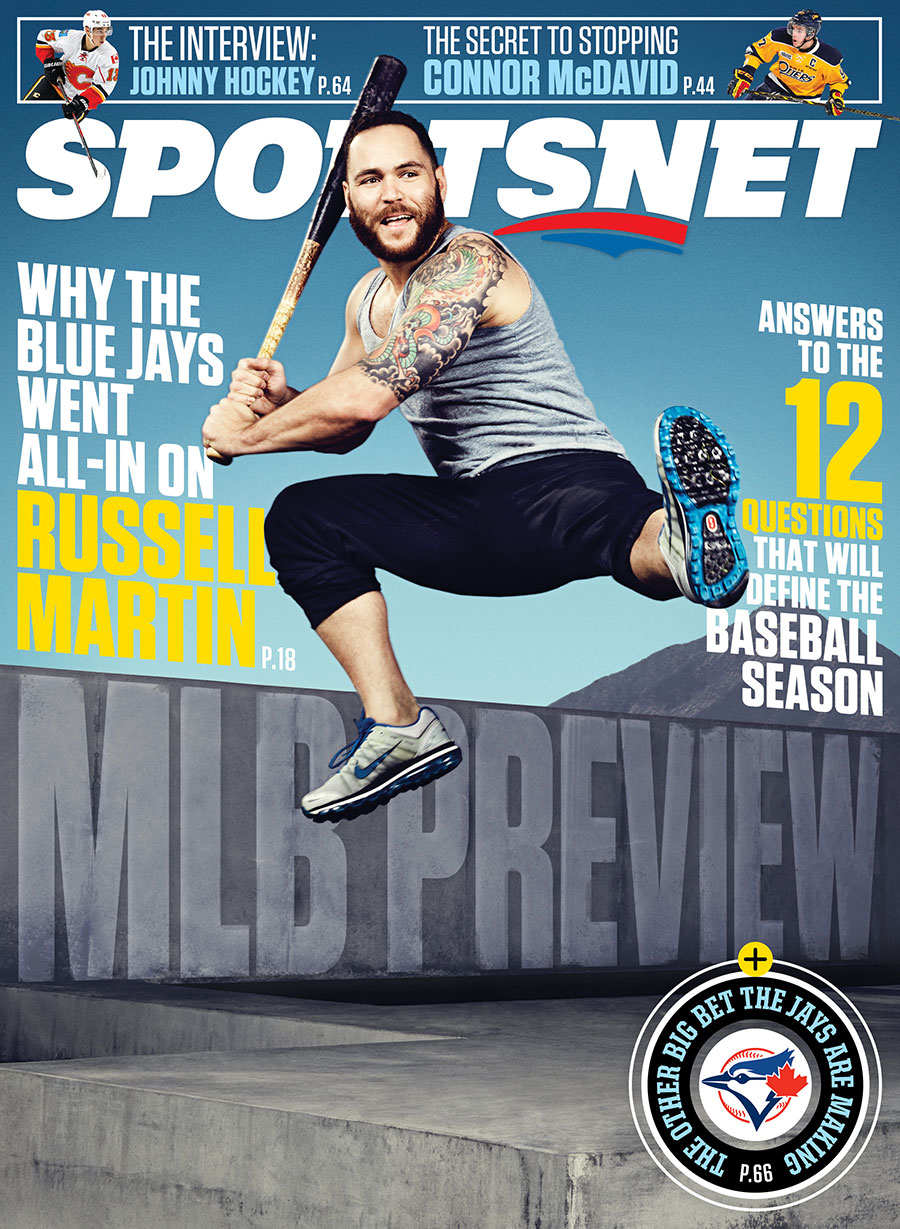 Sportsnet Magazine's MLB Preview:
Why the Blue Jays went all in with Russell Martin, and answers to the 12 questions that will define the baseball season. Download it right now on your iOS or Android device, free to Sportsnet ONE subscribers.
---
Delabar gave up a long home run to Delmon Young on his first pitch in Wednesday afternoon's win over the Baltimore Orioles, the second he'd allowed in an otherwise fine spring, numbers-wise. In seven Grapefruit League innings, Delabar had allowed three runs (all earned) on seven hits with one walk and nine strikeouts.
That stat line isn't bad at all, but the manager pointed out that there were others who have been better.
"We were looking at him (as a) late (inning reliever)," said Gibbons, "but we have some other guys we think are ahead of him right now in that role."
He was referring, of course, to young stud Miguel Castro, who has left jaws dropping and drool stains on the faces of the coaching staff all month long, and perhaps also to his fellow 20 year-old, Roberto Osuna.
"They told me that some other guys have stepped up and I'm assuming it's some of the younger guys," said Delabar, and though they most certainly have, that didn't make things any easier on him especially after his off-season of preparation. "I went home (after last season) and re-assessed and got myself ready to come in and be here and help the team. Obviously it wasn't enough."
Delabar feels as though he's back to the form that earned him that all-star nod two years ago. "All my pitches are there," he said. "I think the only pitch I'm trying to fine-tune right now is my slider. I think my fastball is where it needs to be, location-wise, down in the zone. Got the good velo, and the split's there. I guess I needed a little bit more."
The word from others around the team wasn't as glowing. Delabar was getting outs in Grapefruit League games, but his stuff wasn't consistently as good as they would have liked it to be. The fastball command wasn't always there, there had been only brief glimpses of the devastating, fall-off-a-cliff splitter that had led to so much of his early-career success, and giving up two home runs in his last three outings didn't help, either.
Delabar was asked if he'd been told there was anything he needed to work on. "No," was the quick answer. "Just go down and do what I do and when it becomes available and a move has to be made, if I'm in the position to be there then that'll happen."
He was also asked if he was angry enough to ask for a trade or for his release, so that he could start fresh somewhere else. "I haven't thought of that," Delabar replied, and he seemed to be taken off-guard by the question. "It could be considered, but I'm not saying that that's what I'm asking for or anything like that. But if that was to happen… I feel like I'm a major-league player and I can help a bullpen. I thought I would be in this bullpen helping this major-league team."'
Still, Delabar is going to go down to triple-A Buffalo and work to get back to Toronto. "My job is to get my body ready and compete," he said. "I can't let emotions take over and be angry. I still gotta stay composed and do what I do. The game is played, but the business side of it, that's part of that game, it's totally different. Once you get out there and play the game, that's that, but this side sucks."
His manager agrees with him on that point. "It's real tough," said the skipper. "It is a business, but there's more to it than that, you're talking about a guy's career. It's never easy, nobody gets enjoyment out of that, but our job is to put the best team together at the time that we think is going to help us win the most games, and that's just what it came down to."
And Gibbons doesn't begrudge Delabar his reaction one bit, saying "I'm glad he's pissed off, he should be pissed off, why wouldn't he be? We're all pissed off. We want him on the team, it's just not the way we're putting the team together right now. That could change. That's the business side of it."
That said, this has nothing to do with the fact that Delabar has options remaining, said Gibbons. "Really what it came down to is the role. We need a multiple-inning guy, he's basically right now a one-inning pitcher. That's what it came down to."
Delabar was never going to be more than a one-inning pitcher, that's all the Blue Jays have ever asked of him and that was what he was when he was an all-star. The inference is that Castro had passed him for the late-inning set-up role, and that the remaining spots in the bullpen would be used for pitchers like Todd Redmond and Marco Estrada, and maybe even Osuna, who can provide long-relief support for starters Aaron Sanchez and Daniel Norris, who are a combined 43 years old and have one major-league start between them.
It's a good argument, but hard to avoid the thought that if Delabar, like Redmond, was out of options, he might still be here. That said, the best thing is for him to go down to Buffalo, get that splitter back to its once-devastating form, come back to the big leagues and once again be a huge part of the Blue Jays' bullpen.