Baseball is constantly evolving, and among its most noticeable changes in recent years is the rise of the shift.
Other developments, like the increase in strikeouts or decrease in sacrifice bunting, are less visceral than seeing three men positioned where you expect two.
The strategy has critics such as New York Yankees manager Joe Girardi, but its usage continues skyrocketing.
| Year | Shifts on Balls in Play | Percentage of Balls in Play Shifted |
| --- | --- | --- |
| 2011 | 3,065 | 2.4% |
| 2012 | 6,176 | 4.9% |
| 2013 | 8,545 | 6.7% |
| 2014 | 14,972 | 11.8% |
| 2015 | 24,446 | 19.4% |
| 2016 | 7,536 | 29.4% |
In previous years the tactic was applied almost exclusively to left-handed batters, but it has become more of an equal-opportunity weapon. Now some of the Toronto Blue Jays' right-handed sluggers could be affected.
Jose Bautista and Edwin Encarnacion are the obvious potential victims of the ascending shift. That said, both have a track record as extreme fly ball hitters, have faced it a fair amount before and consistently post low BABIPs while remaining productive. More concerning for the Blue Jays is what could happen to Josh Donaldson.
For years, Donaldson earned reputation for hitting the ball all over the park, giving opposing teams no choice but to play him straight away. In his time with the Blue Jays, the third baseman has gotten progressively more pull-heavy, a development likely related to his surging power numbers.
| Time Period | Pull Percentage | Slugging |
| --- | --- | --- |
| Career Prior to 2015 | 39.9% | .458 |
| First Half 2015 | 35.6% | .532 |
| Second Half 2015 | 52.6% | .615 |
| 2016 | 51.9% | .562 |
Pulling the ball is generally a good policy for power hitters, but the price of that approach has never been higher because of all the shifts. Prior to 2016 Donaldson wasn't seen as much of a shift candidate. This season that's changed.
| Time Period | Shifts Faced on Balls in Play | Percentage of BIP shifted |
| --- | --- | --- |
| Career Prior to 2016 | 156 | 9.8% |
| 2016 | 27 | 28.4% |
As long as he pulls the ball this frequently, he's likely to see three defenders on the left side of the infield consistently.
If anything, the league is too conservative in their shifting on Donaldson at the moment. He shouldn't see shifts at a below-average rate when his ground ball spray chart this season looks like this: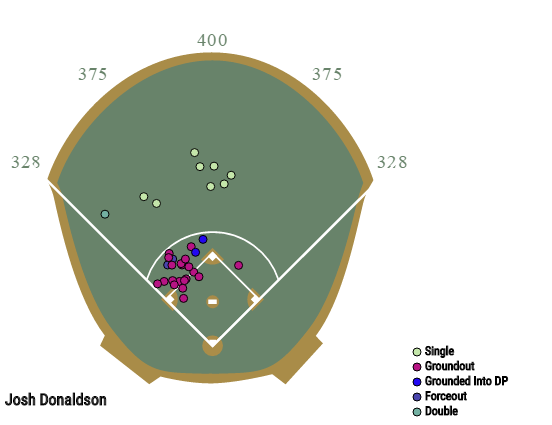 Of his 33 ground balls, only one would theoretically beat a shift. With this information in hand, it's likely opposing teams use fewer traditional looks against Donaldson in the months to come.
It's less clear how he'll respond.  So far his BABIP with the shift on is 28 points lower (.296) than without (.324), but the sample is far too small to mean anything concrete.
The 30-year-old has shown the ability to spray the ball consistently in the past. Perhaps if the league attacks him with increased shifting he'll counter with a more balanced approach.
Alternatively, Donaldson's current tendency to pull the ball may be a committed effort to hit for more power. The results so far would certainly justify a decision to stick to his guns.
Unfortunately for Donaldson, baseball is evolving to punish pull hitters just as he's becoming one. Opposing managers have gained a weapon to slow him down, but it's not nearly strong enough to stop him.
No matter what defence he faces, Donaldson always going to make his money hitting the ball over the wall, not through the infield. You don't stop a reigning MVP by taking away his ground-ball singles.