DUNEDIN, Fla. – Generally speaking, Drew Storen believes there's room for improvement in the design of baseball cleats. Too often the Toronto Blue Jays reliever finds the shoes dull, in desperate need of some colour. He's given Mizuno some thoughts, and the equipment-maker has taken his input and applied it to the kicks it produces. This season he's stepping it up a notch with custom shoes that will feature a personalized logo he designed on the back. "It's fun," he says of the design process. "It gives me a little mental stimulation."
Storen's interest in shoe design is no mere whim. The 28-year-old right-hander was drafted 10th overall by Washington in 2009 out of Stanford University, where he studied mechanical engineering with a focus on art design, his area of passion. While closing out games for the Cardinal he sported a loud pair of cleats he designed for a class assignment. Down the road, he envisions a post-baseball career in equipment design. "That's something I've always wanted to do," he says. "Frankly, a lot of the guys designing cleats don't have the experience baseball-wise, so I think I can add a little extra to that."
At the moment, of course, the priority for Storen is to add a little extra to a Blue Jays bullpen he was acquired in January to bolster. Though nothing is carved in stone, there's a good chance he'll end up the closer, teaming with Roberto Osuna, Brett Cecil and Aaron Sanchez, if he's not in the starting rotation, in what has the potential to be a lockdown relief corps. While Osuna arrived in the spring as the incumbent in the role, the Blue Jays like his ability to on occasion deliver more than three outs, while Storen is seen as more of a one-inning guy.
He's been a closer in the past, collecting 43 saves in 2011 and 29 more last year before the Nationals made the ill-fated trade for Jonathan Papelbon, a move that pushed Storen into a set-up role. As his workload changed, his performance ebbed, the frustration building to the point he broke his thumb slamming his locker shut during one particularly trying phase. That's how both his season, and his time in Washington, came to an end. Being traded to the Blue Jays offered him a chance to reset.
"I've learned to use every piece of adversity I've ever had, and that's what makes you better," says Storen. "When things are going well in this game, it's not that it's easy, but you don't really have to think. When you're struggling, that's when you're tested."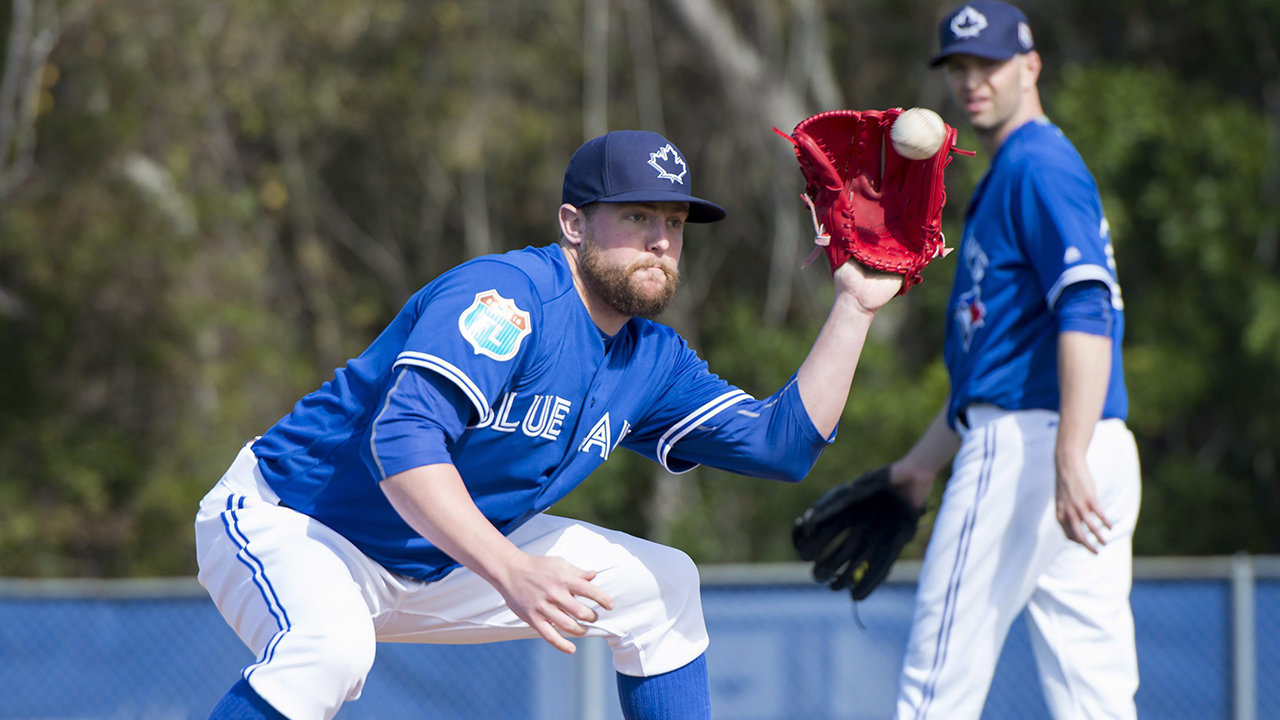 Drew Storen takes part in fielding drills last week. (Frank Gunn/CP)
There have already been several tests over the course of his career, prompting him to evolve a fair bit from the max-effort adrenaline junky that starred at Stanford. After an accomplished prep career at Brownsburg High School in Indiana – where Lance Lynn of the St. Louis Cardinals was a teammate – Storen joined the Cardinal where the coaching staff felt his mental makeup was perfect for a closer. "That first game I went in to close, it just clicked," he remembers. "Like this adrenaline, this is what I'm supposed to do. When I got drafted, I was willing to start if teams wanted me to, but I was hoping a team would tell me to stay in the bullpen. It's a little different. Usually a bullpen consists of failed starters. But I've never had that dream of being a starter. I'm a bullpen guy through and through."
Still, there's been change in his game over that time, much of it coming from his navel-gazing while recovering from elbow surgery in 2012. Some changes to his approach followed, ones he believes were crucial. "I used to be more amped up, a bar-fighter kind of guy," Storen explains. "The more I've done it, the more I've realized that in order to be successful consistently, you have to be more of a boxing type, even-keeled, not riding that emotional roller-coaster. I got into trouble when I first got up here, in one-run games, I was great, but if I was coming in to just get work in, that's when I struggled. I needed that pressure."
Teammates Matt Capps, Tyler Clippard and Craig Stammen all helped him adapt his approach. Simple as it sounds, they emphasized to Storen that he needed to find ways to view every outing the same way no matter the score, and to stay consistent in demeanour no matter how he performed the previous night.
"Obviously you still have adrenaline, but it's not all pedal to the medal, trying to out-stuff guys," says Storen. "I've learned to pitch a little bit more. And I'm not surprising guys any more – they've seen me. That's when I learned my changeup, and I command a little bit more. Throwing really hard and out-stuffing guys is nice, but I want to be consistent and avoid those crooked number days."
Storen is still equipped to out-stuff guys, with a fastball that averaged 94 mph last season to go with his sharp slider and changeup. Manager John Gibbons described that as the classic repertoire for a late-inning reliever, saying "he simplifies, but really it comes down to he has overpowering stuff."
A lights out season will have wider ramifications with Storen – due $8.375 million this year plus incentives based on games finished – a free agent at season's end. Aroldis Chapman, Kenley Jansen and Mark Melancon are also due to hit the open market next fall, meaning teams looking for a closer next winter will have many options. A strong impression could create some separation within the class.
A different sort of class awaits Storen when his pitching days are over. Even though he once ordered a payphone frame for the bullpen phone from eBay, and helped Nationals relievers gain better sightlines with elevated seats, he's still a few classes short of his degree from Stanford. He tried to complete it during the off-season a few years back, but didn't have enough time. "I pretty much have the base of my major done, but it's product design so I've got to be there," he says. "I was able to miss a couple of weeks of school, but I've got to be there to do lab stuff, which is more of the fun stuff. At this point I'm going to be the weird old guy in class, anyway, so I might as well wait until I'm done. That's the cool thing about Stanford, so many people have different stories and different ways of getting there, I can fit back in no problem. I look forward to doing it."
And perhaps some more cleat design, as well.