BALTIMORE, MD. — Drew Storen loaded the bases with one out in the eighth inning Sunday. He'd gotten a fly ball from the first batter he faced; but then a soft single, a hard double, and an intentional walk of the world-destroying Chris Davis had left the Blue Jays reliever in a bit of a jam. Matt Wieters was coming to the plate. He only had four hits on the day already.
But Storen knew right away what he was going to throw. It would be his new primary pitch, a two-seamer, which he spotted down and away, getting Wieters to chase it and hit a weak infield pop-up. Two down.
Then Storen and his catcher, Russell Martin, attacked Jonathan Schoop with a nasty sequence, starting with a slider for a strike, followed by another slider Schoop barely held his bat back on. The third pitch was that two-seamer again, which Schoop whiffed at to bring the count to 1-2. Watch the video closely and you'll see Schoop nodding his head after his swing, acknowledging he got beat.
Then, Storen threw a change-up downstairs, hoping to get Schoop to chase. It was a well-executed pitch, but Storen didn't get the result he was looking for, as Schoop began to cock his bat but ultimately let the pitch go. Storen gathered himself, took a deep breath, and then, with the fifth pitch of the at-bat, spotted a mean little slider, which started in the zone before spinning down and out as Schoop dropped to a knee to try to get to it. Schoop's bat waved above the pitch for strike three; he was so fooled he had to take his right hand off the bat and plant it in the dirt to stop himself from falling over in his follow through.
In escaping that jam, Storen looked as lethal and composed as he has at any point this year. It was the sixth consecutive clean inning he's pitched, a stretch in which he's allowed just three hits, two of them Sunday. His ERA, which sat at an unseemly 10.12 after 10 woeful April appearances, is now down to 5.33 as the 28-year-old has settled in to a nice groove following a very rocky start to the season.
"He's actually done a really nice job as of late. He's starting to feel pretty good," says Blue Jays pitching coach Pete Walker. "The confidence level is definitely higher. And his stuff looks good."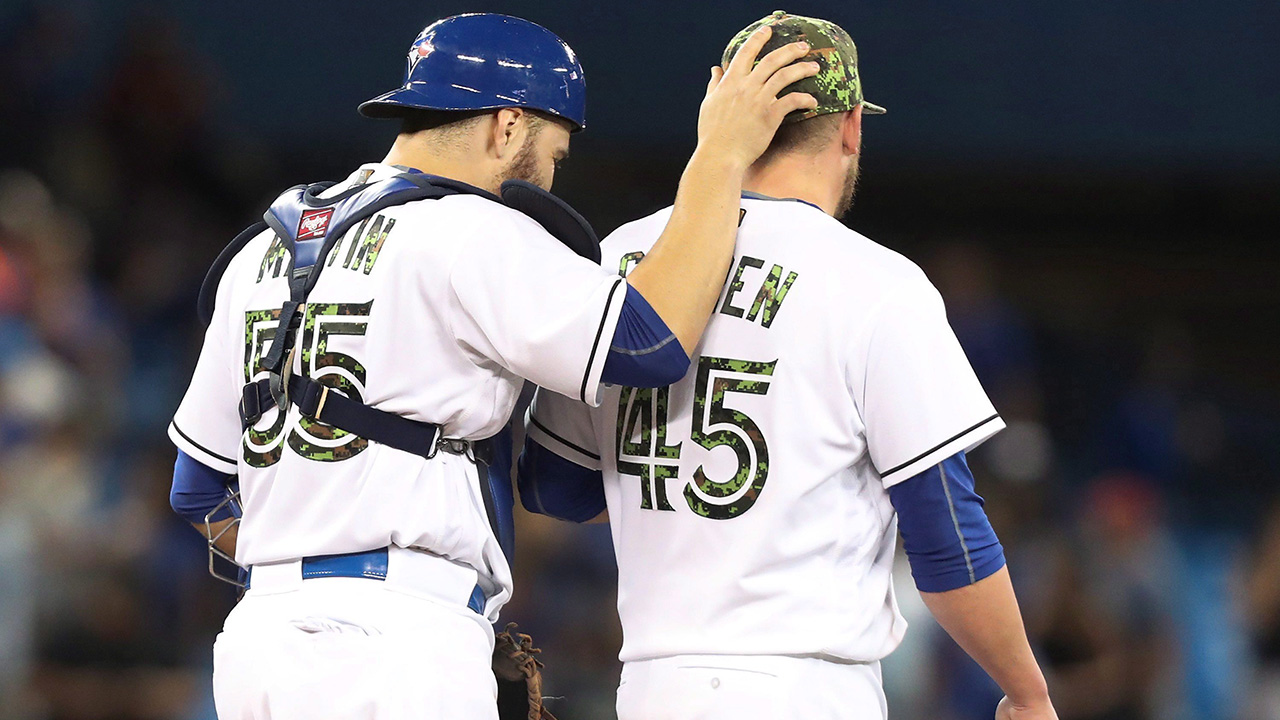 Blue Jays catcher Russell Martin embraces Drew Storen during a game last month.(Fred Thornhill/CP)

Quietly, the Blue Jays have been helping Storen reinvent himself. Instead of relying on the four-seam fastball he threw 37 per cent of the time last season, Storen now leans on a two-seamer as his primary pitch. Not only does the additional movement on the sinker compensate for his drop in velocity this year (he's lost two miles per hour off his four-seam fastball), it also helps Storen keep the ball down in the zone.
From there, the 28-year-old has begun to use his change-up more often working off the two-seamer, focusing on throwing the two pitches from the same lane and disguising them with the same arm action. Both pitches have similar movement, but the hope is the seven mile-per-hour difference between them will help Storen miss more bats, or at least induce more weak contact. And, in an indirect way, using the change-up more often has helped Storen's slider as well.
"The change-up makes my slider a lot more effective, because you don't have guys hunting for the slider as much," Storen says. "Some guys were saying, 'OK, if I see spin, it's this. And if I see heat, it's this. Slider or fastball, one of the two.' But now the change-up comes in and there's more guessing involved for the hitter."
Sunday's appearance against the Orioles is a perfect example. Storen threw seven sinkers, six change-ups, five sliders and just one four-seam fastball. It was the fifth outing in a row that he threw only one four-seamer or none at all; last season he did that just three times in 58 appearances.
Meanwhile, Storen using a change-up as his go-to secondary offering is something that has rarely happened in his entire career. He went through a number of multi-outing stretches with the Washington Nationals last season when he didn't throw a change-up at all.
That fact was surprising to Walker, who says Storen's change-up stood out to him as an underrated offering when he was watching video this spring of the reliever pitching for the Nationals. Before Storen's recent run of success began, Walker talked to Storen about trying to work the pitch in more often.
"It's an effective pitch. Right now we're really concentrating on pitching off of it a bit more," Walker said. "And by doing that, maybe it takes some pressure off the fastball location. And maybe he doesn't have to be so perfect with his heater. The idea is to keep hitters off balance. And I think so far it's been effective."
Of course, Storen's had to swallow a series of tough pills in this process, accepting that he doesn't have the velocity he once had right now, and changing the approach that allowed him to have so much success earlier in his career.
He's also been removed from high-leverage situations, a role he thrived in with Washington. Over the last five weeks, Storen has generally entered ballgames when the Blue Jays are ahead by more than three runs or down by more than three. He could earn his way back to seeing bigger spots more consistently; but the Blue Jays coaching staff want to see him demonstrate that he's made his adjustments first.
"It's that fine line of not being stubborn but also not chasing your tail either. You've just got to trust in what you're doing," Storen says. "When I go out and I execute and I do what I'm supposed to do, it's going to work out. That has to be the mindset. As a bullpen guy, this game can be a roller coaster ride. I know it's a cliché, but all those clichés are there for a reason."