TORONTO — You can make an argument that since he became a Toronto Blue Jay at the beginning of the 2015 season, no pitcher has been more important to the franchise than Marco Estrada. He's thrown the most innings of any Blue Jays pitcher since that point. He's contributed the most wins above replacement. He's made six post-season starts, owning a 2.16 ERA across Toronto's back-to-back October runs to the ALCS.
The club simply wouldn't have experienced the success that it has over the last two years—and probably wouldn't have raised two playoff banners in centre field—if not for the soft-tossing, contact-suppressing, ever-unassuming right-hander.
So, if Estrada's owed one thing during the troublesome three-game stretch he's suffering through this June, it's a little patience. And a little rope to figure out what's ailing him, particularly after Tuesday's nightmare outing which saw Estrada set a new career-high in hits allowed with 12 during an 8-1 loss to the Tampa Bay Rays.
"It sucks. I know I've been in a bit of a funk the last few outings," said Estrada, who has now allowed 28 hits and 17 earned runs over his last three starts. "I haven't had my best stuff out there. But today I felt better. Things didn't go so well. But I'm going to forget about this and I'm going to keep making pitches and I know it's going to change for me. I've just got to keep staying positive."
Estrada held the Rays off the board through two innings, limiting Tampa to only soft-contact singles. But the leadoff home run Taylor Featherston hit off Estrada in the third—jumping all over a full-count fastball—was no cheapie, sailing 403-feet over the right-centre-field wall to give the Rays their first run. And neither was the long ball hit later in the inning—a three-run, 429-foot rocket off the bat of Logan Morrison, which put the Rays up four.
"I thought I made some good pitches. Not a lot of balls were hit hard, until guys were on (base) and then the big swings brought everybody in," Estrada said. "I felt pretty good out there. It's just unfortunate things went down this way."
Steven Souza Jr. followed Morrison's bomb with a well-struck single to left field, Tampa's eighth hit of the night in their 13th plate appearance, which brought pitching coach Pete Walker out of the dugout and got reliever Dominic Leone up and throwing in the left-field bullpen.
The next pitch Estrada threw was hammered into the right-field corner by Colby Rasmus, putting two runners in scoring position with one out. But Troy Tulowitzki made an alert play on an infield-in ground ball to nab Souza Jr. dashing for home, before a Norris fly ball to deep centre field got Estrada to the dugout.
He came back out for the fourth and got a quick ground ball out as he fought to force his start back on the rails. But back-to-back one-out singles pushed the Rays' hit count to a dozen and ended Estrada's night. Leone took over and watched his first pitch—an 87-m.p.h. cutter to Evan Longoria—get walloped into the left-field corner, plating both runners Estrada left on and pushing his earned runs allowed to a half dozen.
"It was a tough night for him," said Blue Jays manager John Gibbons. "Really, Marco's a pinpoint control guy for the most part. And I think that's off for him right now."
Estrada simply lived up and on the plate far too often to be successful Tuesday, especially with his change-up, which he generally needs to bury down in the zone to be effective. It's his best swing-and-miss pitch, but Estrada earned only eight swinging strikes Tuesday, his lowest total in 14 starts this season.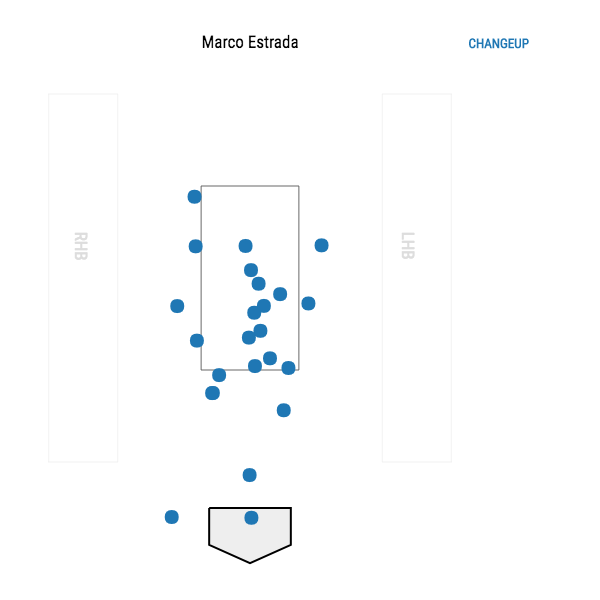 (Source: Baseball Savant)
The Rays in particular appear to have something on Estrada, as he's now allowed 25 hits and 16 earned runs over 14.1 innings pitched in his three starts versus Tampa this year. If you stretch back to last season, Estrada has an 8.19 ERA over his last six starts against the Rays, allowing 43 hits and 27 earned runs over 29.2 innings.
"I don't know, to be honest you," Estrada said when asked if he has any idea why the Rays have been seeing him so well. "It doesn't make any sense. I'm making good pitches and they're all over everything."
Meanwhile, the Blue Jays had all kinds of trouble with Rays starter Jacob Faria, the 23-year-old right-hander making only his second major-league appearance. Faria attacked the strike zone with a barrage of 92-m.p.h. fastballs and 84-m.p.h. sliders, dropping in the odd 81-m.p.h. change-up and 75-m.p.h. curveball just to remind Toronto hitters he had them.
"First time we've seen him. I thought he did a nice job," Gibbons said. "He threw everything over the plate. It looked like he had a little deception. A nice little breaking ball he'd throw over and move the ball around. I thought he did a great job. He really did."
Faria scattered three hits over his first five innings before beginning his third trip through Toronto's order to lead off the sixth. The Blue Jays appeared to have picked some things up from earlier as Josh Donaldson roped a hard, one-out single into left-centre field ahead of Jose Bautista, who worked a six-pitch walk.
But the opportunity was lost as Kendrys Morales struck out chasing a fastball above the zone before Justin Smoak got into a change-up and watched it fall into Rasmus' glove right in front of the 375-foot marker on the left-centre-field wall.
The Blue Jays finally got to Faria in the seventh, as Martin snapped an 0-for-17 slump with a loud double off the left-centre-field wall before Ezequiel Carrera clapped a single up the middle to plate Toronto's first run. That was the end for Faria as he gave way to reliever Austin Pruitt, who got his team out of the inning without any further damage.
Toronto loaded the bases off of Pruitt with two out in the eighth, but Martin grounded a 1-1 slider to second base, ending any prospect of a rally.
Of course, a comeback from a seven-run deficit was unlikely, and the biggest takeaway from this night for the Blue Jays is Estrada's continued struggles. He's now allowed 28 hits and 17 earned runs over his last three outings, and hasn't completed six innings since a start May 27 versus Texas. After beginning the season with a 2.43 ERA over his first six starts, Estrada's put up a 6.30 ERA over his next eight.
The 33-year-old starter says he's confident he'll come around, and considering what he's done in this city over the last two seasons, he certainly deserves that same confidence from the fan base as well. He knows he has it from his manager, his teammates, his organization. Now, he just has to endure the four-game wait before he can take a mound and make it happen.
"You know what? He'll be out there every fifth day, I know that. He'll work it out," Gibbons said. "It's tough to dominate somebody night after night after night. It's too tough a game at this level. But he'll iron some things out."