TORONTO – The release of the 2016 baseball schedule filled Kevin Pillar with anticipation. The Toronto Blue Jays centre-fielder knew the American League West was up in the interleague rotation and figured since the Los Angeles Dodgers came north in 2013, their meeting this time would be out west. With the iconic Vin Scully, the baseball soundtrack from his childhood, entering his final season the timing was perfect. But the schedule had the Dodgers visiting Toronto again, meaning the beloved Hall of Fame broadcaster wouldn't be calling the series.
"That's going to be my biggest regret in this game, that I never got the opportunity to have him announce my name," says Pillar. "I just wanted that opportunity one time, record the three-game series and listen to my at-bats. Being a kid from the Valley, I've heard him talk about other kids that are from that area, tell their stories.
"That was a huge disappointment for me."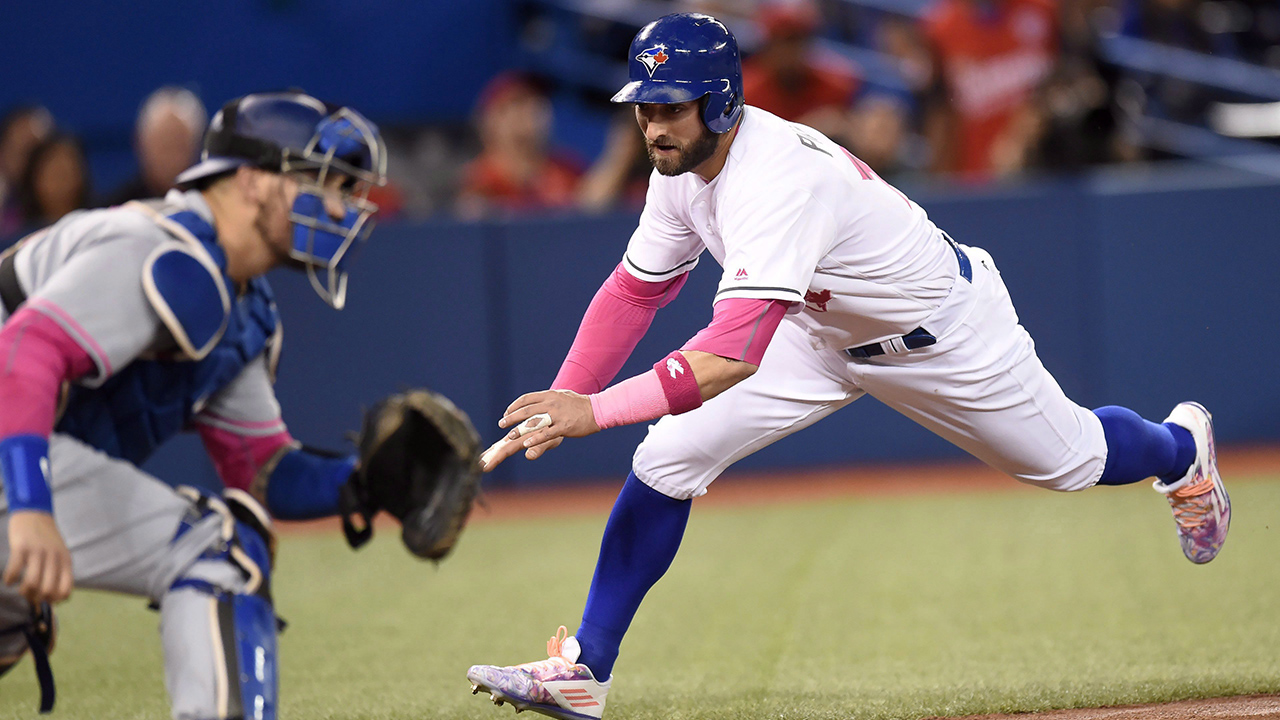 Kevin Pillar pictured when the Dodgers visited Toronto in May. (Frank Gunn/CP)
Still, Pillar counts himself luckier than most given that he was able to grow up listening to Scully, who is broadcasting his final game from Dodger Stadium on Sunday when Los Angeles hosts the Colorado Rockies. The 89-year-old closes out his unrivalled 67-year broadcasting career next weekend when the Dodgers finish the regular season with three games at San Francisco, a looming loss already being felt across the sport.
"He made baseball for a young kid like listening to a story," says Pillar, a native of West Hills, Calif. "I don't know how he does it, his research team is unbelievable, they find Little League stories and childhood stories. He knew the perfect balance of talking a lot about the player and the game and at the same time he knew when it was time to be quiet and let baseball speak for itself.
"That's what made him so special."
Blue Jays teammate Marco Estrada, from the Los Angeles suburb of Sylmar, feels the same way. From the age of eight onwards, he'd set the sleep function on the TV in his room for the end of Dodgers games and let Scully "kind of put me to bed."
"Just listening to his voice was calming, soothing, something I was very familiar with and he ended up putting me to bed a lot of times," says Estrada. "He was incredible, there will never be another voice like his, he's been a tremendous part of this game and I'm going to miss him."
Unlike Pillar, Estrada did manage have Scully announce his name during a game while the right-hander was with the Milwaukee Brewers.
"I remember telling my family to make sure they record it because I needed to hear Vin Scully say my name one time," says Estrada. "I do have it recorded and as long as I don't lose that cable box, I should be OK."

In this 2011 photo, Marco Estrada, then a member of the Brewers, delivers a pitch to Matt Kemp of the Dodgers. (Morry Gash/AP)
Pillar, at least, can take solace in meeting Scully once, back in 2011. Scully hired Pillar's father to install some new hardwood flooring in his house and, while home during the summer ahead of his junior season at California State University Dominguez Hills, decided to tag along.
"I didn't expect him to be there," says Pillar. "He came out of the back bedroom, introduced himself, we talked for about five minutes, he wished me good luck and it was incredible. That was the voice I grew up on.
"My dad would tell me stories about when he used to listen to Vin when he was a kid, my uncle, the same thing. He was definitely the voice in my house. Me, my dad and my brother would sit around and eat dinner with the Dodgers game on, or we'd be playing football or basketball in the back with the outside TV on and we could hear him."
The Dodgers paid tribute to Scully in a pre-game ceremony Friday that drew players from both the Dodgers and Rockies into the dugouts to watch. Fits of nostalgia are being triggered by the approach of his final game, underlining the generational connections he's fostered.
"One of the great residuals of the job, and I hear this a lot because of all the years that have flown by, people will say to me, you know, when I hear your voice, I think of backyard barbecues with my mom and dad, or painting the garage with my father and your radio on listening to the ballgame," Scully says during a conference call. "It's nice to be a bridge. It really is from one generation to another. …
"I've loved it, and I loved the connection with people and to hear about it, too."
Pillar doesn't have one specific game that sticks out in particular, but he's particularly fond of Scully's call on Kirk Gibson's walkoff homer in Game 1 of the 1988 World Series, which happened three months before he was born. Scully accentuated the moment with this: "In a year that has been so improbable, the impossible has happened."
"For people in L.A., that's one of the greatest moments in team history," says Pillar. "Being a baseball player now, and growing up a fan, listening to him make that call and the whole narrative of Kirk Gibson's injury and limping to the plate, talking about Dennis Eckersley and how good he was, that's what made him so special. I grew up spoiled with Vin Scully and Chick Hearn (the longtime Los Angeles Lakers broadcaster) in my childhood."
Estrada most remembers Scully's stories, with details so vivid he'd sometimes lose focus on the game. He marvels how much research he put into his broadcasts. But it's the comfort of going to bed with Scully on that most endures for him.
"I still do it, by the way," says Estrada. "Any time our games are over and I get home and there's a Dodgers game and Vin's talking, I have to have it on. My wife knows. I know he's done it forever, but me being greedy, I want him to do it for the rest of my life."
So do many others but Scully made it clear that once he calls the season finale in San Francisco, he won't return to the broadcast booth, not for playoffs, not for anything.
"I didn't want to say goodbye like they do in grand opera, and they say goodbye 25 times in 15 minutes," says Scully. "I'll be saying goodbye to the people here at Dodger Stadium. I'll be saying goodbye to baseball in general when I leave in San Francisco, and I couldn't possibly think and then I'm going to say goodbye from let's just say Washington or New York, doing radio in the playoffs. It just didn't work right for me. So to me, we'll tie the ribbon on the package in San Francisco, and that will be that."