CLEVELAND – Collectively, the Toronto Blue Jays are scoring more runs than they did last year thanks in large part to the production of newcomers Yangervis Solarte, Aledmys Diaz and Curtis Granderson.
As a team the Blue Jays rank slightly above-average offensively, but there's potential for more if the bottom two hitters in their batting order produce to their career norms. Batting eighth, Randal Grichuk has just three hits in 42 at-bats for a .071/.149/.167 batting line, while No. 9 hitter Devon Travis has just three hits in 38 at-bats for a .079/.146/.105 line.
Despite those slow starts, manager John Gibbons sees signs that both Grichuk and Travis are close to reversing their early slumps.
"We believe in him," Gibbons said of Grichuk. "I think he's close. He's not getting the results, but he's close. We'll let him run and I think one solid game might set him off in the right direction."
As for Travis, Gibbons offered the strongest endorsement possible.
"You can almost bank on it," he said. "I'd bet my life on it that he's going to hit."
"Come on kid," he added. "Let's go."
No pressure, right? "It's just my life."
Gibbons has bet on Travis before. He started slowly last year, hitting .130/.193/.195 in April, but Gibbons stuck with him and he broke out in May with 16 doubles and a 1.019 OPS.
The 27-year-old took a pitch off his right hand in the ninth inning of Friday's win over Cleveland, but X-rays taken after the game revealed no fracture and he returned to the lineup Saturday before the game was postponed.
"He's A-OK," Gibbons said. "That hockey mentality."
The Blue Jays will continue to rest Travis once every three days to ensure that he doesn't overexert the right knee that required surgery last June. Russell Martin happens to be on the same two-on, one-off schedule, and at some point the Blue Jays will look to stagger their rest days to ensure the lineup doesn't take too much of a hit at once.
Both Travis and Grichuk have been somewhat unlucky in the early going, as measured by quality of contact stats available at Baseball Savant. Still, Travis has been hitting far more ground balls than usual, contributing to his struggles.
As for Grichuk, the Blue Jays plan to continue playing him regularly. At-bats are open at DH with Kendrys Morales on the disabled list, and that allows the Blue Jays to mix in more outfielders than usual into the starting lineup. Even though Grichuk hasn't produced yet, Gibbons knows he can't turn his slow start around from the bench.
"That's what makes it tough," Gibbons said. "If you're not playing, it's tough to do anything. Because every now and then you need a mental break. He's done it before. It's not like he's never had any success at this level. That's when you start to worry."
Grichuk has sent his share of balls deep to centre field, part of the reason Gibbons describes him as "real close."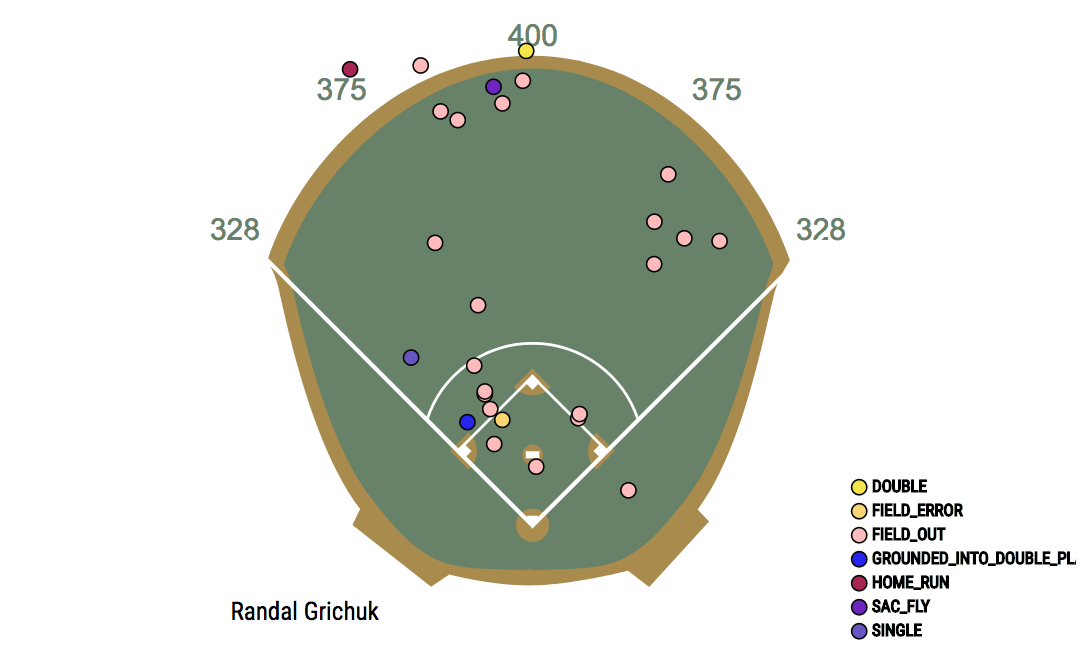 Given that he has struck out in more than 30 per cent of his career at-bats, it shouldn't be a complete surprise that Grichuk can be streaky. Eventually, it's safe to expect something closer to his career line of .243/.292/.478 along with the stellar defence he displayed in right field Friday. Still, until hard-hit balls start landing for hits, his patience will be tested.
"He's a human being and naturally he's pressing hard," Gibbons said. "These guys see that scoreboard up there and naturally they know what they're hitting."
Gibbons, a lifetime .220 hitter in the major leagues, has personal experience with batting slumps. He won't be comparing detailed notes with his right fielder any time soon, though.
"I don't want him to look up my stats."
ESTRADA ON TRACK
The Blue Jays expect Marco Estrada to make his upcoming start against the Kansas City Royals despite experiencing lower back soreness Wednesday against the Baltimore Orioles.
"He'll be fine," Gibbons said. "It's something he's dealt with before."
Estrada missed his first career All-Star Game in July 2016 when he hit the disabled list with back soreness after receiving multiple cortisone shots. Two seasons later, his back issues appear to be more manageable.