DUNEDIN, Fla. – Settling the bullpen is the last piece of spring business remaining for the Toronto Blue Jays, who named the majority of their season-opening 25-man roster Tuesday but decided they needed more time to finalize the relief corps.
Part of the reason for that is GM Alex Anthopoulos plans to sift through pitchers on the bubble with other clubs before locking in on his own group, in the hopes of finding an upgrade and/or adding depth, particularly for the rotation.
Rookie phenoms Miguel Castro and Roberto Osuna learned they'd made the team after each throwing a scoreless inning in a 10-6 win over the Philadelphia Phillies, but the final spots were still being finalized, a process that may drag into the club's warm-up games in Montreal this weekend.
"We're leaving it open-ended," Anthopoulos said earlier in the day. "Look at both (Alex) Torres and (Jerry) Blevins, who were acquired (by the New York Mets). What if we were to acquire two guys like that? That would change things. All the guys that are here have had good camps, and we just don't want to lock into anything because things can change."
---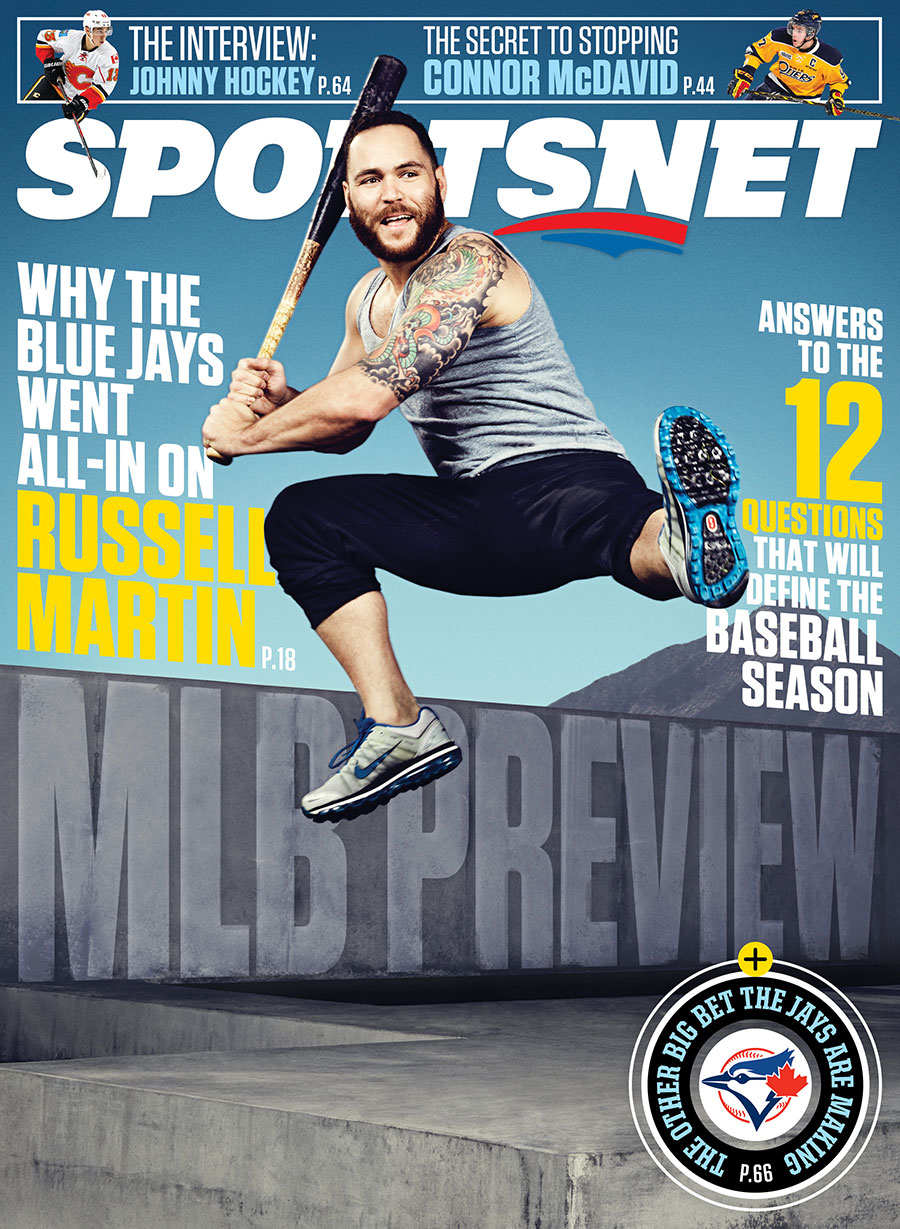 Sportsnet Magazine's MLB Preview:
Why the Blue Jays went all in with Russell Martin, and answers to the 12 questions that will define the baseball season. Download it right now on your
iOS
or
Android
device, free to Sportsnet ONE subscribers.
---
While Brett Cecil, Aaron Loup and Marco Estrada can feel certain about their status, Colt Hynes, Todd Redmond and Liam Hendriks remain in limbo.
Barring moves, all could break camp with the team as an eight-man bullpen remains a possibility, and that will determine the fate of infielder Ryan Goins, who manager John Gibbons said, "definitely played good enough to be on the team, that's for sure."
Devon Travis will open the season as the starting second baseman with fellow rookie Dalton Pompey in centre field, Kevin Pillar in left, Justin Smoak part of the plan at first base and Steve Tolleson on the bench as the super utility man. Dioner Navarro is the backup catcher and Russell Martin will handle R.A. Dickey with Josh Thole optioned to triple-A Buffalo.
Daniel Norris was officially added to a rotation that includes fellow rookie Aaron Sanchez, Drew Hutchison, R.A. Dickey and Mark Buehrle.
Other cuts Tuesday included Dayan Viciedo requesting and being granted his release, Jeff Francis, Jonathan Diaz and Caleb Gindl.
"We've narrowed it down quite a bit," said Gibbons.
Hutchison gets the call opening day and while Gibbons didn't confirm it yet, he's expected to be followed by Dickey and Norris during the season-opening series in New York against the Yankees, with Buehrle, Sanchez and Hutchison pitching in Baltimore afterwards.
Marcus Stroman would likely have drawn the opening day assignment had he not suffered a season-ending knee injury. Starting Hutchison allows the Blue Jays to start him against both the Yankees and Orioles, a team he had great success against last year.
"He's ready," said Gibbons, "there are some things that match up the way we like it."
Hutchison went 11-13 with a 4.48 ERA in 32 starts last season, his first full year back after undergoing Tommy John surgery in 2012. The Blue Jays expect him to take a step forward this season – the improvements in his slider at the end of last season aiding in a strong finish.
Asked what his best attribute is, Hutchison replied, "I think I'm a winner, to be honest with you."
"You can take my stuff, it is what it is, say what you want about it, but that's never really been why I've been successful, or I've gotten to this point," he continued. "It has to do with other things that you can't grade out or put into a computer and spit out something. That's just the way I've always pitched and that's the way I'll continue to pitch."
Or, to use a euphemism for what he really meant, "Intestinal fortitude."
Combined with Sanchez and Norris, the Blue Jays will have three starters under 25 in their rotation, although big things are expected from all. Norris capped a fine Grapefruit League run with eight strikeouts in six innings Monday night against Houston before getting the news Tuesday.
"He's had an outstanding spring, and I've seen him better than we've seen him," said Anthopoulos. "I think Daniel is going to have an unbelievable year and I think he's going to be one of the better starters in our league as soon as now."