Each of the last two years, the Toronto Blue Jays arrived at spring training certain of their status as playoff contenders. ALCS runs in 2015 and 2016 assured them of that much.
But after an 86-loss 2017 season, the club has no such guarantees anymore. On paper they're clearly behind the Yankees and Red Sox with a roster that still has flaws.
So while spring training's traditionally a time for optimism, the following questions persist as the Blue Jays make their way to Dunedin, Fla., to prepare for another season…
Of all the decisions the Blue Jays make this spring, this one might be the biggest. Do they extend their best player, running the risk that they're buying decline years, or let him walk, knowing that players this skilled are extremely difficult to acquire?
Donaldson says the Blue Jays have not made him a formal extension offer so far, but GM Ross Atkins did recently say that the front office has placed a value on him.
"We do have that number," Atkins said. "We have come up with a clear walkaway that we would be willing to commit to him to extend for him to remain a Blue Jay probably for the rest of his career."
The alternative has Donaldson hitting free agency after his age-32 season alongside Manny Machado, Bryce Harper and others. Tempting though it may be to guess how next year's market would treat Donaldson, established models of player valuation simply aren't holding up anymore. There's no clear sense of what his market will look like.
Five or ten years ago, teams seemed far more willing to pay top dollar for players well into their 30s. Now, those deals are rare. But according to the types of metrics that front offices now rely on, Donaldson's one of the sport's most productive players, right up there with Mike Trout, Kris Bryant and Joey Votto. That kind of ability should tempt GMs and owners regardless of his age.
So will the Blue Jays sign Donaldson this spring? This close to free agency there's no reason for him to take a hometown discount. At the same time, the Blue Jays' front office can't afford to overlook the risk inherent in a 32-year-old. And as Atkins said, there's a 'walkaway' number at which point the club would let Donaldson play the season out sans extension.
Can the Blue Jays' middle infielders stay healthy?
The Blue Jays don't need Devon Travis and Troy Tulowitzki to stay healthy quite as desperately as they did last year. The additions of Yangervis Solarte and Aledmys Diaz made sure of that.
At the same time, it'll be a whole lot easier for this team to contend if Travis and Tulowitzki are playing regularly. As a result, their status will be a major question all spring. That doesn't mean it'll be an easy one to answer, though. In fact, it wouldn't be a surprise to see the Blue Jays ease Travis (knee) and Tulowitzki (ankle) back from their respective injuries as a way to prevent unnecessary wear and tear when the games don't count. The real tests will come during the season.
How will Aaron Sanchez's finger hold up?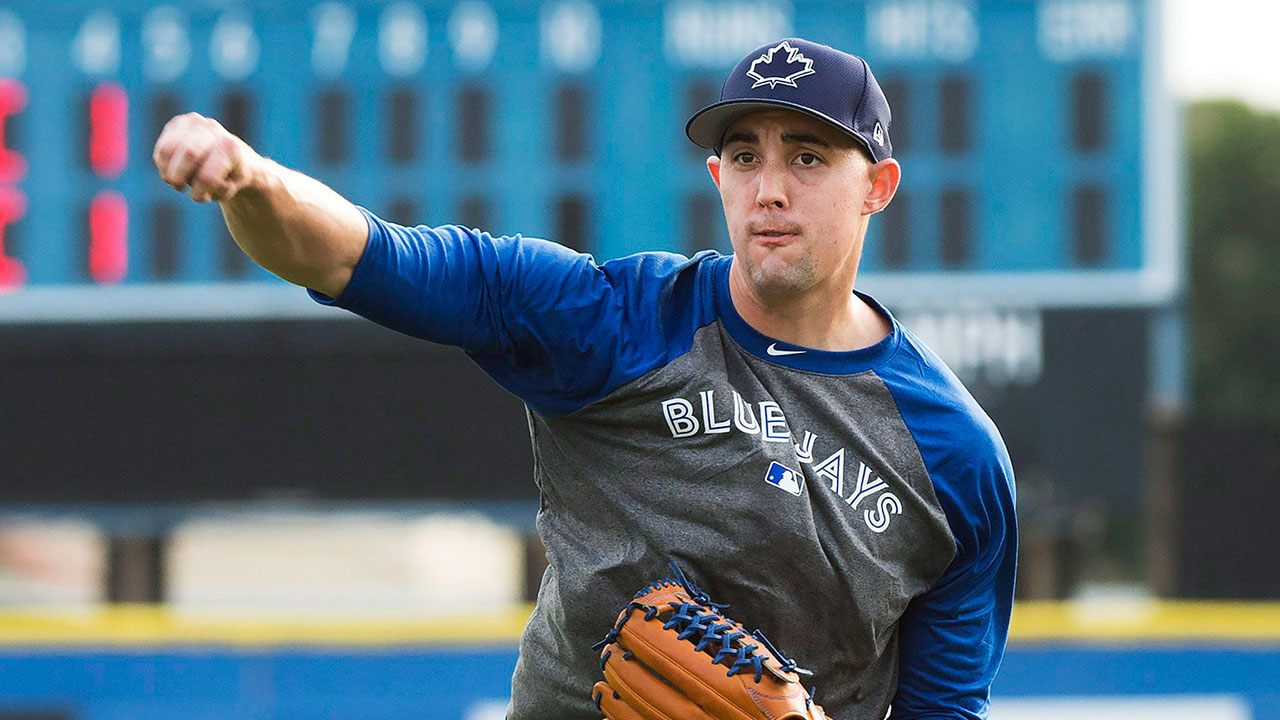 Based on everything that the Blue Jays have said, Aaron Sanchez has started throwing with none of the blister-related issues that led to four stints on the disabled list in 2017. To this point, that's all anyone can ask for.
Here's the issue, though. They can draw reasonable conclusions from bullpen sessions and live BP, but that only means so much. Until Sanchez pitches in a game the Blue Jays won't know for sure how his finger responds to high-stress environments. Until he strings together a few starts they won't know whether repetitive strain creates complications.
It means the Blue Jays will walk a fine line all spring long. Test Sanchez too little and he's not built up for the season. Test him too much and the problems that plagued him in 2017 could re-surface. That's no easy task for Sanchez, manager John Gibbons and pitching coach Pete Walker, especially considering that there's no proven template to follow.
Who will fill out the starting rotation?
Even if Sanchez emerges from spring training fully healthy, the Blue Jays have a question mark at the back of their rotation. On paper, Joe Biagini has the best shot at that role after an all-over-the-map 2017 season that saw him bounce between roles and levels constantly.
At times, Biagini showed promise last year. One way or another, the Blue Jays will be relying on him again in 2018. That said, the front office still has reason to aim higher. Someone like Jaime Garcia (free agent), Jason Vargas (free agent) or Jason Hammel (trade candidate) could provide a higher floor at a reasonable cost.
Adding to the rotation wouldn't block Biagini, either. He could either pitch as a reliever, a role some Blue Jays personnel prefer him in, or start at triple-A. The Blue Jays will most likely need more than five starters regardless, and he'd just be a call away in Buffalo.
By mid-season, left-handed pitching prospect Ryan Borucki could also impact the MLB level, but it's harder to see him breaking camp with the team. All things being equal, the Blue Jays prefer to ease rookies in mid-season, and Borucki has made all of one start above double-A.
How will the Blue Jays fill out their bullpen?
You've got Roberto Osuna, Ryan Tepera, Danny Barnes and Aaron Loup as locks. Beyond that, the Blue Jays' bullpen looks wide open. That's at least three spots up for grabs, maybe four.
Both Atkins and Gibbons have spoken openly about their interest in adding a veteran reliever to a bullpen that looks relatively young, so one of those openings could well be filled by a free agent. Still, that leaves two or three spots for Carlos Ramirez, Matt Dermody and Tim Mayza, all of whom pitched at the MLB level last year, and minor-league signees including John Axford, Al Alburquerque, Jake Petricka and Rhiner Cruz.
If recent years are any indication, Gibbons, Atkins and Walker will wait until the end of spring training to make this call at which time options, opt-outs and handedness have to be taken under consideration alongside performance. Granted, this is Grapefruit League minutiae compared to the Donaldson extension talks. But hey — at least it's baseball, back again after a winter of waiting.