CLEARWATER, Fla. – Marco Estrada plans to be ready for the start of the season, but then also talks about the need for good judgment. The tightness in his back still lingers, but he can handle it at the moment. He's worried that stiffness remains there all these weeks later, but then he's also not.
The Toronto Blue Jays right-hander sure sounded conflicted about where his fast-tracked buildup stands after a strong 3.2 innings in Friday night's 4-4 tie with the Philadelphia Phillies. Estrada allowed a run on two hits, one of them a Maikel Franco solo shot, with two walks and six strikeouts in his second start of the spring, looking mostly strong in throwing 59 pitches, 39 of them for strikes.
With his next outing set for Wednesday's Grapefruit League finale against Minnesota, Estrada doesn't have much time left to reconcile his feelings before a decision must be made.
Is that enough to be ready?
"I think so," said Estrada. "Talking to Pete (Walker, the pitching coach) after the game, he thought I looked pretty good, and I thought I made some good pitches. It's just (the cutter) that I need to work on a little more. It's not something I need to have right away – but then I do. I need every pitch."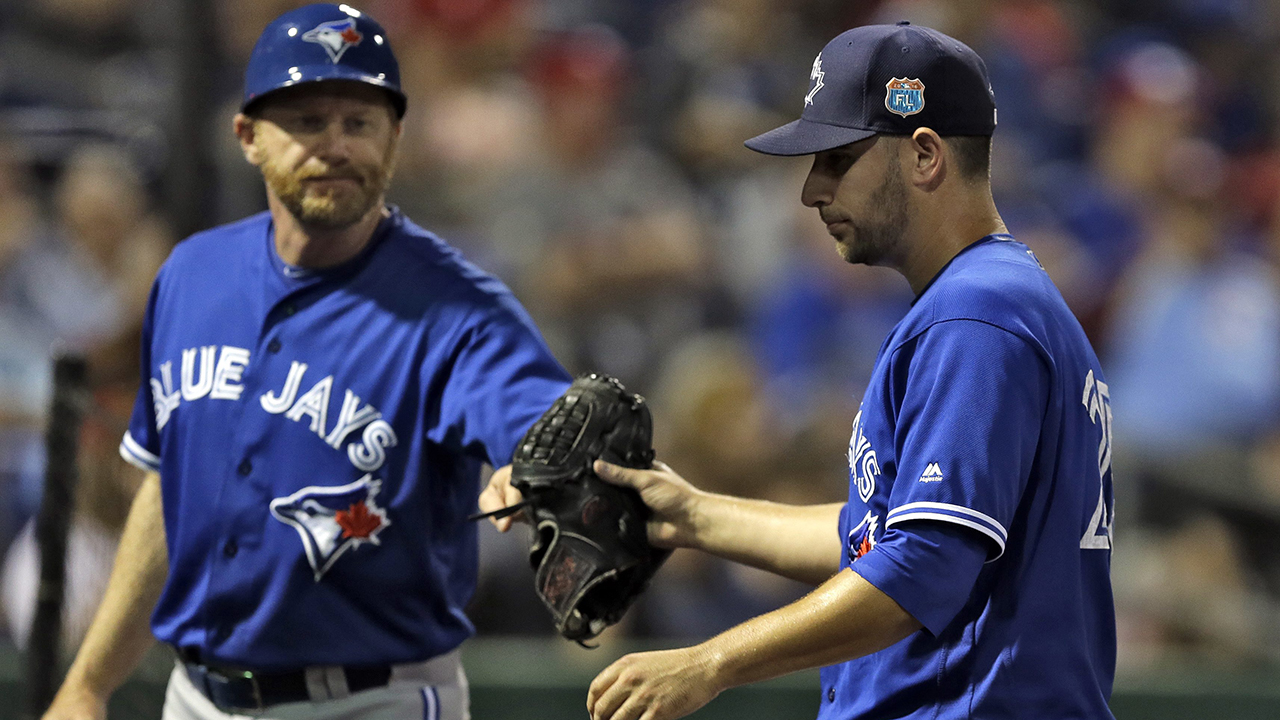 Marco Estrada, right, fist-bumps first base coach Tim Leiper after being taken out of Friday's game. (Chris O'Meara/AP)
The question facing the Blue Jays is whether it makes more sense for Estrada to work through his back issues and finish off his physical buildup in the big-leagues out of the gate, or open the season on the disabled list and sacrifice a couple of starts early for a steadier overall performance afterwards.
A DL stint could also allow the Blue Jays to open the season with both Aaron Sanchez and Gavin Floyd in the rotation, providing a more meaningful measuring stick to settle their competition for the rotation's fifth spot.
"We could if we had to," manager John Gibbons said before the game. "But the plan right now is to get him going so he'll be ready to go down there in Tampa. That's why (Friday) is important, and from here on out, really."
What's tricky is that Estrada is still able to pitch, and pitch reasonably effectively to this point, even with the issues in his back. He says he experienced lower-back issues in high school when he would swing a bat, something that eased once he stopped hitting in the pros.
Still, Estrada has had to manage back troubles throughout his career, "but it's not like this. This was a whole different scenario. It's never hurt this much, I don't think."
Estrada's woes started when his back locked up during an off-season workout and he thought he'd be long past it. He typically arrives at spring training with five bullpens under his belt, came to Dunedin this year with none, and is still playing catchup.
"Yeah, a little bit," he replied when asked if the length of time the tightness has hung around worries him. "When it first happened, obviously it bothered me and it hurt, but I didn't think it was a big deal. I thought it was going to be out in a week. When I showed up at camp they were like, 'These things usually take three weeks.' I think we're five weeks into it now and it's still kind of there. But it doesn't concern me. It's something I can deal with, I dealt with it today, no big deal. The more I threw the better it felt. If it bothers the next few days, that's fine, as long as it's ready to go by Day 5."
Late in the season in a pennant race, when every starts counts, sure, that makes sense. But in late March with the 162-game grind yet to begin?
"I don't want to miss anything, I want to be out there, but also have to be smart about it," said Estrada. "If I'm just not feeling 100 per cent, then I'm going to hurt the team being out there. I've got to make sure I'm 100 per cent, it's definitely getting there.
"We'll see how I feel (Saturday). It's usually the toughest day."
---

Download it now: iOS | Android | Windows | Special Offer
---
Estrada was happy with his fastball, changeup and curveball Friday, but gave up another homer on his cutter. Both longballs he's surrendered have come on pitches that were supposed to finish low and away, but hung belt-high middle-away.
"It was kind of hit or miss for him," Gibbons said of Estrada's overall performance. "He was definitely better than he was that last time. It was a solid outing, and he got his work in."
The target for his next start will be around 80 pitches, and what follows from there will depend on how much more progress Estrada makes.